If you ask me, one of the very best things to eat are freshly made hot appams. Eat them with traditional South Indian stew, sometimes pipping hot sambhar or even just chilled tangy chutneys, it's one of the most comforting things to eat. What I like about an appam instead of a dosa is that it's neither just crisp or soft but a mix of both. It's crisp on the outside and soft and cushion like in the center. I was recently at the Hyatt Pune  hotel for a couple of days and happened to catch their ongoing Appam & Stew festival which I think is a brilliant concept.
I think it's a refreshing change from the pasta and pizza counters as well as the standard chinese every restaurant serves. It's nice to focus on more regional food and this festival showcases not just the appam but various types of stews. It goes without saying that they have a delicious meen moilee or fish curry. It's one of the best things I've eaten and I first sampled it in Kerala last year and I can't tell you how happy I was to eat it again.
There is a wonderful chicken chettinand on the menu, I'd think it would be slightly incomplete without it. I'm not so fond of Chettinad personally but I can appreciate it's flavours all the same. If you enjoy it, this is a must.
Along with the fish curry they have a similiar version with prawn which to me is the very best kind of curry. I decided to skip the appam with this one and douse it on a bed of steamed rice. I'd say the prawn is a point better than the fish curry.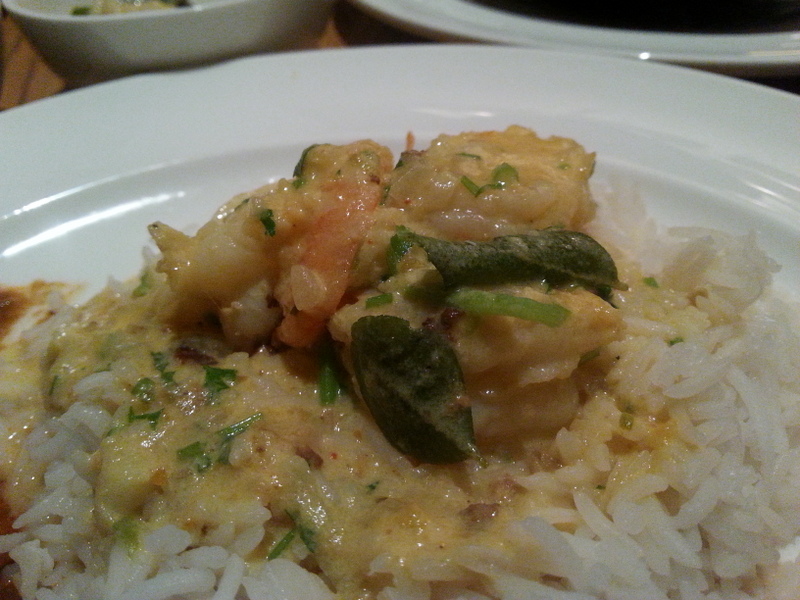 While this is called an appam and stew festival, your thinking it's the highlight of Kerala but what they've done is actually include a fair bit more. While the Chettinad isn't from Kerala neither is their African veg stew, the Madras lamb or even this other dish whose name I can't remember but it was very creamy with mushrooms and tasted very continental in flavour.
While it may seem that it should be just kerala food, I think it's a great oppertunity to give diners and option and a choice to sample other types of stews as well. While appam is the hero in this festival, the Malabari Porota and other breads make a special entrance if you ask for them.
Dessert is a lovely sweetened Banana fritter because let's be honest, it's the only ingredient missing from the dinner! I adore bananas so this dessert was polished off in minutes.
The festival is ongoing ( only for dinner ) at Eighty Eight the restaurant at the Hyatt Pune and is on till the 15th of March. If you're in Pune, this is a great one to catch. Incase you miss it – Ask for Chef Sarika and order a bowl of that delicious prawn curry so you get a sliver of what you missed !