I'm embarrassed to admit it, but there was a time when I thought buffets were the best deals in town. All you can eat for a set price – Hello affordable meals !! I would go crazy, I mean just dog gone nuts and try to eat everything there was even if I didn't particularly want to. I mean it's a buffet, there are rules – YOU EAT IT ALL AND THEN SOME! Then I grew older, my taste buds evolved, I got exposed to different things, got a little more culinary educated and realized it's a waste of money for a multitude of reasons. Most of the time my food is served at a wrong temperature, it's mass produced and the flavours tend to get washed away ( much like wedding food ), I'm never going to get my money's worth it's like a friend told me once – " Eating a buffet is like playing at a casino – THE HOUSE ALWAYS WINS " no matter how much ' paisa vasool' you think you're doing – you're really not. My biggest beef ( no pun intended Maharashtra govt – or is it ) is that it's all just laid out there.. it lies there.. just waiting.. or it's being heated on that hideous steel container under a closh. It's unappealing and there is so much to pick, I never end up doing justice to what I've eaten. It's hard to enjoy something when your senses are focusing on so much at the same time.
Then I started enjoying these all you can eat buffets where nothing was on display.Everything on the menu was made fresh and served to you in smaller portions so as to avoid wastage. Suddenly the world of all you can eat buffets, wasn't so black and white. A lot of five star hotels have started doing these and the one I ate recently was the Thursday night special Asian Street Food Festival at Baan Tao at Hyatt Pune. I'm told this is a fabulous restaurant and what a perfect way to try their food.
This is held every Thursday, there is no a la carte menu, it's a fixed menu which has adorable little stalls on their patio section as you enter the restaurant. Each stall/ counter is decorated to look and feel like a street vendor in some part of Thailand or Singapore. They have multiple counters and each one dedicated to a certain things. There is a soup counter that served two different soups along with a number of condiments of your choice. One dishing up salads, typical Asian salads like rojak, som tam etc. A counter that specializes in dimsums ( I must admit I went a little nuts there ) one which was dedicated to typical Chinese style roast chicken, another for bbq items like satay, bulgogi etc (all delicious ). Another one for rice and noodle type stir fry including a curry should anyone need something wet with their mains and then of course dessert.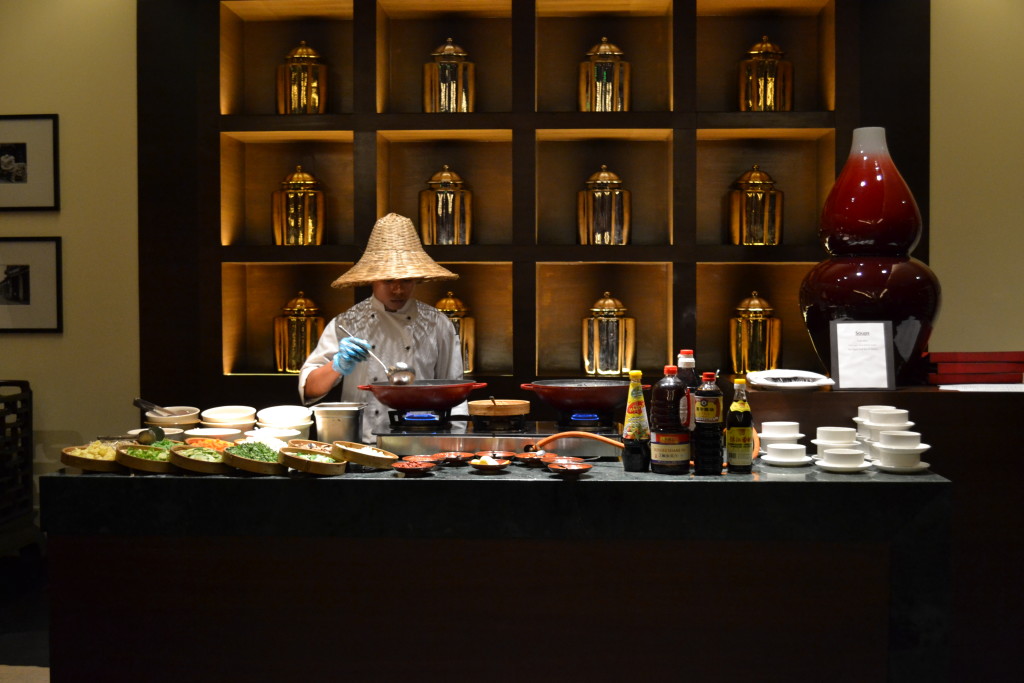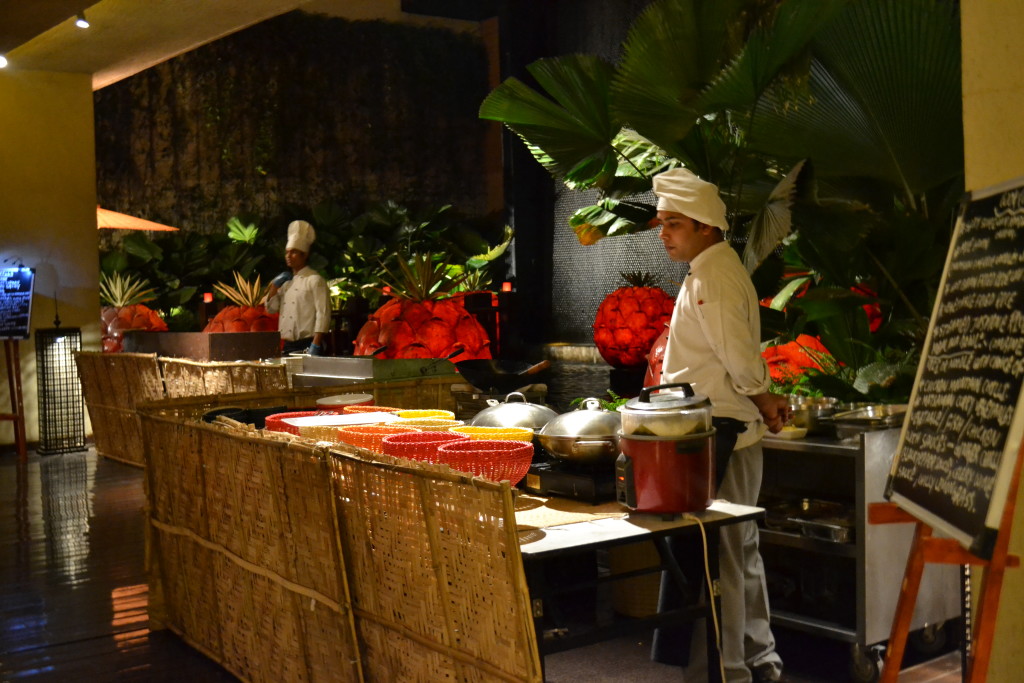 I didn't eat any noodles but asked them to whip up a simple stir fry of prawn, water chestnut, mushrooms and baby corn with plenty of garlic and it was exquisite. I don't even need the rice or noodle to go with it, it's just enough.
My top picks would be the tom kha soup with an additional topping of prawn, the som tham but minus the peanuts and cherry tomatoes ( the joy of tailor making your meals ) and the delicious dimsum. While I enjoyed all – the chicken suimai, the crystal veggie, the prawn, I think the massive pan fried pork dimsum stole my heart. It was the best meaty filling, the pan frying gives it a crispy outer covering and overall it's delicious. I went a bit nuts with the dimsum so I had no space for dessert but this all you can eat gets my vote.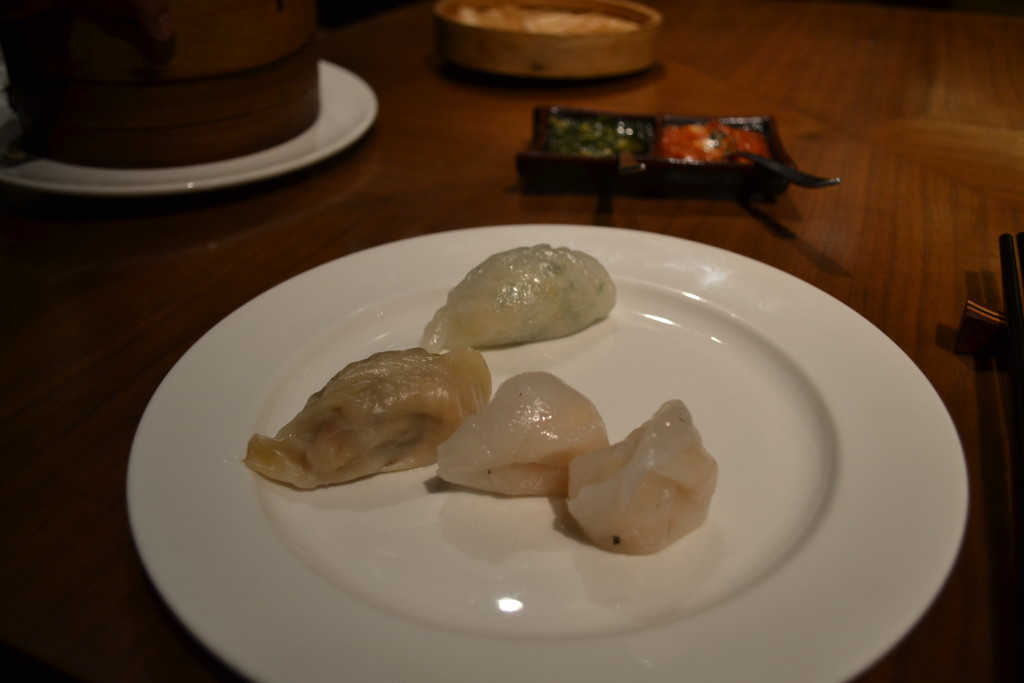 It's top notch food and all this for Rs 1100 inclusive of tax is a great deal. You're never going to do justice I can assure you, but at least your food is made per order, comes fresh and hot to your table and you can pick and choose what you really like and enjoy those without the added pressure of 25 other dishes you need to try.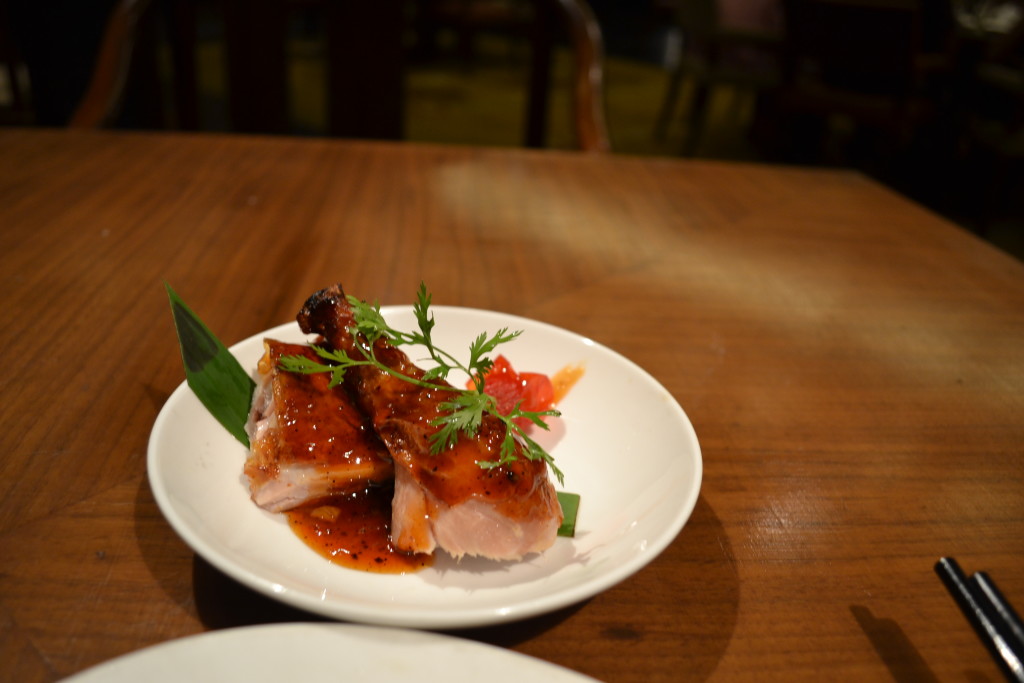 I had such a good meal and I think I might have over done it with the dimsums that I couldn't make it to dessert which never usually happens. If my meal wasn't incentive enough, I think I'd go back just to do justice to the desserts. The next time I'm in Pune ( which will be very soon ) I'm going to make sure I'm there on a Thursday night to visit this Asian Street Food Fest again!