I never thought I would be, but I think it's safe to say I've turned into a complete safari girl. I will almost never say no to a holiday that includes staying in the jungle and waking up at odd hours or spending time in an open air jeep freezing despite layers of clothing, hoping to spot animals in the wild. This year has been great with a visit to two reserves in Madhya Pradesh and a sudden trip to South Africa. I had the time of my life in both Kanha and Pench hunting for tigers, one which was wonderfully successful and we saw a tiger on every safari and the other turned out to be the exact opposite where we didn't spot a single tiger on any safari but were witness to some spectacular sights and sounds in the jungle. While I thought this trip was a thrill I had no idea that little more than a month later I'd be going to South Africa and experiencing a completely different jungle trip.
While I visited Johannesburg, Cape Town and Durban I was fortunate enough to visit a private game reserve a couple of hours away from Durban called Phinda and I think that it was love at first sight. Phinda is not only stunning but my entire stay ( 2 days and 4 safaris ) was just the very highlight of my South African adventure.
Phinda is a private game reserve and all the resorts there belong to the andBeyond group of luxury resorts which are scattered all across Africa and have some affiliations in India as well. I stayed at the Phinda Mountain Lodge and don't have a single thing to complain about. Right from enough electrical points in all corners of my room to the thoughtful hand lotions and mosquito repellent or even the decadent outdoor Jacuzzi and open air shower. I thought I was extremely lucky to be staying in the lap of luxury but I had no idea how lucky I was till I went out into the bush and met some magnificent creatures.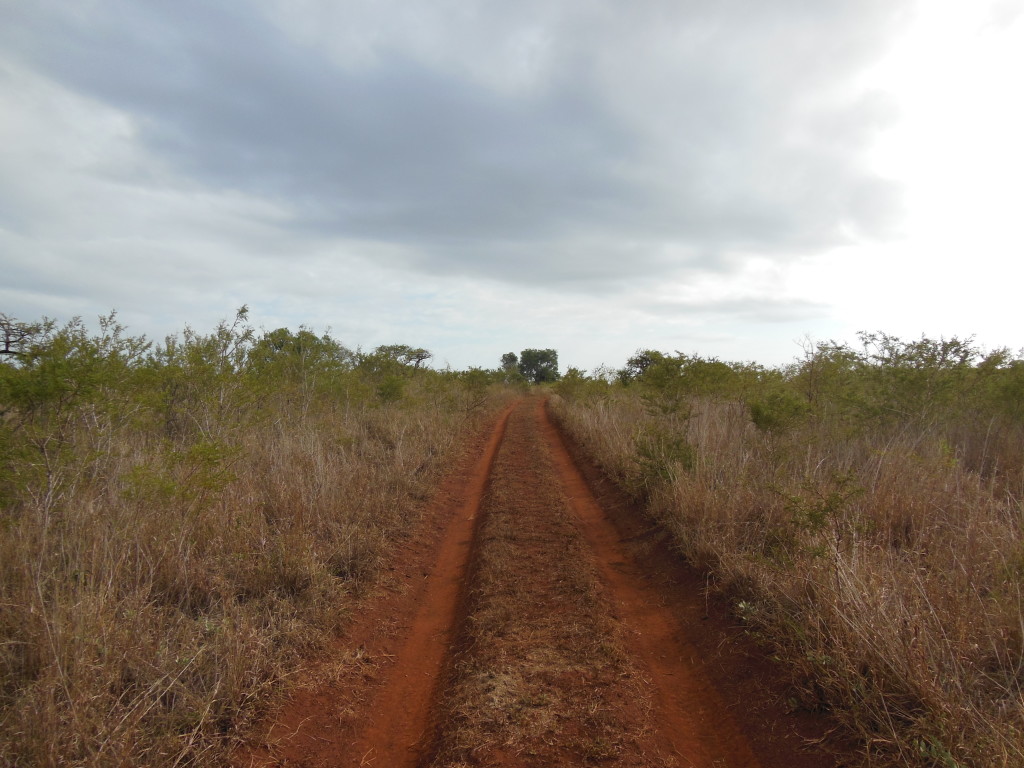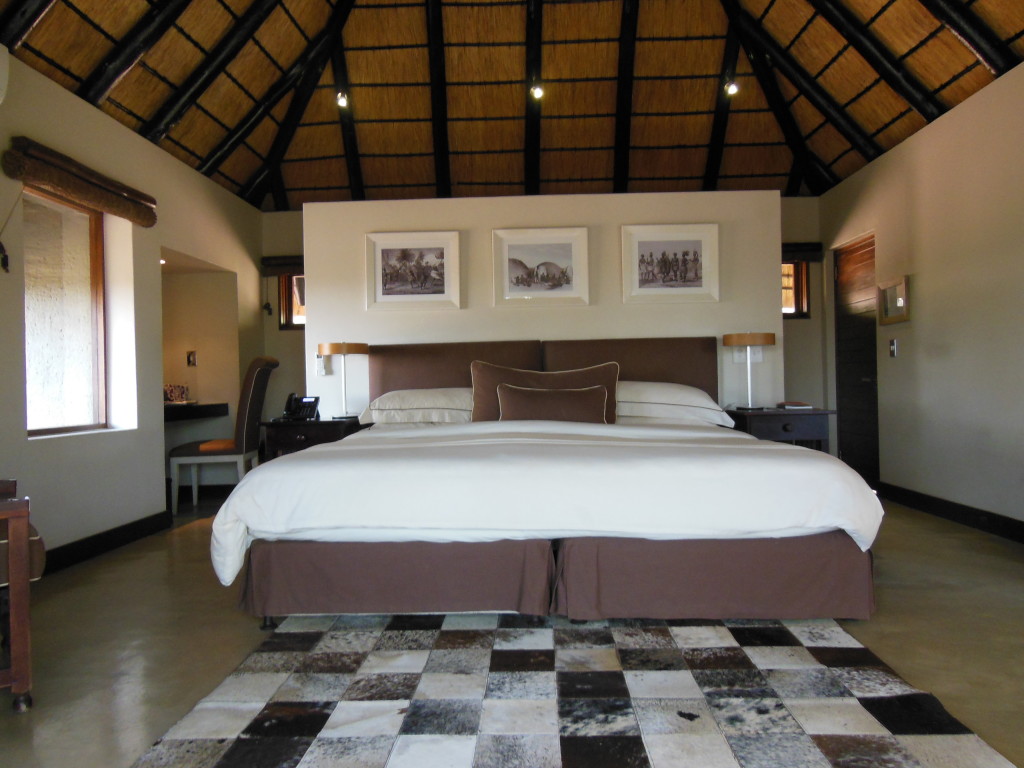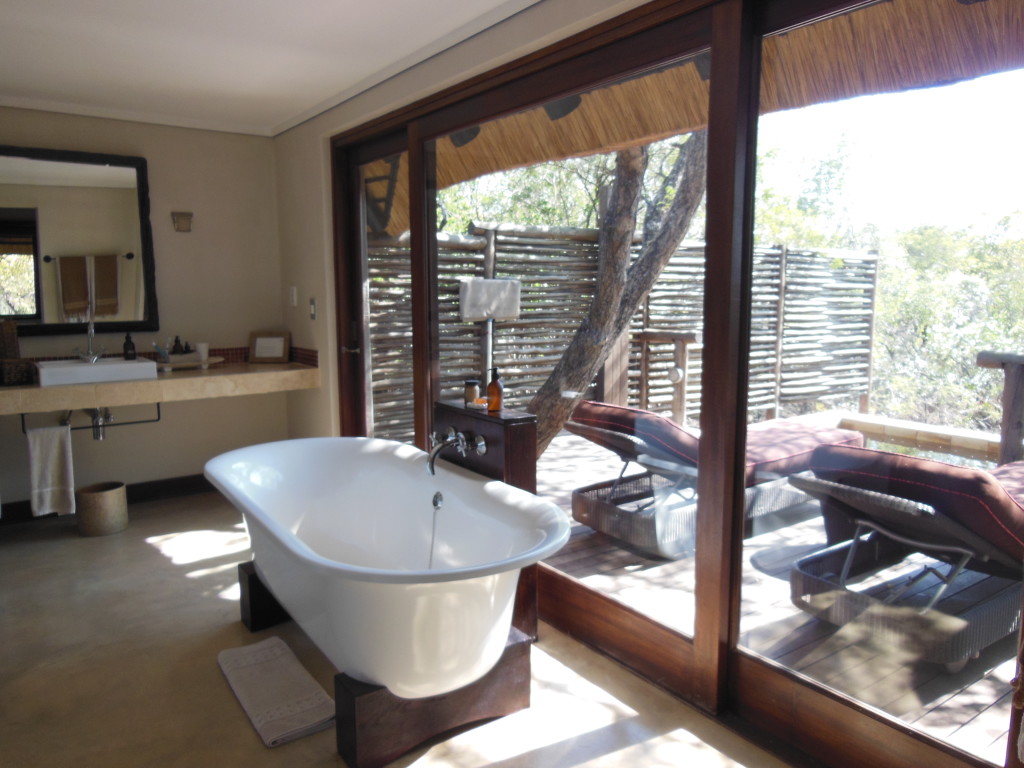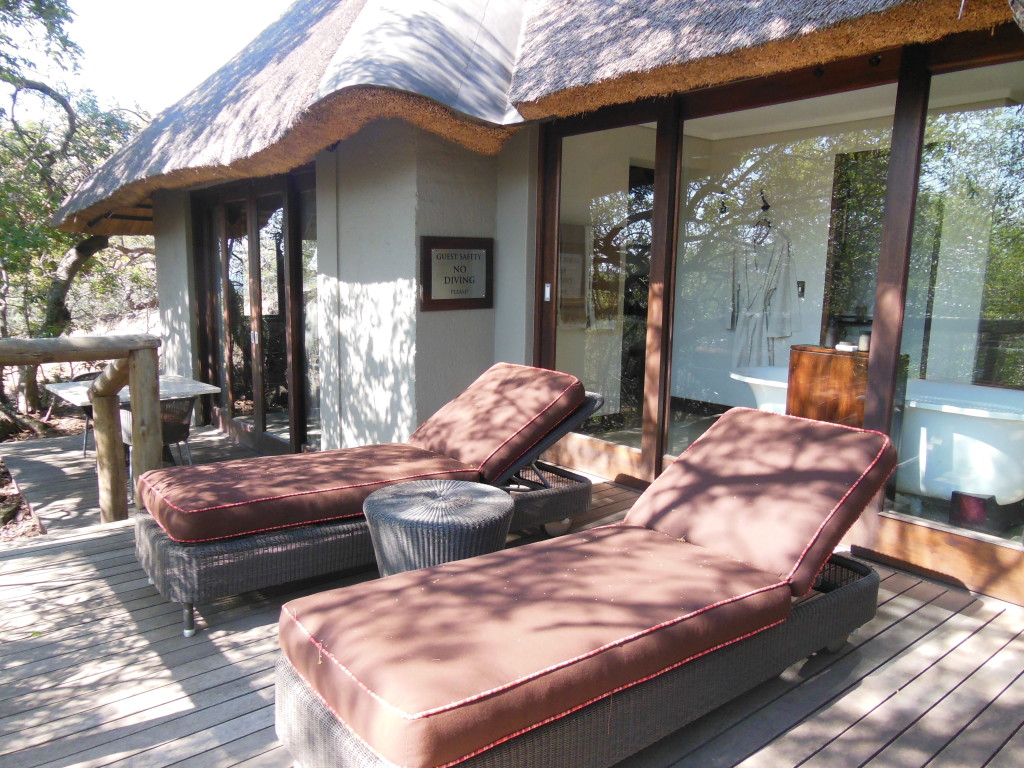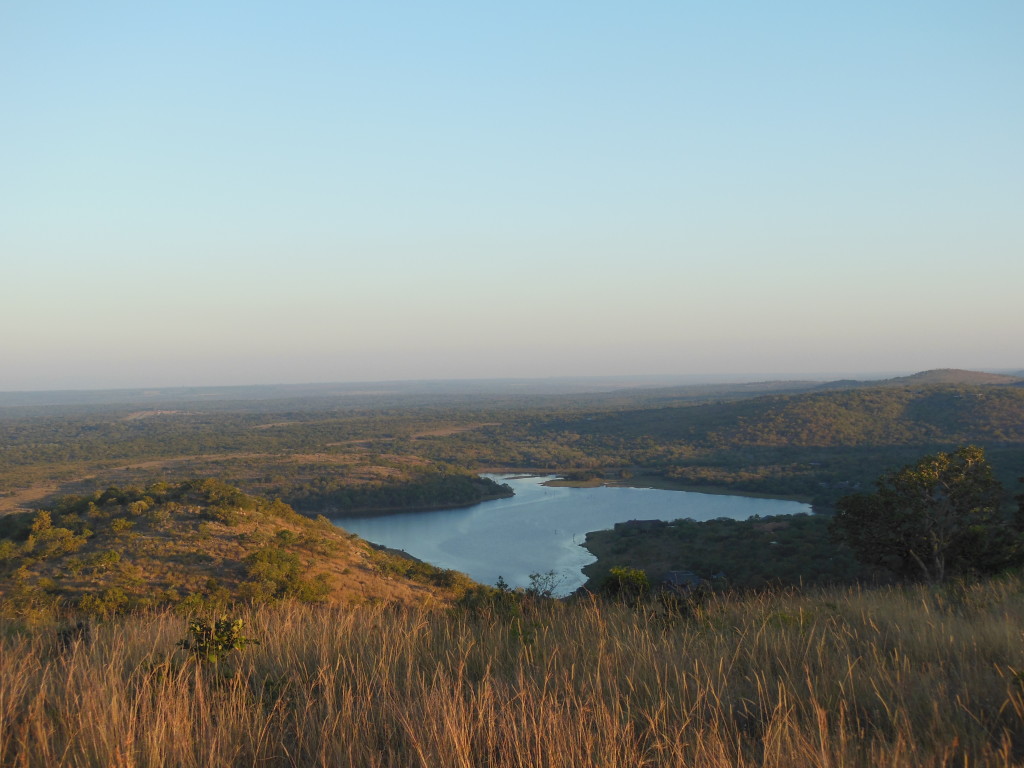 The world comes to South Africa to see the big 5 ( Lion, Leopard, Water Buffalo, African Elephant & Rhino ) but the tiny taster goes to South African and wants to see everything! I was extremely fortunate to have seen the Big Five in the first two safaris and then every other animal possible. The only one I didn't get to see what the king of the jungle, the male lion or as I like to call him – Mufasa.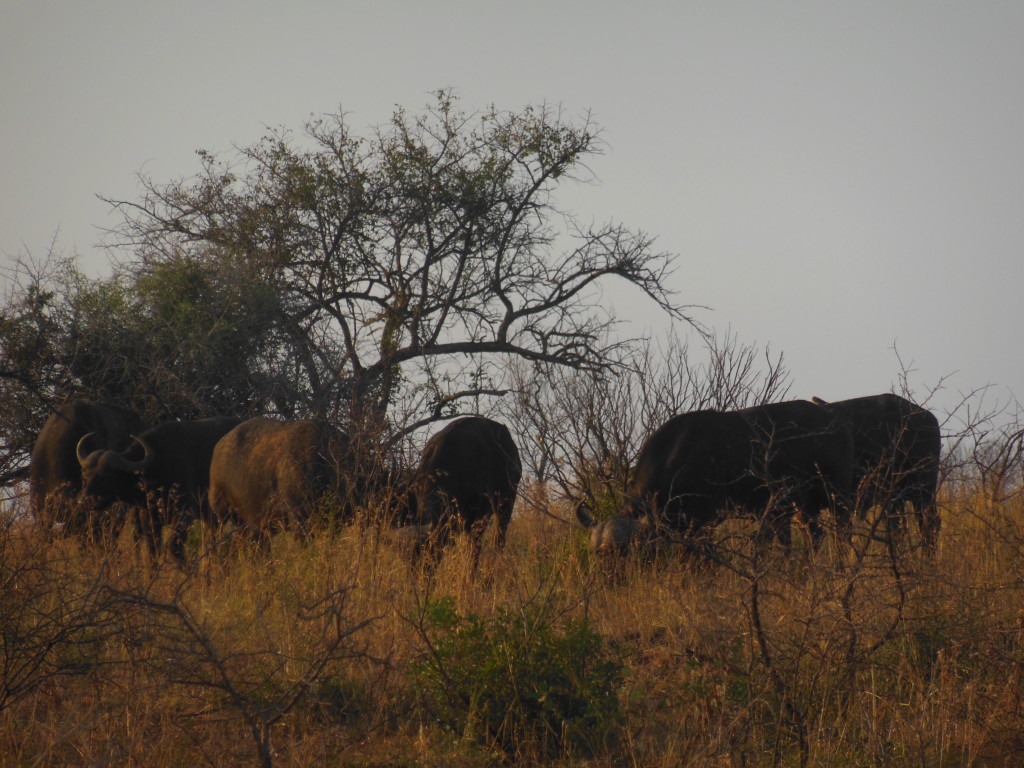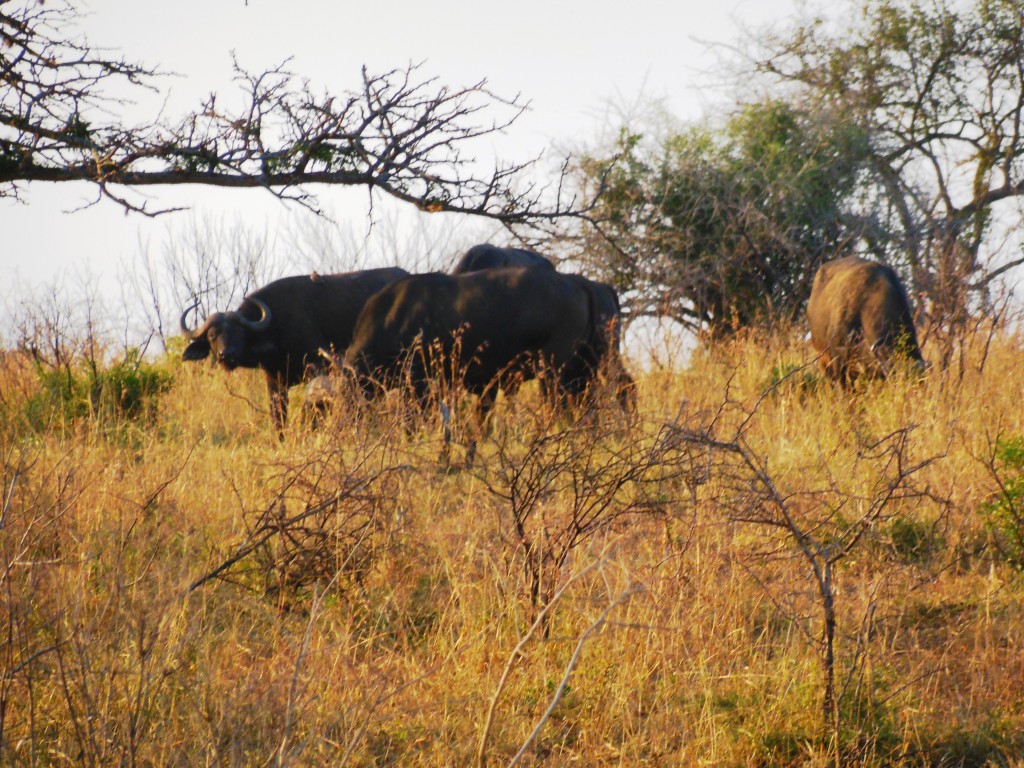 I had some magical moments including chancing upon a herd of elephants and even had a beautiful baby male mock charge at us. He kept coming so close that I thought he might just trample us to death at one point but it was exciting.
I remember how excited I was to see a zebra and giraffe in the wild ( zoos do not count ) and I went nuts taking photos only to realise that you see them so often they're like the deer in Kanha. It's all exciting the first two or three times and then you're thinking meh, move along animal, call out to your elusive friends! No matter how many times you see them, they are still beautiful creatures.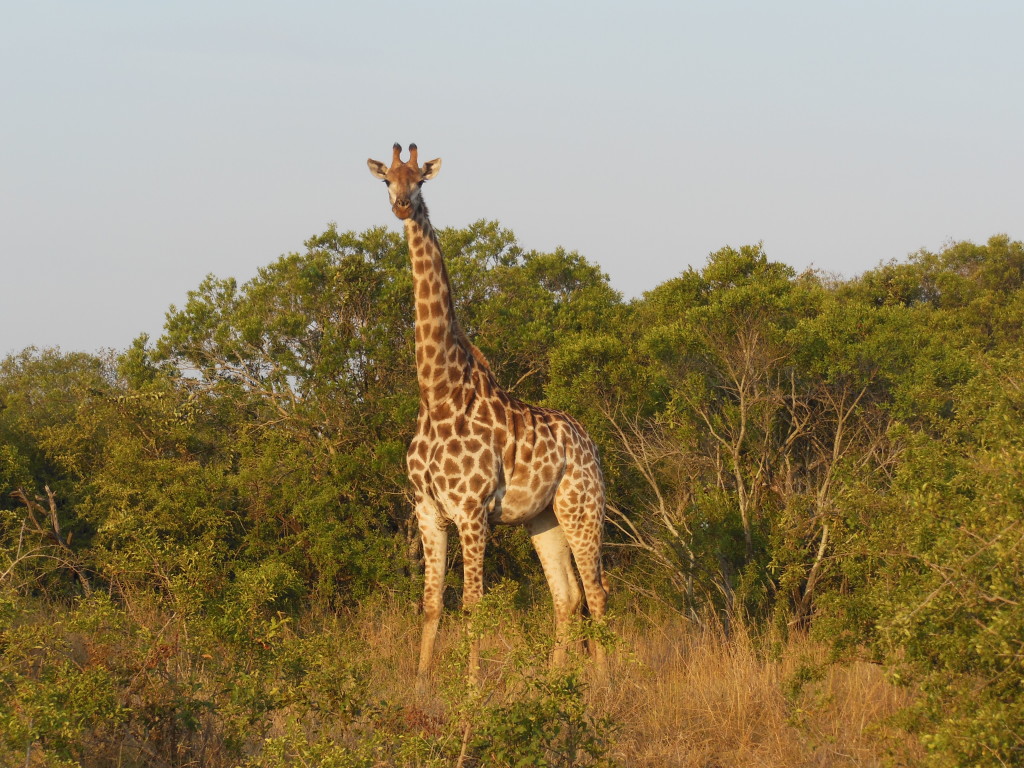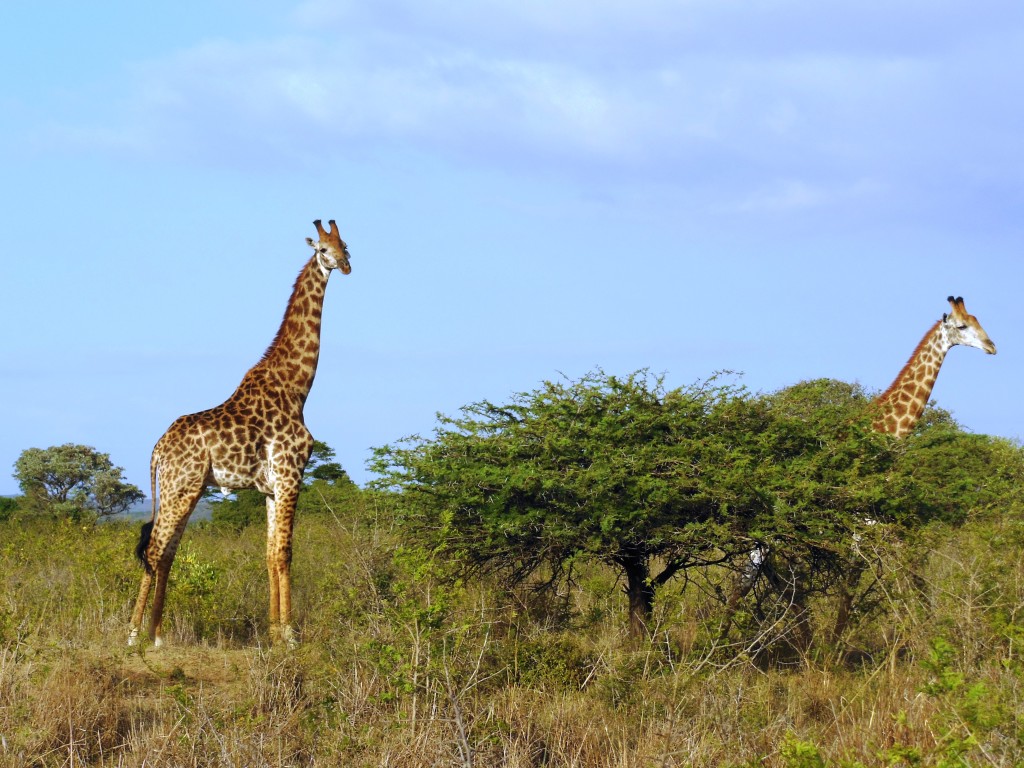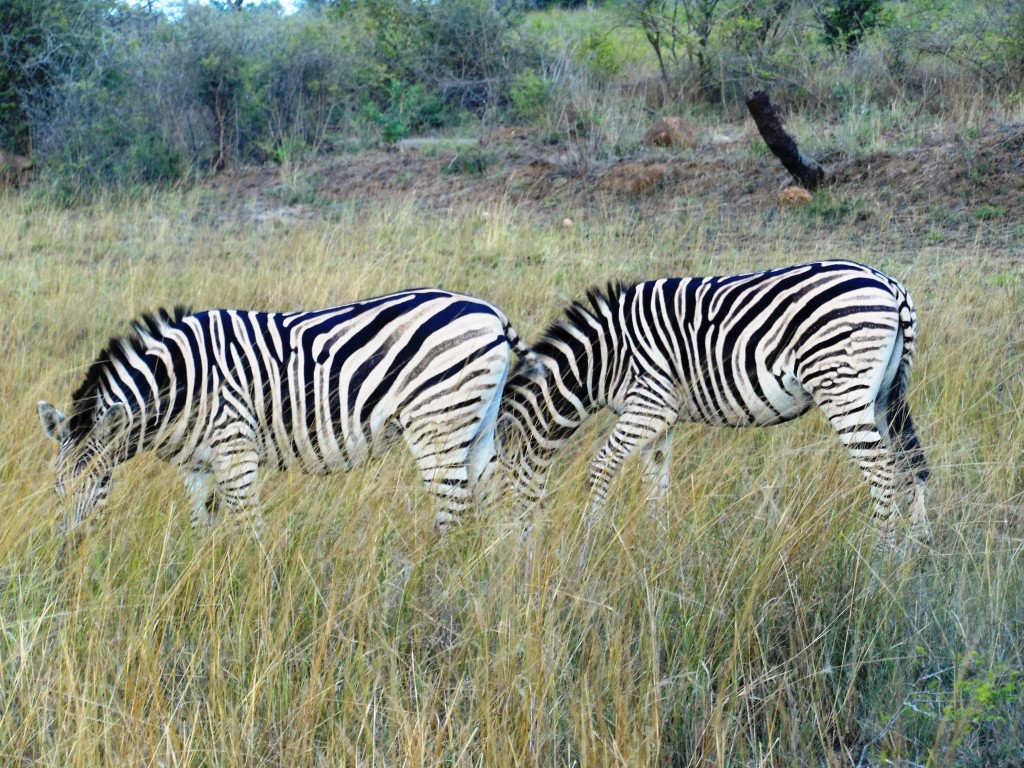 We caught a glimpse of a cheetah 3 minutes into the reserve on our way to the hotel but were told they haven't been seen in ages and we probably won't see them. What can I say, we ended up following two brothers as they walked and rested for an easy 30 or 40 minutes. I thought a glimpse was enough but nothing prepares you for their magnificence when you see them walk up close.
Phinda being a private reserve has the luxury of no set safari timings which means that I finally got to experience a night safari which I have been yearning to do because in other parks specially in India, you need to get out by 5.30 or 6pm because it gets dark but here I was cruising about the jungle till atleast 8.30 or 9pm! It's amazing because the temperature drops at night which means the animals come out and roam more freely and you get to see more of them!
I had two beautiful experiences at night. The first is when we stalked a young female leopard hunting for dinner. She had her eye on this gorgeous nyala but I think she sensed us and we might have spooked her. She definitely knew we were around so she waited patiently for us to leave which means I was lucky enough to see her darting around but did not get to witness a kill which is something I hope for everytime I get on the jeep. It sounds quite barbaric but I would give anything to witness a kill in action. We waiting for possibly 40 minutes or longer but she just wouldn't oblige.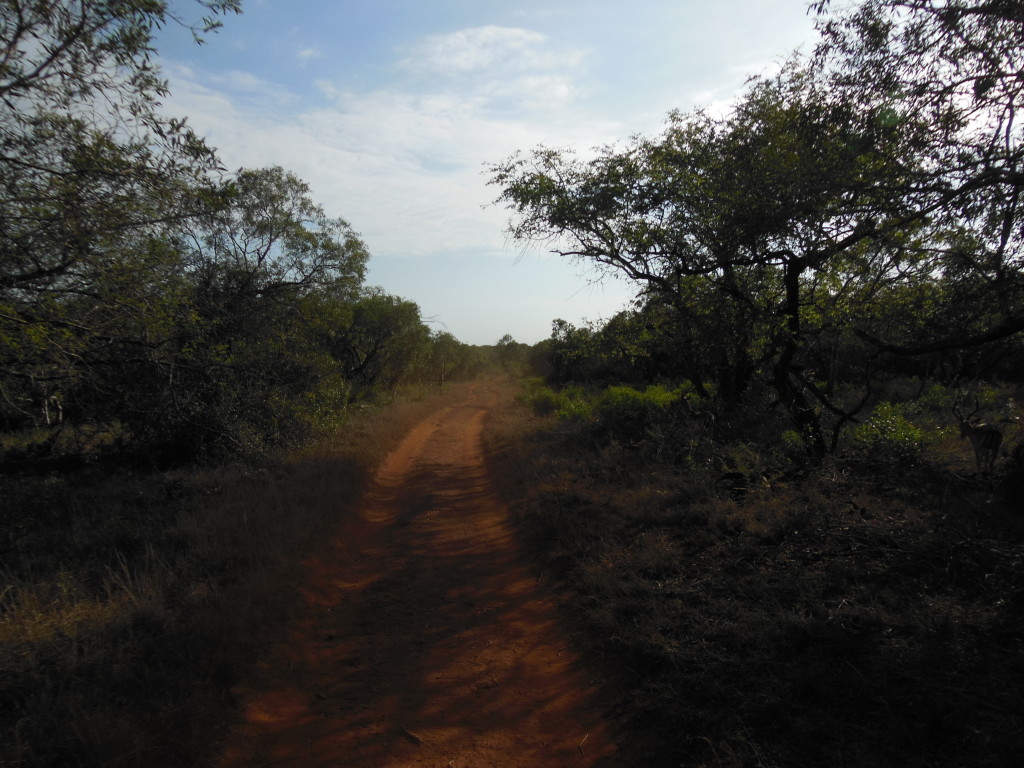 The next night time delight was when we followed three lionesses walking about. It was wonderful. They just kept walking, waiting, sitting down and then getting up again till suddenly they stopped and turned around to look at us. The thing is these cats are very aware of you. Our jeeps get so close to them but they don't seem to care much but they know you're there and haven't quite made up their minds about you. At night it's pitch black except for the carpet of twinkling stars in the sky which are beautiful but really do not do much for vision so they use this red light to shine on the animal so that it doesn't startle them. Imagine three gorgeous cats walking towards you, with this red spotlight on them, they walk so close they start to pass your jeep. You're heart begins to race as they edge closer and closer and then you, tiny that you are, sitting on the last row and as you turn to your side to watch them pass you, one lioness looks at you, JUST you, dead in the eyes as she passes. I think it's safe to say I felt a tremor of fear race through me like a lightening bolt. I couldn't even look at her I looked away and saw her stare at me through the corner of my eye as she passed. The entire jeep was silent and then grown men and women giggled like little school girls in excitement once they left. I like to this it was one lioness acknowledging another 😉 but really she was probably sizing me up for dinner and THIS lioness was scared stiff ! I will never forget that face or look and I was so wound up when I got back to my room I kept pacing about in excitement, I couldn't even sleep!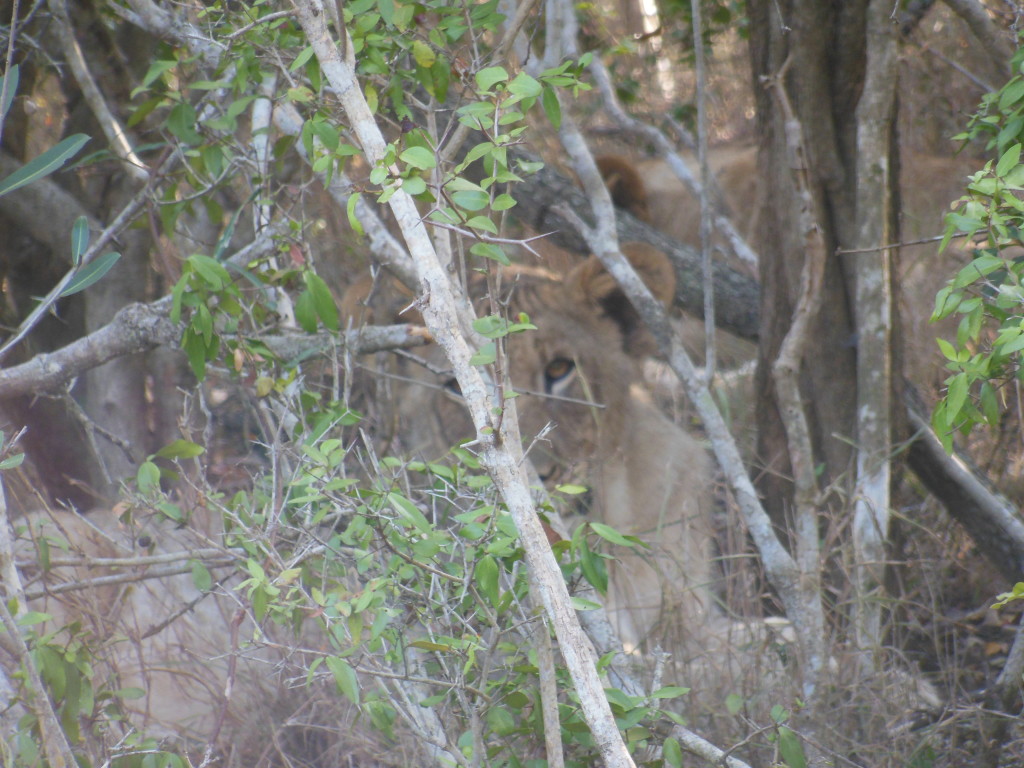 As if this wasn't enough, we followed them again and had them pass us once again, only this time she didn't stare at me but one came so close I didn't have the guts to look but again from the corner of my eye I saw her edging closer to the jeep, so much so that the silly animal bumped into the jeep slightly as she passed, scared herself and I could hear her scurrying away! Once again I think I sent up prayers of thanks to whoever might be listening to have sent me to such a magical place and experience this.
I did manage to see lions in the day as well, but mostly they just laze and do nothing. I thought my night time experience with them was special, I had no idea what the last safari would have in store for me. We ended up driving for a long time because we heard about a pride of lions in an area quite far from where we were. The drive was of course gorgeous because I got to see a different part of the bush and the landscapes are just so different in each area but by the time we got to the lions, we saw one sitting in the grass soaking up the sun, a bunch of cubs hidden lazing in a bush and another lioness perched up in a tree! I'm told it is extremely rare to see a lion in a tree in this region as you only see this in East Africa. The rangers with us had never seen her in the tree before in Phinda so it was very special. She came down and nestled herself in the grass next to the other lioness. We waited and watched them lick themselves, roll about and enjoy the sun till they got fed up of us watching and decided to move. This was when it got really special because the lioness called out to her cubs to move and the way she couldn't them is by the cub walking to her and cuddling her, literally his face into hers! She had EIGHT cubs!! We barely saw 3 or 4 and only counted them once they came out rushing to hug her! The entire pride moved and we tried to follow them only to have her turn and glare at us so we decided to give them their privacy as we were armed with plenty of magical photos.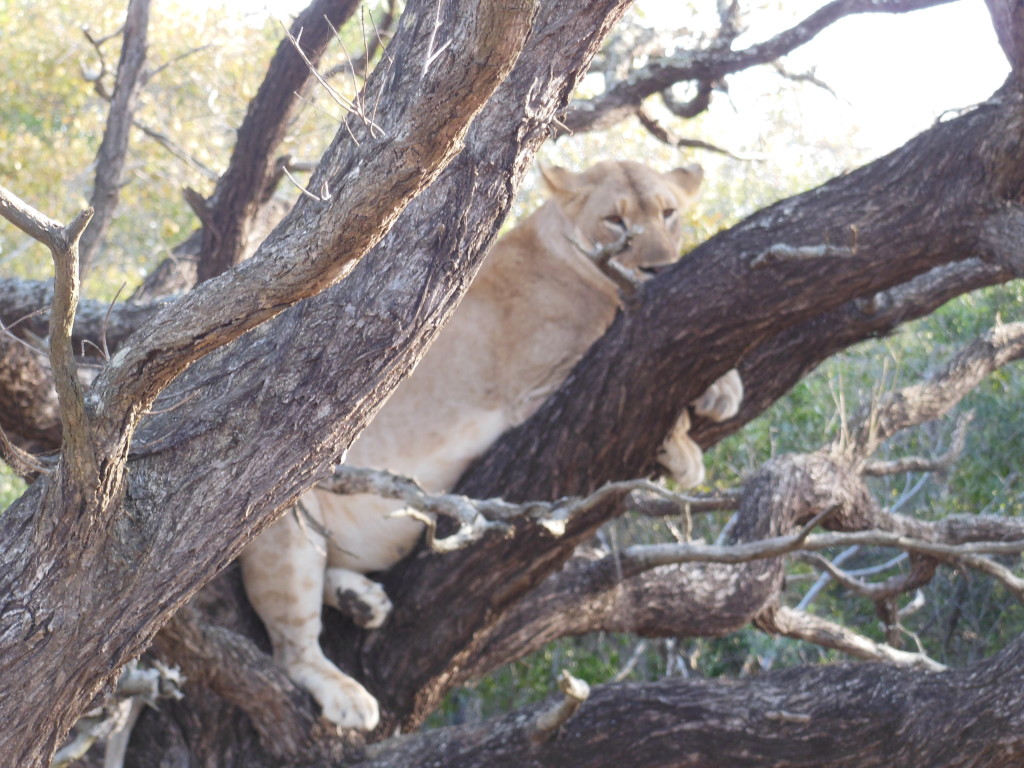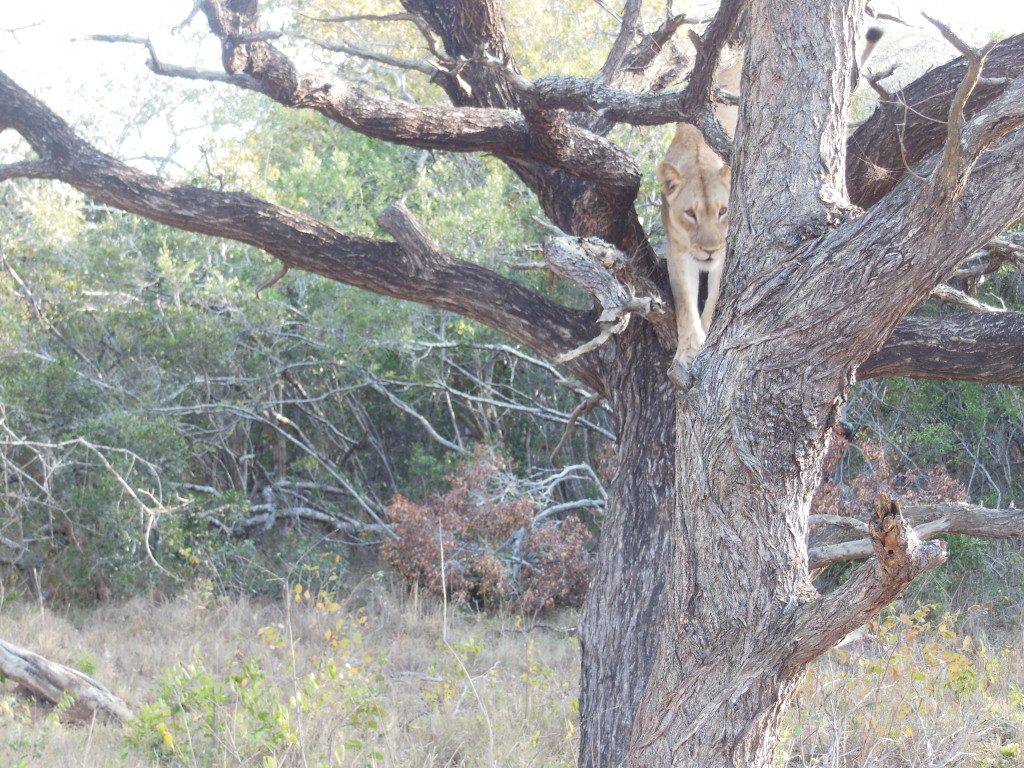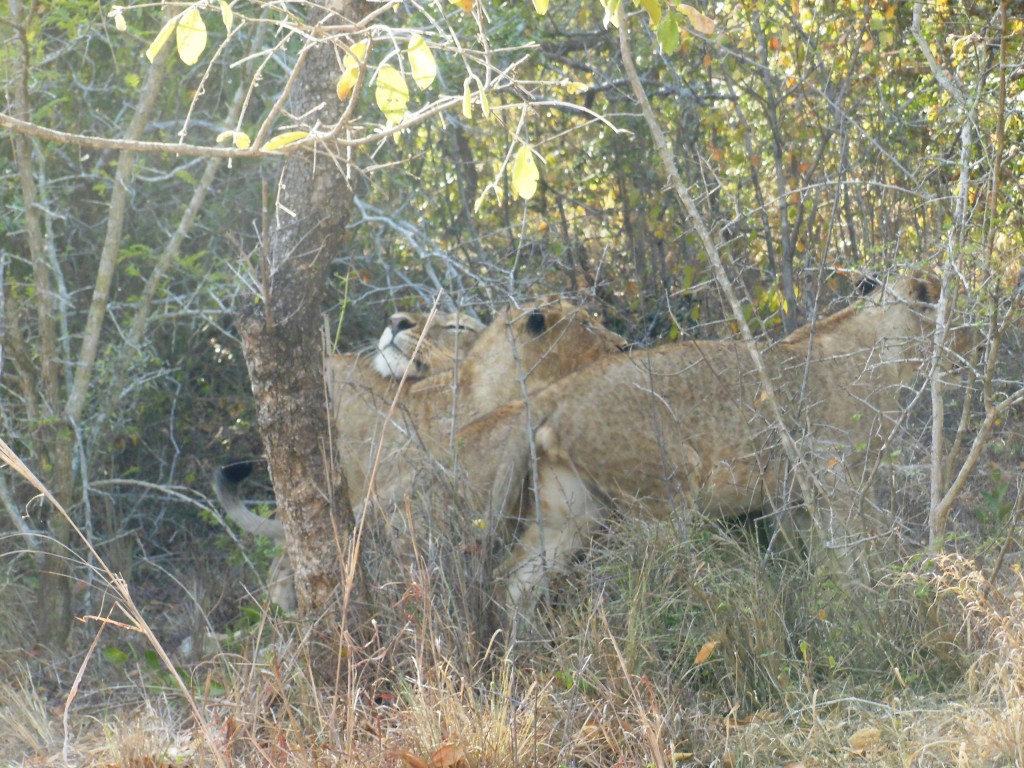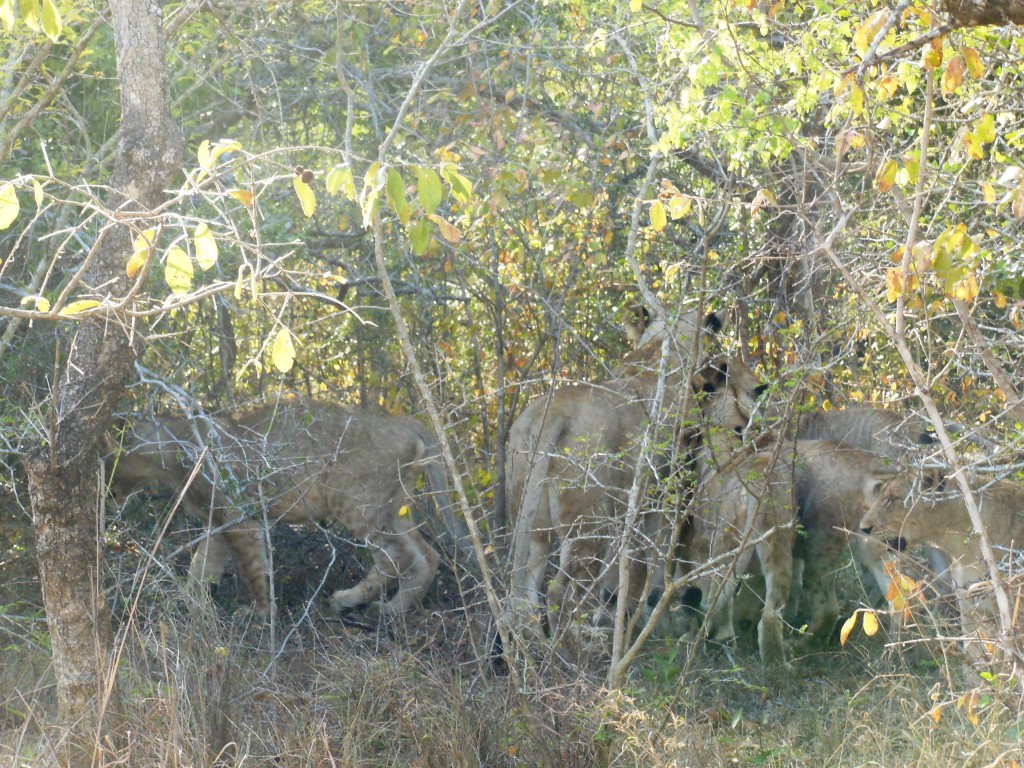 Phinda has many magical moments and these were just some of the highlights. I had the very best rangers with me Matt and Moosa and if you ever visit please ask for them, they are fabulous people and so talented. I must have asked a hundred annoying questions but they were great. I think I'm spoilt now because this was my first South African safari and any other that I go on, have a lot to live upto !
Disclaimer – This trip was part of a campaign #MeetSouthAfrica and I was hosted by the South African Tourism Board.