It's been ages since I posted a recipe on the blog. Partly because I've been busy travelling and not had the time to document my kitchen trials. Don't be fooled, while I haven't shared recipes that doesn't mean I haven't spent a fair amount of time in the kitchen desperately trying to recreate flavours I encountered on my trips. My most recent trip took me to Thailand where I spent time in Chiang Mai, Koh Samui and Bangkok. All through this 2 week long Thai adventure the one thing I ate repeatedly was their Thai style Basil Chicken and Rice. It's spicy but so simple and tastes amazing. When I broke it down to figure the recipe I realized this is something I can cook in my sleep ! I came home and tried it out and voila! It was an instant hit. I'm sharing my recipe but if you're vegetarian you can replace the mince chicken with Soya granules and eliminate the fish sauce. So all my wonderful vegetarian readers don't have to feel left out! Happy cooking I hope you enjoy this recipe.
Ingredients 
400 grams Minced Chicken ( buy a ready pack or mince it at home and make it )
Birds Eye Chilli
Chopped Garlic
One Onion ( chopped )
Two Spring Onions ( chopped but keep the white and green seperate )
Oil
Dark Soy Sauce ( 1 -2 table spoons )
Fish Sauce ( 1 table spoon )
Corn flour ( this is to thicken the gravy but you can avoid it completely )
One packet of Basil ( if you like the flavour add 2 )
One fried egg ( only if you like )
You serve this with rice so make a pot of plain rice as well as it's too spicy to eat on its own.
Method
1. In a crock-pot or wok, heat the oil and add the onions, white part of the spring onions, chopped chillies and chopped garlic and stir well for about five minutes till the onions soften.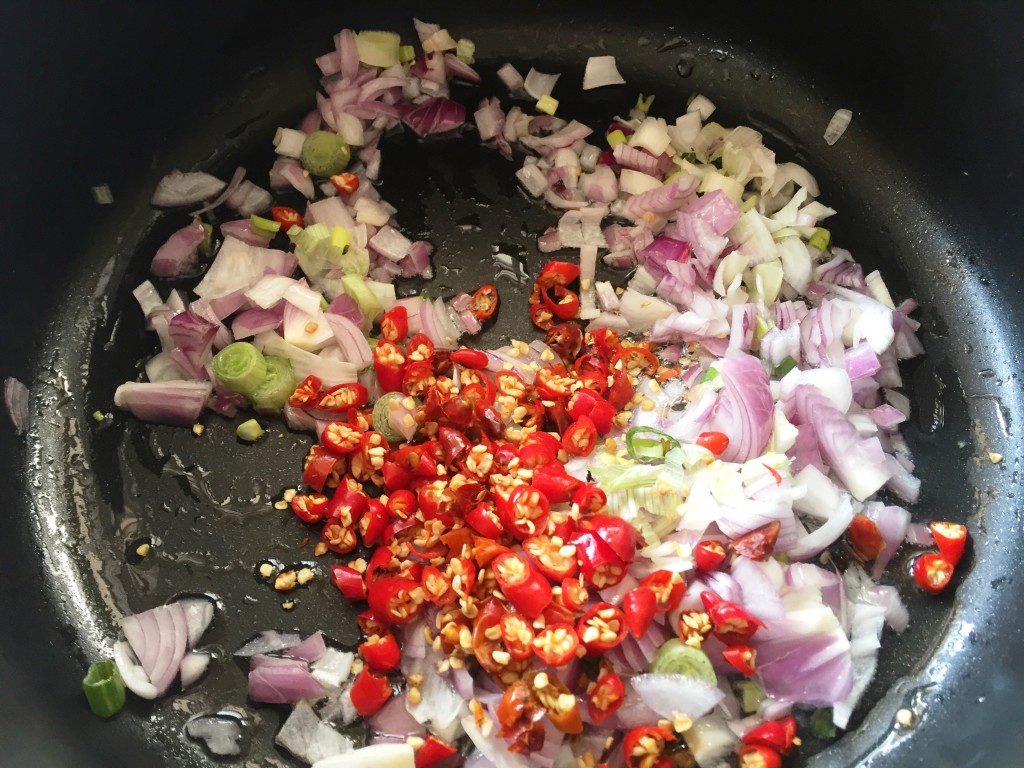 2. To this add the chicken mince once you have washed it well. Keep stirring so it doesn't stick. Cook for about 7 minutes. Add a tablespoon of sugar. If you find it too spicy you can add more sugar as per your taste.
3. Add the basil leaves to this and keep cooking for about 7 minutes again. Keep stirring and you'll see the chicken release water. If you feel it tends to stick you can add a little water.
4. Add the soy sauce and fish sauce, if it is vegetarian you can eliminate the fish sauce at this point. Keep stirring. Cook for another 5 minutes till the chicken is done.
5. Serve it on a bed of rice and you can garnish with a fried egg on top and some cucumber on the side. That's how they serve it in Thailand.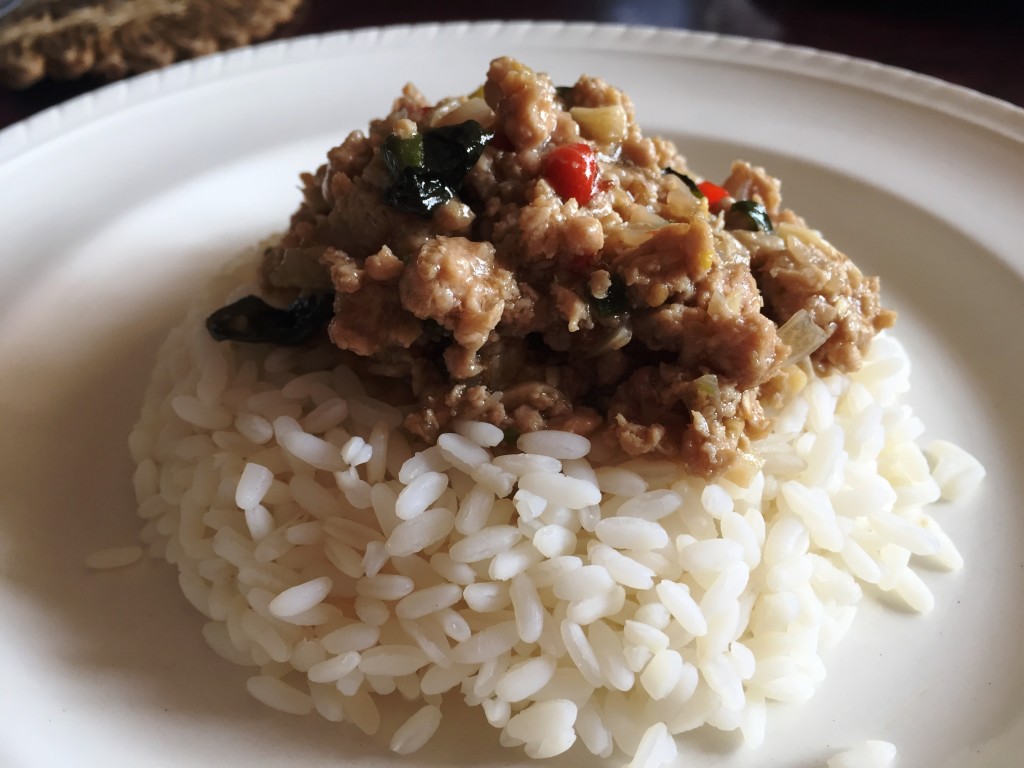 Believe it or not, it really is that simple. I'd say in total cook the chicken for about 15 – 20 mins as anything less means the meat isn't cooked properly. If you're using soya I don't think it needs that long maybe just 15 mins is good.  Please add more sugar if it's too spicy or just use less red chilies as these are dangerous little things.
Eat up and enjoy ! My family attacked this meal with great gusto, I hope yours does too. If you try this recipe, give me a shout and let me know 🙂