I have to be honest. What I know about Bengalis is about as much as I know about how to milk a cow. Growing up I hardly had any Bengali friends, no one I was close enough to that I would spend hours at their house absorbing their culture or for them to have any influence in my life. I grew up in a Parsi colony so no Bengali neighbors to feed me and the same story in college. All I knew about Kolkata were based on the books I had read or the movies I'd seen. So a chance to visit the city of joy, even for a measly 48 hours was one I grabbed wholeheartedly.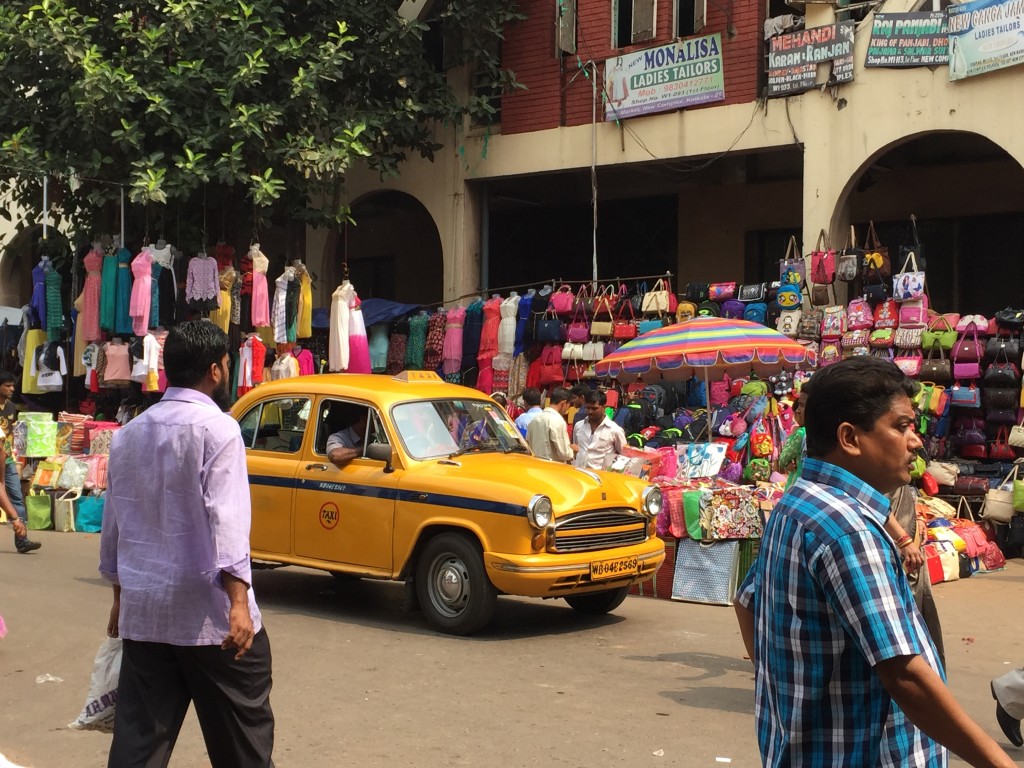 I ended up in Kolkata for two days and coincidentally a day before Dussera. If it is one festival that is a big deal in Bengal it's this one. While most people told me it's the worst time to visit, I thought other wise. Of course it's all quiet in the day and only come sun set is when the city goes a little bonkers with excitement at all the pandals.
Where I stayed –
I'm usually quite unadventurous when it comes to hotels. I don't backpack and I absolutely love a certain amount of luxury. While most find that to be slightly elitist, I couldn't be bothered. This trip I did not end up in a hotel I would usually book but a far more charming establishment that I expected. I was told this is a boutique hotel and the Corner Courtyard in Kolkata was just that. It literally is on the corner of  the busy Sarat Bose road in one of the quaint little by lanes.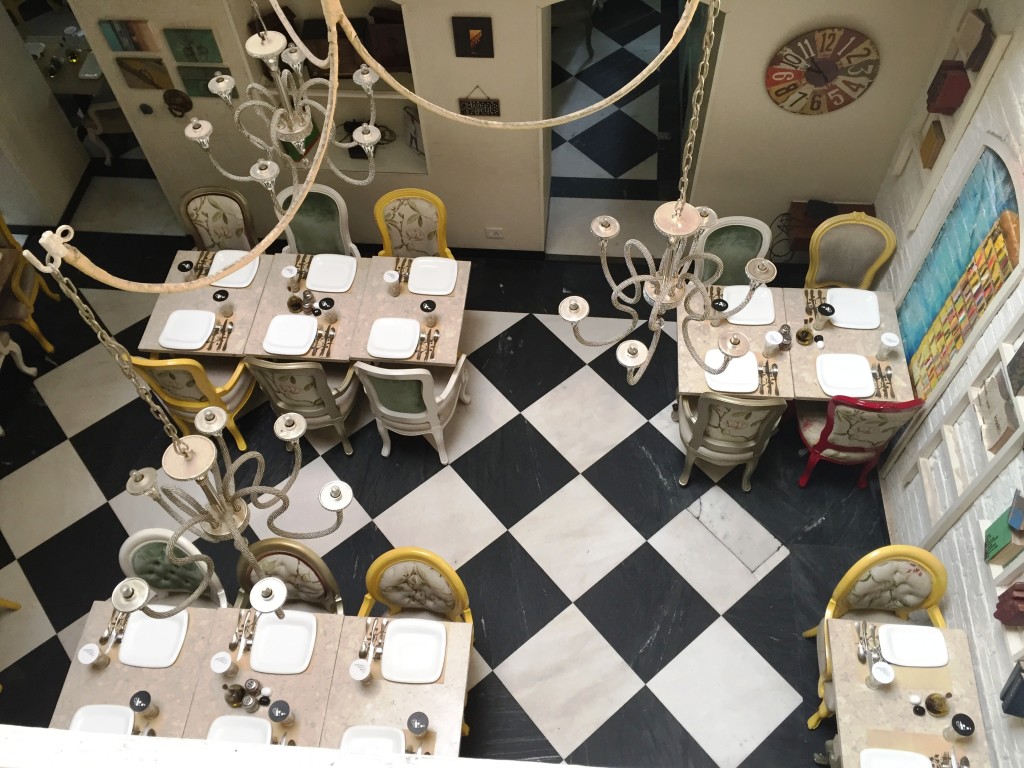 The building is nearly a 100 years old that has been restored and each of their seven beautiful rooms is decorated differently with a subtle theme. Mine was a pretty yellow, almost paying homage to the iconic yellow ambassador taxis found in Kolkata. While this isn't a five star property it has all that you need to ensure your stay is comfortable. A large bathroom, running hot water, toiletries, air conditioning, a huge four poster bed, tv, mini fridge etc.
They've taken a lot of pride in doing up the entire space and as you enter there is a wonderful restaurant that serves European food. It was always crowded during my stay so I'm guessing this is a popular place in the city.
What I saw – sadly I landed with a pounding headache and a ferocious cold so I spent a lot of my time just sleeping but when I did get out I managed to drive around the city admiring their gorgeous colonial architecture. I saw the stunning Victoria monument but didn't get a chance to go inside. Drove through the Howrah bridge which when I realised that's what people do when they come to Mumbai and get on the sealink. I did manage to visit old Kolkata Chinatown but clearly it was the wrong day and wrong time to visit. Everything was shut and seemed rather seedy if I'm being completely honest. I will have to go back to experience it the next time I visit.
Come nightfall I ended up taking leisurely strolls through the streets and by lanes and ended up near one of the large pujo pandals.  The entire place was full of merriment, music, food stalls and people all dressed up to enjoy the festivities. Many clamouring to get a good ' selfie' with the goddess which I suppose is the latest trend with all festivals in the country.
The most most ironic thing I saw was an old man deep in prayer and then two younger men right next to him engrossed in a selfie. Guess the pictures explain the generation gap better than anything else.
Where I ate – I was flooded with restaurant and specific dish recommendations and sadly just did not have enough time or the appetite to do justice to them all. I did gorge on some rasgulla and mishty doi which were both delicious and in hindsight I should have just eaten dessert for all my meals.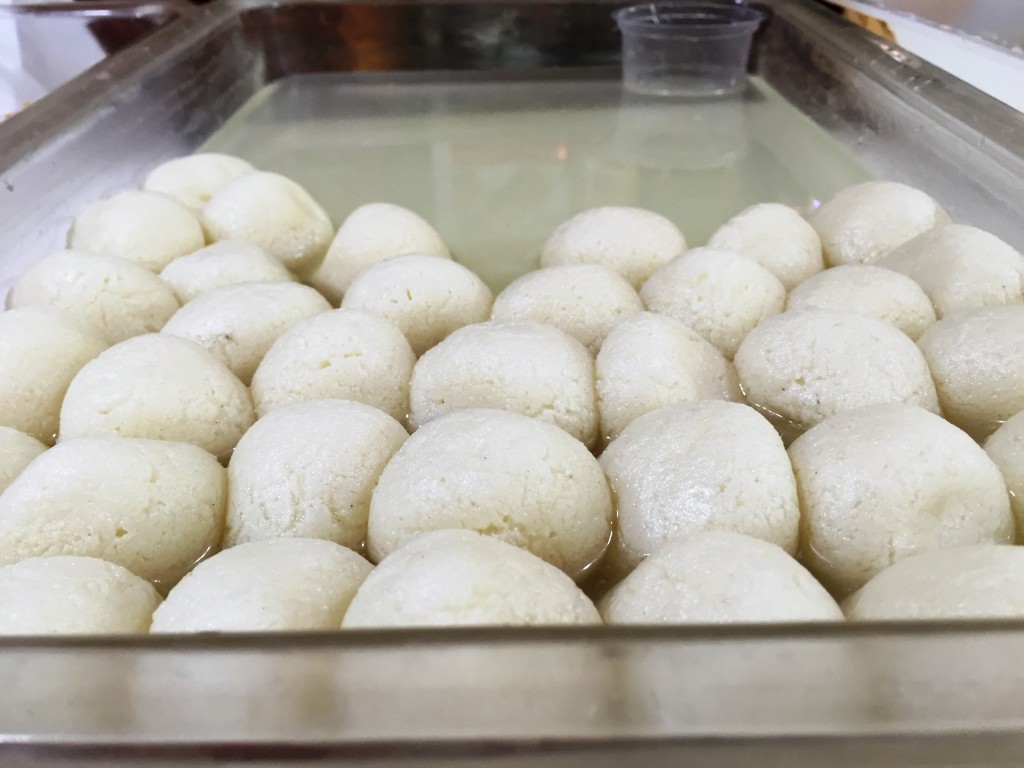 I got to Nizam's which I was told is legendary for their kathi rolls and I wasn't disappointed. Their claim to fame along with their tasty food is that it is apparently here that the kathi rolls were invented. I'm not quite sure what to believe but I'll say they're tasty enough for me to revisit. However there seems to be a small place nearby which I'm told is better so next time I'll look for that one.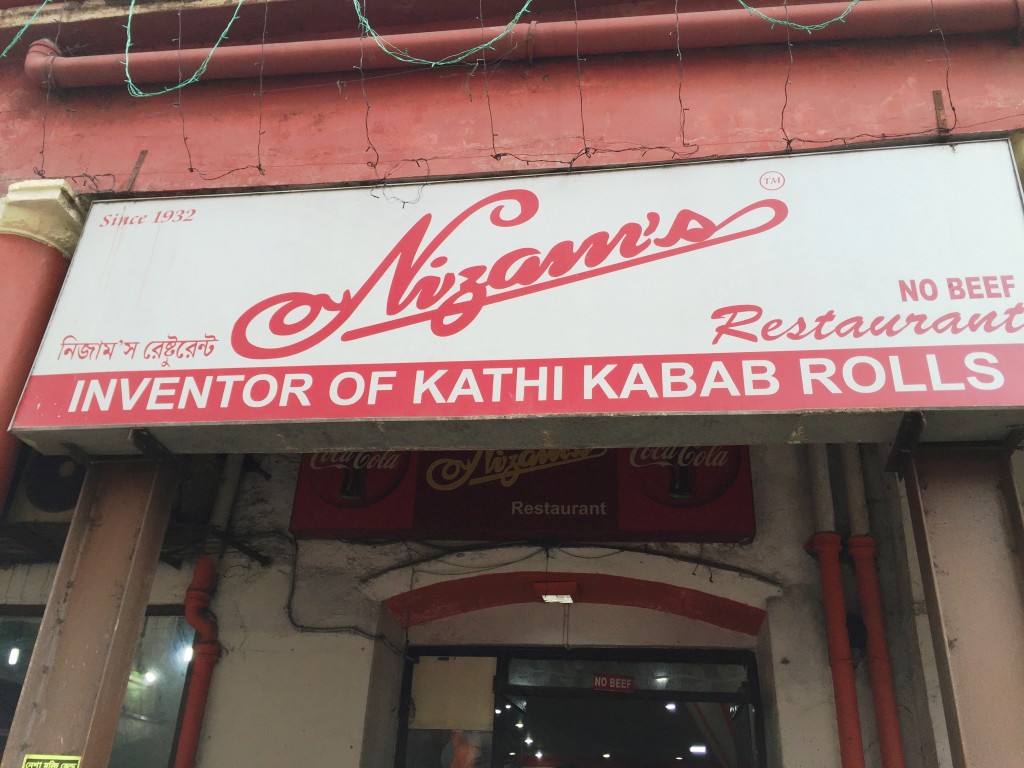 I took a stroll down the famous Park Street and popped into Flurry's ( pronounced flooooories as I was politely but firmly told ) which struck me as odd but never the less, an old traditional English breakfast wasn't what I wanted so I didn't end up eating there. I also thought of packing a pastry since I read somewhere that they're meant to be good but one look at them and I decided otherwise.
I ended up around the corner at Peter Cat. It's obviously a ridiculously popular spot because at 11.30am there was a crowd including yours truely. I managed to snag a table since the day before I skipped this due to the insane waiting period. I came to Peter Cat for one thing and one thing only – the Chello Kebab. What I ate wasn't exactly the best Chelo kebab, to be honest I'm not sure it was much of a chelo if you ask me but I will say this, authenticity aside it was bloody brilliant. Then again Kebabs and a fried egg is pretty much all I need to be happy. A chello Kebab is meant to have saffron and buttered rice. Not plain boiled rice with three blobs of butter for me to mix myself. Anyway, I lapped it up because it was my breakfast and because quite frankly I liked all the elements on my plate it's just that to me this is not chello kebab or even the best version of it. Locals might kill me for saying so but hey I'm fussy and I know what I like. I did think it is rather over hyped but to be fair, most places in India are.
Since my grand effort to visit Chinatown was a completely futile attempt I thought I'd sample some good ol Kolkata Chinese at one of the restaurants on Park Street and I ended up at Bar B Q where I enjoyed my meal but maybe I was expecting it to be vastly different from what I get in Mumbai. It wasn't, it was familiar, it was tasty and comforting. I don't know why I expected it to be much more ( I think this is where media has over hyped things ) but I enjoyed it and I'd eat there again.
2 days is barely enough time to just about scratch the surface of Kolkata and the food. I enjoyed the city and I think I'd like to spend some more time understanding it better than just reading about it or watching the city portrayed in films.
Disclaimer : I was invited by The Corner Courtyard but with absolutely no compulsion to review or write about anything. I genuinely thought it's charming and would stay here myself which is the only reason I'm sharing it with you my lovely readers 🙂