It's always funny when you expect to fall in love with a certain city or country but you don't. You enjoy it of course but you don't fall madly in love with it for some reason. Maybe the idea of that place was very different from the reality of what it ends up being. Then there are those cities or countries you didn't think much of, maybe there wasn't enough time to think about it or research it and before you know it, your heart feels heavy when you have to leave and your thoughts always wander back there, hoping to revisit and wondering what else there was to explore.
I have a few countries and cities that I am madly in love with and the one that took me by absolute surprise was Florence in Italy. I spent a grand total of 3 days there and for reasons I just can't explain, this city filled my heart with pure joy. I visited three Italian cities during the same time but it is dear Firenze that I think of fondly and yearn to visit again.  If you find yourself in this beautiful city dripping with art, culture and glorious food, these are a few things you absolutely must do !
Il Duomo de Firenze – Cattedrale di Santa Maria del Fiore or The Duomo as it's most often called is breathtakingly beautiful. The Cathedral is the main church in Florence and just an architectural marvel not to mention extremely majestic. It took me ages to try and capture the entire thing in one single photograph without cutting something out.  You could climb to the very top of the tower and get a fantastic view of Florence or just visit the Cathedral and enjoy it. On Sunday mornings its much quieter and it's a great to sit on one of the many benches and watch people feed pigeons or listen to street musicians pass their time. It's probably the top attraction in the city and worth every bit of hype.
Pizza From Pizzeria a Taglio – One of the best memories I have is eating some local pizza at this adorable pizzeria right next the the Duomo. They sell pizza cut into square shapes by their weight and there is a small space to eat downstairs with the walls covered with graffiti and random scribbles that remind me of a pub back home. ( anyone from Mumbai reading this, I found the Florence version of Ghetto, well sort of ). It's some of the very best I've eaten all over the country and I came here twice to enjoy their meatball pizza 🙂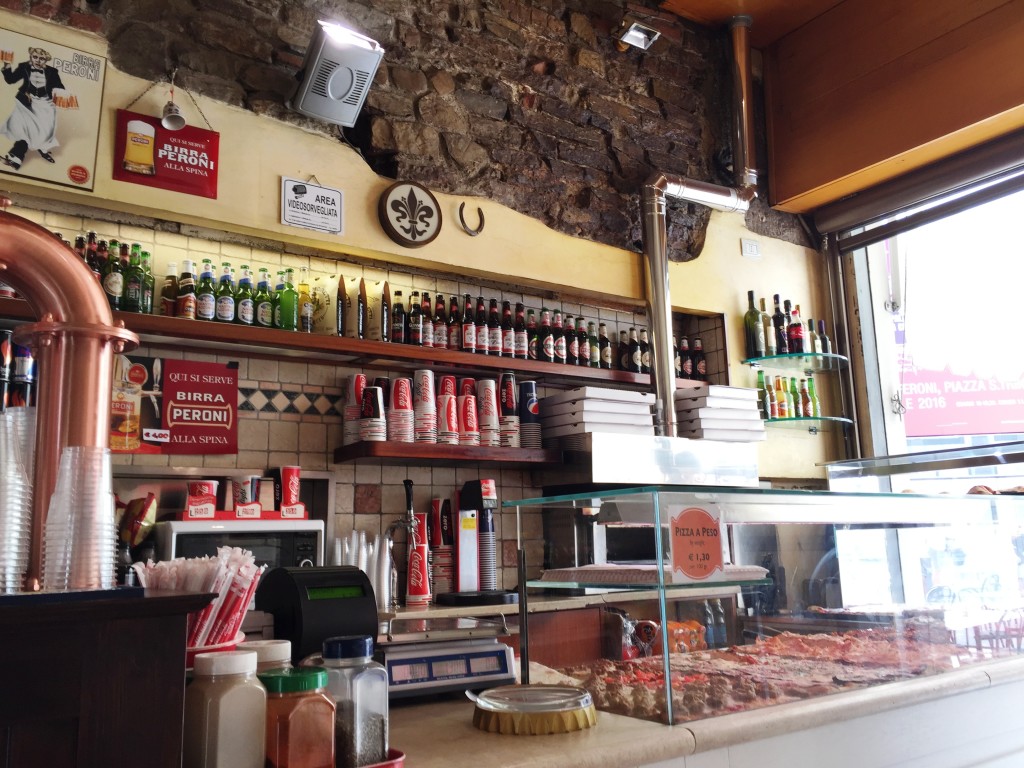 Florentine Steak – Nothing gives me more joy than a good chunk of well cooked beef. There are steaks and there are steaks and then there is a Florentine steak which is a local specialty ( obviously only in Florence ) which was over hyped for me personally ( I think they just made such a big deal about it so I imagined it to be gold in my mouth of something ) but it is a really really good steak and despite it being expensive, you MUST try it at least once. They sell it by weight so you need to order  8 oz so sharing is a great option and you only order the steak so if you like sides like vegetables or potatoes you need to order them separately. A slight rip off if you ask me, but hey, you pay for quality and this is worth it if you enjoy good meat or if nothing else, at least for the experience of it.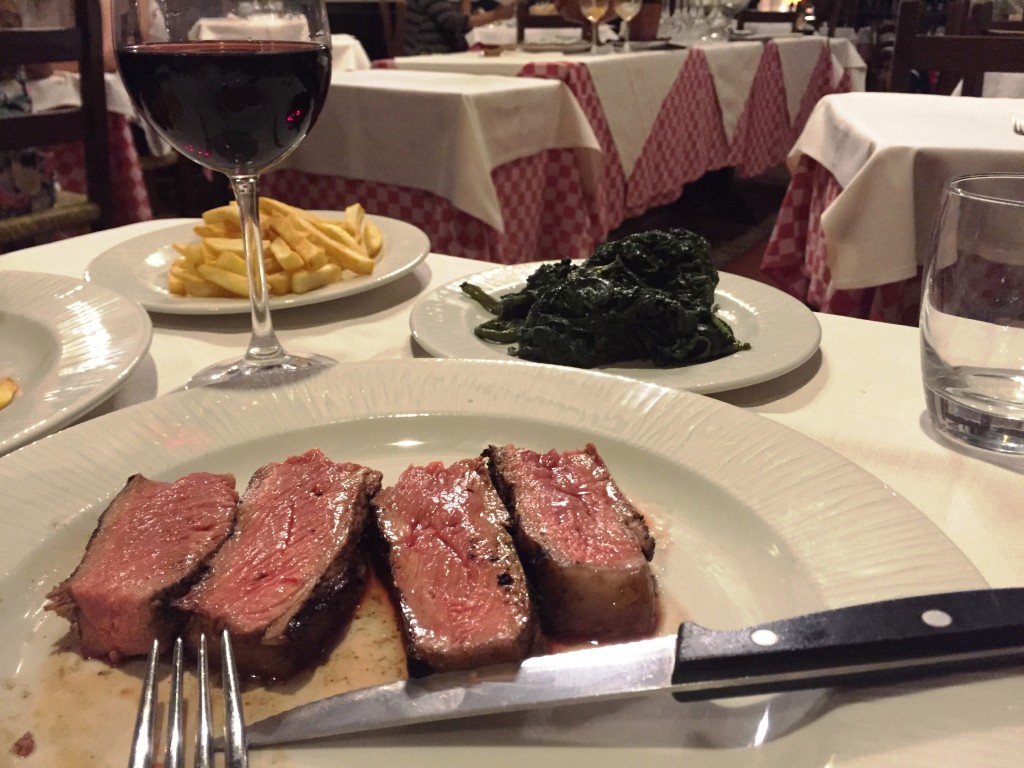 Piazza Michelangelo – The drive to this wonderful piazza or square is beautiful. I caught a local bus and once you past the city and start climbing up the hill you get a spectacular view of Florence. It's best to visit in the evening before sunset and despite it being really crowded and quite a tourist spot, it's beautiful because it has one of the best views of the entire city. It's a great place to picnic but I would just enjoy the panoramic view more than anything else since it is on top of a hill. It gets its name from the statue of David ( another replica ) that is found there.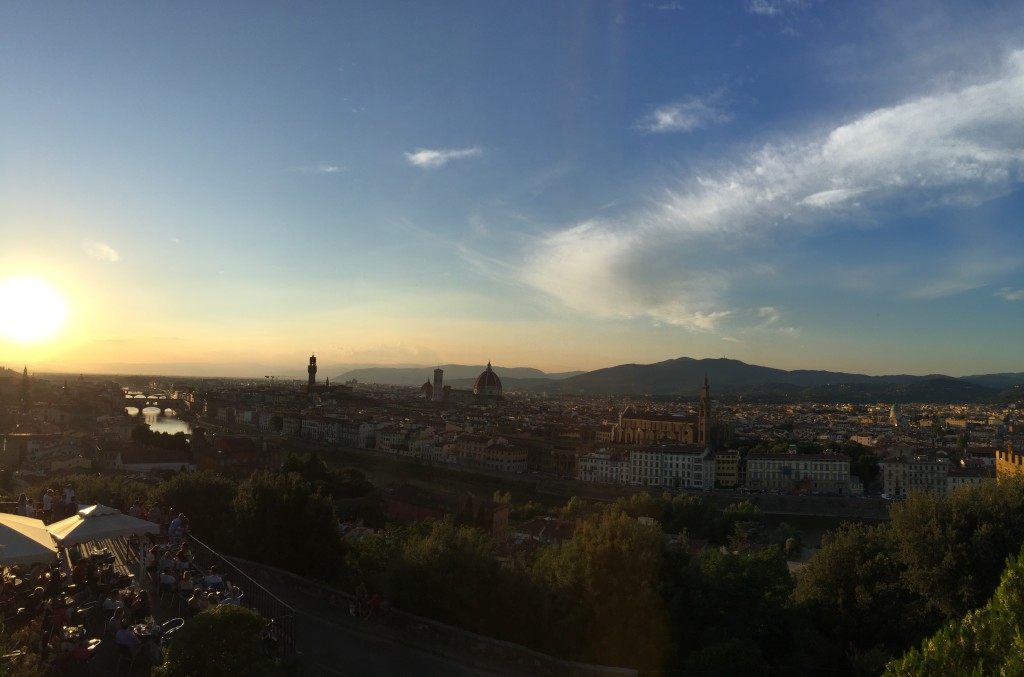 Il Porcellino – Or as I like to call him, The Pig. Of course it's actually a fountain with a bronze boar ( Not Pig ) located in the lively New Market in Florence. There is plenty of shopping and it's a great place to bargain but the main attraction is the boar fountain. Legend has it that you drop a coin in the boar's mouth and if it slips through it's good luck and then you rub his snout which ensures that you return to Florence. I really gave that snout a good rub so fingers crossed !
The Statue Of David –  David in all his glory is a Renaissance masterpiece by Michelangelo and is all over the city. Replicas I mean, you'll find him in a couple of places not to mention in every single souvenir shop but the original statue is houses in the Galleria dell'Accademia along with other priceless art. I remember studying various painting and sculptures in school which was my real initiation to Europe and it was amazing to see the real thing. If you enjoy a bit of history and art then must certainly pay a visit to the most famous man in all of Florence.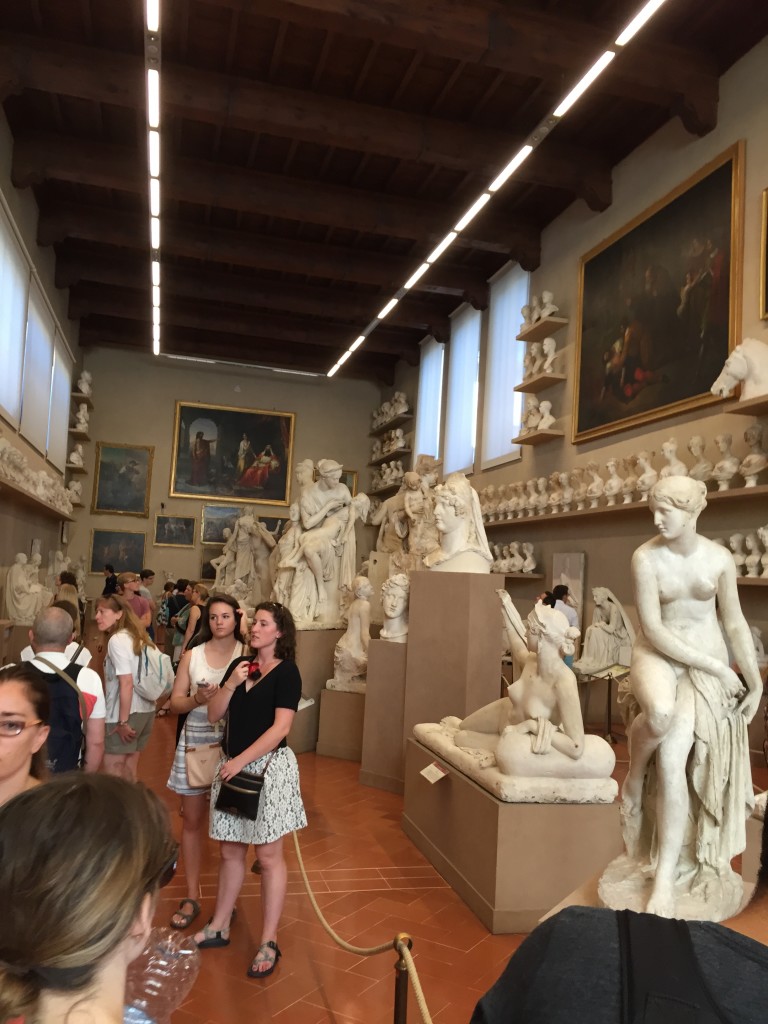 Uffizi Gallery – It would be a shame to visit the home of Italian renaissance and not visit the Uffizi Gallery which sadly I couldn't do personally. The lines to get in were incredibly long and the only day I could visit was a Sunday which means all the attractions are free. By the time I finished with David, the line to get in to the Uffizi was unimaginable so I've saved this for another time but if you do visit Florence you absolutely must visit !
Ponte Vecchio –  This is the oldest bridge in Florence and is built in stone. At one time it would have local butcher shops on either side but today it's full of tourists and has plenty of gold shops, jewelers and souvenir sellers. I liked this bridge because it's got a little piece of history and is a prominent land mark in the city. Interestingly Hilter visted Florence as a guest of Benito Mussolini in 1938 and really enjoyed the view from the Ponte Vecchio and during the World War II all other bridges were bombed in Florence to slow down the allied party except the Ponte Vecchio which were  believed to be express orders from the Fuhrer himself!
Walk around – I find the best way to experience any city is to walk around and this is a beautiful city to discover on foot. It isn't bustling and noisy like Rome nor do you bang into tourists at every corner like Venice. It's fairly easy to find your way around ( despite lots of tourists ) and the people are friendly enough and will help with directions. I spent an entire Sunday morning blissfully walking about soaking it all in, listening to the church bells ring, ate a gelato on the Ponte Vecchio Bridge and popped into some local shops. It's best to get lost in the by lanes and enjoy a bit of quiet but it's also how I managed to stumble across some lovely local graffiti.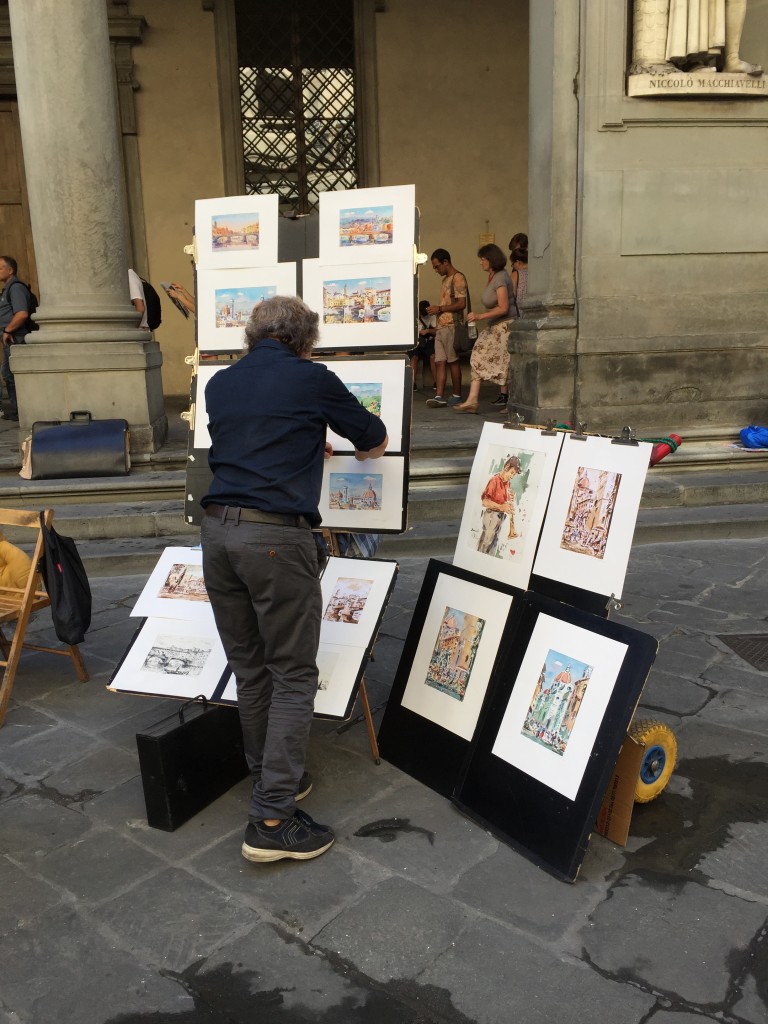 These are just a few things I managed to do which I personally think shouldn't be missed. If you have any of your favourite spots or things to do in Florence I'd love to hear them ! It will help for the next time I visit 🙂