It's been ages since I wrote a restaurant review and there are many reasons for that. Mostly I've been travelling and there are far more exciting stories and reviews about those travels to post than just another Pizza/Pasta/Burger joint. To be fair, there are plenty of restaurants that have opened shop recently but haven't personally impressed me enough to actually take the time to sit and write about them. That changed tonight.
I spent my Saturday night at a new place in town called Doppio Bar & Brasserie. In an age where PR companies hold several events and tastings, every blogger and city based website rushes to review the latest eatery, this is one place I hadn't hear or read anything about it. There are either two ways this could go – it could be a fun night with great food or another joint that gets a big fat X in my books. Thankfully it was the former.
A bunch of us visited this place which is situated in Breach Candy right about the popular ( I haven't been yet ) Bombay Bronx and is a wonderful lounge bar. I find it hard to label this as a restaurant because of the fabulous music and people that congregated at the bar throughout the night but I'm told they are opening up for lunch soon.( as they should, they have some very interesting food on their menu).
While Doppio stands for double in Italian, there are some things on this menu I will gladly take a double helping of. To begin with their Burrata and oven kissed tomato with aubergine caviar salad and their baby carrots with couscous and tahina yogurt salad is heaven. Pure heaven. Simple clean flavours, nothing complicated and actually the perfect small plates with drinks.
Their signature drinks are interesting. The barkeep informs us that this is a coffee inspired bar which means some of their drinks are coffee infused which personally don't work for me ( I'm not a coffee fan ) but the rest of my group seems to enjoy. I will however say the espresso martini and creme caramel were excellent out of the lot.
I loved their Hurricane and Peachy Keen drinks, absolutely delicious and it's always great when you enjoy a well made cocktail because it means you'll have more than just one.
The Creole spiced Tiger Shrimp on a bed of couscous ( I heart couscous so that's always a delight ) and the Chinese style stir fry honey chili chicken is great. I always enjoy a bit of Chinese food to peck at while I'm drinking.  The avocado shrimp toast is served cold so if you prefer warm starters skip that but surprisingly one of the best things is their mushroom soup! Only an idiot like me will eat a mushroom soup at a bar but to be fair it's the mother of all soups.
The chicken sliders don't work for me at all, I just thought they were strictly ok and I'm not a slider or bao person so I'm no one to pass judgement really.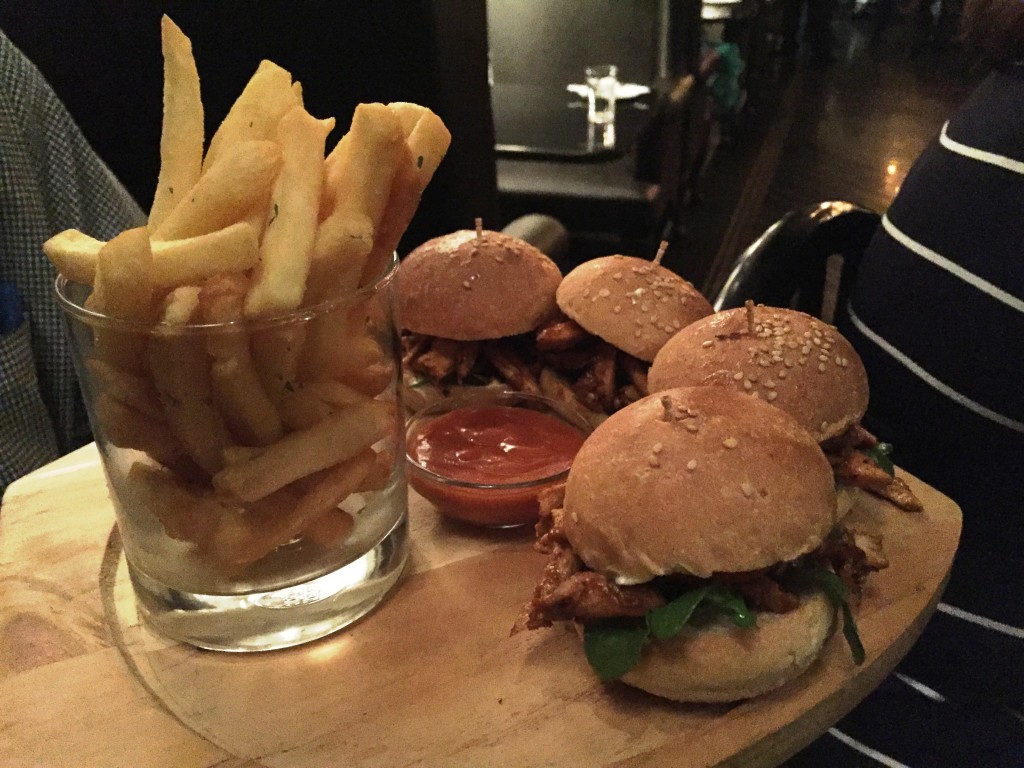 We didn't eat any mains but did enjoy a mushroom risotto which came loaded with cheese and mushrooms and was very satisfying.
The decor at this place is black and white muted tones, mismatched furniture and a nice long bar with a book shelf tucked in a corner. It feels like you walked into a friends funky living room and the music is thankfully no hindi or edm but just very groovy stuff which makes it so casual yet chic with their fancy furniture and delish food.
The only minus point is the seating arrangement so if you're a group of 4 or maybe 8 its great because they have tables that accommodate that. Groups or 5 or 6 or even 7 tend to get lost and we had to do with large tables and bar stools in a corner. Not really complaining because lets be honest, if you're well fed and you have a good drink in hand and you're tapping to the music, the chair or table your sitting at is the last thing on your mind. However if you're booking I'd suggest you make that clear at the time. If you ask me the next time I visit ( which will be very soon since it's close to home and I love the vibe ) I'm hanging at the bar with my friend that keeps pouring those delicious hurricane drinks!
After a great couple of hours there on my way home it got me thinking. There has been hardly any press coverage or blogger reviews about this place ( unlike most places ) and yet it was packed to the gills. Almost every table was reserved and the spill overs were all over the place because even the bar was full which means clearly people have been visiting and enjoying themselves enough to come again.
It opened in December towards the end and for a couple of weeks old I think I found South Bombay's newest Party place.