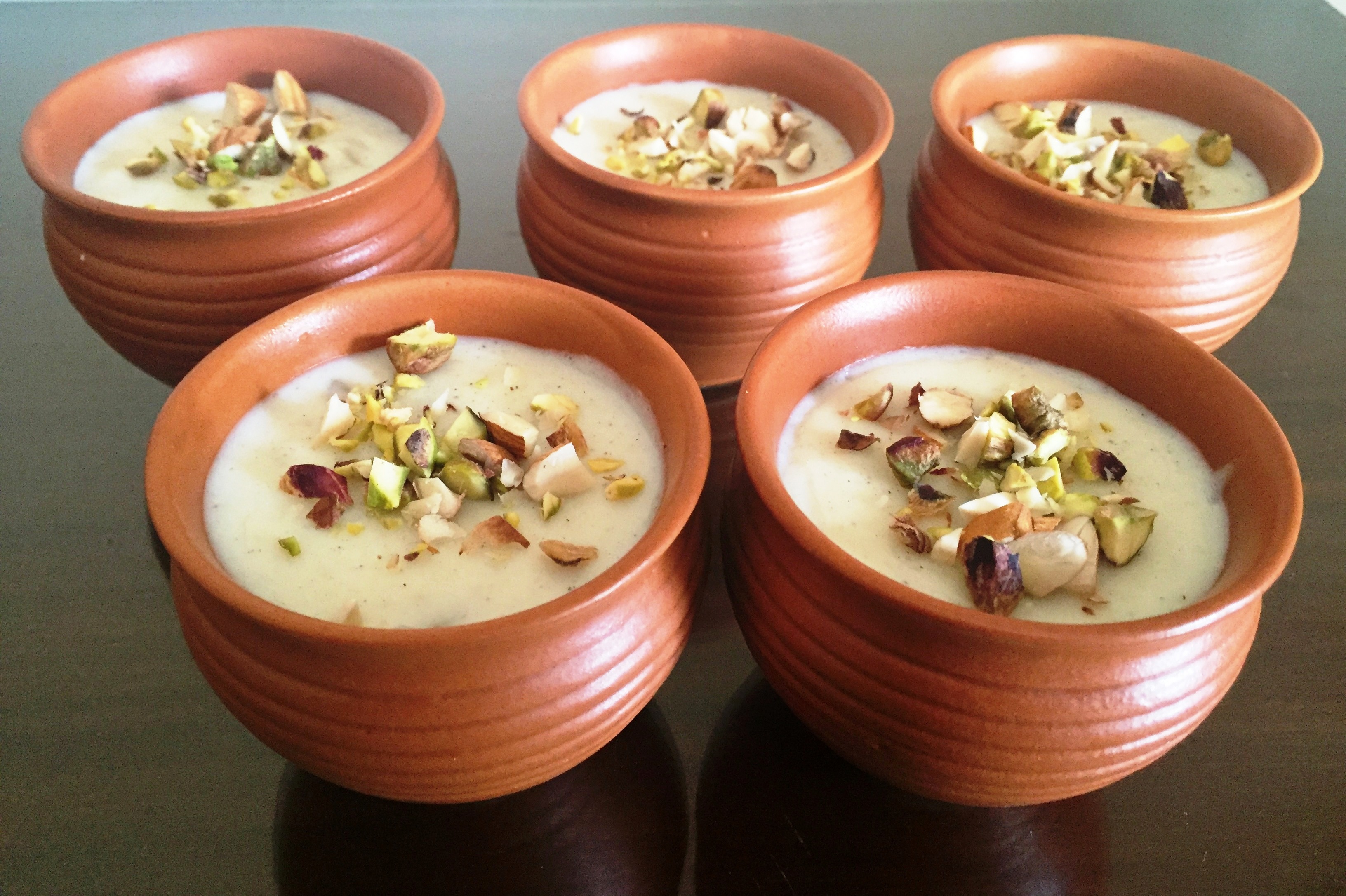 Every year folks do food trails through Mohammed Ali Road, Minara Masjid and other popular eat streets to sample typical Ramadan food. While it's common to write about these dishes and where you get them this time I thought I'd try and share some of the recipes so you don't have to battle it out in any street or alley or wait your turn to be served, you can just make it in the comfort of your own home and with of course a more hygienic kitchen and a firm grip on how much oil or sugar you'd like to incorporate.
I decided to start a small and very nascent series called the Ramadan Recipes and to kick start it I've picked a sweet dish. I'm not the greatest dessert fan but there are a very dishes that I adore and this classic North Indian rice pudding is one of them. Phirni is an extremely popular dessert and one of my favourite times of the year to indulge is during the month of Ramadan where it's sold in abundance. Here is my simple and easy version, I hope you enjoy it 🙂
Ingredients –
1 liter of Milk
1/2 cup of rice ( soak it in water for atleast an hour )
1 teaspoon Cardamon Powder
A few strands of Saffron
5 – 6 teaspoons of Sugar or any sugar substitute
Chopped Almonds and Pistachios to garnish
Method –
Grind the soaked rice into a smooth paste in your mixer or grinder. It shouldn't be liquid thin but just a bit paste like with a few lumps is ok.
Heat the milk in a pan and keep stirring till it almost comes to a boil and then add the rice paste and continue cooking. As the milk and rice paste is cooking keep stirring as it tends to stick to the pan as it cooks.
Once its cooking it starts to thicken and you can add the Cardamon Powder, Sugar and Saffron to the milk and keep stirring.
In about 15 minutes in total the pudding will cook and you'll notice as it thickens. Empty the pudding into your serving dishes, ideally an earthen clay pot but you can use anything you have really.
Garnish it with the chopped almonds and pistachio and wait for it to cool before you eat it. As it cools it will set and ideally serve them chilled.
Note – You don't have to use saffron, you get versions without it so that is entirely optional. Despite listing it as an ingredient I skipped the saffron in this particular recipe because the one I had was completely dried out. A lot of folks add a few drops of rose water so again that is optional. Some folks use heaps of condensed milk instead of sugar and if they do use sugar they use plenty more than what is in my recipe so if you like it sweeter please go ahead and add as much.
For more updates on my food and travel adventures, follow me on Facebook, Twitter, Instagram and Snapchat : thetinytaster