People always ask me which is my favourite place to visit and I'm always stumped because really, how can you choose just one single destination. I will say that Singapore features quite high on my list of top places I enjoy visiting and to be honest it has everything to do with the Singaporean culinary scene. It's a city that is constantly eating and eats well! There is an abundant variety of dishes and cuisines and you can find almost every single type of food here. I always tend to gravitate towards local dishes best found in hawker centers so I stick to those and only those. I have my favourites but the truth is, when you're in Singapore, the smartest thing to do is try everything. With a heavy Chinese, Indian and Malay influence in their cooking, Singaporean food is delightful and if you find your way to Singapore, don't leave without eating these!
Char Kwey Teow – Without a doubt this Singapore style fried noodle dish is one of my all time favourites and not only that I've managed to master my own home style version as well. It's quite basic with thicker rice noodles, a sexy spicy sauce along with fish cakes, cockles, shrimp, bean sprouts and some scallions. I'm not a big cockle fan so I skip those but lap up the rest. Out of all the various noodle preparations, this is the best in my humble opinion.
Prawn Hokkien Mee – This noodle dish consisted of a combination of egg noodles along with the thick rice noodles found in the kwey teow. It is cooked in a thick rich prawn stock along with pork fat that gives it abundant flavour and is usually loaded with prawn, fish cake and squid. The origins of this dish they say comes from Malaysia
Hainanese Chicken Rice – This dream boat is often considered to be Singapore's national dish. It's actually a tossup between this and the Chili Crab. The Hainanese Chicken Rice is a surprise to many because there is no spice, it's actually just plain rice and a poached chicken cooked in its own broth. The flavours are delicate but they always serve a chili sauce on the side along with some soy and maybe ginger and it's all meant to be eaten together. Don't confuse this to be a bland dish it is packed with flavour.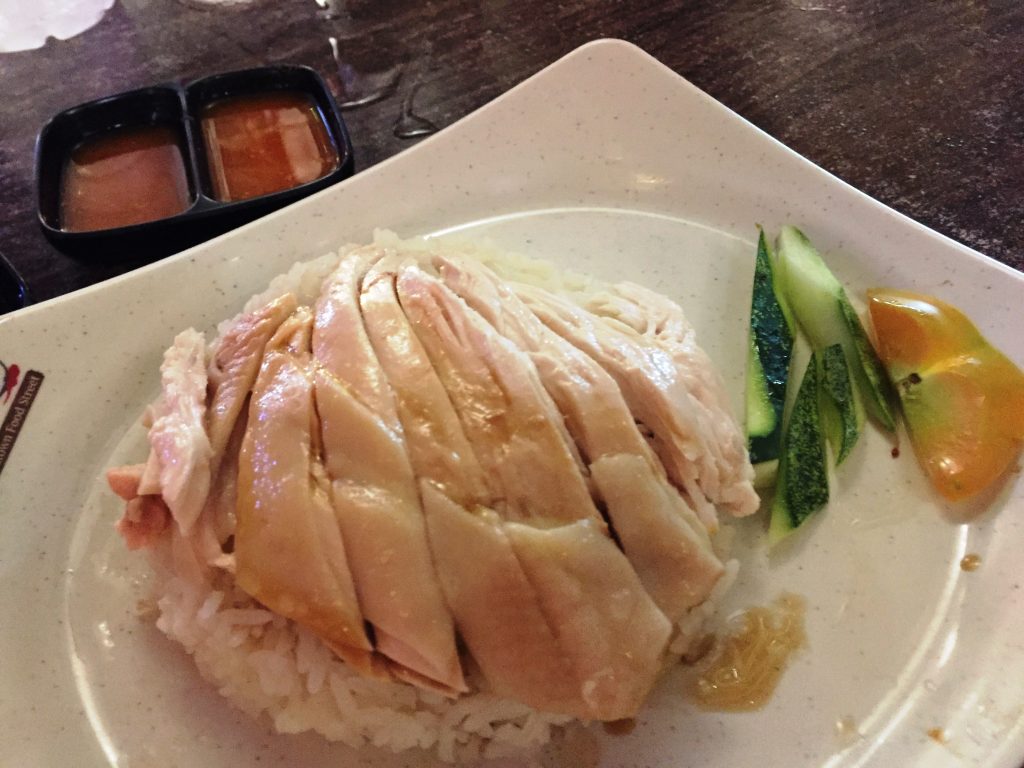 Kaya Toast – It's a popular snack where two slices of bread are smeared with coconut based Kaya jam, a nob of cold butter and toasted. It's also a very traditional breakfast served with soft boiled eggs. The cold butter is more than I ever eat at a time but even if you skip the toast and just enjoy a bottle of Kaya jam it's delicious.
Singapore Chili Crab – If you're scheduled for a trip to Singapore, chances are people will tell you to go to Jumbo the restaurant and eat their signature Singapore Chili Crab. This is such a rage all over specially with the locals and they can eat plates and plates full of spicy crabs. It's usually eaten with a fried bun ( mantous ) which you use to mop up all that thick sauce. Along with the Chili Crab the Pepper Crab is also quite popular.
Onde Onde – The only dessert I really enjoyed were these little fried balls made from rice flour and jaggery. The ball coats the piece of jaggery and then it's deep fried and rolled in grated coconut or sesame seeds for an outer covering. Best eaten warm once they're freshly made but there is no rule, some folks prefer them to be refrigerated.
Laksa – This dish is a culmination of Malay and Chinese elements and considered a Peranakan dish. There are two types of Laksa – curry and assam. Curry laksa is coconut based and found mostly in Singapore. It's a soupy broth with noodles made with coconut milk and generous amounts of seafood. The Katong Laksa is a variant that is unique to Singapore where the vermicelli noodles are cut short at the end. They usually just give you a spoon and you're expected to eat the noodles and the soup together.
Ayam Buah Keluak  – Just like the Laksa and possibly more than that, the most popular Peranakan dish is Ayam Buah Keluak which is a chicken cooked with black nuts. The Buah Keluak is a large fruit native to Indonesia. The fruit is considered poisonous and after harvesting it is burried in sand for over a 100 days after which the seed it removed and the rest of the poisonous fruit discarded. The seed is further soaked and scrubbed to remove any trace of poison and then cooked with the chicken.  You can scoop out the flesh inside the nut which is incredibly tasty, smooth and almost paste like. Not always easily accessible unless you find yourself in a specific restaurant specialising in Peranakan cuisine and there are a few in Singapore.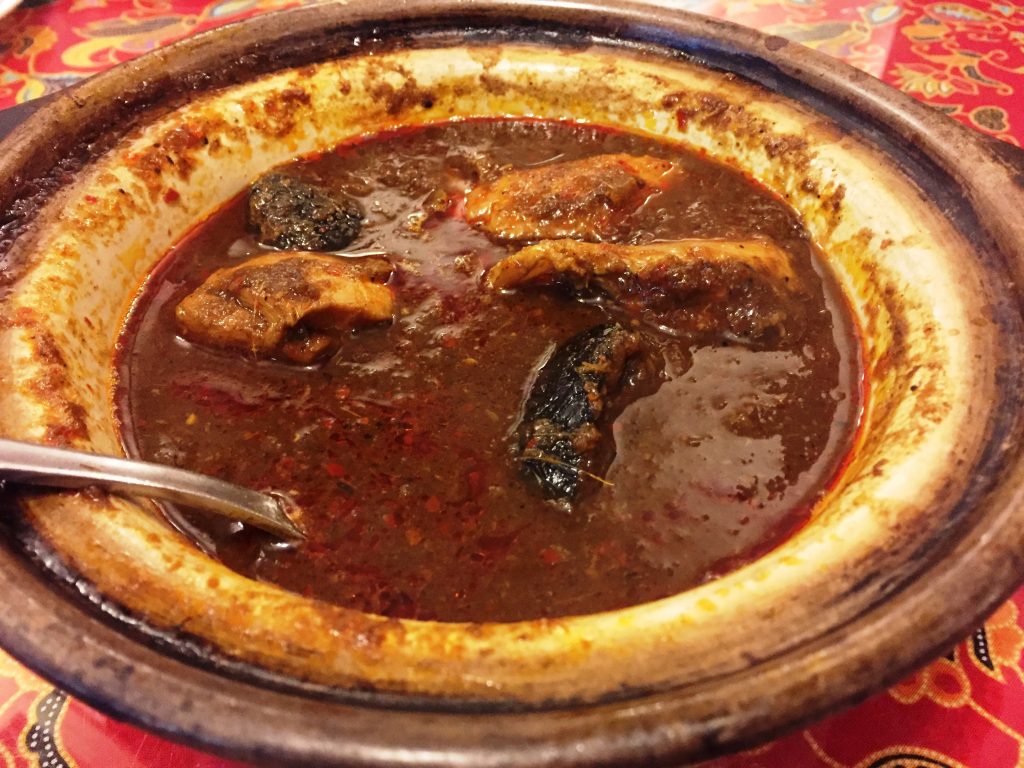 Popiah -This is a Chinese dish that is almost like a spring roll with a thin wheat crepe like covering. The filling is usually vegetables and sometimes meats like prawn and made with a sweet hoisin sauce. Unlike the spring rolls we are use to this one isn't fried. Having said that you do get various versions of it including the fried kind in other countries.
Satay – This is a very Indonesian dish but the Satay in Singapore is divine. Along with the usual beef and chicken satay they also have what locals sometimes like to call ' Chinese Satay ' because the meat served is pork. Satay is skewered barbecued meats serve on a stick with a delicious heady peanut sauce that is the signature accompaniment with it.
Carrot Cake – This might come as a bit of a surprise but this isn't a dessert or even any sort of cake and has no carrots in it ! It's actually small cubes of stir fried radish coated in a  rice flour batter. There are two types of carrot cake, one which is much sweeter and darker because of the molasses it's cooked in and the other is lighter and more like a pancake that's cooked with a beaten egg to give it this cake like crust on top. It's often eaten as a dessert but I like it with my main meal.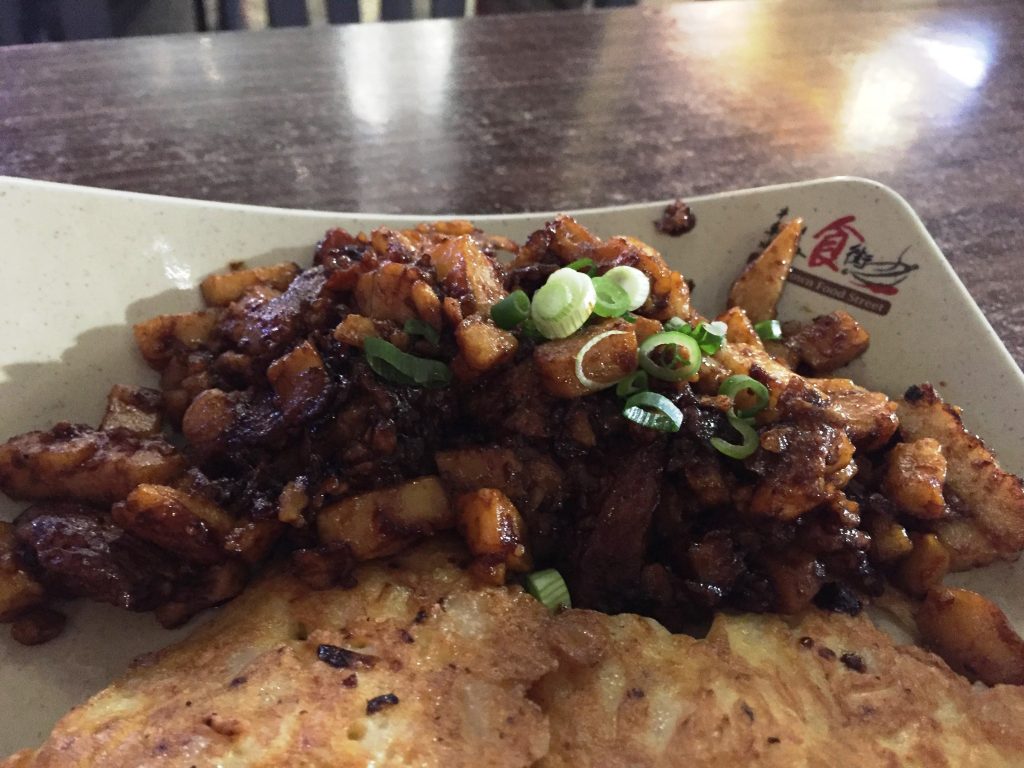 This is of course just the tip of the iceberg in terms of the food available and there are plenty more dishes to try but this should help you get  a head start 🙂
For more updates on my food and travel adventures, follow me on Facebook, Twitter, Instagram and Snapchat : thetinytaster