It's no secret that I love exploring different cuisines and dishes when I travel and I think it is imperative to eat local when you're in a foreign country. Local cuisine is always full of surprises and sometimes very different from what you're normally used to back home. Ten days in Germany and mostly time spent in the Southern region had me exploring a lot of German cuisine.
Bavarian food is not for the faint hearted. It's big, it's hearty and most importantly it's delicious. This high carb and high protein based culinary delight was one of the highlights during my German trip. I've decided to high light some of their popular dishes which I personally think you must try at least one and the ones I've enjoyed. Of course this isn't everything but it's a great list to start with and gives you a sense of Bavarian treats. I've also included a few other dishes I ate outside of Bavaria that were relished with great enthusiasm. If you're planning a trip to Germany this should help you map out your food choices!
Maultaschen – This traditional German dish isn't Bavarian but actually Swabian as it's extremely popular in the Southern state of Baden – Württemberg. In short it's the German equivalent to ravioli or stuffed pasta only it's much larger in size. It's dough that's been stuffed with minced meat and either pan fried and served with a salad or slathered in a heavy cheese sauce. Various ways to eat this meat filled dumpling and each version is as tasty as the other.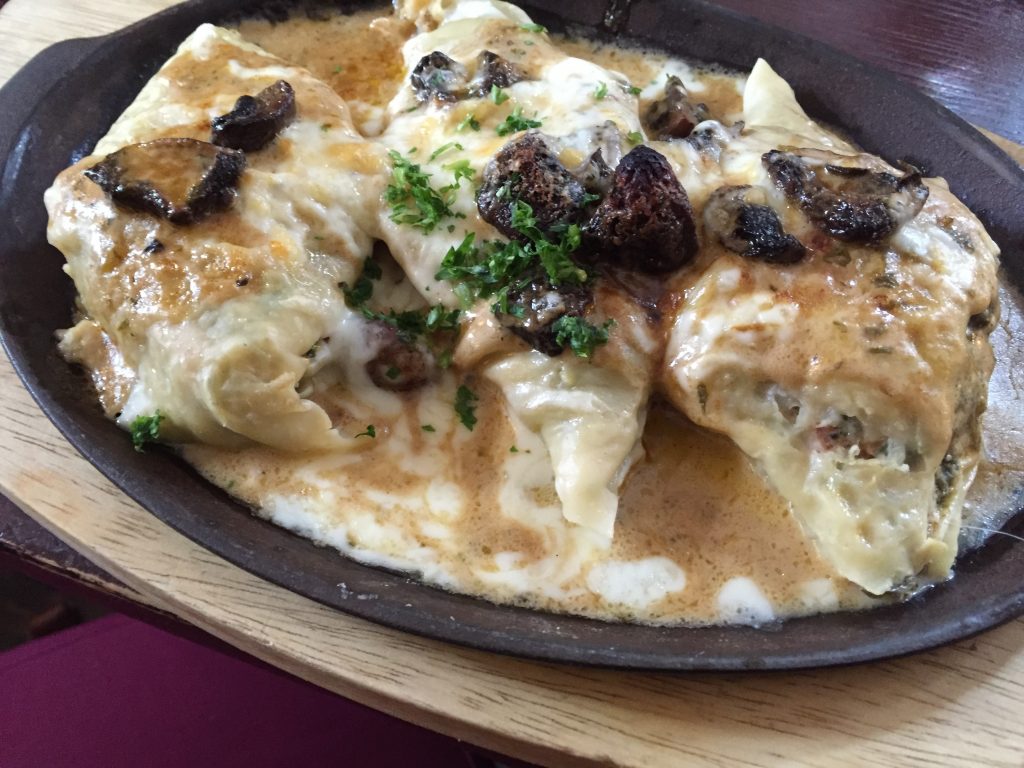 Spaetzle – Easily found all over Southern Germany, Spaetzle is their version of pasta or noodles. They are smaller stands of noodles made from an egg based dough cooked and served with plenty of cheese, onions and a few potatoes even. It reminds you of a cheesy pasta dish and I'd say the German equivalent to a Mac n Cheese but far more satisfying. It's so easy to make you can go to any supermarket and buy a packet of Spaetzle and prepare a dish at home even.
Pretzel – The most popular snack in Germany has to be a Pretzel. This large thick twisted bread studded with salt might seem too much at first but it's a slightly acquired taste. It's the most commonly found snack and despite various versions and mini pretzels the original one is the very best. The dough is twisted into a knot and seasoned with salt and then baked. Though you find various other seasonings like chocolate or cinnamon the classic salty bread is the best.
Sauerkraut – You'll find this accompaniment with most burgers or hotdogs on menus all over the world but it's origin is German. This simple uncomplicated dish of fermented cabbage with vinegar and rye seeds is a salty crispy delight. It's only when you eat Sauerkraut in Germany that you realise the various versions of it you've been eating all pale in comparison to these.
Weisswurst – There are sausages and there are sausages and then there's Weisswurst. This white sausage is a German delight made from group pork, veal and bacon. It's usually eaten at breakfast or even as a meal along with some Sauerkraut. Munch on it with a large sized Pretzel and it's makes for a filling meal.
Knodel – Bavaria's favourite accompaniment and one that's so large and filling that you might think is a dish in itself is the Kartoffel Knodel. It's a large round ball like potato dumpling that's served with all their meat dishes and gravy. Mostly it's made from potatoes but you also get bread dumplings called Brot-Knodel.
Schweinshaxe – I had my first taste of this Bavarian delicacy in Heidelberg and then again in Munich. It's a massive pork knuckle served with the skin outside that becomes crispy and the pork meat is soft and tender and literally falls right off the bone. It's served with a knodel ( potato dumpling ) which helps to mop up all that gorgeous gravy. It looks rather intimidating but it is a pure gastronomical delight.
Schnitzel – A schnitzel is one of my favourite things to eat but eating it in Germany is a delight. I'm use to veal schnitzel but the pork ones are just as good. This is a piece of meat that's been hammer beaten till it's flattened and crumb fried. Usually served with a cold potato salad or French Fries.
Apple Strudel – My grandmother would always pack these beautiful strudel pastries for me every time she went to a bakery and I grew up thinking these were local things she bought from the store. It's only years later that I learnt Germany was the land of Apple Strudel and this is one incredible dessert. It is a sort of rectangular or oblong pastry stuffed with cooked apples and dusted with fine sugar. Served warm and fresh out of the oven with a scoop of vanilla ice cream and you won't want for anything.
For more updates on my food and travel adventures, follow me on Facebook, Twitter, Instagram and Snapchat : thetinytaster