I try to post recipes that are easy to make and which are on the healthier side. I strictly avoid desserts or things that need to be deep fried and as far as I can I try to stay away from too many carbs. It's a personal choice really and this year I promised myself I'd make a complete lifestyle change. So no crash diets or rigid rules to follow but try to cut out the junk and eat clean as much as possible. Every once in a while there will always be cheat meals or recipes that are slightly more indulgent that the others and that's ok. It's about trying to strike a balance for me and not giving into every single urge. If you've been following me on my insta videos then you'll see me cooking everyday and they're always low calorie meals but this recipe is what I like to reserve for when I want to indulge.
Which is why this is the perfect recipe for me to try and experiment with my new Fortune VIVO Diabetes – Care Oil. I come from a family of diabetics so this is a condition I'm extremely wary of. The oil is clinically proven to help manage blood sugar levels, blood pressure and insulin sensitivity. The best part is that it doesn't change the taste.In addition, the oil is healthy choice not just for diabetic or pre-diabetic people but for the entire family. For me it's a step in the right direction and perfect for when I want to make a recipe like my chicken chili fry which the main ingredient is oil and a generous amount of it. There is no carb in this recipe and includes capsicum which is also high in nutrients.
Hope you enjoy my home made version of this tasty treat!
The Recipe 
Ingredients 
500 grams chicken ( boneless ) that has been cut into bit sized pieces or strips. I've used breast pieces.
2 large onions sliced
1 large capsicum sliced
1/2 teaspoon of red chili powder ( for that bright colour )
1-2 tablespoons of soya sauce
a pinch of salt
2 teaspoons of pepper
2 tablespoons of white vinegar or apple cider vinegar
5 cloves of garlic chopped
7 – 8 chopped green chilies ( more if you want it spicier )
Fortune VIVO Diabetes-Care Oil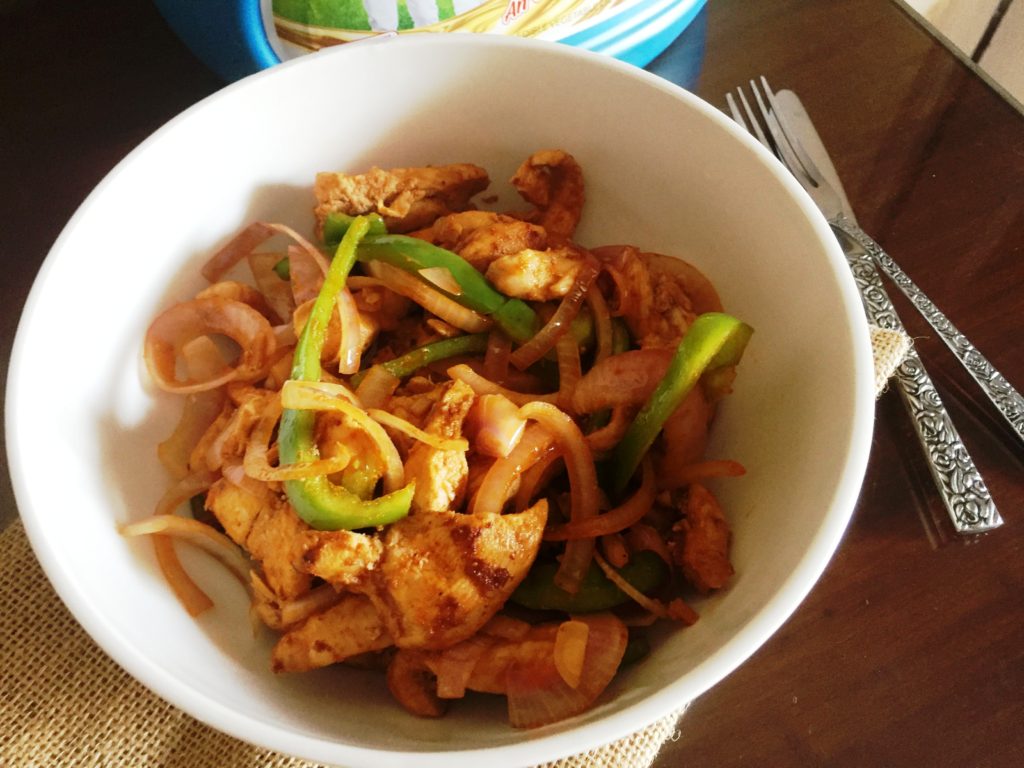 Method
First you marinate the chicken so in a bowl add the chicken, pepper, soy sauce, a few of the chopped garlic and vinegar. Mix well and let it rest for an hour.
In your pan, heat some oil and fry the chopped chillies. Fry them for around 2 minutes and remove them and keep aside.
In the same pan add the chopped onion and capsicum and cook it for around 2 minutes. They just need to get rid of the rawness but do not burn or cook completely. Remove them and keep aside.
Add more oil to the pan, make sure you pan in hot and on high heat and add all the marinated chicken. Let it cook as is for a minute before you start mixing the chicken. It needs to cook for 4-5 minutes and during this time if there is a lot of water that has released do not worry, you can drain it later.
Once the chicken has cooked and you've drained the water keep cooking the chicken so that it now starts to fry. Add more oil if required. Cook again for another 5 – 7 minutes. During this time add the rest of the chopped garlic and chillies.
In the middle of the pan make a well, add a little oil and the red chilli powder, once it cooks mix well into the chicken. This is what gives the chicken it's fiery red colour but the real spice comes from the chillies.
Once the chicken is cooked for a total of 12 minutes, add the onion and capsicum mixture. Mix well and let it cook for another minute and serve hot!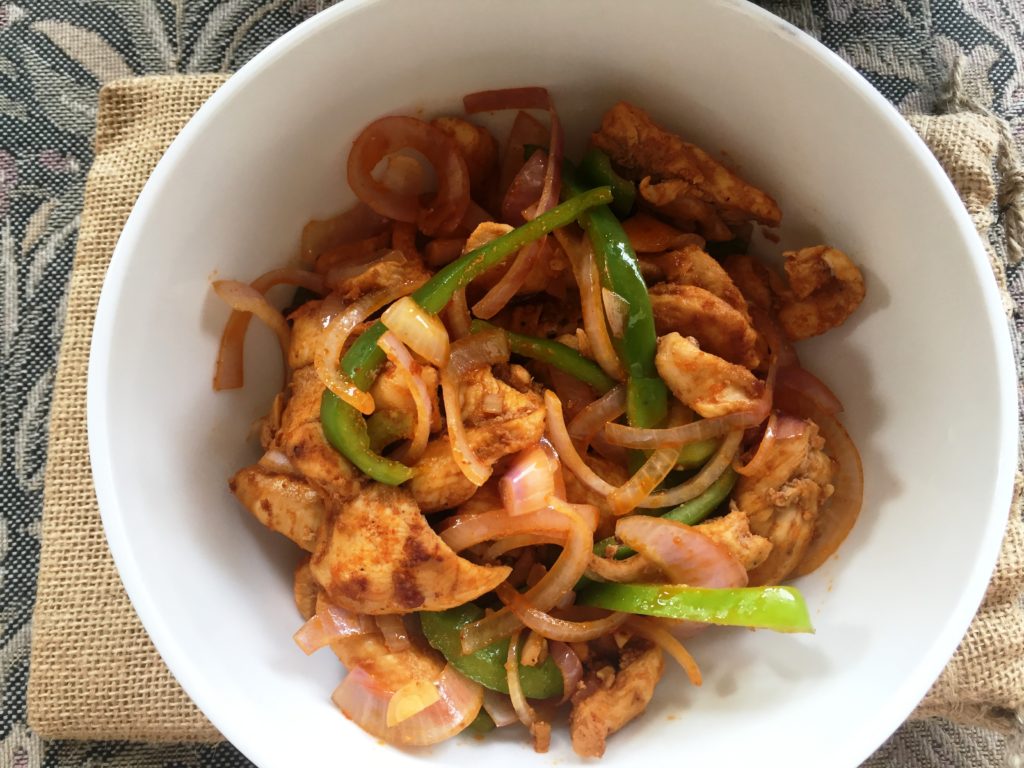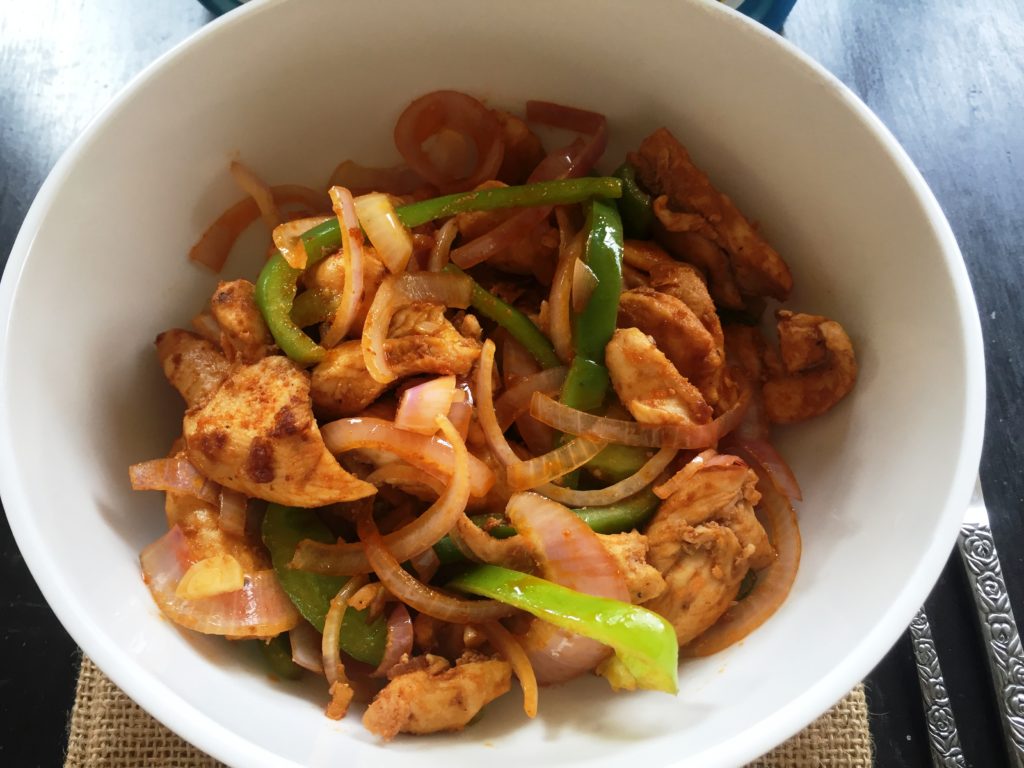 Disclaimer : This post has been done in collaberation with Fortune VIVO Diabetes – Care Oil. As always, thoughts, ideas, recipes, impressions and opinions are all mine 🙂
For more updates on my food and travel adventures, follow me on Facebook, Twitter, Instagram and Snapchat : thetinytaster