I'm a firm believer in taking a break from the usual and mundane. Sadly not everyone has the time or luxury of hopping on an airplane and whisking off to an exotic location. Sometimes, a gorgeous car ride in the pouring rain to a nearby city and checking into a beautiful hotel does the trick. Mid July is a great time to escape so when the JW Marriott Pune graciously extended an invitation to come relax  and unwind, I just couldn't refuse.
I've been travelling to Pune often but this is the first time I ended up visiting the hotel. At first glance when I walked in I thought of course it's beautiful with its winding stairway, intricate chandelier dangling from its tall ceiling and that magnificent floral arrangement the first thing you see when you walk into their bustling lobby. Then I thought, well it is a five star premium luxury property, it is the JW Marriott so of course it's going to look the part. It's only during my stay that I realised never have I seen any hotel that sees this much action on such a regular basis at any given time of day.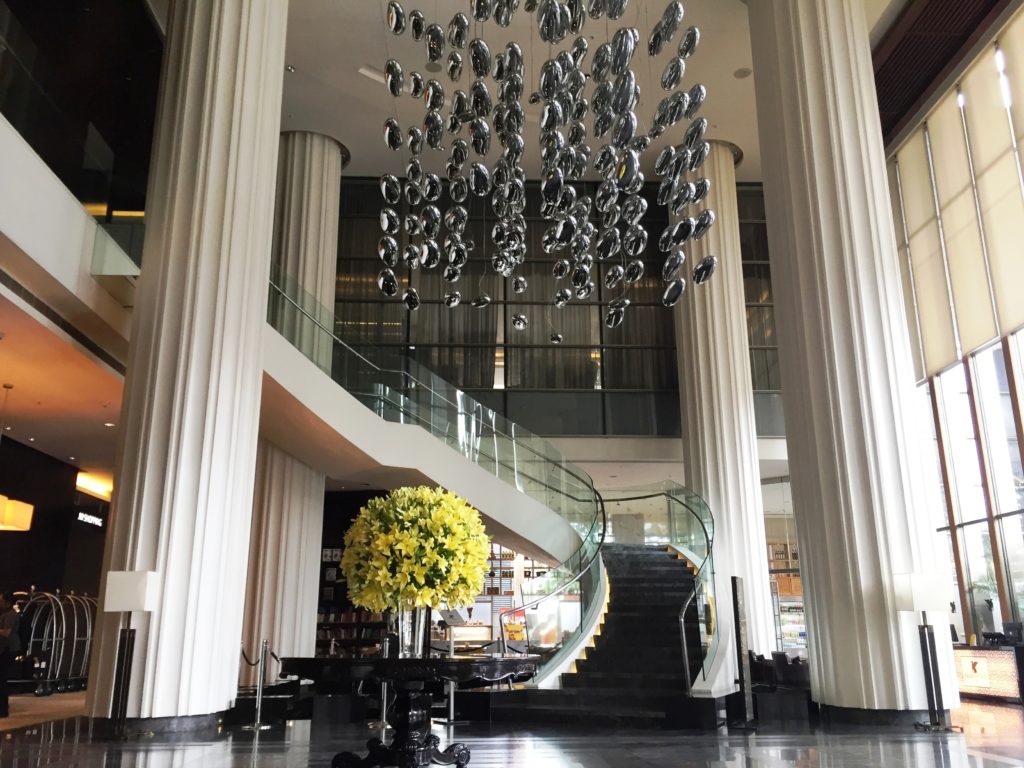 The rooms were at nearly full occupancy, every restaurant was packed to the gills, even breakfast time was over flowing with people, the lobby and coffee shops buzzing even their nightclub was packed on the weekend. People really seemed to like this hotel and with the two days I spent there, I could see why.
The hotel makes sure you're extremely comfortable in your room with every basic amenity cared for. Toiletries in case you forget, plenty of plug points to charge your multiple devices, fruit in your room to nibble on, a very comfortable room and a bed to sink it ( I slept so beautifully, it was a struggle to wake up each morning ).  There are even a couple of shops within the hotel incase you've forgotten anything and a spanking new mall coming up next door that connects directly through the hotel ( I think I missed that by a week or so ).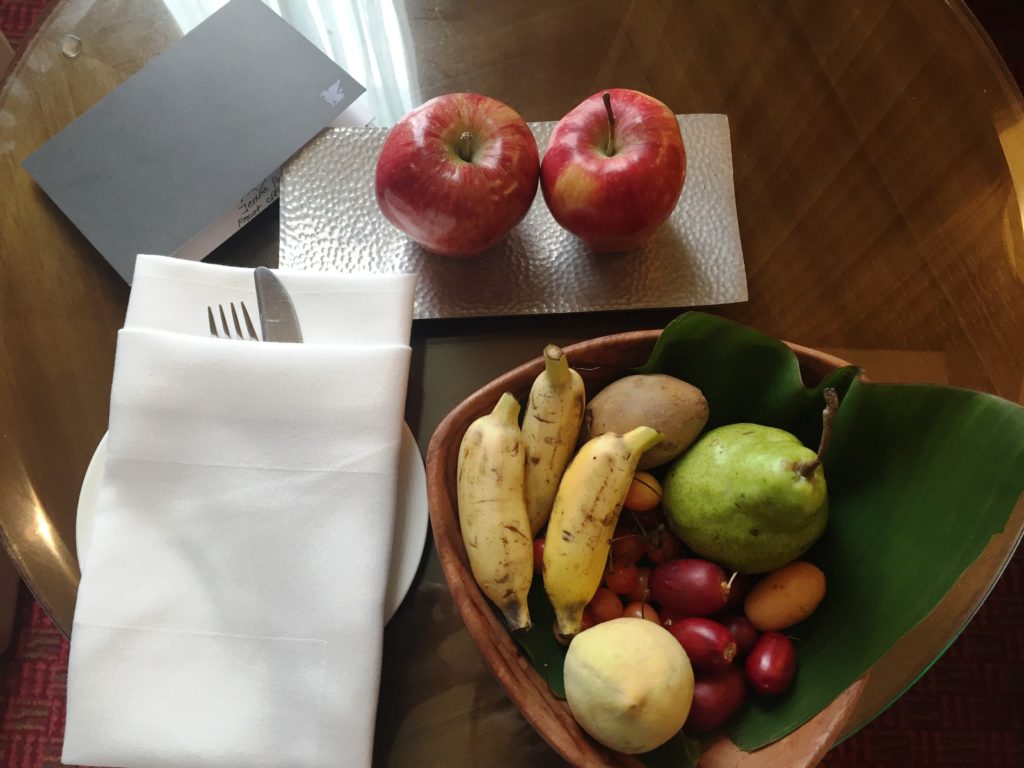 Food is such an integral part of any vacation and this hotel ensures that you are spoilt for choice and fed extremely well. So well in fact that I've written a detailed blogpost on all the eateries within the hotel including their fabulous food truck. What an ingenious idea to have a casual street food style atmosphere in the open with their very own food truck dishing out greasy delicious fried snacks.  It's obviously very popular specially with nonresident guests as it's busy every evening.
There is an Italian restaurant Alto Vino, Spice Kitchen which is their 24 hour coffee shop, Shakahari their exquisite vegetarian Indian thali restaurant and Pasha, the stunning rooftop North Indian specialty restaurant. Each outlet is special but I have to admit that grand Rajasthani thali with some south Indian elements was just such a regal treat and unlike any other thali experience I've had.
The food was top notch in all outlets and explains why there are constant reservations no matter which restaurant you go to. I think it's also their intelligent pricing of each restaurant that has attracted a lot of local crowd and with good reason.
For someone constantly struggling with the need to relax and unwind but at the same time try and get a decent round of exercise while on vacation I managed to make use of their very efficient gym. I thought I was the only foolish person to hit the gym on a Friday and Saturday night but it would I was far from alone. I didn't manage to lounge in their rooftop pool sadly because it was constantly raining but I made up for that with the most incredibly relaxing spa session.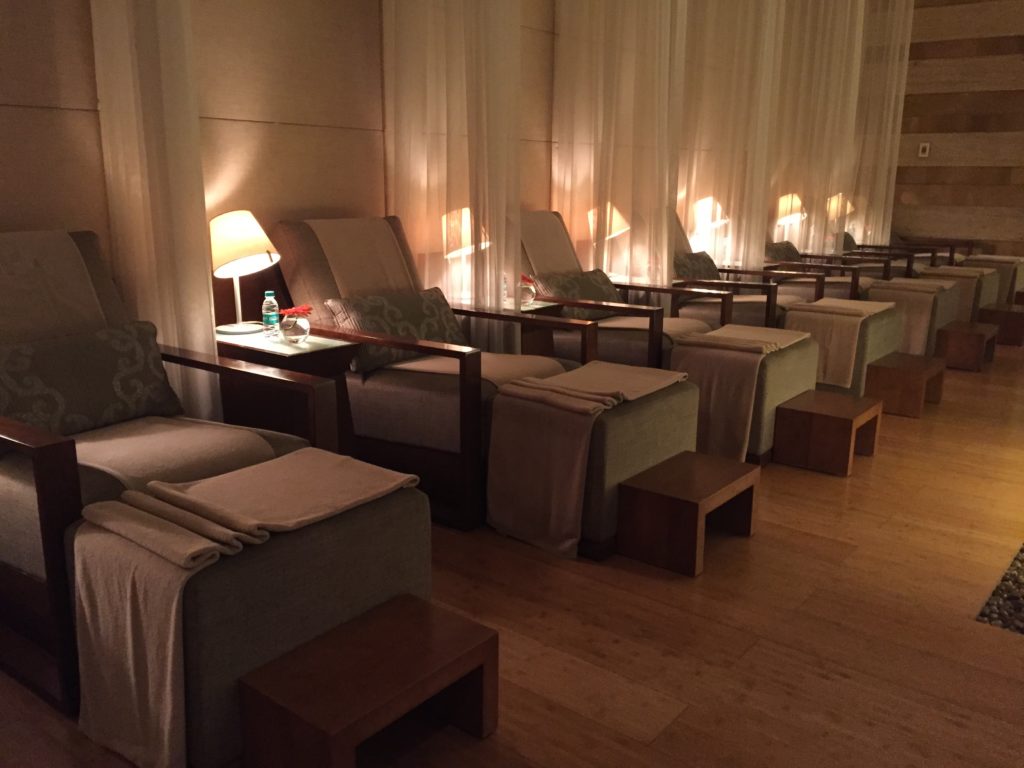 Their 90 minute signature massage is all you need to feel alive again and honestly, I think I ended up casually walking through their spa even when I didn't have an appointment just to inhale that incredible Mandarin scent they spray all over. My god you want to eat the air it's that good! I'm very particular about my massage and I know exactly what I like so in this case it was 90 minutes of pure bliss, minus a couple of yelps as my masseuse valiantly undid those awful knots in my back. A couple of minutes in the steam room post that and you're as good as new.
The truth is no matter how pretty a room, how attractive the rate or how exquisite the food might be, what you really take home from your over all experience and honestly what enriches your experience is the service. It's such a delight to have polite people make an effort to ensure that you are taken care of and then you slowly realise you're not the only special one, they go out of their way to ensure each guest is well looked after. The devil is really in the details. Knowing how friendly to be, just the right amount of conversation, when to let diners have their privacy, how to recommend dishes and for me most importantly to top up a water glass without being told 5 times. It's always the little things that make your experience.
If it's a few days you need to shut off and be taken care of then let the team at JW Marriott Pune do the needful. I promise you'll be well fed and well rested 🙂
Disclaimer: I was part of a culinary trip organized by the JW Marriott Pune but as always, thoughts, opinions and ideas are all mine 🙂
For more updates on my food and travel adventures, follow me on Facebook, Twitter, Instagram and Snapchat : thetinytaster
My previous post about dining at the JW Marriott