I always find that the best way to explore a new place is through their food. I get a better sense of what a country or city is like only once I've spent sufficient time walking through alley walls and eating at restaurants or little carts of the street. I was all set to embrace Taiwan and explore it's food culture but I found it to be more overwhelming than anything else.
Taiwan is a small island that generally tends to get over shadowed by its older siblings like china or Japan but if you pay attention, it's got so much influence from these two countries with its own twist which is evident in almost every part of their culture but more evident in its cuisine.
Taiwanese food is a beautiful melody of Chinese cuisine specially from the Sichuan or Hokkien Provence and Japanese cuisine with plenty of fresh seafood and sushi. If you look at its history Taiwan was part of China till the Qin dynasty and then ruled by the Japanese for nearly 55 years so culturally there is a great influence.  I spent a week in Taiwan, mostly in the Eastern part of Yilan but a pit stop in Taipei as well as plenty of time in the country side was enough to really sink my teeth into Taiwanese food. There is a mind boggling amount of dishes in their repertoire and one trip isn't enough to do justice but these are some that I really think best describe what Taiwanese food entails.
Tofu – Taiwan seems to be completely smitten with Tofu. No matter where I went, I always managed to find tofu in all sorts of dishes on menus. I didn't get a chance to sample the famous ' stinky tofu' but plenty of the normal one which is a great change from all the meat. If you're vegan then this is heaven for you.
Candied Tomatoes – If you don't like too much sweetness in your food then you might want to give this a miss. It's a popular treat to candy strawberries and tomatoes and eat them but be warned it is saccharine sweet and sticky because of it's toffee like outer coating.
Braised Beef Noodle Soup – As far as a dish being synonymous with Taiwan goes, beef noodle soup is probably your best bet. Local Taiwanese can't stress enough how much they adore their food and don't differentiate between ingredients and dishes but this beef noodle soup is a universal favourite. The broth is thin but packed with flavour and has chunks of beef along with noodles and a few shreds of pakchoy ( the greens tend to be optional ).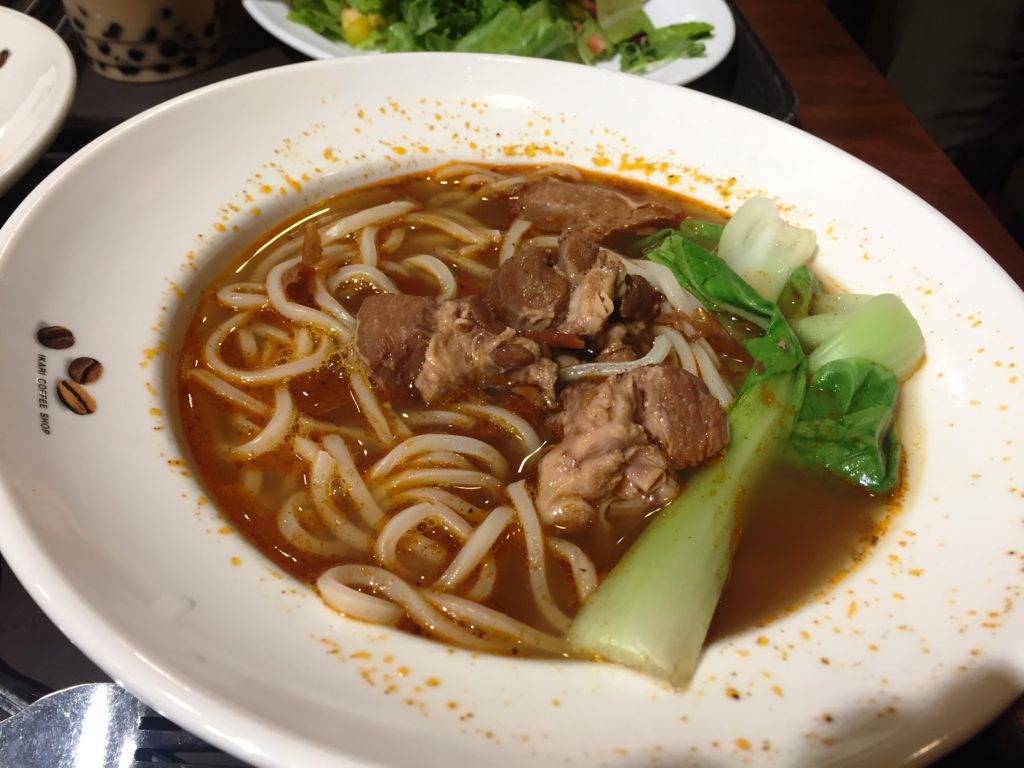 Dumplings – I personally can't get enough of dumplings and can eat them for all my meals. It goes without saying I was delighted to find that Taiwan shares my enthusiasm for dumplings and actually focuses more on pork as the filling. Very rarely will you find a chicken or vegetable stuffed one but you won't see me complain about that 🙂
Xiao Long Bao – There are pork dumplings and then there is the King of them all – the Xiao Long Bao. This is a dumpling that is stuffed with pork as well as broth which is why I like to call it a soupy dumpling. It's a bit tricky to eat, you need to be careful so as to not pierce the dumpling and spill all that flavourful broth. The best place to eat these are at a restaurant called Din Tai Fung which is a Taiwanese chain that's all over the world and enjoys a local fan following ( including myself ).
Tiger Baos / Gua Bao – These baos are used as a base and stuffed with bits of roasted pork along with condiments and then folded into a sandwich. The Gua Bao are most commonly called the Taiwanese burger though they're far from one. The Tiger baos are these bright yellow coloured ones. I'm not sure what gives it that colour, if it's tapioca or maybe pumpkin added to the mix but it sure is fun to eat!
Sushi/sashimi – A lot of people don't realise that the Japanese had a strong cultural influence in Taiwan since they ruled the country for so many years. A lot of locals speak Japanese fluently and this influence is more predominant in their cuisine. You'll find plenty of sushi joints all across the city and a lot of local fisher folk enjoy fresh sashimi with their catch.
Oyster omelet – If you're heading to Taiwan then the first thing people tell you to eat is this street snack. The Thai have their crab omelet and here, the Taiwanese have their oyster one. It's exactly as the name suggests, an omelet stuffed with fresh oysters and is one of the most popular snacks though I personally think it's filling enough to be a meal. I can assure you more than 1 egg goes into making this fluffy dish.
Blow Torched Beef – I don't think has any official name but I've seen it in a dozen videos online. Chunks of beef cut into manageable pieces, grilled and blow torched till its' done. You can choose sauces and condiments to slather it with or just have it as is with some classic salt and pepper. It's the fastest way to getting your meat cooked and fun to peck at these with a skewer.
Octopus/Squid – No matter which market you visit, the one thing you'll see every few meters is either octopus or squid being grilled or roasted. It's all about eazy eating so usually they're on a skewer and glazed with a sauce to give it more flavour. One stall grilled them with cheese and then topped it with crispy onion flakes.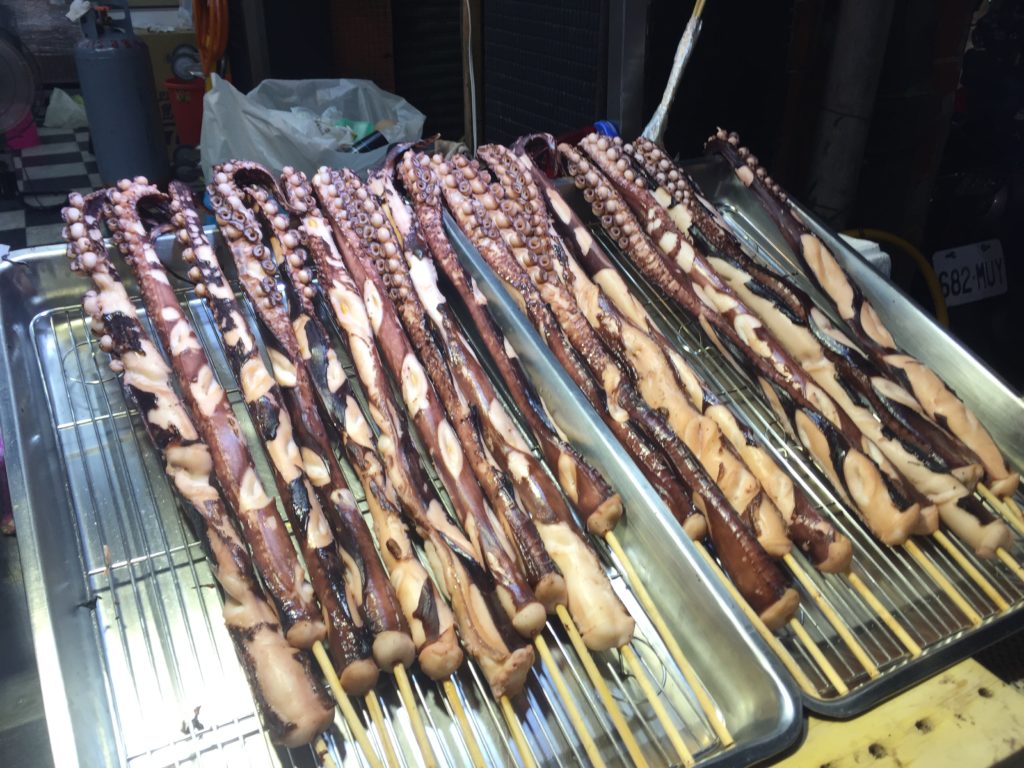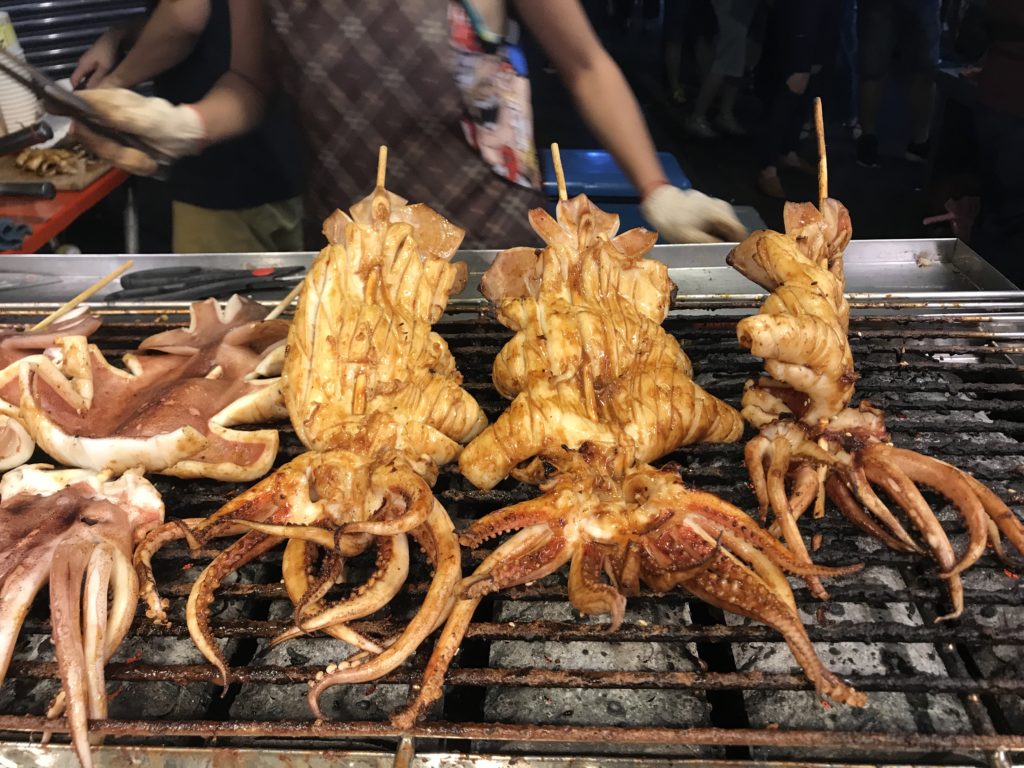 Quail Eggs – I thought the blowtorched beef was a quick snack but these quail eggs cook faster than anything else on the streets of Taiwan! They're tiny so perhaps easier to cook quick and again about 3 or 4 are popped onto a skewer and a flavour powder what I imagine is their local chaat masala is added and it is a delightful snack. Though I will admit 3 or 4 eggs despite how tiny they are is a heavy snack!
Hot Pot – I can't even begin to describe how satisfying a hot pot meal is. While most people don't want to go through the trouble of making your own meal I think it's wonderful. A basic broth is given to you with every condiment and ingredient possible. You wait for it to boil, add in the ingredients you like to flavour the broth with, add your meat, seafood and vegetables and eat while you cook!
I hope you've enjoyed this post and to give you a better idea of the food, check out this video! I've got an entire series on Taiwan coming up so if you enjoy this video please subscribe to the channel, like the video and leave me a comment, I'd love to hear from you !
Disclaimer : I was a guest in Taiwan with the Taiwan Tourism Bureau, but as always, thoughts, ideas, expressions and opinions are purely my own 🙂
For more updates on my food and travel adventures, follow me on Facebook, Twitter, Instagram and Snapchat : thetinytaster