For me, the best way to explore a country is to drive through it. Sadly that's not always possible with every trip I make but when I get the chance to, it really shows you a different side to that country.
I would have thought Taipei was my favourite when I visited Taiwan. I hadn't been before but already made up my mind that this cool and quirky city ( based on everything I'd heard before ) would be the highlight of my Taiwanese experience. The truth is two days in Yilan county between mountains of day lillies, funky night markets and a day at sea including my very first snorkeling experience changed my perception completely.
Yilan has much to offer and the magic began with a visit to a local Soybean farm where I learnt how to make tofu which seems to be a staple here in Taiwan. It's an interesting but exhausting process and it's much easier to just buy tofu instead of trying to make it at home. Hot pots are a popular style of eating here so they decided to be a little innovative and gave me a hot pot with a soy milk base that I'll be honest is a more acquired taste but the more you let the pot boil and season well, the more enjoyable it gets.
If you want to go where the locals go and run from most tourists then a trip to the day lily mountain is what I'd recommend. Just the most magnificent landscape with rolling green hills studded with this yellow flower. They're so popular that most farmers in the area will even serve you day lily chips or tea. They like to dehydrate them or deep fry it as a snack but the truth is, this area makes for a fantastic spot to take some pictures and have a nice day out. I'll be honest I felt like I was on a yashraj movie set as a bollywood heroine racing through these flowers but what initially felt foolish soon morphed into a complete photo session full of poses much to my embarrassment when I think about it now.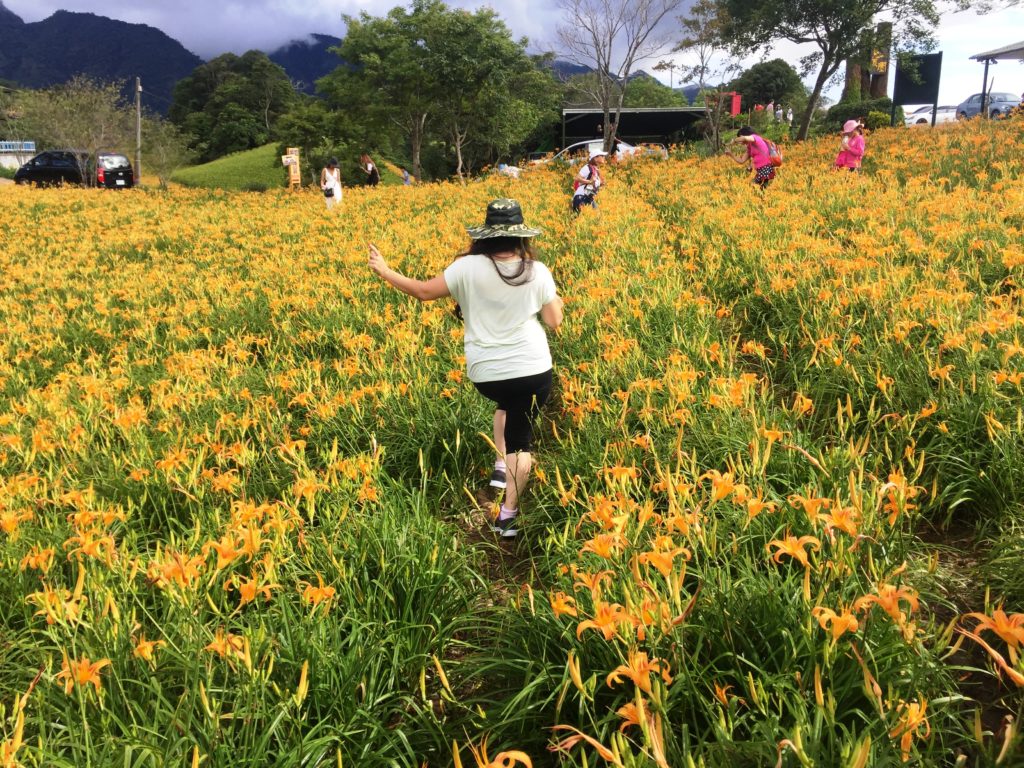 For me, it's always all about the food and Yilan county has one of the largest night markets in the country full of treats! Ludong Night Market is a delight and really an onslaught to all your senses. Plenty of stalls selling clothes, knickknacks and things but the real pulse is the endless rows of vendors selling local food. You can spend hours here but be warned you might return with your wallet far lighter than when you arrived!
I made a video on some of the best things to eat in Taiwan and it includes a lot of footage from this particular market.
While Yilan county has plenty to offer, most forget that Yilan city isn't far away from the seaside. I ended up spending the most gorgeous day in a small fishing village called SuAo where I ended up on a boat for the first half fishing and enjoying the sea and then the second half at the bottom of the ocean snorkeling. I had never snorkeled before and despite several opportunities was actually terrified. I had the most patient and excellent teacher who instilled this new found confidence in me without speaking a lick of English. I just followed his signs he understood my fear and we just worked together. I ended up having the time of my life and felt more liberated than I have in a while. Sadly I couldn't' take my phone or camera to document what a spectacular day it was but the memories will always be etched in my mind.
I did manage to post another short video of my time at sea 🙂
Disclaimer : I was a guest in Taiwan with the Taiwan Tourism Bureau, but as always, thoughts, ideas, expressions and opinions are purely my own 🙂
For more updates on my food and travel adventures, follow me on Facebook, Twitter, Instagram and Snapchat : thetinytaster