On any given day, my inbox has at least one restaurant invitation to come and sample their food. In the past 6 years of having giving my all to the tiny taster, I've eaten more lackluster meals than blockbuster ones so over time I've politely declined most of these invitation. It is only when a restaurant comes highly recommended from trusted sources, people whose palate I know won't let me down, that I decide to try it out.
I have no familiarity with Gurgaon and hardly ended up there unless its work related so if I need to have a meal that will knock my socks off, I wouldn't know where to begin! Thankfully a very trusted source insisted that I give the newly launched Pra Pra Prank in DLF CyberCity a try and I am so grateful for the recommendation.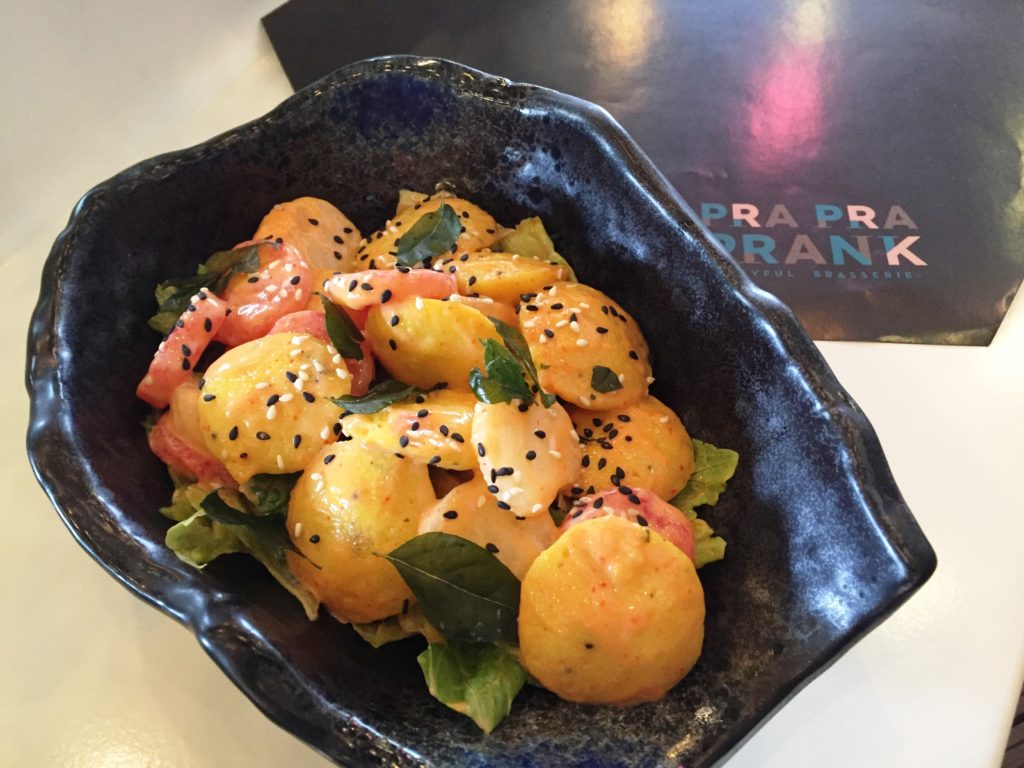 I had no idea what to expect really, the name doesn't give anything away but once you visit suddenly everything makes sense. The brainchild behind the restaurant are two brothers Inderjeet Singh Banga and Jasmeet Banga who already have two very successful food ventures ( more about those in another post ). The place is a mix of what I like to call casual with a distinct edge of chic. The brightly lit sushi bar tucked into one side, the charming al fresco area and their unique decor inside makes it feel like you're dining at a funky bistro in Australia or Singapore instead of Gurgaon.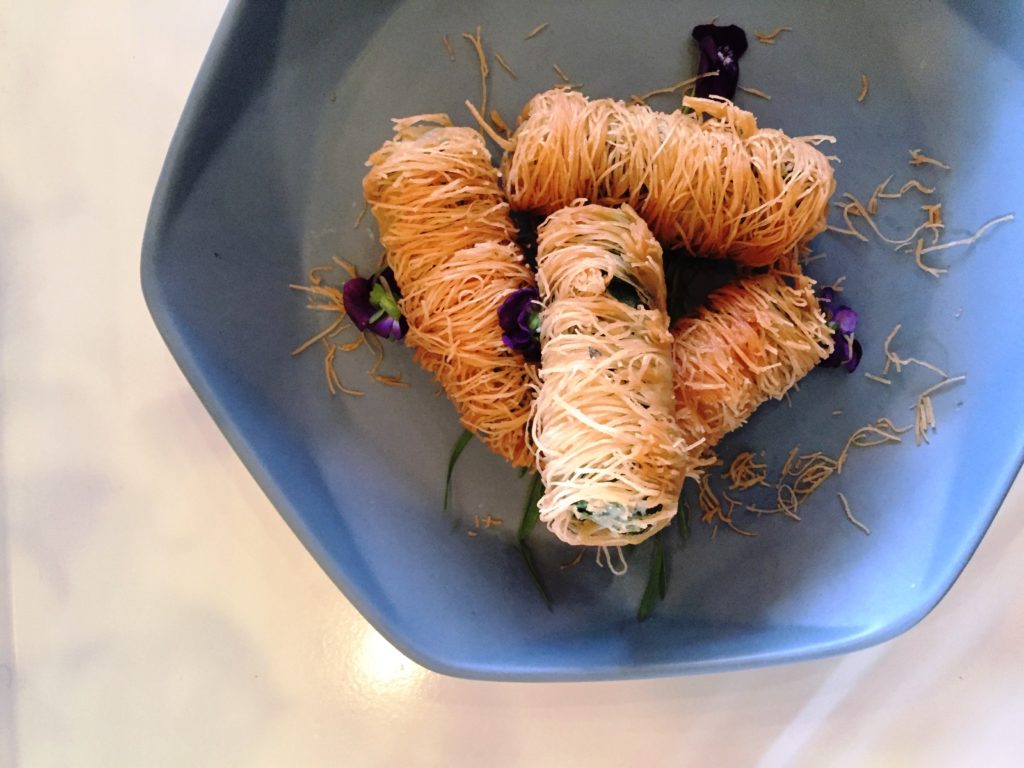 The restaurant is all about trying to playfully prank their customers which is noticeable with its wall lined with miniatures creating the illusion of a bar but is actually a swinging door taking you to another section in the restaurant. The inside is a space I would want to constantly re visit with its dim lighting, cozy nook lined with a stocked books shelf and a beautiful lit bar ( superbly stocked with whisky from around the world along with other alcohol )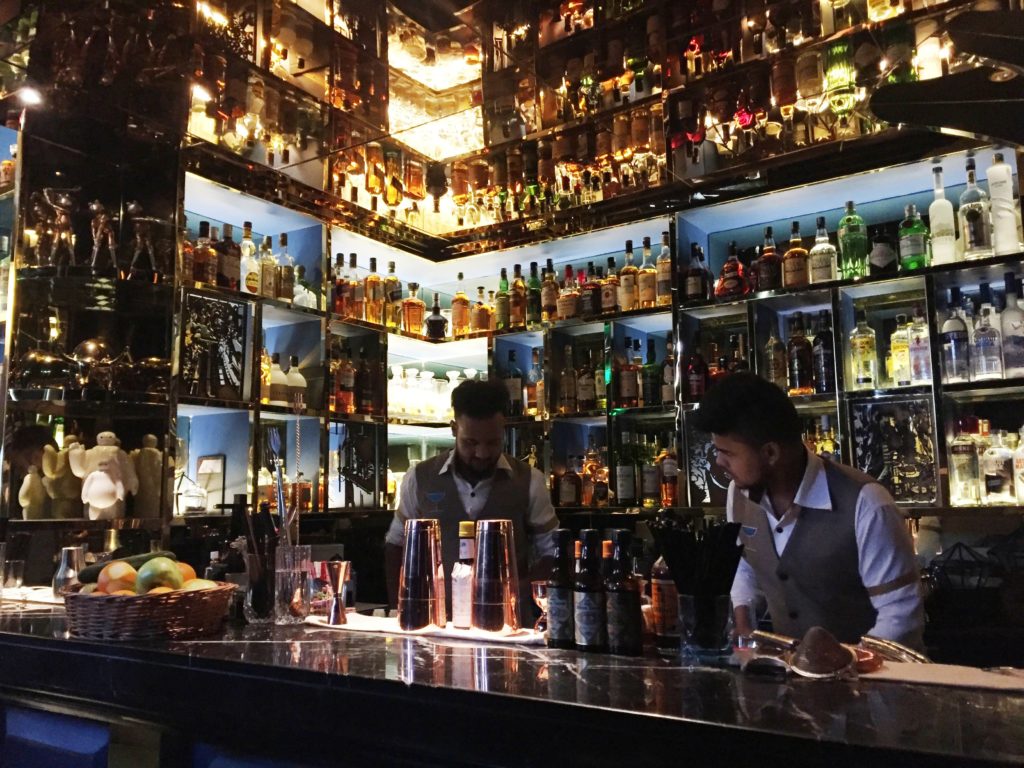 The two spaces are different in terms of their decor and feel but are equally inviting. Apart from the trick door and different spaces, their playful approach extends to their food and drinks menu as well.  Take for example their range of Gin Not Gin. A unique concoction that tastes like gin, looks like gin, feels like gin but… is not gin. It's actually a blend of vodka infused with juniper berries and a flavouring agent ( oranges, cumin, coriander etc ) Just one of the many Pra Pra Pranks here that are delicious.
The Gins and Gin Not Gin are great but I think their range of signature cocktails is the real winner. The Prohibition Pop Up which is an adorable ode to the Prohibition era, is a heady mix of Bourbon, Coffee, Stout Beer that comes wrapped in old newspaper and topped with caramel popcorn. You'd think it was a box of popcorn except for the cheeky straw popping out that gives it away. While it's great fun to look at and munch on that sweet crunchy popcorn, it helps that the drink tastes fabulous. Another worthy mention from their drinks menu is the Thai Colada. It's like Thai curry married a pinacolada and produced the perfect baby. What I find the most interesting is that every flavour here is subtle, just a hint of that Thainess which blends perfectly with coconut milk.
I find ordering soup at a restaurant pointless unless it's one of those familiar Chindian ones but it's amazing how fast I had to eat my words because the Nepalese Chicken Broth feels like a warm hug in a bowl. Thick turbid and brimming with flavour this chicken broth is served with a dumpling along with noodles and is so unassuming but really steals the show.
If you enjoy dim sum as much as I do then their Pot sticker Crisps are the best of the lot. The poached chicken and prawn dumplings are delicate and delicious and the chicken coriander dumpling is topped with chimmichuri that give it a completely different flavour. However it's these plump potstickers that are weaved together with a crispy net that I liked best, giving this humble dumpling another texture. Slather it with their spicy sauces and relish with joy.
Sushi fans are in for a treat. The crispy salmon roll with avocado and cream cheese is perfect but it's that crispy outer covering that really elevates this combination. The Tuna is another good pick for sushi addicts but I have to be totally honest as say it is the Vegetarian Sushi that was a delightful surprise. I don't pick these off a menu since both Salmon and Tuna are a personal favourite but the two I was urged to try were outstandingly creative.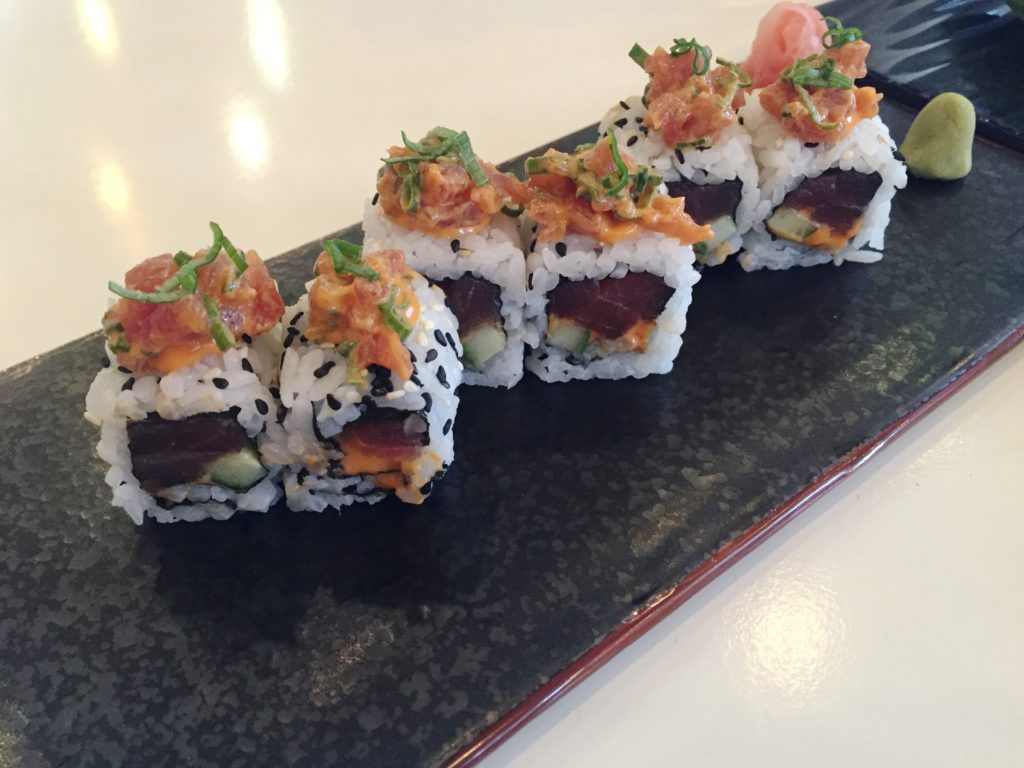 The Melon Cheese Roll that looks and in some parts even tastes deceptively like tuna is actually bits of watermelon with cream cheese wrapped into a roll with a dollop of Japanese mayo and garnished with tiny bits of melon on top. Simple enough but effective.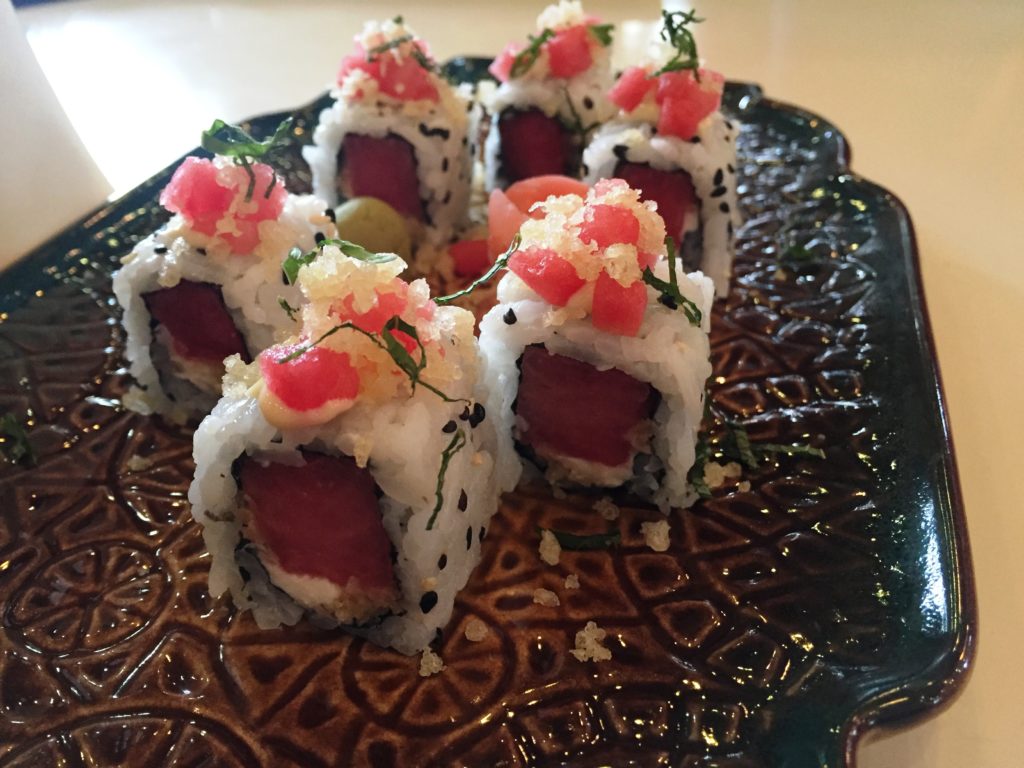 The second stunner is what they call the Rainbow roll which is strips of bell pepper that wrap the roll which is stuffed with tempura vegetables and garnished with an onion and tomato relish. It's not only the combination of different flavours but it's the multiple textures in one dish that for me, make this a sure shot winner. If you're a vegetarian you're going to be spoilt for choice here.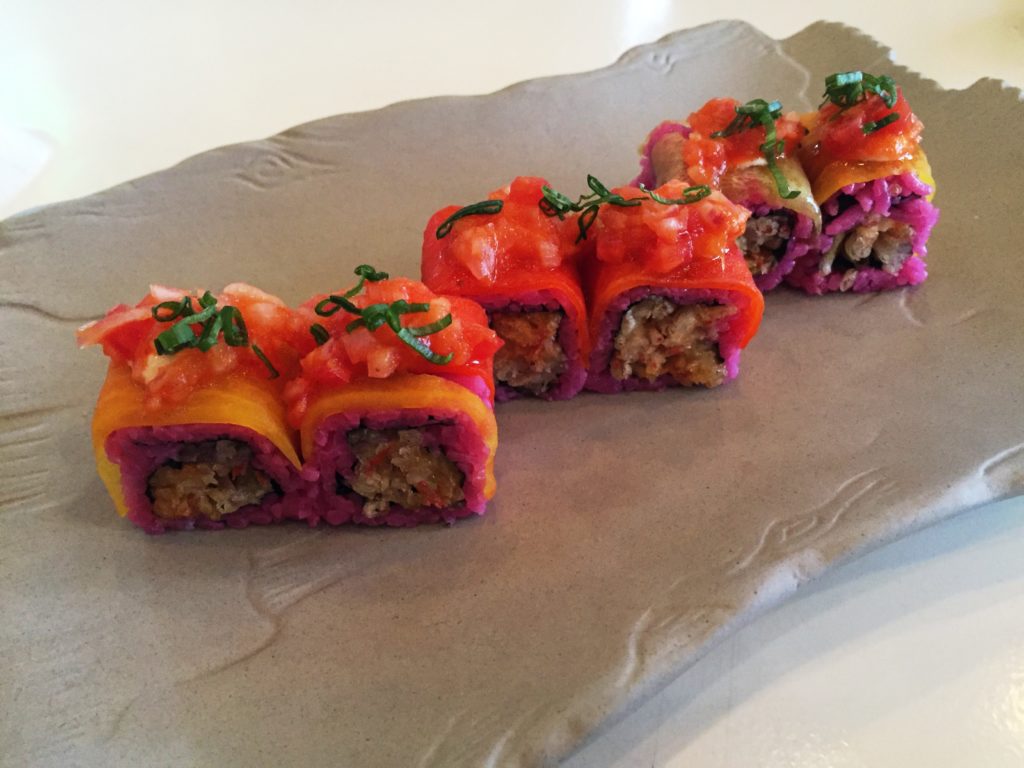 The 24 Karat Prank Chaat is a fun appetizer which is a Dahi Bhalla drizzled in green chutney and tamarind chutney sitting on a bed of creamy hummus and garnished with spinach crisps and edible gold paper ( varq that is used in Mithai ). This is when food gets exciting, the flavours are familiar, the combination is wildly unexpected but it explodes in  your mouth and the dish is a success.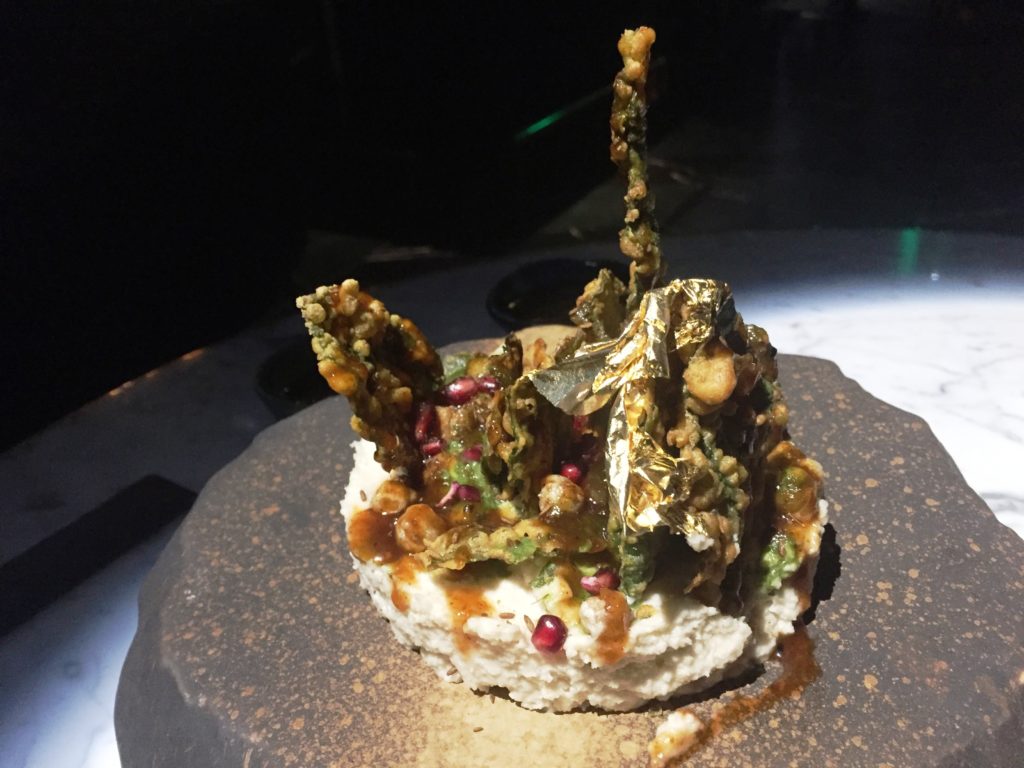 If you're looking for a substantial main course then my vote goes to two dishes – the Pork Belly Skewers and the Baked Indian Lobster. The skewers are generous chunks of pork belly braised for 4 hours in garlic and soy and then brushed with a mango relish and sprinkled with onion seeds. The big plus point here is that the belly isn't excessively fatty and the mango relish elevates it completely.
The favourable preparations for lobster are usually butter garlic but try this South Indian Gassi inspired lobster which is rubbed with tomato paste, garlic, ginger, coriander and other spices which is baked and finished with  curry leaf infused butter making it a heady delight.
Desserts are decadent specially their version or should I say tribute to the classic chocolate Ferrero Rocher. This one is triple the size of the original and has been recreated exactly with the hazenut in the center and a chocolate mousse like filling beneath the crisp outer layer. It's a treat and one that needs to be shared.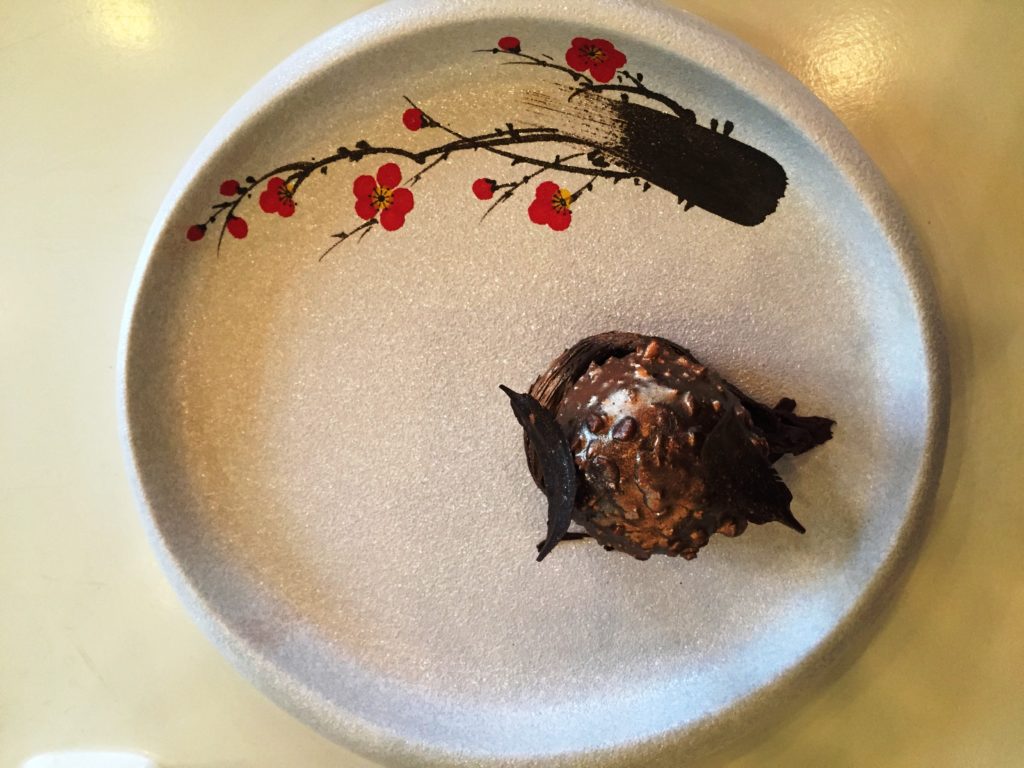 My personal favourite is the simple fennel and jaggery appam served with a scoop of tender coconut which is whipped into a foam nearly studded with pistachio flakes. It's the first time I've eaten appam for dessert and it's beautiful.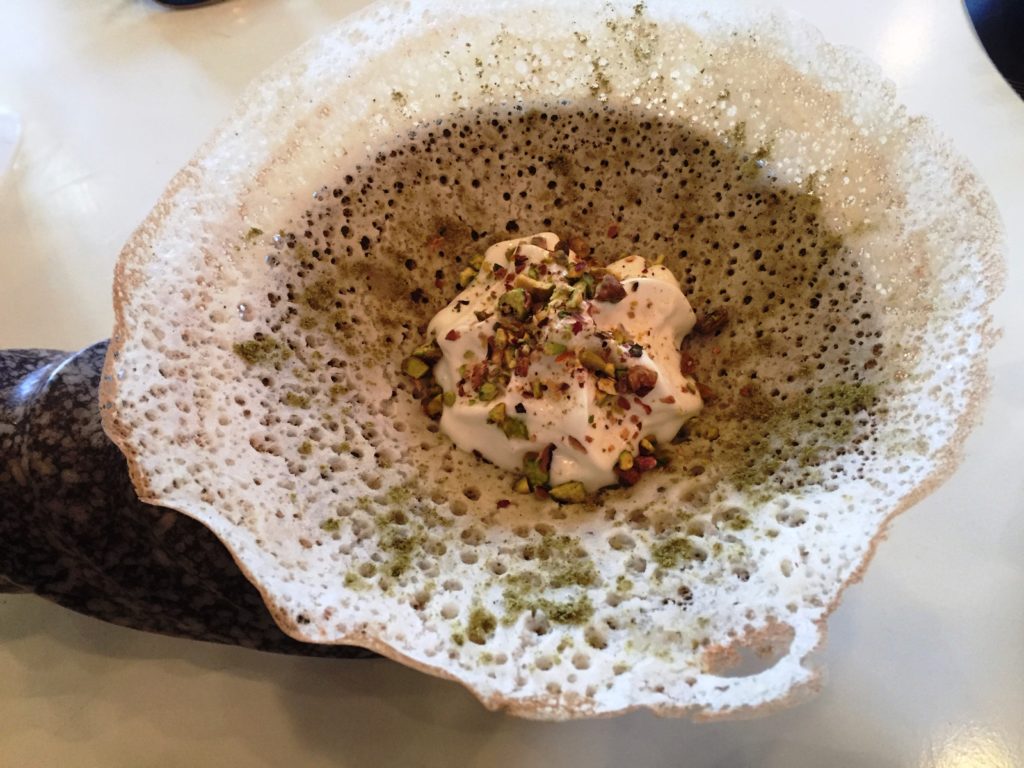 This meal was a combination of lunch and dinner ( yes I visited more than once ) because it's the only way to try and attempt to sample even a small part of this vast menu. The dishes I've described are ones that stole the show but notable mentions include the Lamb Udon noodles, Japanese style Nihari Lamb with a baked brioche ( so unconventional and will give you new Nihari goals ) the Canaloni stuffed with cream, chocolate chip and raspberry coulis ( you'd be hard-pressed to find these, not many folks make them and they're such a treat ) and a Matcha Tiramisu which I think is a genius creation. The most important ingredient in the Tiramisu is coffee and to replace it with its exact opposite creates a whole new dessert.
After a very long time, I found a restaurant that impressed me but sadly isn't in my city. If you're in and around Gurgaon, and are looking for quality when it comes to a meal outside, get yourself to Pra Pra Prank. Ask for Chef Kaustubh and Chef Harangad, the stars behind the menu, and tell them I said hello 😉
Disclaimer : I was invited by Pra Pra Prank and this post was done in association with them. As always, thoughts, opinions, ideas, suggestions, impressions are all my own 🙂 
For more updates on my food and travel adventures, follow me on Facebook, Twitter, Instagram and Snapchat : thetinytaster