India is a diverse country and the cuisine is possibly it's biggest tresure. Hyderabad is a haven for foodies with a voracious appetite. There's Andhra cuisine, Telangana cuisine and then there's Hyderabad's famous Mughlai cuisine. During the holy month of Ramzan, the old city comes alive at night and the streets are flooded with restaurants and vendors selling some of the most delectable food. Biryani kebabs, haleem, sweets, falooda and even fresh juice, there is an abundance of food available and thanks to the ingenious team at the Novotel Hyderabad Airport Hotel I was able to sample some.
I've had the pleasure of visiting this hotel about 3 years ago and I've written about my experience  here.This time the focus was purely on the cuisine during the month of Ramzan and two nights were spent in a haze of food. This post is dedicated to a beautiful food walk they curated along with the help of local food blogger Hyderabad Food Diaries through some of the city's iconic eateries. Here's our route and what we ate.
Stop 1 – Shah Ghouse
A lot of Hyderabadis believe that Shah Ghouse serves some of the best biryani in the city but it's all forgotten in favour of their Haleem during Ramzan. This paste like dish that looks rather unappetizing is a mixture of meat, lentils and wheat cooked for hours till it forms this unflattering colour and texture. However this is the perfect example of don't judge a book by its cover because it's so incredibly tasty that during Ramzan its the most sought after dish. It's garnished with coriander, a wedge of lime and a little more oil and relished by everyone.
Stop 2 – Pista House
This place is legendary. Pista House is known for their Haleem and despite having just had it, it would be cruel to not try their most famous dish which they proudly deliver all across the world. Most of the haleem is prepared in a huge tandoor like oven outside so I didn't go inside the restaurant, just stood outside to sample their most popular dish. The haleem is very very good but if asked to choose my vote ( by a whisker ) goes to Shah Ghouse.
Stop 3 – Mathwala Doodh Ghar
This stop is Hyderabad's  favourite lassi and falooda joint. Now this isn't your typical North Indian or Punjabi lassi it's got it's own local spin with ice cream, churned milk and a thick dollop of cream. The falooda has some basil seeds and in some cases extra rose syrup. Ironically it has no vermicelli noodles like almost every falooda has but then again, this is their version of both drinks. I'd pick the falooda over the lassi and it makes for a great dessert.
Stop 4 – Al Akhbar Chicken House
This isn't your ideal Ramzan dish but Hyderabad's famed Chicken 65 is the best snack you can have. This bright orange coloured chicken that is flash fried and garnished with curry leaves and raw onion is what I would merrily gorge on with a pint of chilled beer or as an appetiser course. There are various stories as to how it gets its name ( none that have any proof ) and a slightly murky answer to where it actually originated from since all of South India lays claim to it but it's too tasty to ignore.
Stop 5 –  Milan Juice Centre
This out of all the stops on this trail seemed the least impressive. While it's a hot spot for people craving thick fruit juices or milkshakes, again some topped with fried vermicelli or basil seeds and nuts but I found nothing to really rave about here.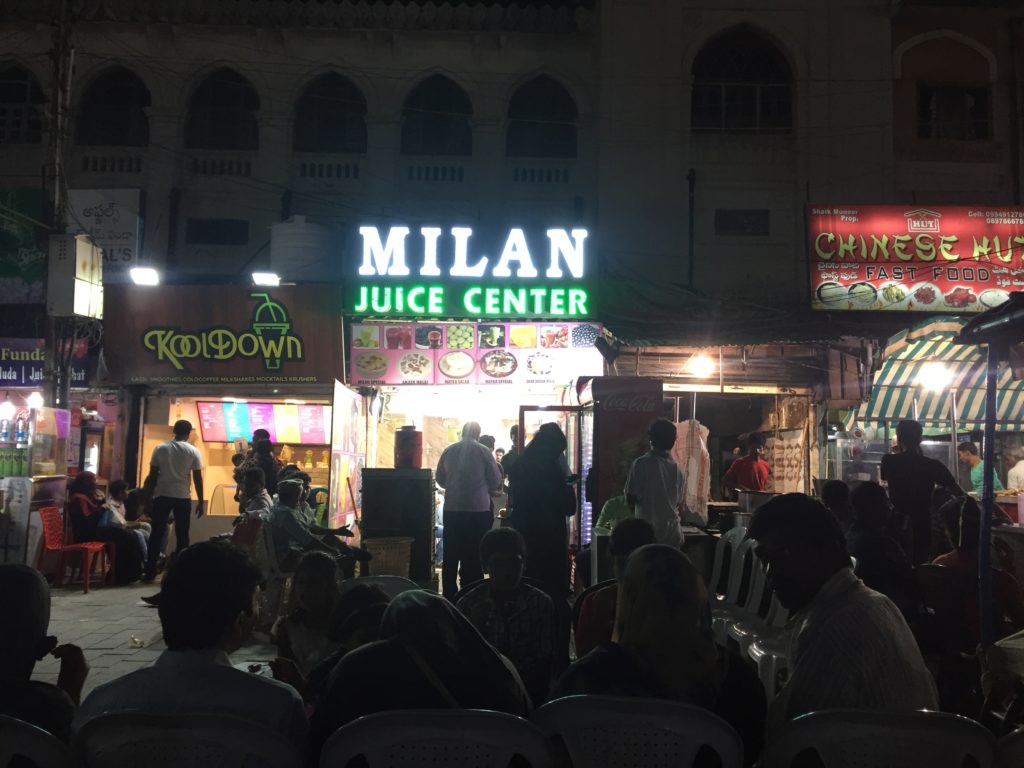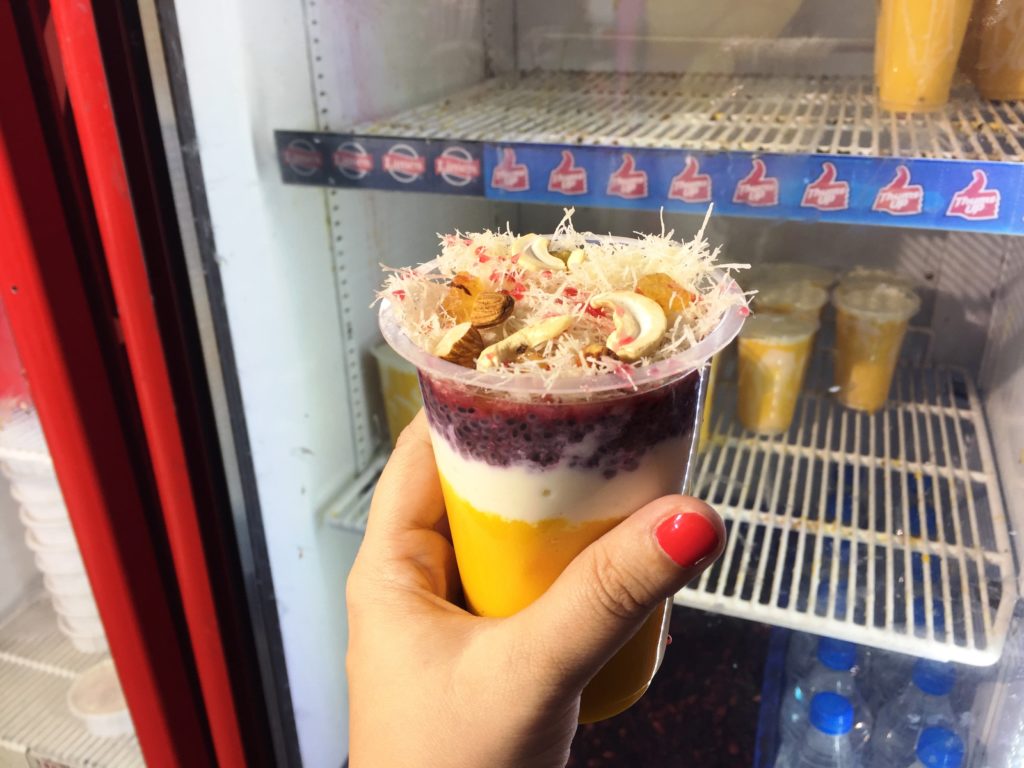 Stop 6 –  Nimrah
If a full meal is not what you want and you're in the mood for a light snack then Nimrah cafe and bakery is where you need to go. The location is ideal as it is right next to the beautiful and iconic Charminar ( which was once the gateway to the Falaknuma Palace ) in the hear of the old city but that's not what it's known for. The cafe serves Hyderabad's favourite snack  of Irani Chai ( tea ) and Osmania biscuits. The tea I'm told is sweet ( I didn't sample it ) and the bisucits are simple cookies but of course the cafe has a range of biscuits and most travelers end up taking boxes worth of the favourite snacks back home.
Stop 7 – Nayab
I'm not one for organ meat and while I have eaten some, it is never particularly appetizing. In this part of the world, it's highly sought after. While I gave the gurda and kaleji a miss this small cafe delighted me with a flavourful Paya ( trotters ) Soup. Mopped with a local bread they call Chardoni Roti, this breakfast treat is perfectly acceptable in the wee hours of the night or morning during Iftar.
Stop 8 – Hotel Shadab
I don't claim to know Hyderabad well but I have eaten at this restaurant before and it is without a doubt my favourite. The first half as you enter seems slightly dodgy ( as do most places honestly ) but the seating upstairs is comfortable in an air conditioned room. It's next to impossible to get a table here without waiting half an hour because it's always so crowded but the food is worth it. In the past I've enjoyed their Nargesi Koftas ( Indian style scotched eggs ) but it is their biryani that truly stands out. The mutton biryani is king here, far better than their chicken version and served with a portion of raita and mirchi ka salan. Both are the perfect accompaniment to the biryani. It is considered to be some of the best biryani in the city and is always in the top 3 no matter who you ask.
This walk was a fantastic way to experience local food and my advice is to do the same but please take a local with you. This walk was curated by local food blogger Zubair who runs a popular instagram page called Hyderabad Food Diaries. These places were picked by him and the hotel to showcase some of what Hyderabad has to offer.
As always I've mapped out my entire journey on the Travelibro app which you can follow. If you aren't following me already then you should 🙂 I've got tons of great itineraries from all my travels. Click here to download.
Disclaimer : This was a post done in collaboration with the Novotel Hyderabad Airport Hotel who organised this entire trail to showcase some of the beautiful cuisine available during the holy month. They also do a fabulous menu where they re create some of these and give some their own contemporary interpretation which is available all month long.
For more updates on my food and travel adventures, follow me on Facebook, Twitter, Instagram and Snapchat : thetinytaster