Nepal's culinary landscape takes heavy inspiration from its neighbours ll its local highlights evokes a sense of familiarity for me. Be it the Dal Bhat that is their staple or the thali or the remarkably delicious Chinese fare or even the street style chaat. It isn't uncommon to find samosa with chole and dahi puri in the street corners of Kathmandu nor a big plate of steaming fried rice. They're all dishes that I find back home in India but with a distinct Nepali flavour.
Regrettably I didn't have enough time or opportunity to dig deeper into rustic local fare from different regions as I'm sure I could have sampled much more but from most of what I ate, these seemed to have made a lasting impression.
Gudpak – This is a popular Nepali sweet I sampled at my hotel in Chitwan that I really enjoyed. It's made with jaggery, ghee, wheat, brown sugar, evaporated milk, cardamom and some dry nuts. I'm told it's extremely nutritious and something that's often fed to new mums. It's heavy so I wouldn't eat all of it at one go but it turned out to be a fantastic snack.
Sel Roti – This is a donut like circular ring shaped bread that is usually sweet made from rice flour and commonly found all over the country. I'm told it's made during celebrations specially the Nepali festival of Tihar which is similar to Diwali. Again I sampled this in Chitwan as part of a delightful evening sun downer by the river. To read more about my adventures in Chitwan click Here
Yak Cheese – I am what one calls a cheese o holic. It is no secret that I find solace and comfort in a wedge of this dairy delight. My love for cheese is all encompassing and I don't discriminate between hard, soft, blue cheese ( that would be cruel ) unlike most and am always looking to try new varieties. It is my greatest weakness. So needless to say this local cheese made from Yak milk was one of my culinary highlights. Interestingly enough the one I sampled in Chitwan was much softer than the one I has in Kathmandu. Both I'm told were Yak cheese but distinctly different in their texture. It's often found in every breakfast buffet but if you're anything like me and want to take home some just pop by a local shop and buy some.
Chowmein – This might be one of the best products of fusion food. Greatly inspired by Chinese noodles and made ridiculously popular in India by Nepali chefs this plate of greasy egg noodles with a mix of crunchy vegetables and your choice of fried meat served with some soy sauce or chili sauce is best eaten with a cold brew. I tried to eat beef ( buffalo meat not cow ) pork and chicken chowmein every chance I could and it was outstanding. Far superior to the Chinese style fried rice they also offer. When I say it might be the best fusion experiment it's because it's a by product of local ingredients trying hard to recreate a Chinese dish and often made the way each chef would like with no standard recipe. But every time, it's just as good as the last plate you ate.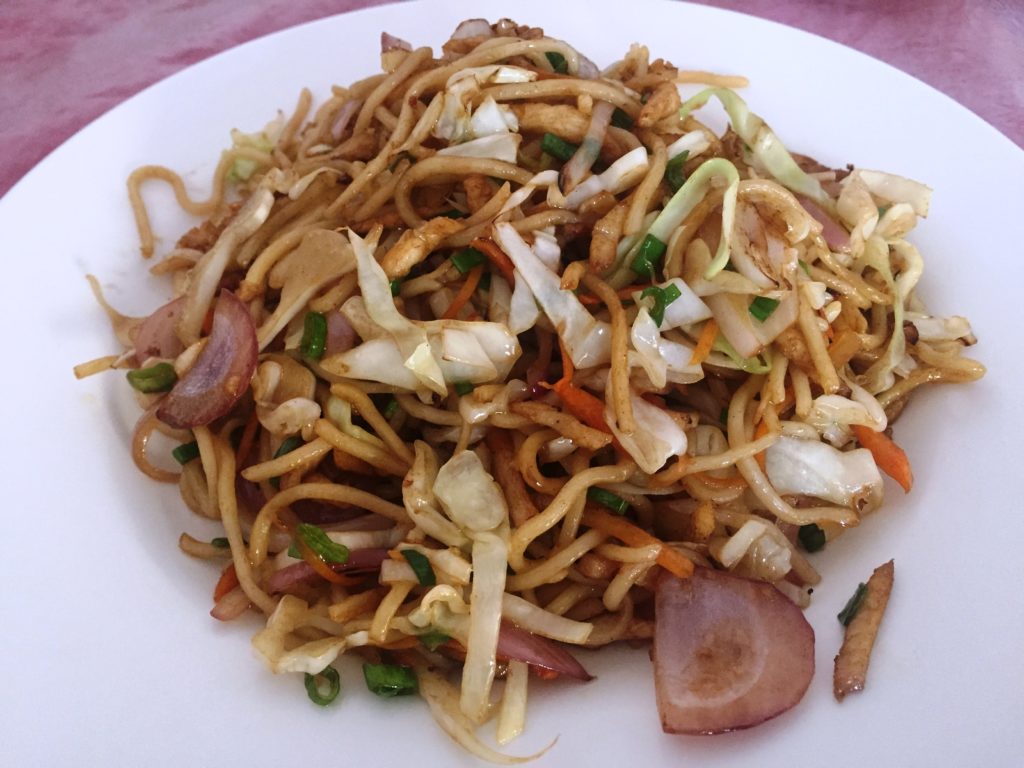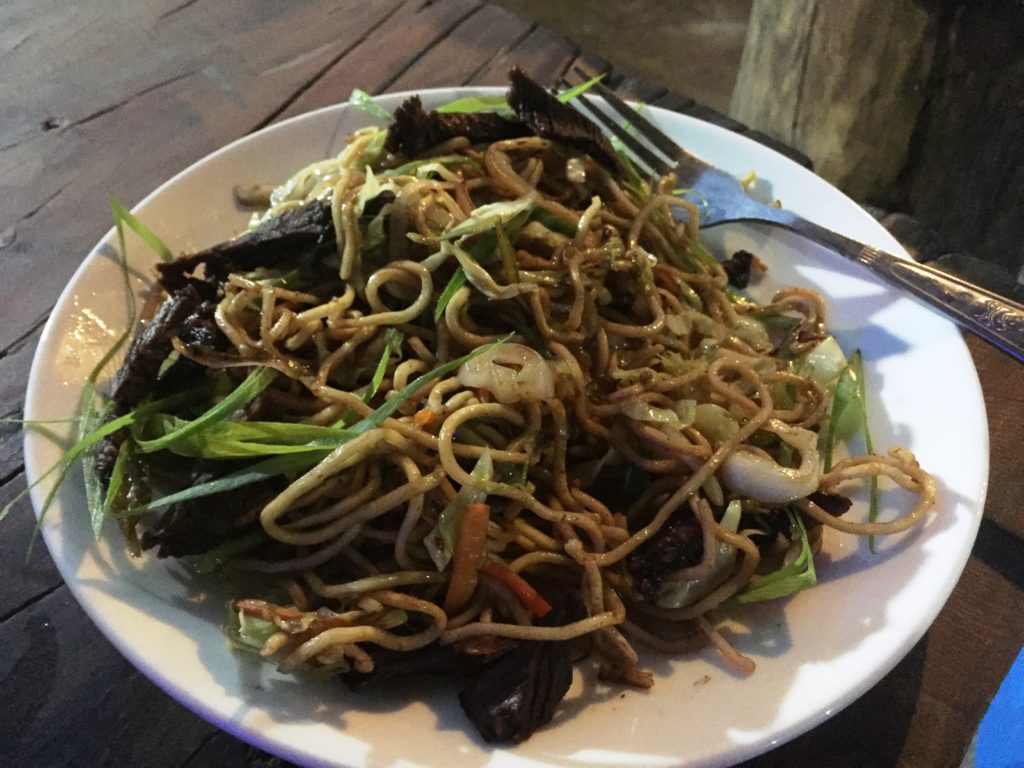 Momos – To most these flour based dumplings stuffed with meat or vegetables are a popular snack but to me they are so much more. These plump parcels are a heavenly delight and dipped in that distinct spicy sauce, they make for an outstanding meal. This Tibetan dumpling is a little different from its Chinese sibling the dim sum in the sense they tend to be thicker ( sometimes ) the fillings vary and the dipping sauce is different but honestly they are quite similar. You find them in most Northern hill stations in India as well, again, Tibet's greatest gift to the world ( after the Dalai Lama ) and it would be tragic if you were to visit Nepal and not sample some. They are also very well priced and usually come in a generous serving of 10 momos a plate.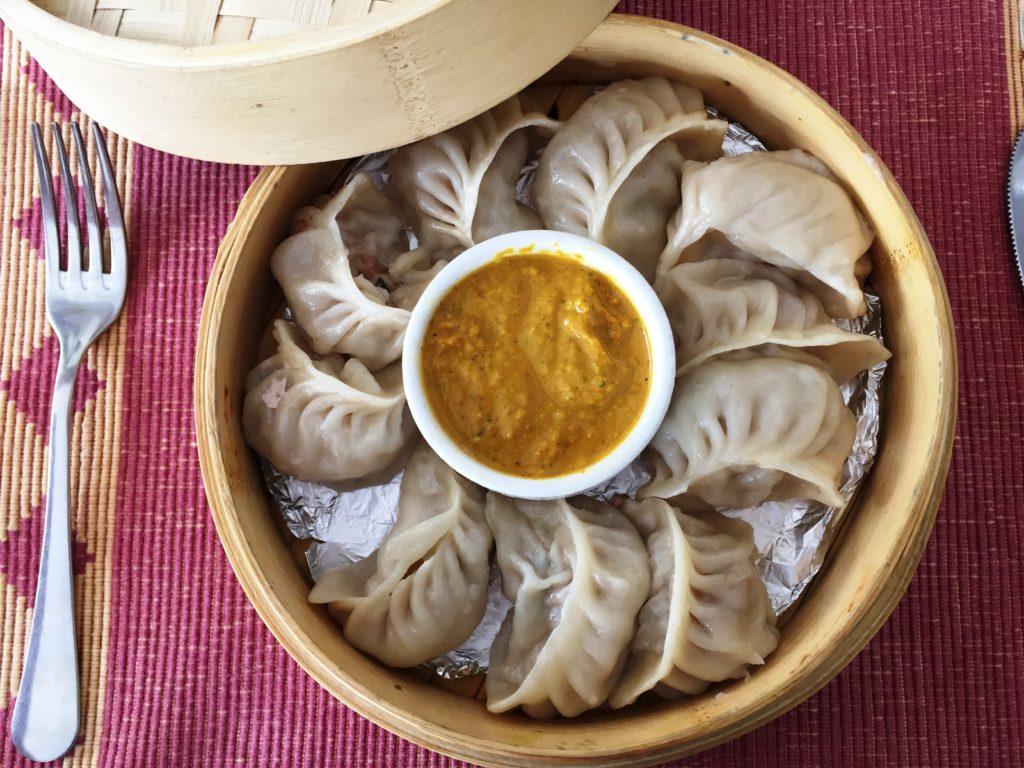 Newari Thali – The Newar community is one of the prominent ones in Nepal and a culinary speciality is their Thali. It's an all encompassing meal that includes the national dish – Dal Bhat ( rice with a lentil gravy almost like a soup ) seasonal vegetables and often one meat preparation. It's a complete meal eaten mostly as a feast but a lot of locals enjoy this on a daily basis. It's easy to find in most places particularly Kathmandu you just need to ask.
Yomari – This is a sweet dish that is make from a conical shaped rice cake with a stuffing of either jaggery or coconut. it's a little dense and I personally am not a fan of rice cakes in any form but I've included it because it was unusual and had many takers except for me.
Bara – This is usually found on the streets or in little nooks, and it's a fluffy lentil pancake ( of sorts )eaten with a vegetable mixture, usually spicy potatoes or sometimes minced meat. You can crack an egg on it as well but what I love is that's it's a nutritious meal, cheap and delicious.
For more stories from Nepal you can check my Instagram highlights labelled NEPAL RIGHT HERE
I've also documented my entire journey on my Travelibro app that you can find RIGHT HERE
Disclaimer : My trip to Nepal was made possible thanks to an invitation from the Nepal Tourism Board and PATA Nepal Chapter. As always, thoughts, ideas, opinions and words are all mine 🙂