I was recently in Seoul on an assignment. When I was told I'd be headed to South Korea my heart nearly exploded with joy. It's a country that has been on my never ending wishlist and I was finally going to tick it off. It also has an incredible array of food and Korean cuisine with its bulgogi and korean bbq has been one I really couldn't wait to explore. So image my surprise when I'm told that my assignment is to cover the ongoing Halal Restaurant Week in Korea.
Halal ? Korea ? Huh ?
That was my reaction. I thought a majority of Korean cuisine was made up of Pork and as a lover of all things edible that eats everything I thought I'd be missing out on some of the best stuff. The truth is, I couldn't have been more wrong.
I had not one but seven meals at seven different Halal restaurants and each experience was delicious. I think the gut reaction to anything that has some sort of restriction is that oh it won't be great but that's really such a misconception as I learnt through each meal.
For the uninitiated Halal refers to the preparation of food in accordance to Islamic law. For a restaurant to be Halal certified it has to follow certain protocol. Pork and alcohol are prohibited and even the way the meat ( beef, lamb or chicken ) is cut and prepared as well as some of the ingredients like broths, soups, creams etc must all be Halal.
This of course makes it much easier for Muslim travelers and to my genuine surprise the Halal certification wasn't restricted to just restaurants but even roadside cart vendors. Street food is some of the tastiest anywhere in the world and in my humble opinion more often better than the restaurants. If you're looking for Halal street food, there is plenty with vendors displaying their Halal Certification.
If you're travelling to Seoul and are looking for Halal restaurants there are plenty, just go to the Visit Korea website for more information but these are the ones I personally visited and had no complaints.
Makan – This tiny but cosy restaurant is a family run Korean style restaurant. They focus on Korean dishes with a compact menu offering popular favourites. It is run by a Muslim family and is 100% Halal certified. It's located in Iteawon a stone's throw away from the mosque. I tried the Bulgogi Bibimbap which was delicious and possibly the best from my entire trip. A Bibimbap is a traditional dish of rice, meat of your choice, vegetables, spicy sauce and it's all mixed together. This was served with Korean style beef. It's customary in Korea to serve small accompaniments or side dishes along with your food so rest assured you'll have a very filling meal.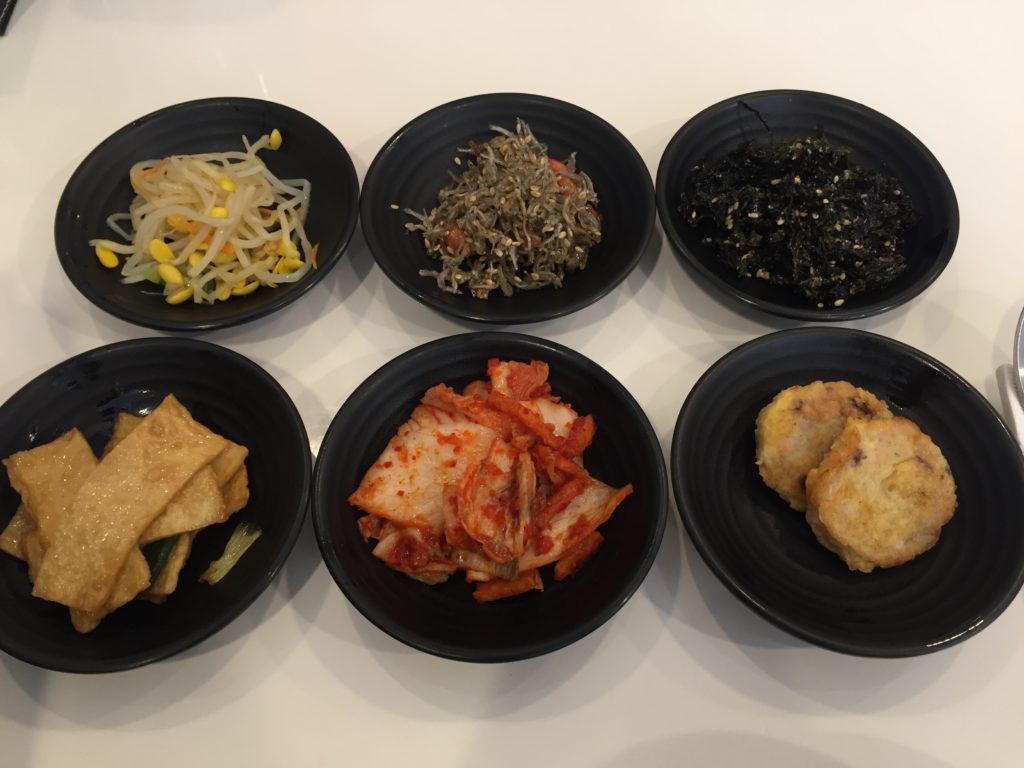 Gurkha – Located in the heart of Myeongdong, a trendy shopping district is Gurkha. This Nepalese and Indian style restaurant is adorable with its charming decor or Indian knick knacks and Nepalese Prayer Flags. The menu is extensive and features popular dishes from both countries. I tried their plate of momos and while it's not Korean so they don't serve the accompaniments they did give me some pickled onions, extra spicy sauce and pickled vegetables. A great spot for Halal Indian and Nepalese food.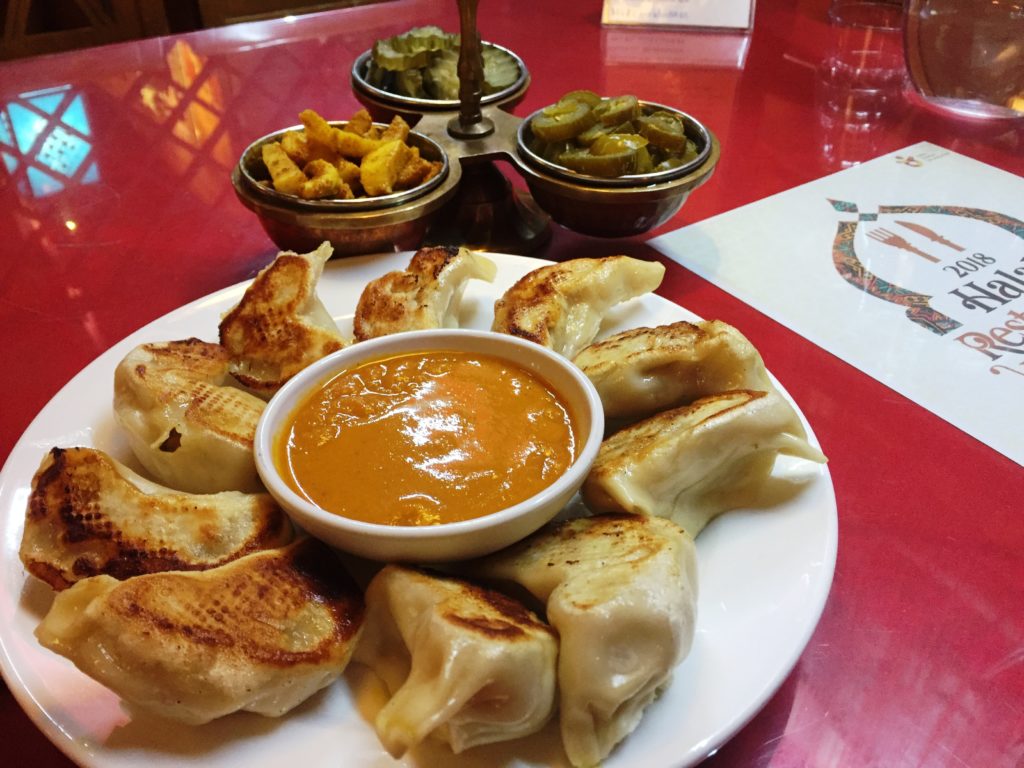 Cous Cous – Seoul has some very interesting restaurant and I have to say this was my first time visiting a Tunisian restaurant. Tunisia is a north African country and the cuisine is a mix of Mediterranean and Middle Eastern almost. Plenty of cous cous ( as the name suggests ) lots of Hummus though slightly different from the ones you're probably use to and meat and eggs. All halal and it's actually a very cute spot.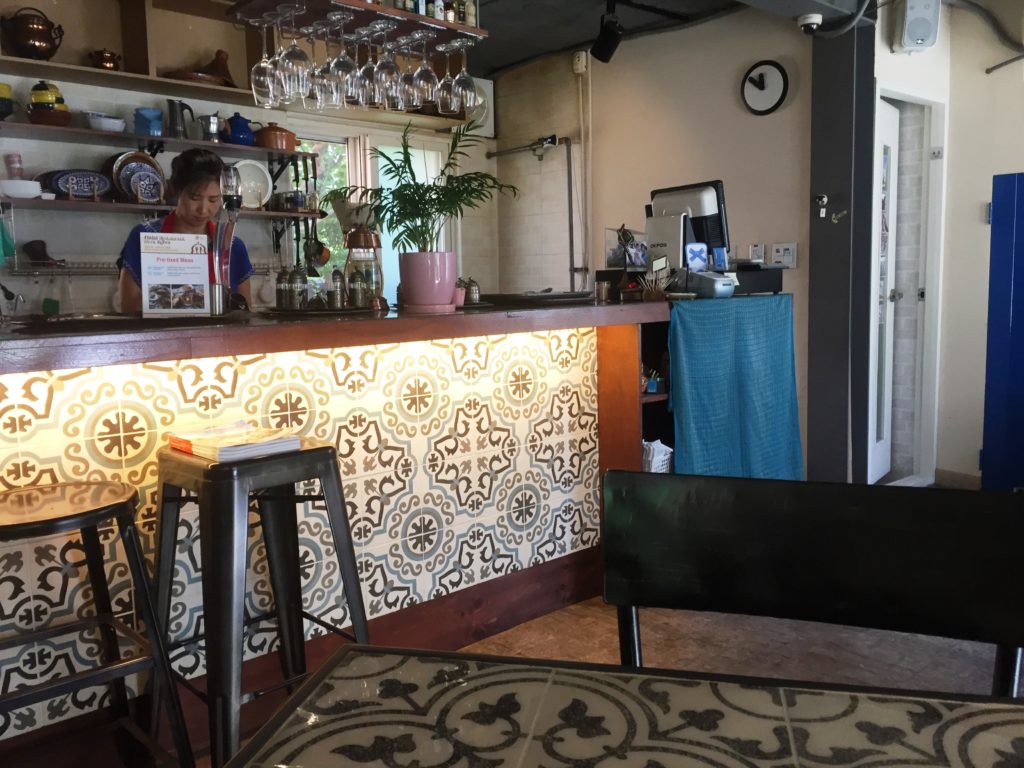 Taj – Most Indian travelers crave Indian food no matter where they are and if you're one such traveler then Taj is a fabulous restaurant for you. It's also located in Myeongdong and is an elegant restaurant that focuses on North Indian fare. I ordered a plate of Chicken Tikka thinking I might also try their samosas but when I was served big juicy chunks of tandoor cooked chicken it was too filling to think of another. A great pit stop amidst all the shopping in Myeongdong.
Donggyeong – Seoul has a lot of Japanese restaurants and this one I visited is Halal certified ( I'm not sure about the rest ). They are incredibly warm and friendly though they hardly speak any English but still happy to serve you. The menu has English translations for each dish making it super easy to order. I picked a simple plate of sushi and once again was treated to an abundant spread of accompaniments. I'm not sure if this is the same principal in Japan but I think because local Koreans like to eat this way and they expect it so of course kimchi, broth and plenty of other little dishes accompanied my sushi plate. Super food and worth a visit.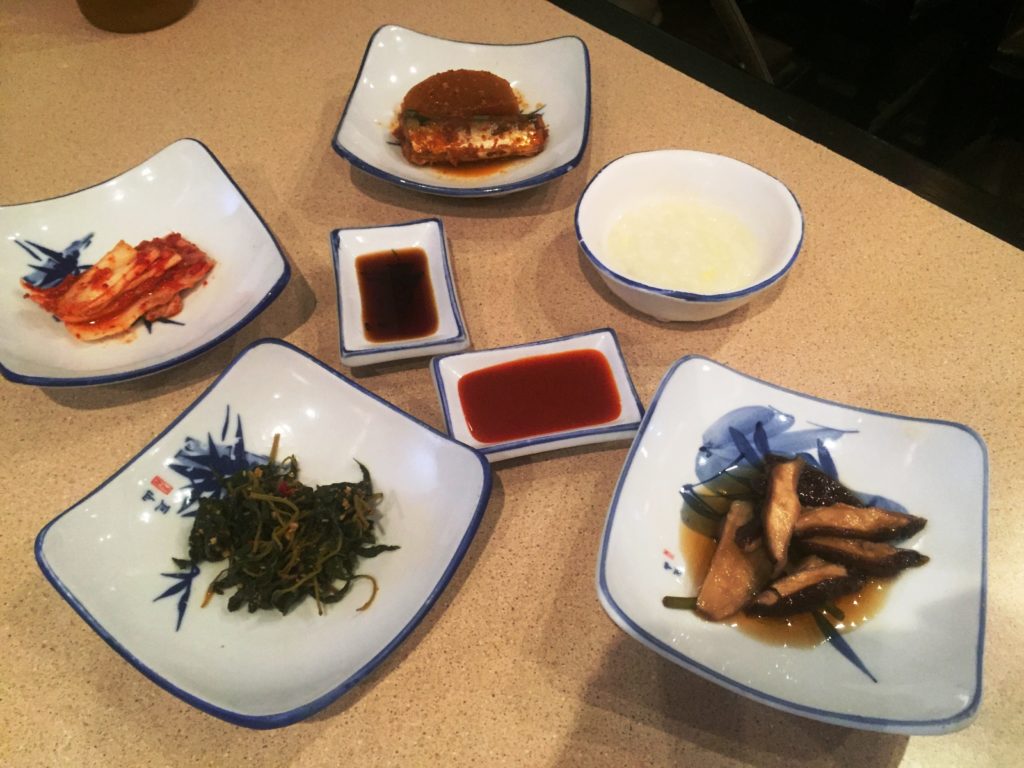 Maji – Right opposite Cous Cous is a wonderful local restaurant called Maji which specializes in Korean Temple cuisine. The USP here is that temple cuisine is completely devoid of meat and dairy. They also don't use any garlic, onion or chives making it a vegan vegetarian friendly restaurant as well. The food is simple but delicious. I tried their bibimbap ( I can't seem to get enough of it ) and it was my very first vegetarian one but the flavours were incredible. The focus is on letting the ingredients speak without any excessive spices and they did. I highly recommend this restaurant.
Kervan – While the Tunisian restaurant had couscous and hummus, I was missing the kebabs and this Turkish restaurant fulfilled my craving. It's located in the popular Coex Mall in Gangnam and it's actually rather cheerful with its Turkish lamps and bright blue decor. I can't remember the exact name of my dish but it was a beef kebab served with flatbread and came with a mushroom soup and side salad. Once again very filling and completely Halal.
Mind you I was dining alone so I stuck to just one dish and it was enough for me but if you're more than one person then I strongly recommend looking at their set meals. Most restaurants have set meals that feature a couple of their popular dishes making it easy for 2 – 3 people to share and eventually also works out cheaper.
I did eat a lot of local food beyond the halal restaurants but that's a separate bogpost for another time. If you've got any more Halal recommendations I'd love to hear them and if you haven't already, make Seoul you're next holiday destination. Believe me, you'll be delighted.
The Halal Restaurant Week is till 14th October 2018 where there are many of discounts to avail from but the restaurants are halal all year round 🙂
For more stories from Seoul you can check my Instagram highlights labelled Seoul RIGHT HERE
I've also documented my entire journey on my Travelibro app that you can find RIGHT HERE
Disclaimer : My trip to Seoul was made possible thanks to an invitation from the Lonely Planet Magazine India and Korea Tourism Organisation. As always, thoughts, ideas, opinions and words are all mine