If you're the sort of traveler who can't wait to sample local cuisine in new parts of the world then South Korea is going to win you over. I've always felt like Asia in general has amazingly versatile cuisine no matter which countries you look at and specially when it comes to street food.
South Korea is a foodie paradise with plenty that seems familiar but isn't quite. I was on assignment to discover their on going Halal Food Festival which you can read about here – http://https://www.thetinytaster.com/2018/09/19/hunting-for-halal-in-seoul-halal-restaurant-week-korea/
I did however manage to take the time and try everything I could possibly get my hands on. This post doesn't cover everything but it's a great guide to use if you're visiting for the first time. Forgive my photographs as I was entirely focused on making a video to highlight the same.
This is my video I posted on YouTube ( Do subscribe to my channel for more food and travel videos ) about all the food eaten that I've written out below. I'm not sure if a picture is worth a thousand words or not so I decided to give you both 🙂
Kimchi – If it's one dish that is synonymous with Korea it's Kimchi. This spiced fermented cabbage dish is more a condiment than a main dish but Koreans can't live without their kimchi and it also makes for a fabulous souvenir to take back for friends.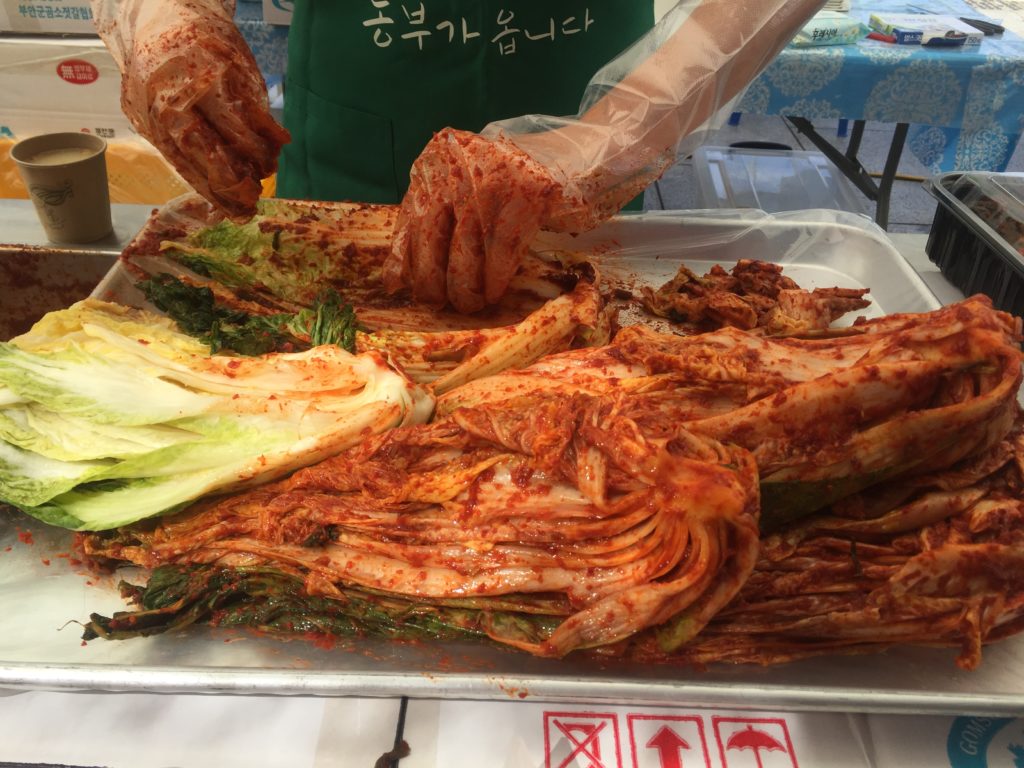 Locals will go to a market and buy their Kimchi fresh, usually sold is plastic bags by weight or they make it at home but you can pick up a few packets from the airport on your way out. Interestingly no plate of Kimchi is ever the same because everyone has their own recipe and style, not to mention different types of cabbage used. IT's said that in South Korea you can find up 20, 000 different types of kimchi.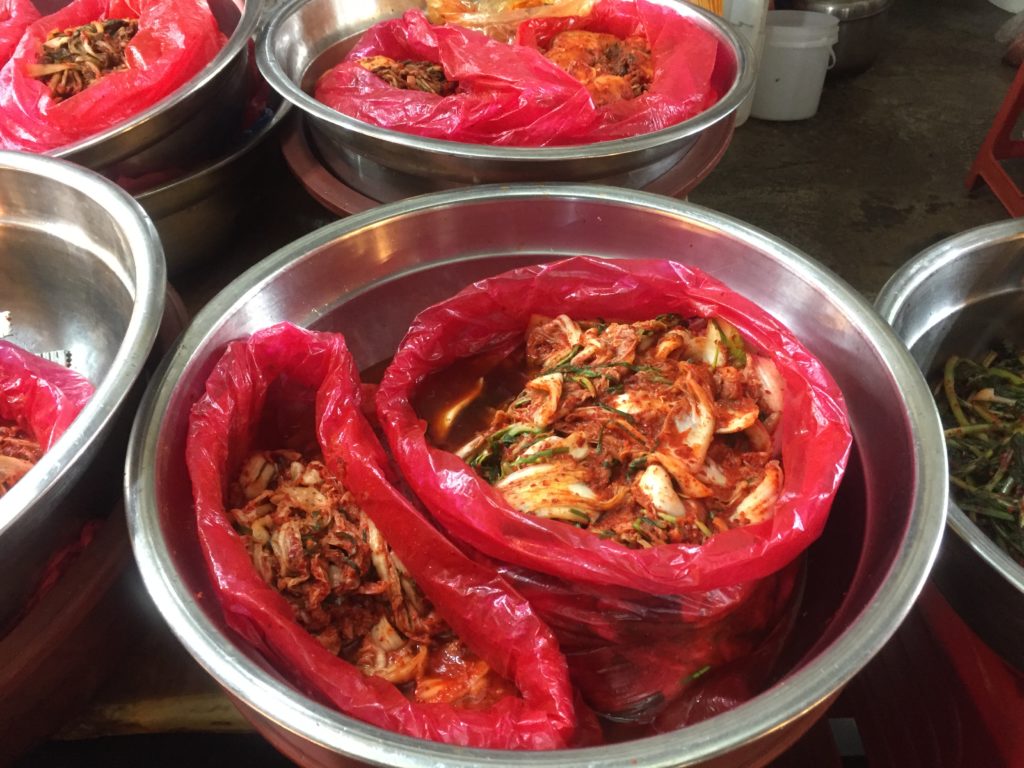 Bibimbap – this humble dish is one of Korea's most popular creations but its appeal lies in its simplicity. A bowl of rice, meat of choice and vegetables are all prettily presented only to be mixed together and devoured. The flavour glue that really binds them all together is a spicy Korean chili sauce called Gochujang and a little really does go a long way. Often you'll find this served with a fried egg and some seaweed but the novelty is that each bowl is different and if you're making this at home you can customise it to your liking.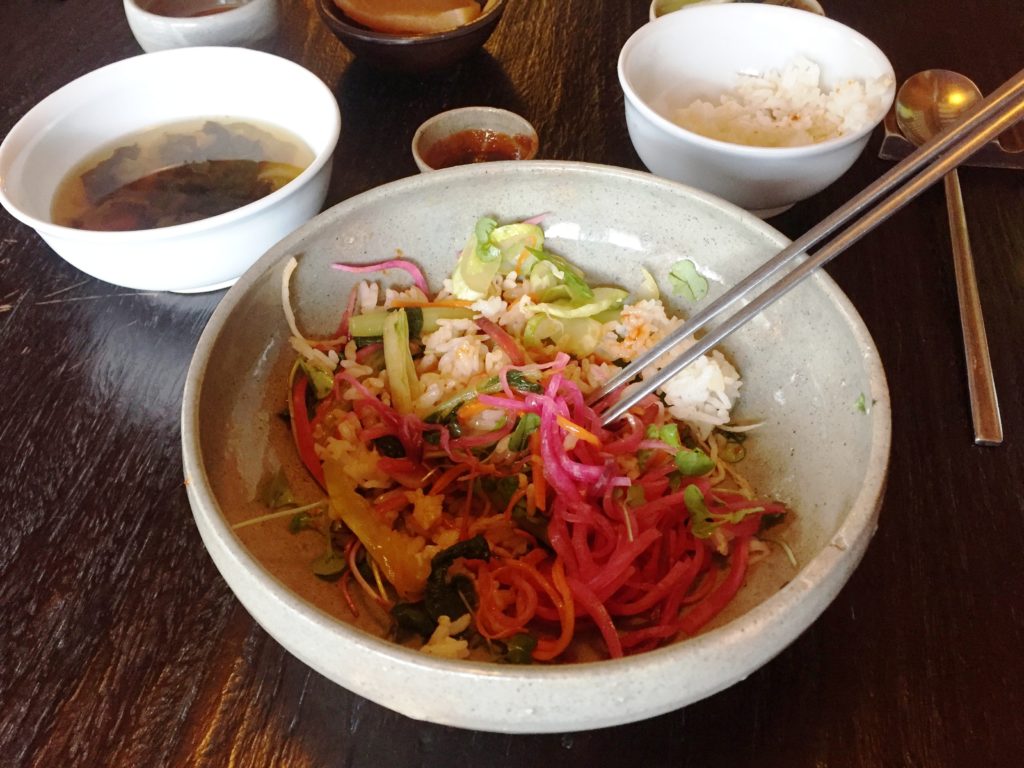 In Korea any dish ordered at a restaurant comes with an array of condiments ( including kimchi ) to add to your dish so don't be startled if you're bipimbap arrives with several other tiny dishes. It only compliments the bipimbap.
Seafood on the street – Walk through any night market or bustling street corner and you'll start to notice a trend of vendors selling different types of seafood. From shrimp on a stick to grilled prawns or even baked scallops there's a lot of seafood treats that I highly recommend. Most of them either topped with cheese or coming a glistening honey butter and garlic sauce but while they aren't filling meals they make for excellent snacks. Make sure you stop for some baby lobster tails grilled in garlic butter.
Beef and Sprouts – Street food is fabulous in Seoul, not only inexpensive but delicious and filling. I found this beef steak cut into small chunks tossed with a glossy sauce and served on a bed of sizzled bean sprouts and it's possibly one of the tastiest things I've eaten in Seoul. Very simple, nothing fancy just meat and veg but so tasty.
Sushi – It might seem odd to list sushi as something to enjoy in Seoul because of its Japanese identity but not a lot of people are aware of Korea's tumultuous history with Japan. Having been under Japanese rule for nearly a 100 years the influence is bound to rub off. There are plenty of excellent Japanese restaurants in Seoul and my tryst with one had me fawning over their sushi. Much like everything else ordered at a restaurant, the sushi comes with an array of condiments including Kimchi. Makes for a filling yet delicious meal.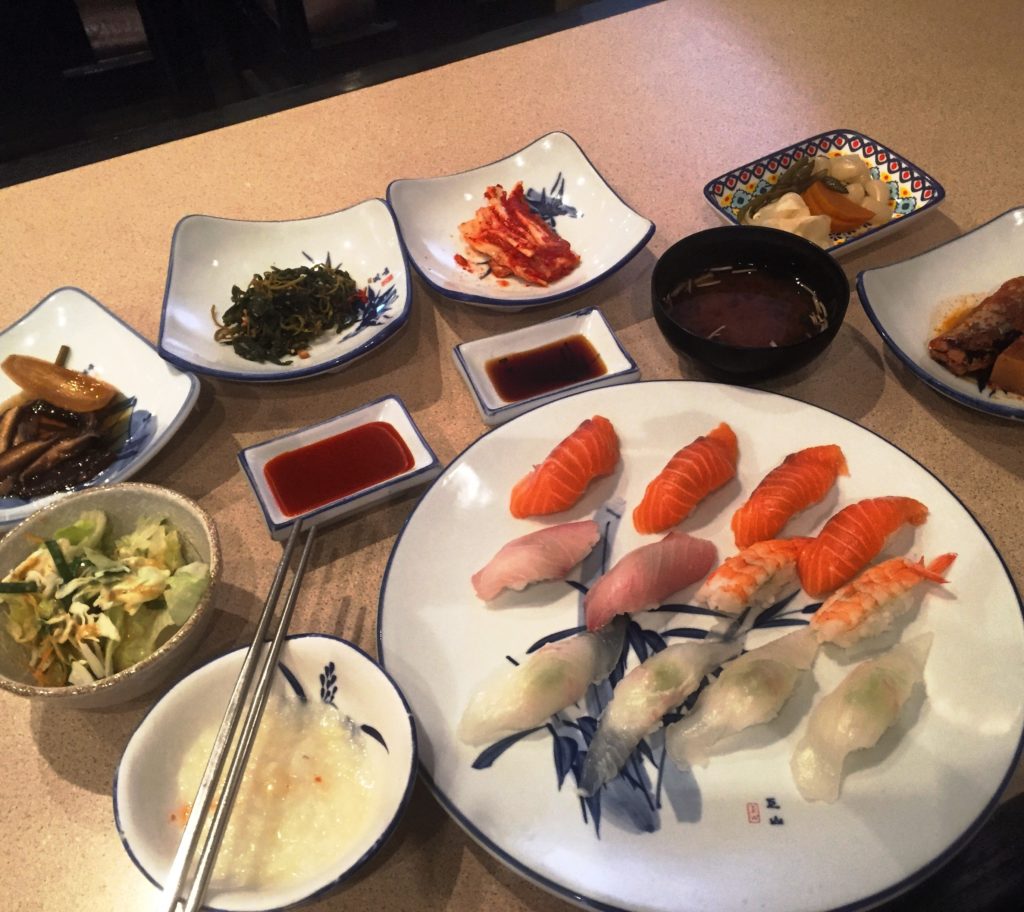 Rose Ice cream – Despite visiting several markets and street food hubs in Seoul I only found this particular type of ice cream in an area called Myeongdong. They call it Rose ice cream only because it's shaped like a rose, there isn't any rose flavour ( thankfully ) but it looks pretty and is a big hit specially with children. I was skeptical to try to because it's actually gelato but I picked the one with strawberry and vanilla and it's surprisingly very good. The perfect snack of post dinner dessert.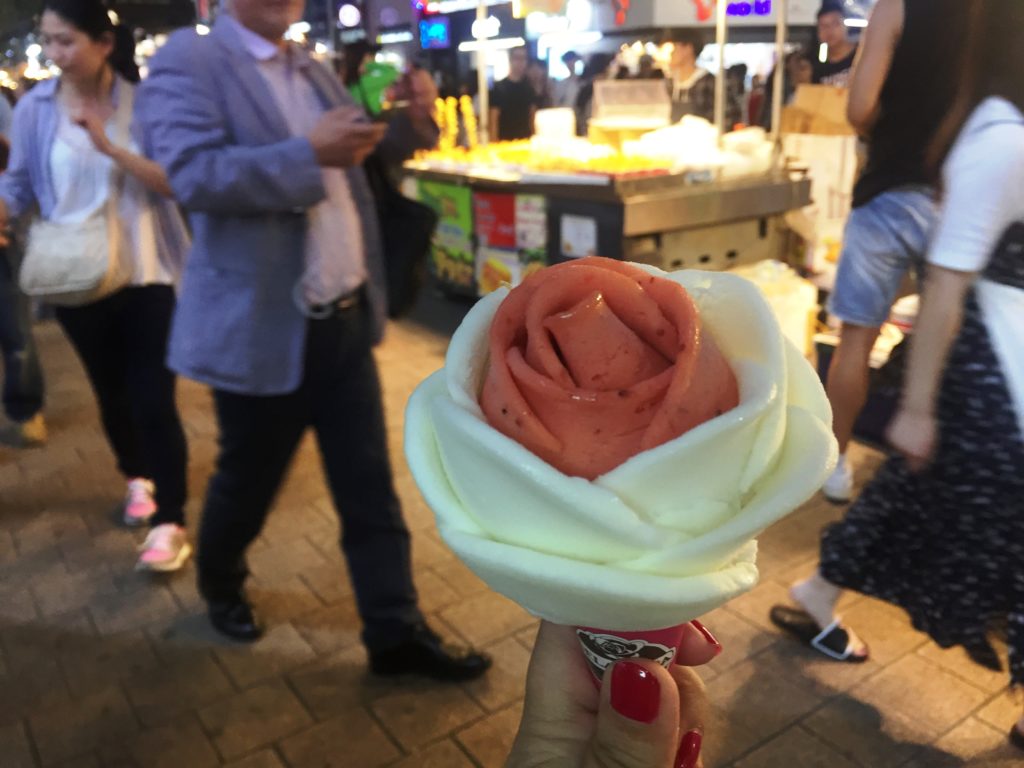 Myeongdong Dumplings – I don't know what they call them Myeongdong dumplings because I found them in several neighbourhoods apart from Myeongdong but they're wonderful dumplings, sometimes fried but usually steamed. They come with a filling of pork and vegetables but surprisingly also just vegetables. You can slather on some sauce to go with it or eat it as is. It's a filling snack and perfect so munch on while doing a bit of shopping.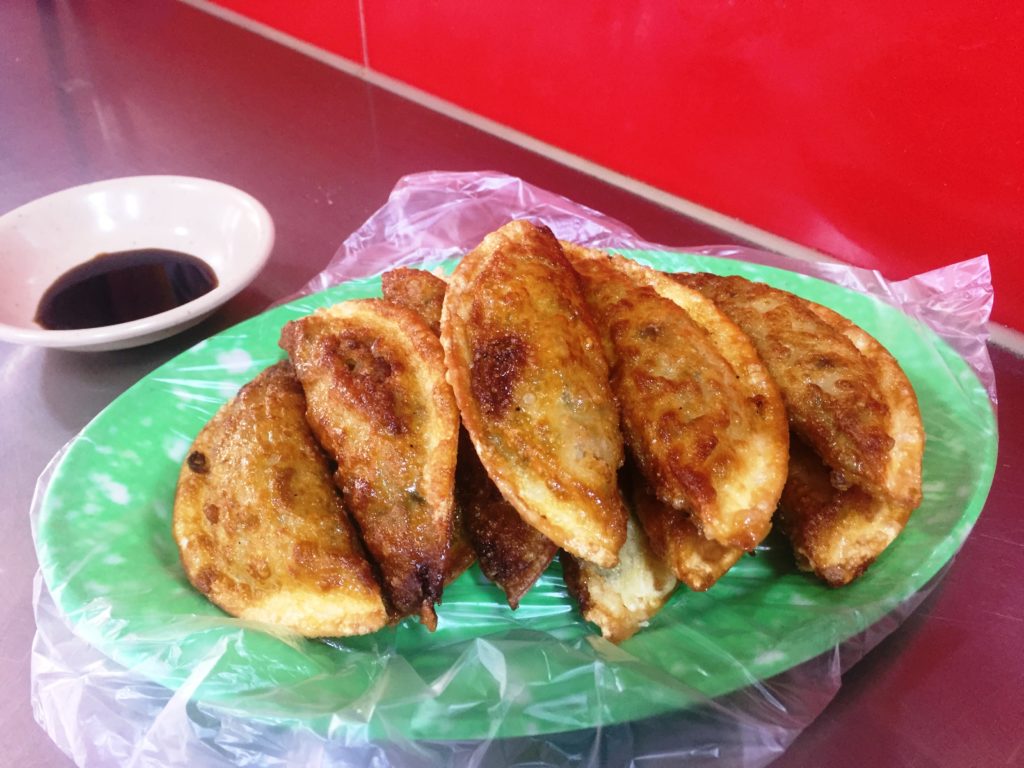 Poop Pancakes – Seoul has some very funky themed cafes. You'll find strange and unusual ones but the one thing they seem to find hilarious is the poop emoji. I didn't find a poop cafe in particular though I know there is one, I did find poop shaped ice cream and pancakes which I thought were quite funny. The ice cream is served in a cone and usually chocolate flavoured. The pancake is actually stuffed with either nutella or Red Beans. I ended up with a  red bean one and shockingly good. It's slightly sweet and it feels like semi mashed dates. I have a feeling the Nutella one will outside this but it really depends on what you like to eat. I found this at the Insadong street market.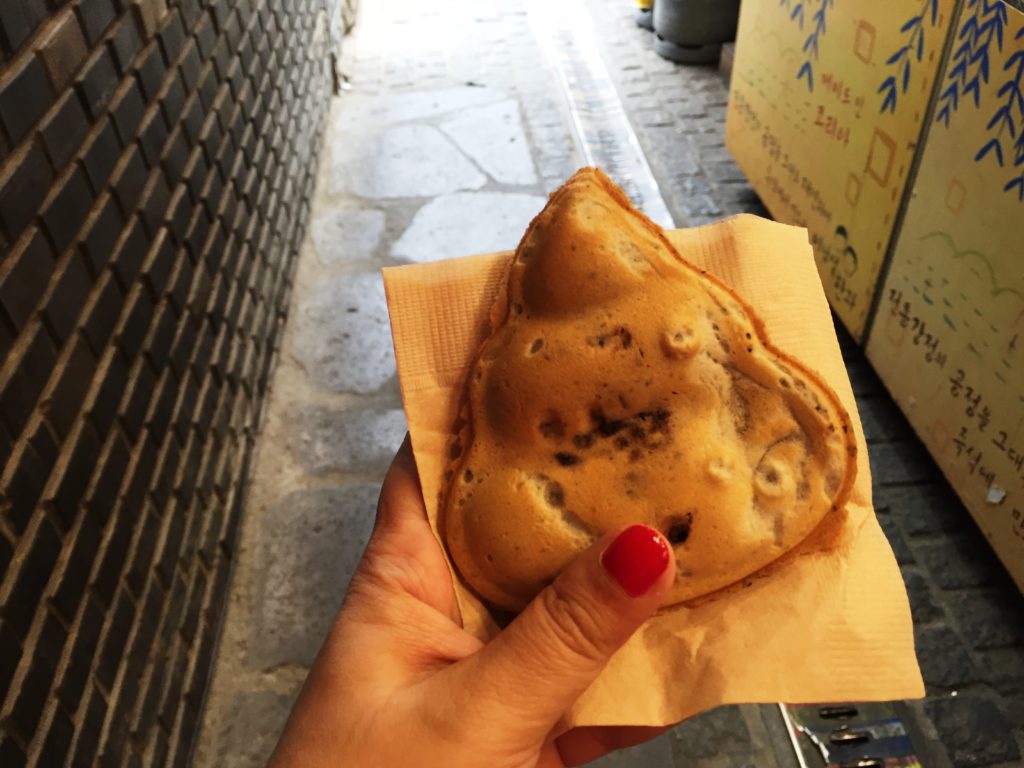 Fried Cheese – This is absolutely incredible. If you're obsessed with cheese like I am you'll love it. The cheese is almost like Halloumi with a high melting point so they grill it and then drizzle it with honey making for the best possible snack. It does get a tad bit messy because the honey tends to drip and I had to actually eat this in bits because I found it to be heavy but what an awesome snack. Fried sweetened cheese.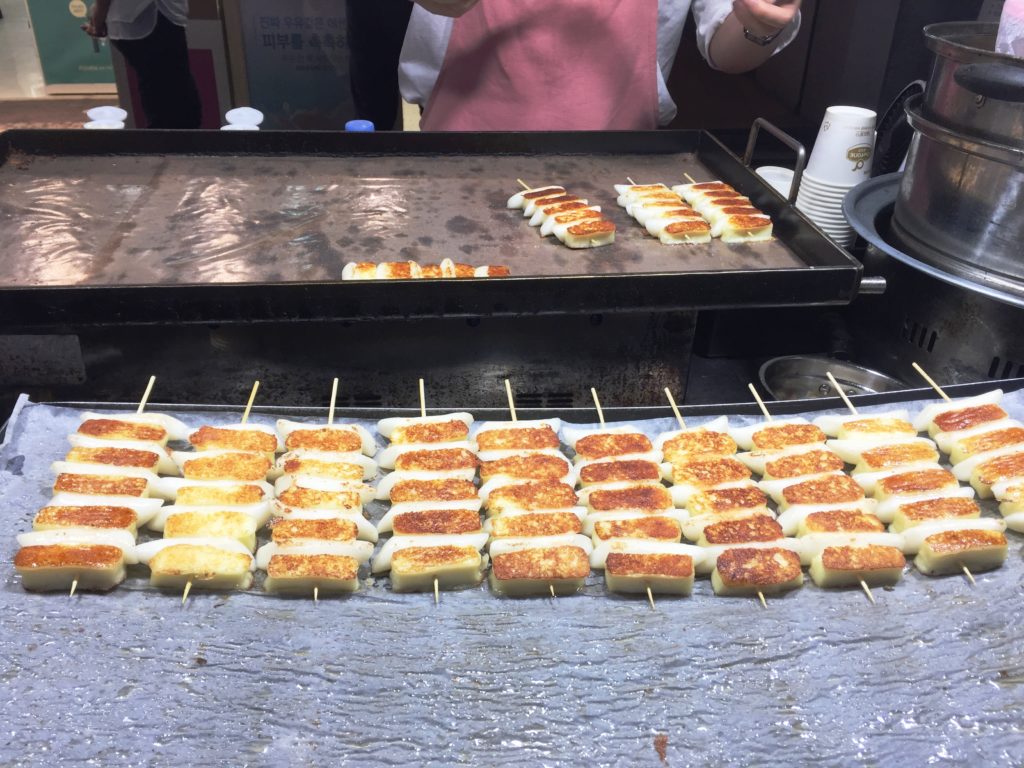 Croissant Taiyaki – It seems odd to call this a croissant because it's actually just flakey puff pastry that's been stuffed with chocolate, banana or cheese, toasted and then glazed in honey. They're toasted in a fish mould making them look cute but this sweet treat is incredibly addictive. You can pick from different fillings but I highly recommend banana.
For more stories from Seoul you can check my Instagram highlights labelled Seoul RIGHT HERE
I've also documented my entire journey on my Travelibro app that you can find RIGHT HERE
Disclaimer : My trip to Seoul was made possible thanks to an invitation from the Lonely Planet Magazine India and Korea Tourism Organisation. As always, thoughts, ideas, opinions and words are all mine