It's 8am, I'm bundled up in four layers to brace the cold, I'm standing in a sea of people waiting to cross a man made bridge to get to the other side of the Yamuna river. I find myself excited but nervous not knowing what to expect but an impromptu chat with a lovely lady standing next to me and a few hugs and selfies later I find my nerves have given way to bubbling excitement. I'm at the largest gathering of faith and humanity (as the brochure in my room tells me ) shivering from a mixture of crisp cold weather and anticipation about to experience what nearly every Indian wishes they could.
Of all the experiences I've had through my travels never did I image that I would end up smack in the middle of the largest congregation of humans on earth. Yes, the Kumbh Mela is reportedly the largest gathering of people ever recorded. Millions throng here for this 50 day holy festival and for someone who is mildly terrified of crowds, this is a personal achievement.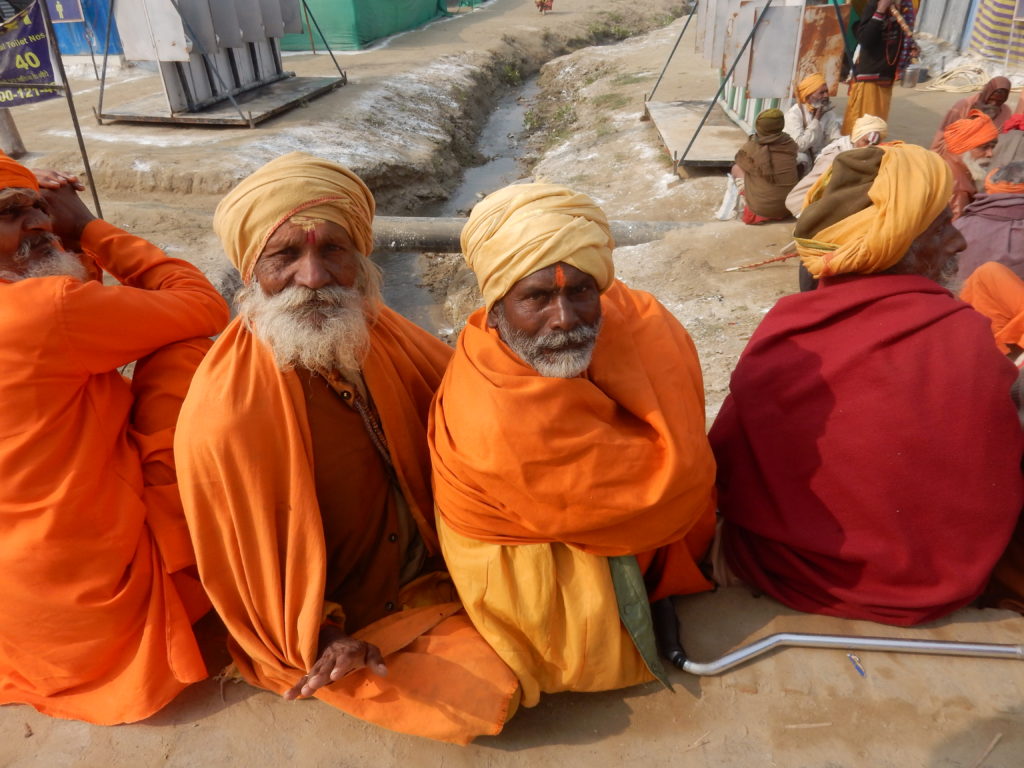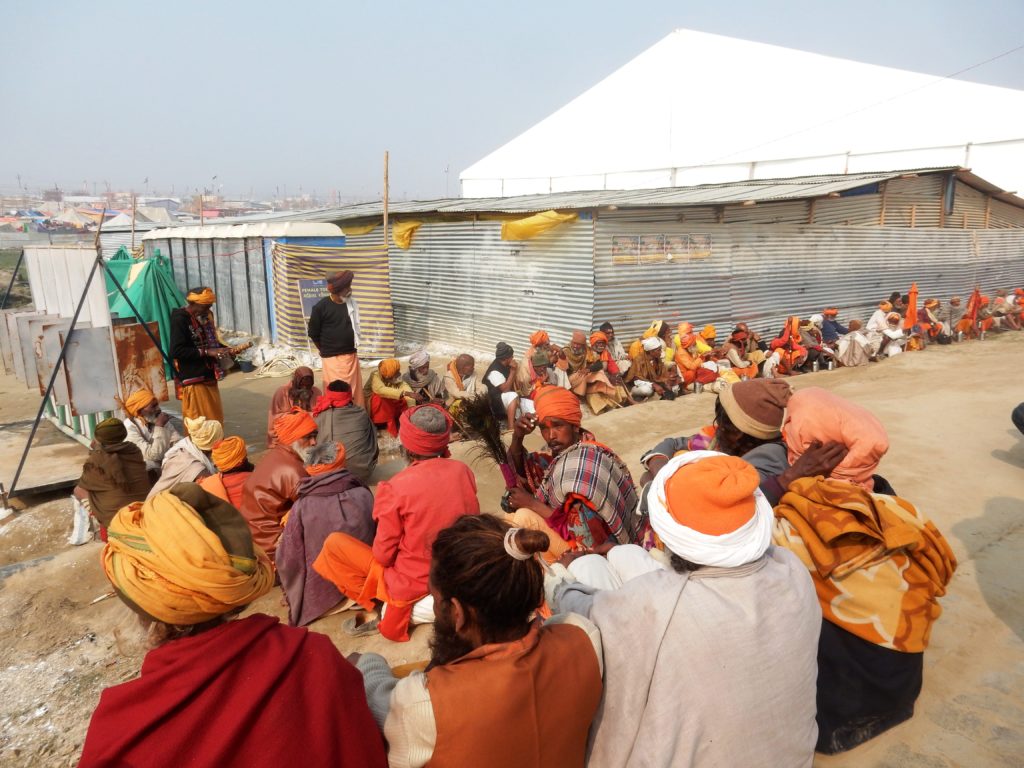 I was fortunate enough to be invited on a press trip with the Lonely Planet Magazine India and Uttar Pradesh Government to experience the Kumbh this year and when I put up a post on social media stating the same the response I got was encouraging to say the least. " Omgggg this is amazinnggg" " How cool Roxy ! Take loads of pictures""Please tell me you'll do a YouTube video I need to see this !" "Wait can I join you? How you getting there" and I thought, Wow! This was an unexpected response but it got me thinking that there is an obvious lure and attraction to this festival that I needed to understand better.
According to Hinduism, taking a dip in the Ganga, The Holy River is paramount. It signifies washing away or being cleansed of your sins. The Kumbh which usually happens in four cities this year took place in Prayagraj formerly known as Allahabad at the Triveni Sangam or the holy confluence where the Ganga and Yamuna rivers meet along with the mythological Saraswati River. It is the holiest spot and people from all over the world come here to take a dip.
The faith here so strong and unwavering that pilgrims brave the heat, sometimes intense cold, the continuous onslaught of individuals and any other inconvenience to submit themselves and participate in the festival. The biggest draws here are the Sadhus. While these holy men garbed in their saffron robes are abundantly found all through the country, they make sure they attend the festival and if you're polite enough to engage in conversation without just shoving a camera in their face you'll learn they're friendly, fun and are often amused with the attention.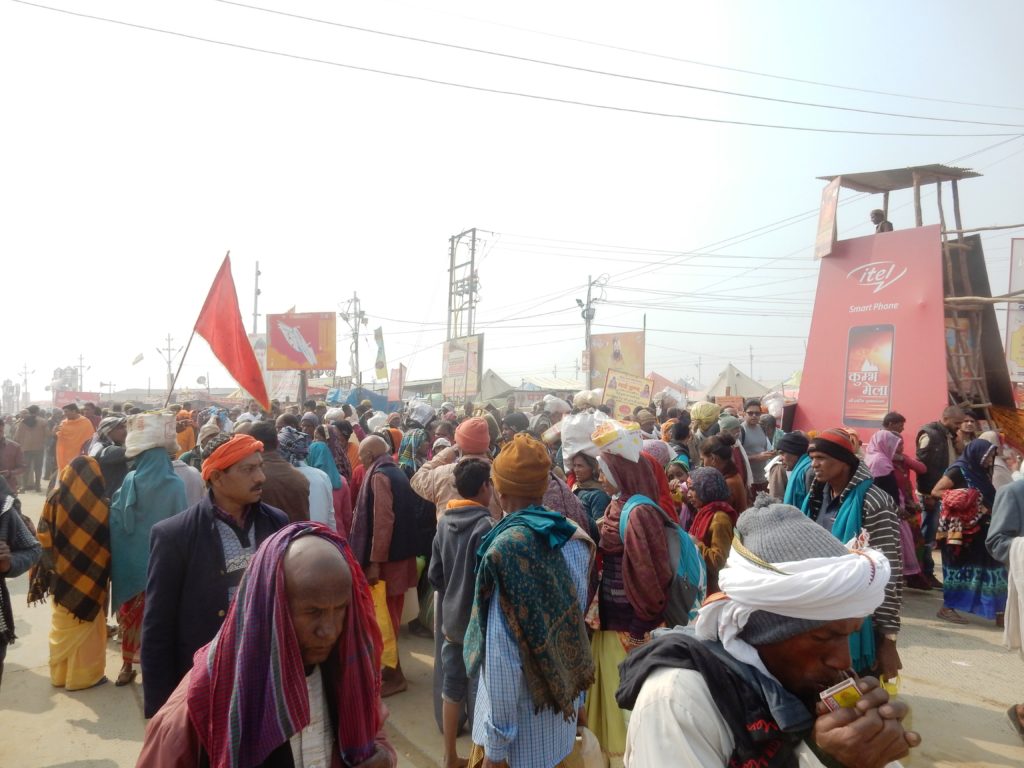 While the Sadhus ( holy men who have renounced all their material possessions to attain enlightenment ) are in found everywhere it is the Naga Babas ( Naked Yogis/Sadhu ) that are a cause of excitement to most people visiting the fair. These holy men as the name suggest are completely naked, stripped down to their bare flesh, usually cover their bodies in ash and have matted dreadlocks. They take inspiration from Lord Shiva and live deep in the Himalayas, only come into contact with others during the Kumbh Mela. It's incredible that they manage to withstand extreme weather and biting cold without a shred of clothing and are extremely well respected. On the day of the Shahi Snaan ( Holy Bath ) which is usually on a new moon day, it is these babas that have the first right to take a dip in the river and it is a formidable sight to witness thousands of them flocked together.
Tourists and photo journalists are always itching to take pictures of these Naga Babas but one needs to be respectful. It is only when my guide asked for permission and offered a token donation that we took pictures. Pilgrims come here specially to seek their blessings and their intimidating demeanour makes no difference.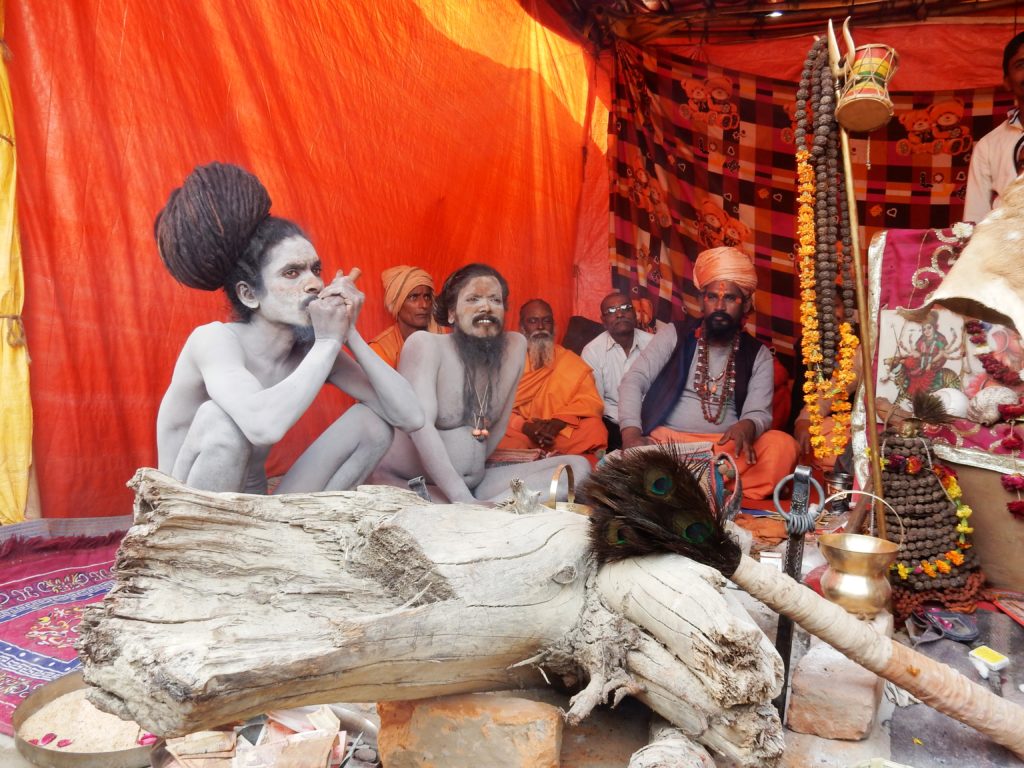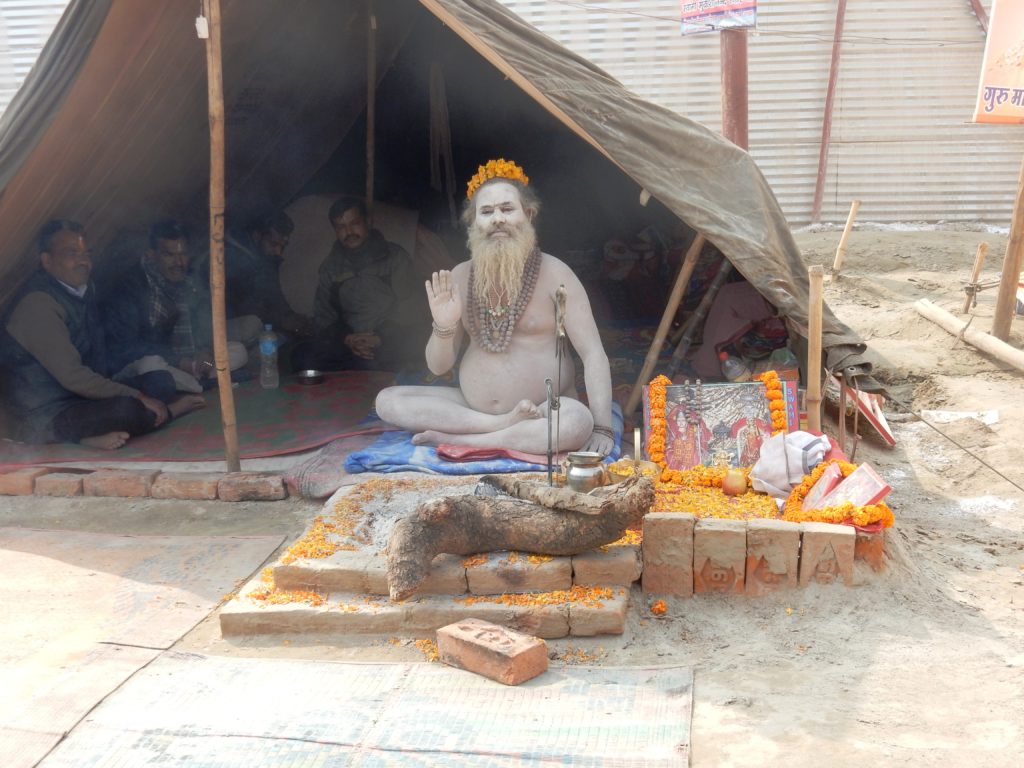 I had a day at the Kumbh to go about explore and I will admit most of my time was spent in search of these Naga Babas that stay in a group or Akharas. Along the way I saw plenty of tents pitched with sadhus and pilgrims devoted to their prayer, lots of tents like the Bhandaras that feed as many pilgrims as possible, plenty of folk just trying to take as many selfies as physically possible as well as pilgrims just trying to go about their day without being snapped for the gram.
The Kumbh Mela is seems larger than life and it probably is with a record number of 40 million people at one particular time visiting. The fair has recreational places, cultural programs, an amusement park, vendors selling merchandise and even a laser show at night, an effort to ensure every visitor has a memorable experience.
Fact File –
The Kumbh Mela has been recognised as world's "intangible cultural heritage of humanity" by UNESCO
There are four fairs for the Kumbh held at Prayagraj, Haridwar, Nasik and Ujjain.
The Maha Kumbh is held every 12 years the Kumbh or Ardh Kumbh like this one is held every 6 years.
According to medieval Hinduism, Lord Vishnu spilled drops of Amrita (the drink of immortality) at four places, while transporting it in a Kumbh (pot). These four places are identified as the present-day sites of the Kumbh Mela. The name "Kumbh Mela" literally means "kumbha Fair ".
How To Get There – Bamrauli airport is a domestic airport that you could fly into from most cities in the country. You could also get there by train or drive from Lucknow or Varanasi like I did. The airport is about 12km away from the city but I'm told the railway station isn't too far from the main Kumbh area.
Where To Stay – There are many places to stay at the Kumbh as you'll find on the government website but I stayed at a tented city called Indraprastham in a luxury tent which was comfortable and spacious. The tent accommodation and I'm told most of the places to stay are on one side of the river so to get to the main festival area you need to walk across these man made bridges called Pontoon Bridges ( alternatively you could hire a boat to ferry you across ). If you are at Indraprastham then you can take a free E Rickshaw from your tent to the nearest bridge it is a bit of a walk. Or else hire a vehicle or another rickshaw to take you back and forth to the bridge. Once you're at the festival you walk everywhere.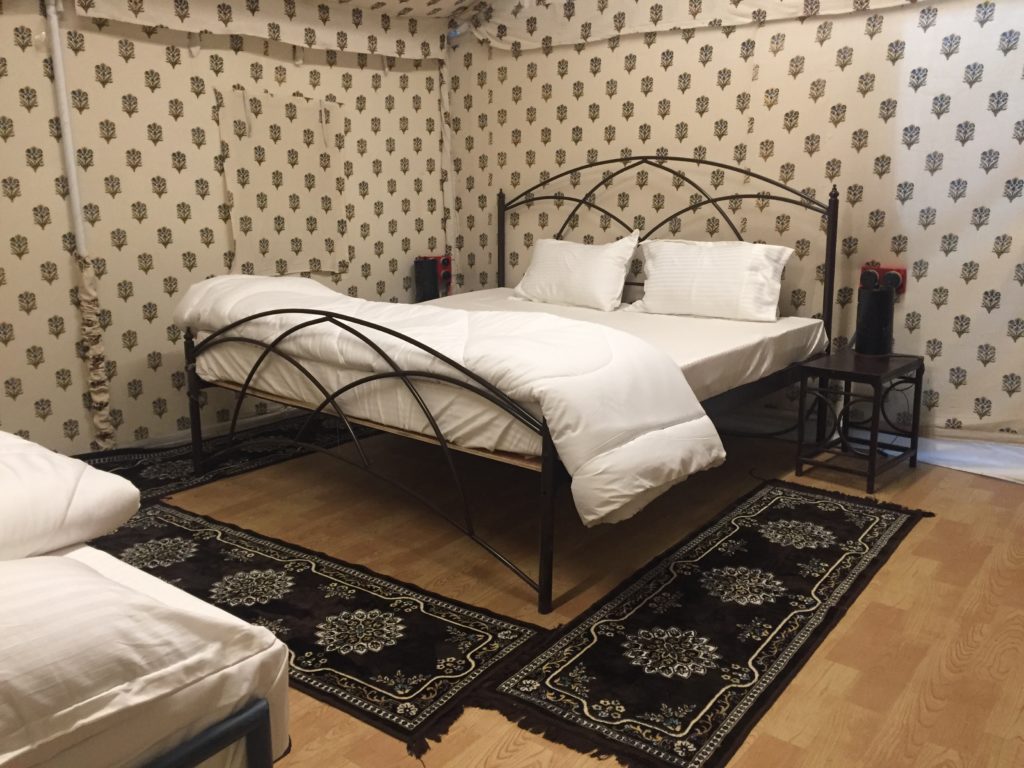 How Clean Is It – What a treat it was to find that not only is security amped up but the entire fair seems nearly spotless. I see no trash, no garbage bins over flowing, plenty of toilets, no bits of paper or plastic floating about at all. The government has ensured that it is a clean Kumbh and it has helped tremendously because it makes for a much easier experience. I'm not saying that it's spotless but I am saying that it's FAR cleaner than what it use to be, than what I expected and I'm hoping they continue with it.
Disclaimer : This trip was done in association with the Lonely Planet Magazine India and the Uttar Pradesh Government. However as always, thoughts, ideas and opinions are mine 🙂
I've also documented my entire journey on my Travelibro app that you can find RIGHT HERE
For more stories from the Kumbh you can check my Instagram highlights labelled Kumbh RIGHT HERE
For more updates from my trip and my other travel adventures be sure to follow me on social media under my handle – thetinytaster