Airports can be dull and painful specially on long lay over. All the excitement of duty free shopping gets washed away sooner than expected and then it's just hours of endless wait. Unless of course you're at Changi Airport in Singapore. If you're at Changi, chances are you'll be quite happy to stay put and when it comes time to leave you'll be sorry to say goodbye. I know this because it's happened to me a number of times. Not only do I adore Singapore ( it's one of my favourite destinations ) but Changi Airport is just marvellous with everything they offer. From a movie theatre to butterfly gardens, it's like there's nothing they don't have.
If that wasn't enough they've just recently launched the main jewel in their crown ( no pun intended ). The newly designed Jewel at Changi Airport is nothing short of a dream. It's almost 5 levels of sheer paradise with endless shops, restaurants, cafes and some of the coolest attractions.
If you're visiting Singapore or even transiting through, I strongly recommend that you spend a night or two at the Jewel or at the very least spend the day exploring, it's worth it and here's why.
Cool Shopping – Singapore really goes all out with its brands both local and international and the Jewel is no different. From Uniqlo, Zara, Charles and Keith, they've got it all. Don't be intimidated not everything here is high fashion with high prices, you'll find something in almost every budget. Make sure you come with empty suitcases or at the very least be prepared to pay for excess weight on your way back home. Don't say I didn't warn you, the shops are extremely tempting!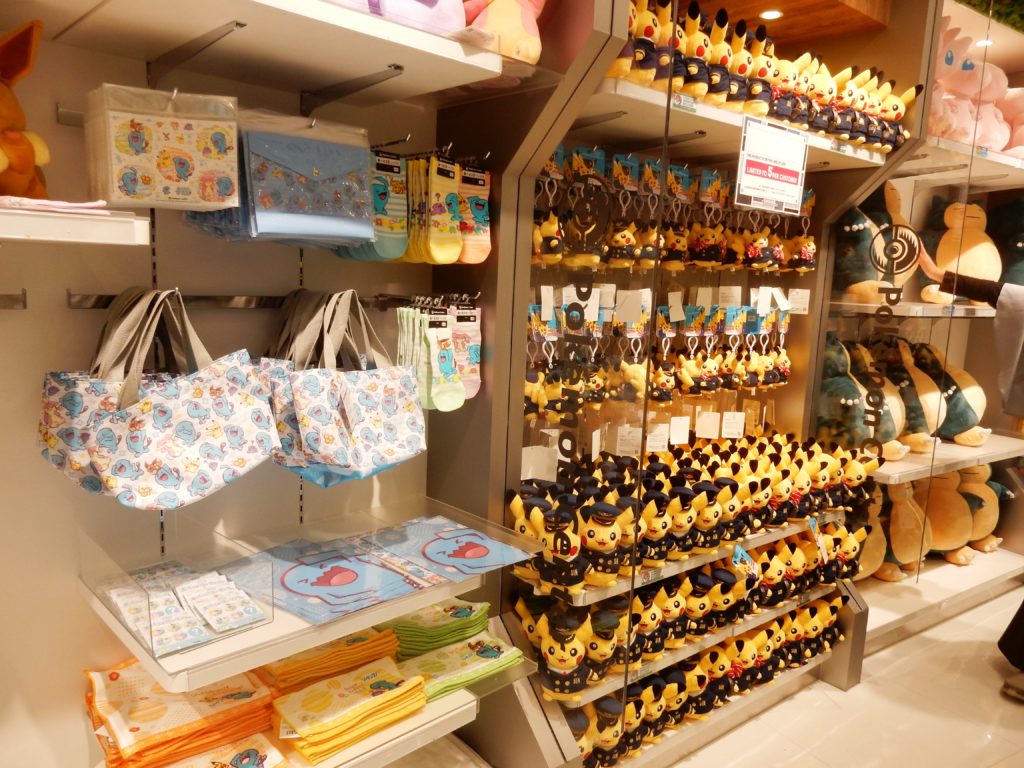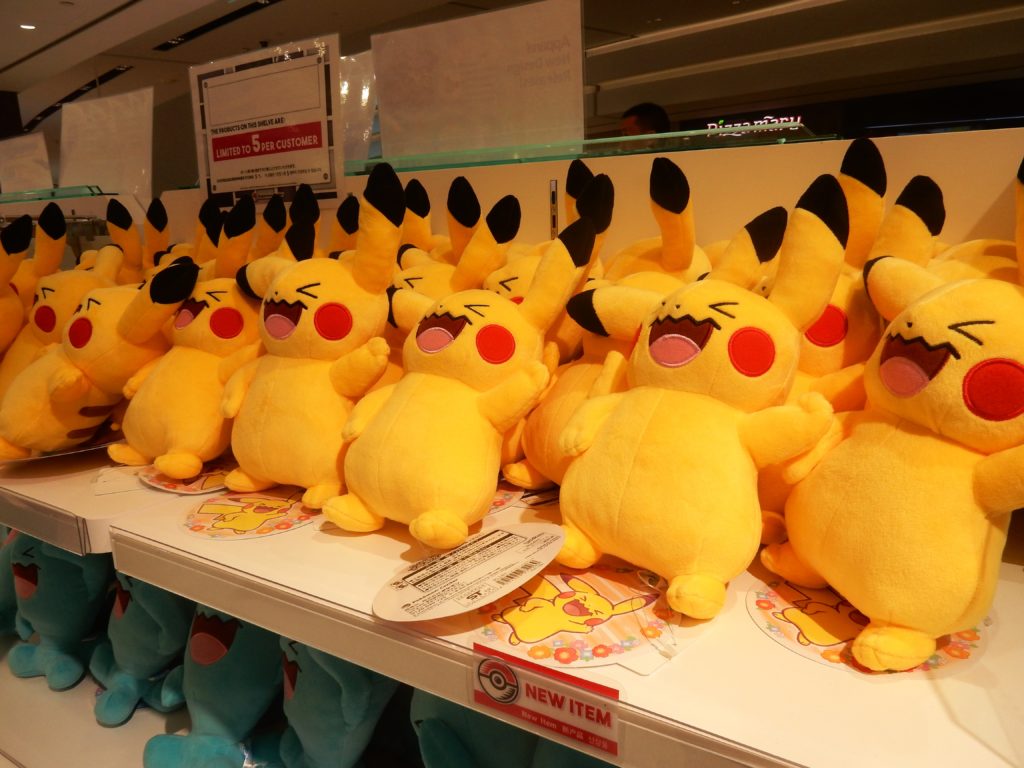 Great Restaurants – There's a lot Singapore does well but the one thing they really ace is their food scene. The Jewel is no different. There are some fabulous eateries offering a range of cuisines to choose from and being spoilt for choice is a serious understatement. It's got the only Shake Shack in the country, you'll find another outlet of the popular Taiwanese Din Tai Fung, local favourite Jumbo for all the crab and seafood crazed diners and lots more. If you're in the mood for more local fare and are interested in Singapore's Peranakan cuisine then pop by Violet Oon. The food is delicious and the decor delightful.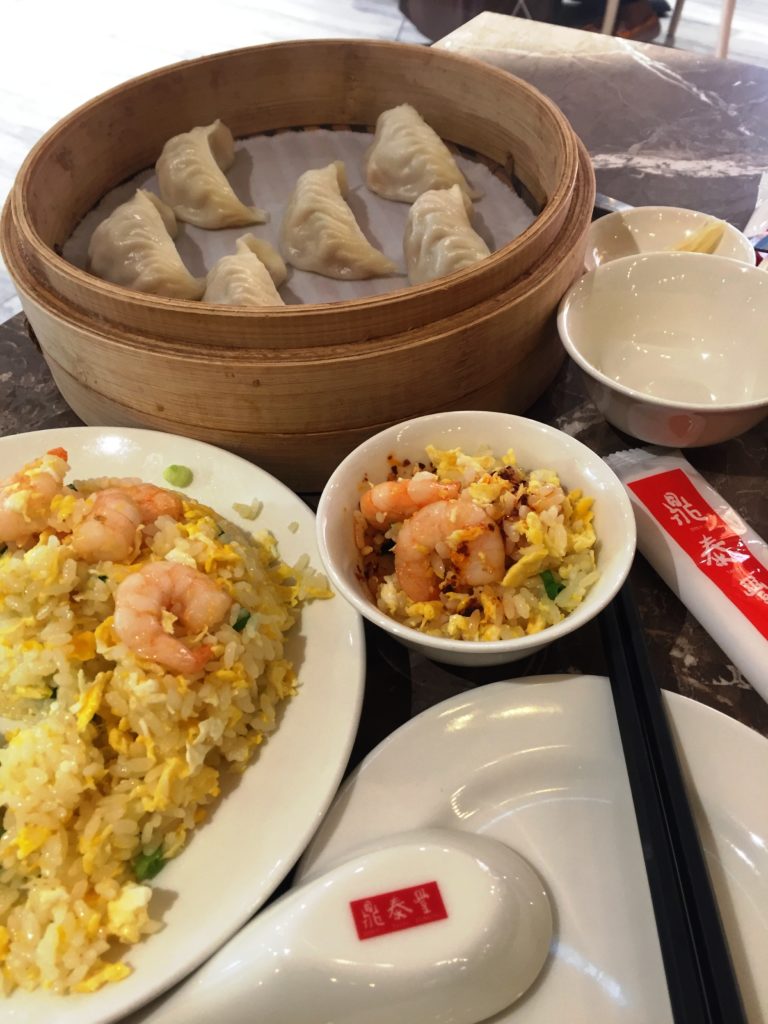 The Vortex Waterfall – The jewel has a lot that's attractive but the central focus here is the incredible waterfall and rain forest. It's really the centre piece and everything in the Jewel ( shops restaurants ) are all surrounding. Not only is it magnificent to look at no matter which part of the jewel you're standing at but it is incredibly calming. The amount of greenery surrounding it will give you joy and you really will feel like you're in the midst of a tropical rainforest instead of an airport mall like structure. It's the perfect backdrop for all those insta photos and at night there's even a light and sound show that plays every half hour post 7 pm.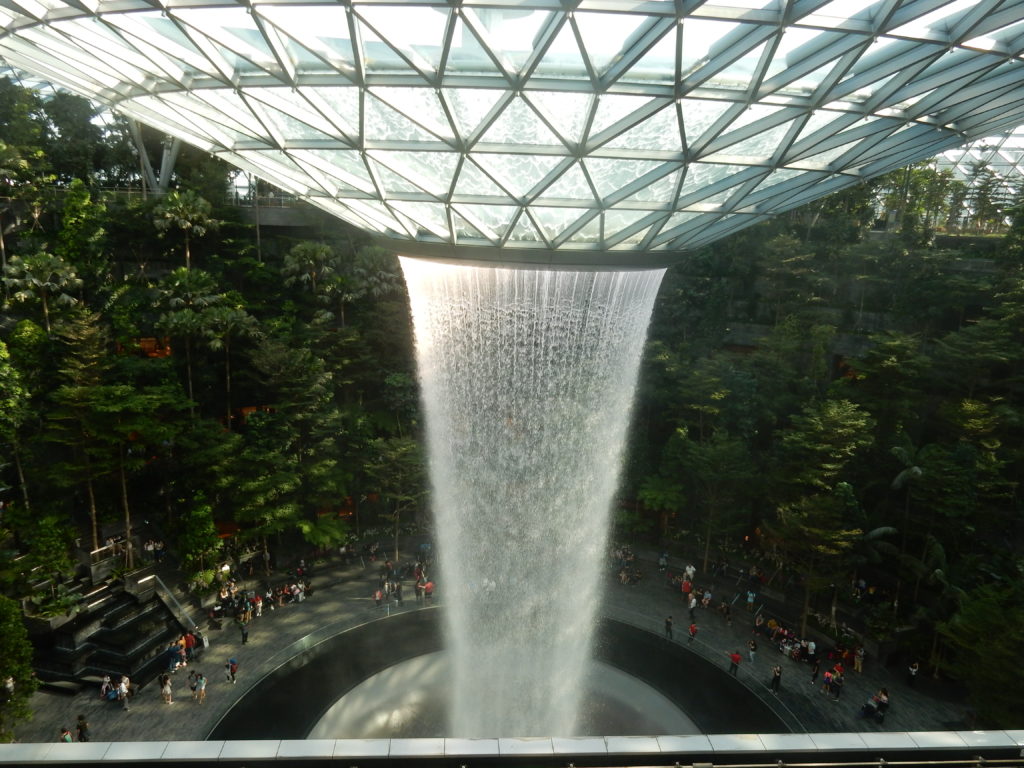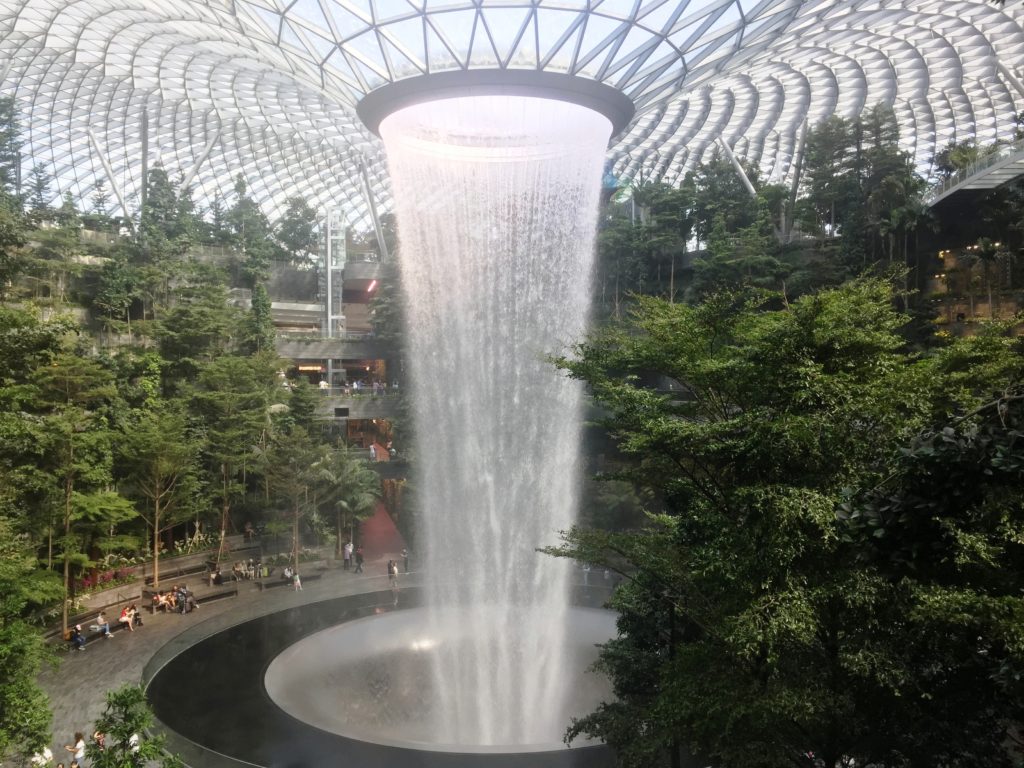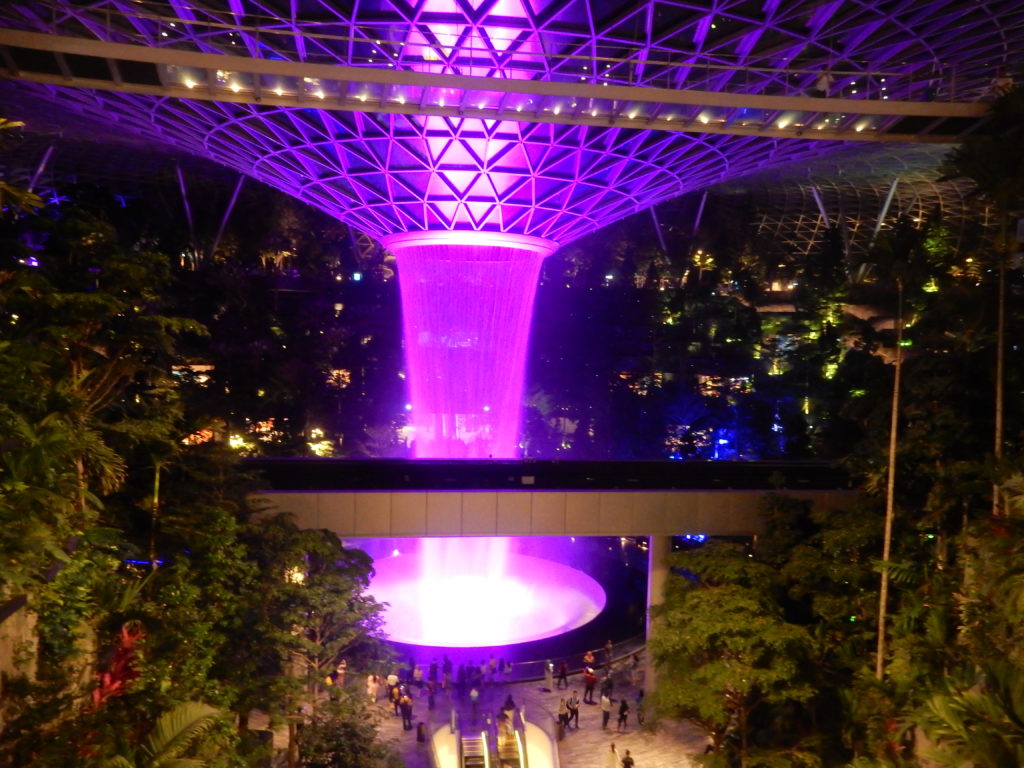 Stay at Yotel Air – Should you wish to stay a night at the Jewel it's got a lovely hotel that has small compact but excellent rooms. They also offer rooms by the hour which is helpful for those that need just a couple of hours to rest or want to catch up on some sleep or a hot shower before they have to catch their next flight. There's a small dining lounge that offers breakfast and light snacks but considering you're at the Jewel studded with fabulous restaurants I'd highly recommend eating out. The cutest part of the hotel are their little robots that come to your door when you request for things like extra bottles of water or an extra towel.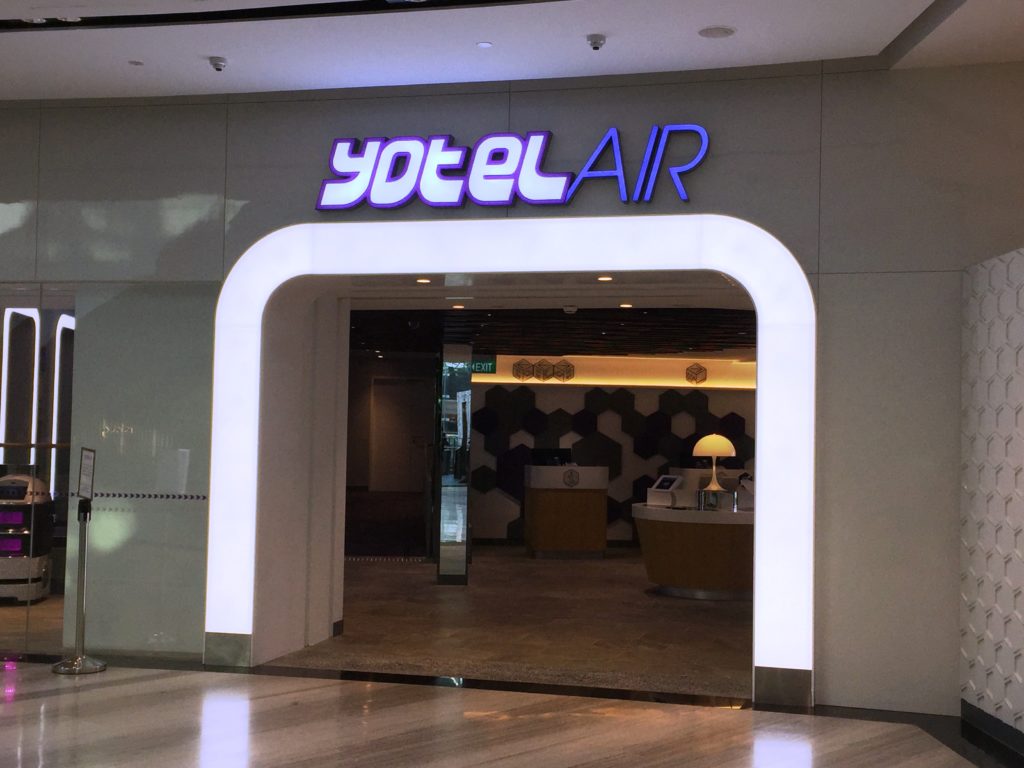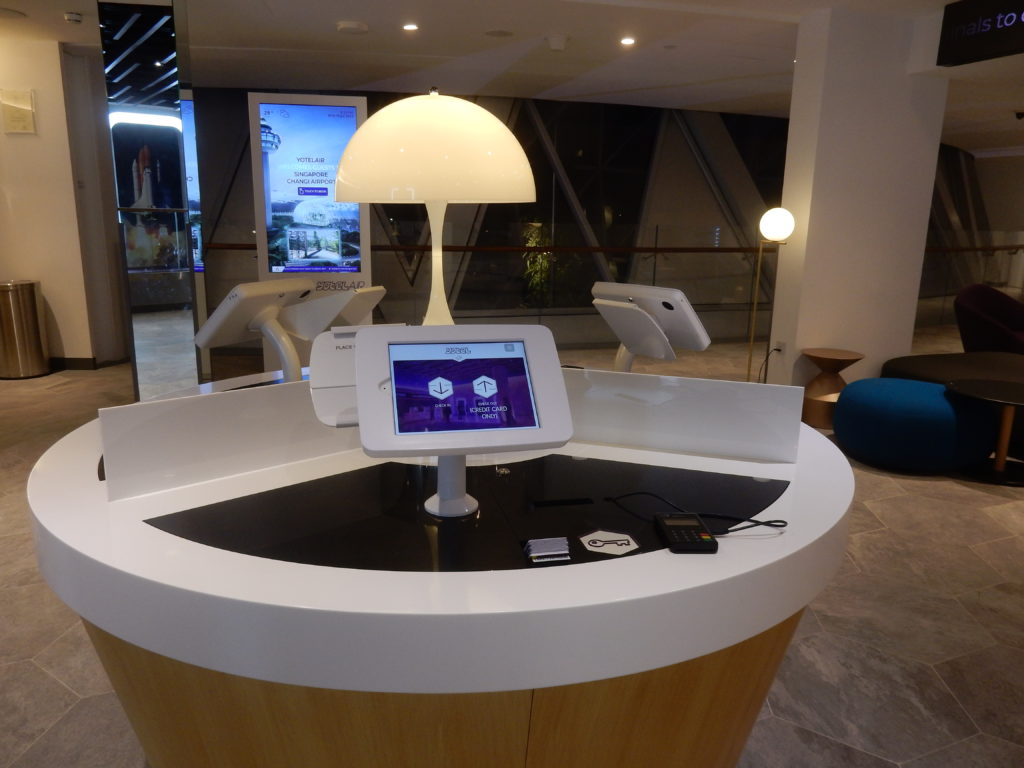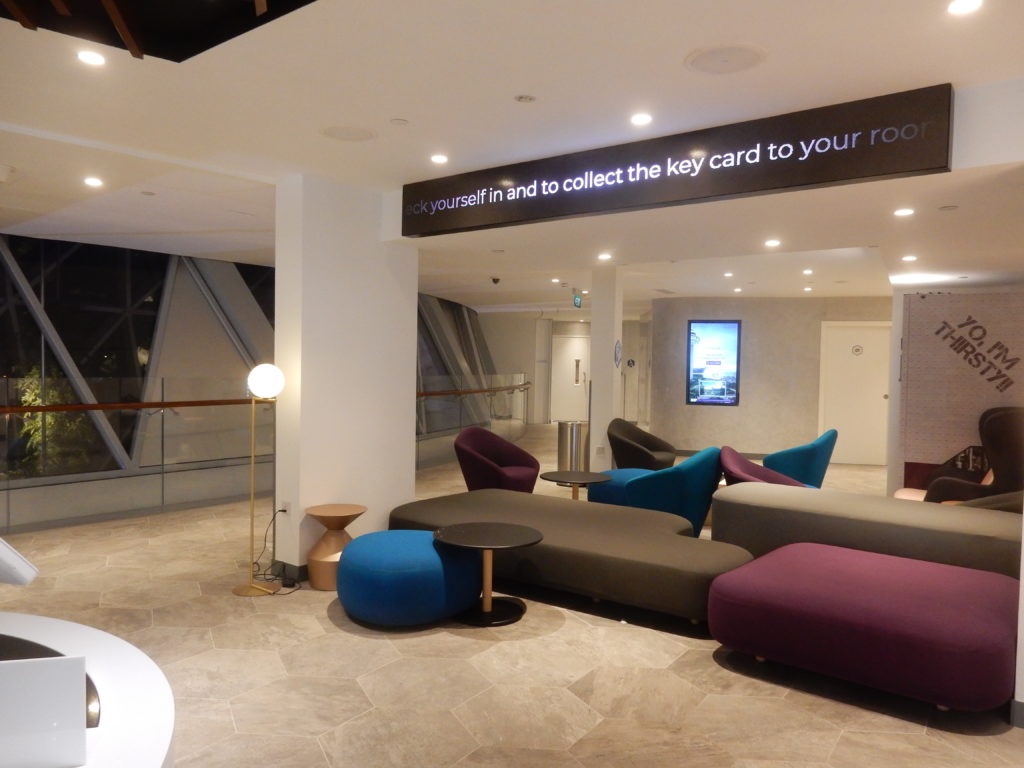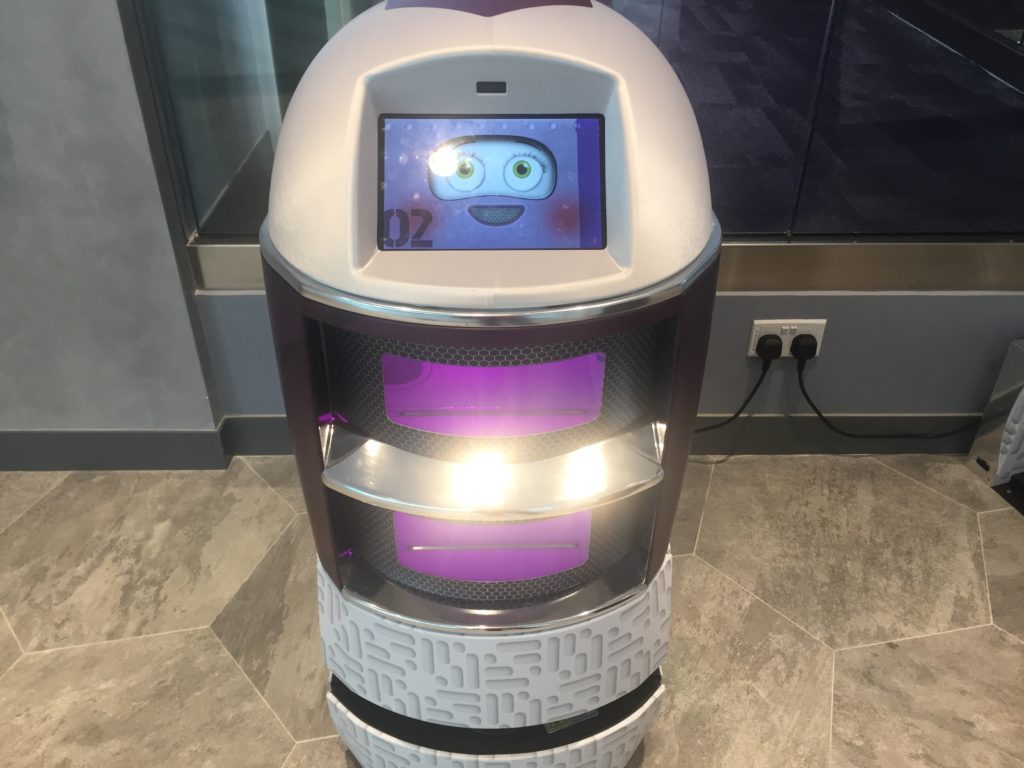 Changi Experience Studio – This space is all about Changi airport, it's history, how the airport functions but it's all done in a fun interactive manner. You get a glimpse into the operations at the airport and it's all done through fun games and interactive installations. You can easily spend hours inside here and you won't be bored at all. Here's a little tip. If you can't win at the game where you need to collect all the luggage trolleys don't worry – no one can !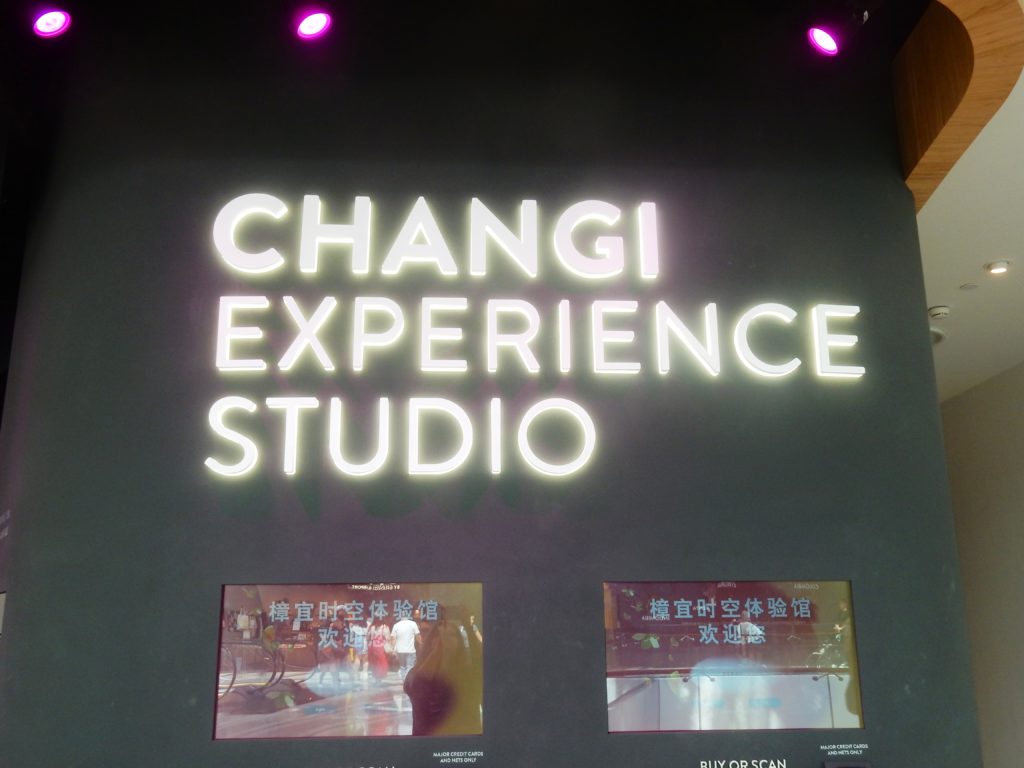 Canopy Park – This has got to be the most popular space at the Jewel. It's full of exciting things to do. From a hedge maze with walls of thick folliage that you have to weave your way through, to a bouncing net suspended in the sky. There's a lot of action at the Canopy park not to mention another set of fun restaurants and more stunning views of the waterfall. It's a great spot for photos thanks to the walking sky bridge which gives you a closer glimpse at the waterfall.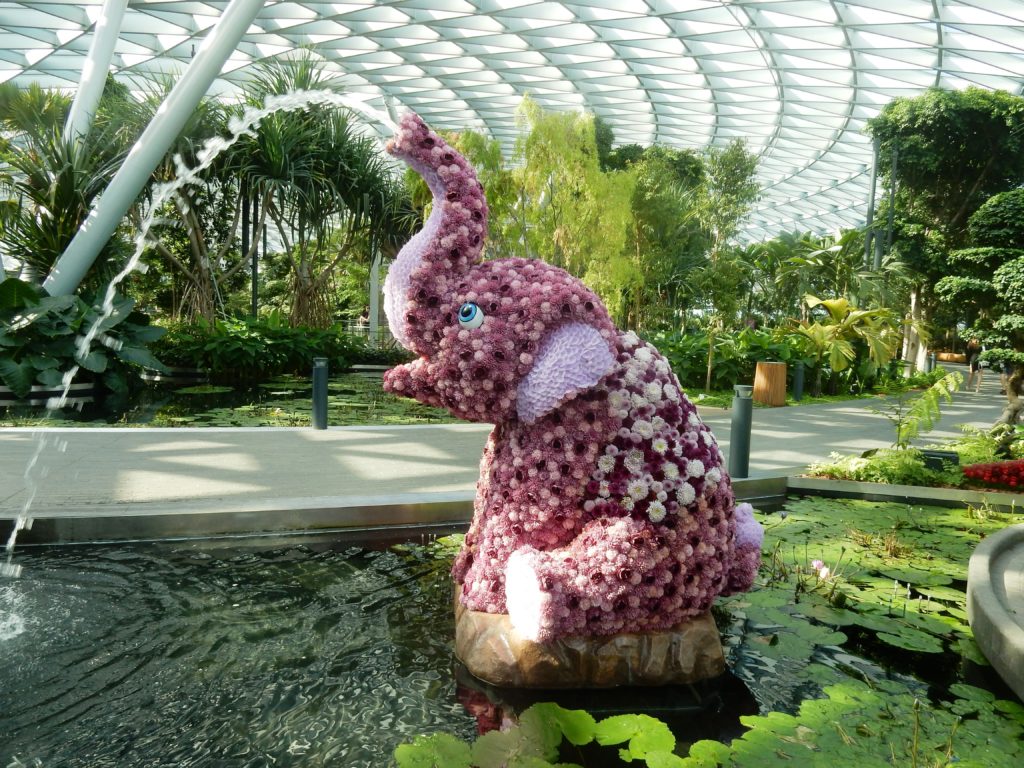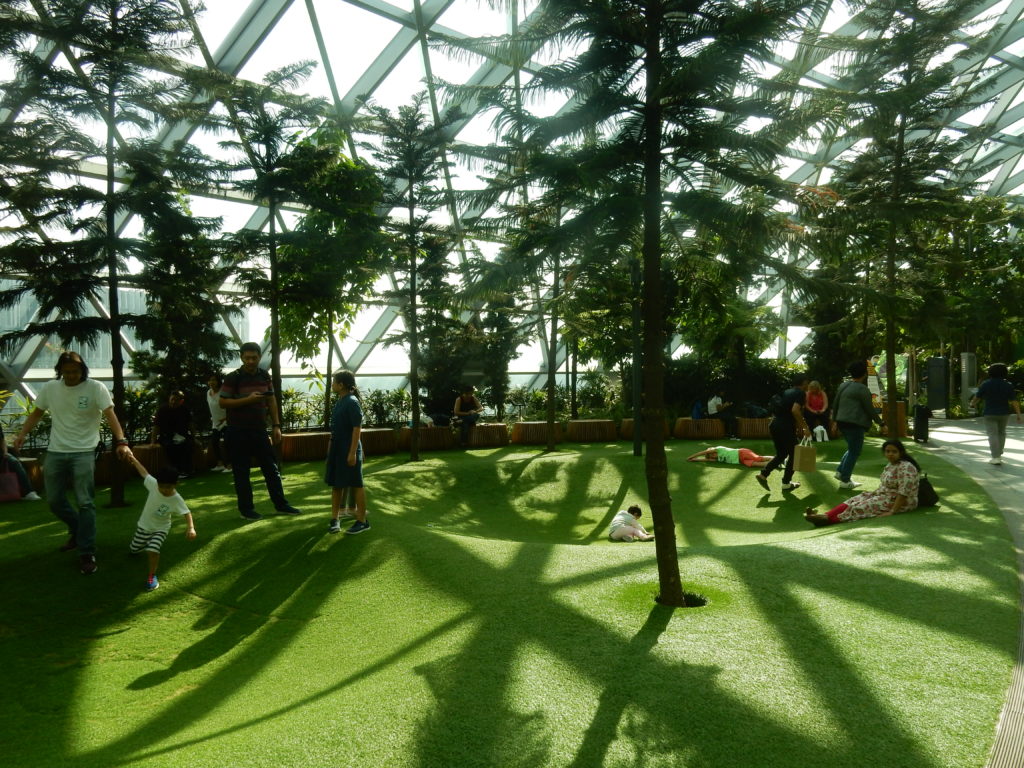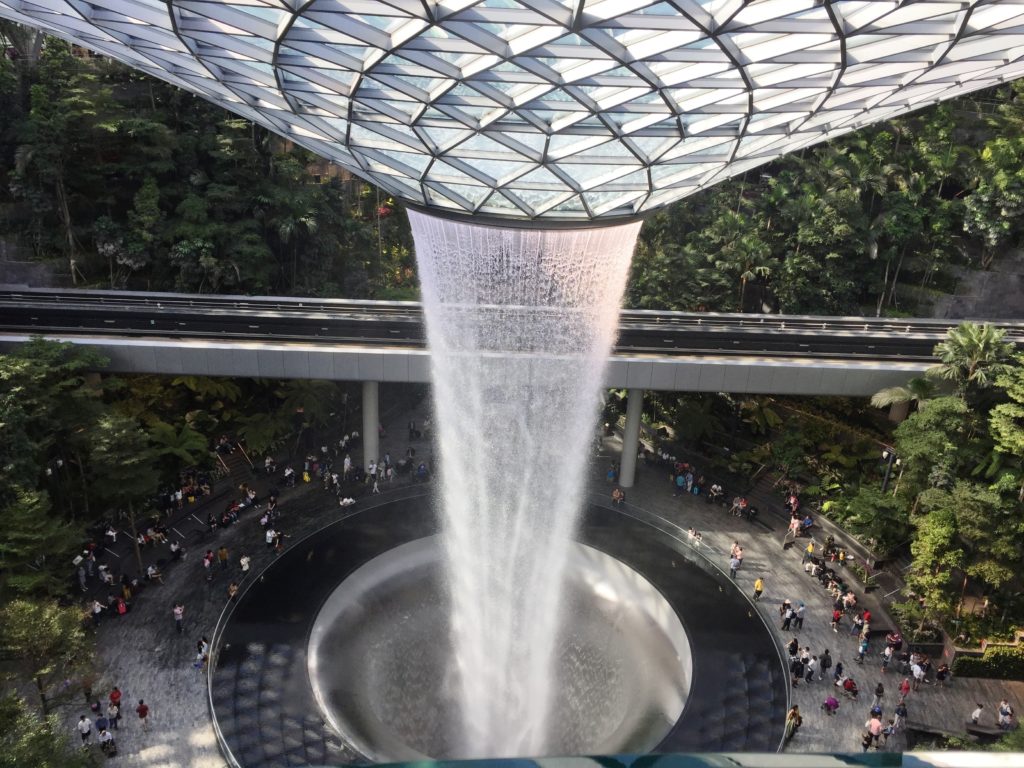 How To Get There – The Jewel is easily accessible from the airport. Once you get out of the airport you can follow the signage and get onto one of their many connecting walking bridges and you'll find yourself at the Jewel in less than 7 minutes. If you're staying in Singapore and want to visit you head to the airport and there is a direct entrance. You don't need to entire via the main airport terminals.
What Does It Cost To Go To The Jewel – There is no entry fee for the Jewel, you can walk around and enjoy it all for free. Only the Changi Experience Studio and Canopy Park and attractions are charged. You can buy a bundle pack for the same and enjoy a package rate.
What Did I Fly – I actually flew Singapore Airlines from Mumbai. I had a night's stay at the jewel and then another flight with Scoot Airlines to Hokkaido Japan the next day. I broke journey in Singapore because it's a long flight route.
Would I ReVisit – In a heartbeat ! Hello Universe, I hope you're listening 🙂
Disclaimer – This post was done in collaboration with Singapore Airlines and Scoot Airlines. As always, all thoughts, ideas, opinions and expressions are all mine. I genuinely had a great time and recommend a visit to all my readers.