This year has been exciting. I launched my very own branded international tours called #thetinytastertours ( check it out on instagram ) with the incredible folks at Quantum Travels https://www.instagram.com/quantumholidays/and did two successful trips to South Africa and recently Morocco. Each tour  ( which I plan and lead, meaning travel with the group ) is specifically designed to showcase a destination in different ways and one very important aspect is of course food.
I had very different ideas about Moroccan food than what I eventually experienced. The truth is it isn't a cuisine that I would rank very high on my list of favourites but at the same time there are dishes that are worth gorging on that are unique and truly Moroccan. I've made a list of these to help you figure out your culinary expedition in Morocco. The cuisine has Berber, Arabic, Mediterranean and French influences which is easily noticed with dishes like harissa or their own thicker version of crepes.
There's also a lot of adventurous food which I didn't venture towards like stuffed camel spleen or steamed goat's head ( this is veryyyyyyy popular ) and even snail soup served on the street that I saw in Casablanca but this list will help to get started as an introduction to Moroccan cuisine.
Mint Tea – The staple Moroccan mint tea is found at every breakfast buffet and at the end of any traditional Moroccan meal. Often free of charge, this watery mix of mint and sugar is a refreshing delight. Locals enjoy it saccharine sweet but they are accommodating enough to skip the sugar on request and it's just as delicious.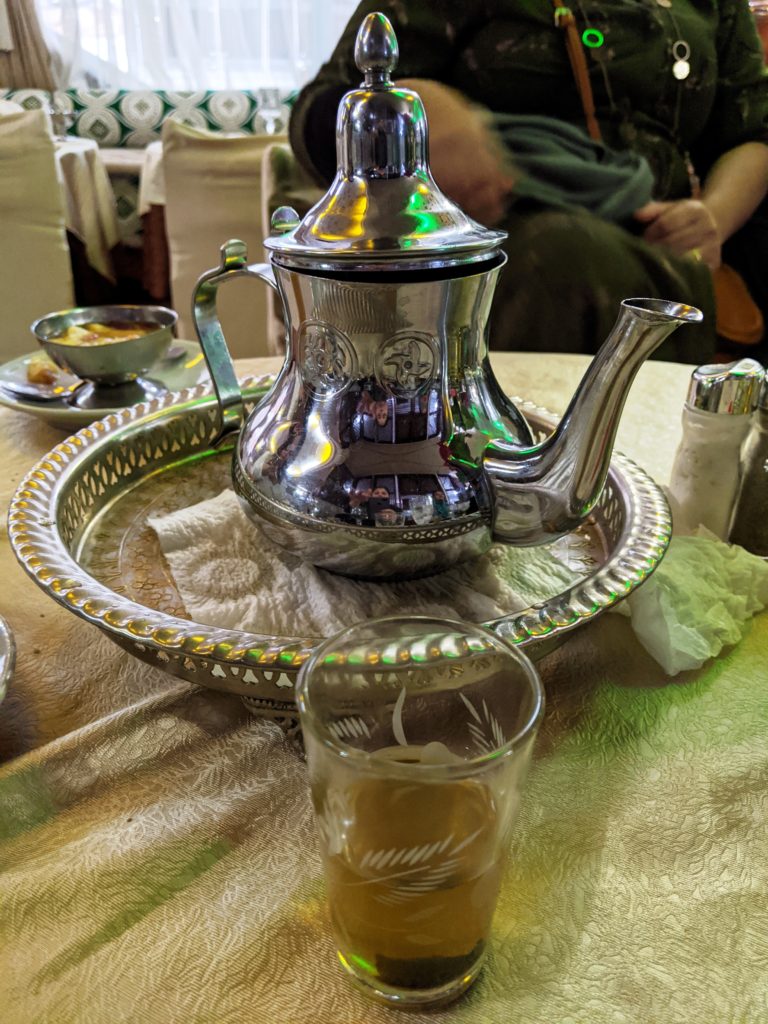 Briwate – What I would call a Moroccan samosa however it really isn't. These triangle shaped puff pastries are stuffed with cheese, chicken or beef and often come with a mix of vermicelli noodles. It's a crunchy light snack found on the street and many local restaurants. The cheese one isn't as cheesy as you'd think so I'd skip that in favour of a chicken Briwate.
Harira – This is a tomato and lentil based soup that is a staple during the month of Ramadan when folks have to open their fast. It's a local favourite and a hearty soup in the winter months.
Tajine – Morocco's national dish must be Tajine as it's on every menu and easily found. The interesting part is that it's not really a dish as much as it is a utensil. Tajine refers to the clay pot with a cone shaped cover that is used to cook in. Each tajine can be prepared differently and can have a choice of meat fish or vegetables. It's what is readily available and more than a dish I'd say Tajine is a way of life here.
Couscous – Now this is actually Morocco's national dish. Bread and CousCous are staples in this part of the world. Interestingly the couscous is always served in a tajine and full of meat and vegetables. I'd say it was a tajine dish but they refer to it as just couscous. It tends to be dry and you will need the watery broth like gravy that sometimes accompanies it but the truth is it is unlike the couscous salads we are use to. I once asked for olive oil to dress my couscous and give it a hint of flavour and the server nearly collapsed as he had never heard of anyone adding olive oil to a couscous ( which in my defence was plain and really bland )
Brochettes – Skewered meats always have a unique taste and these Brochettes refers to a mix of meat on a skewer, spiced and then cooked on the coal. Much like your kebabs or sheekhs but I do find that the pieces are smaller ( hence cheaper ) and you can pick from lamb, chicken or beef.
Maakouda – Found in several street vendor carts, this egg batter potato patty is simple and immensely satisfying. What's not to like with fried potatoes? It's what I'd called the Moroccan version of a potato vada since locals like to stuff it between bread slather it with harissa and eat it like a sandwich. It's a popular appetizer and snack and no matter how you eat it, it's deliciousness lies in it's simplicity.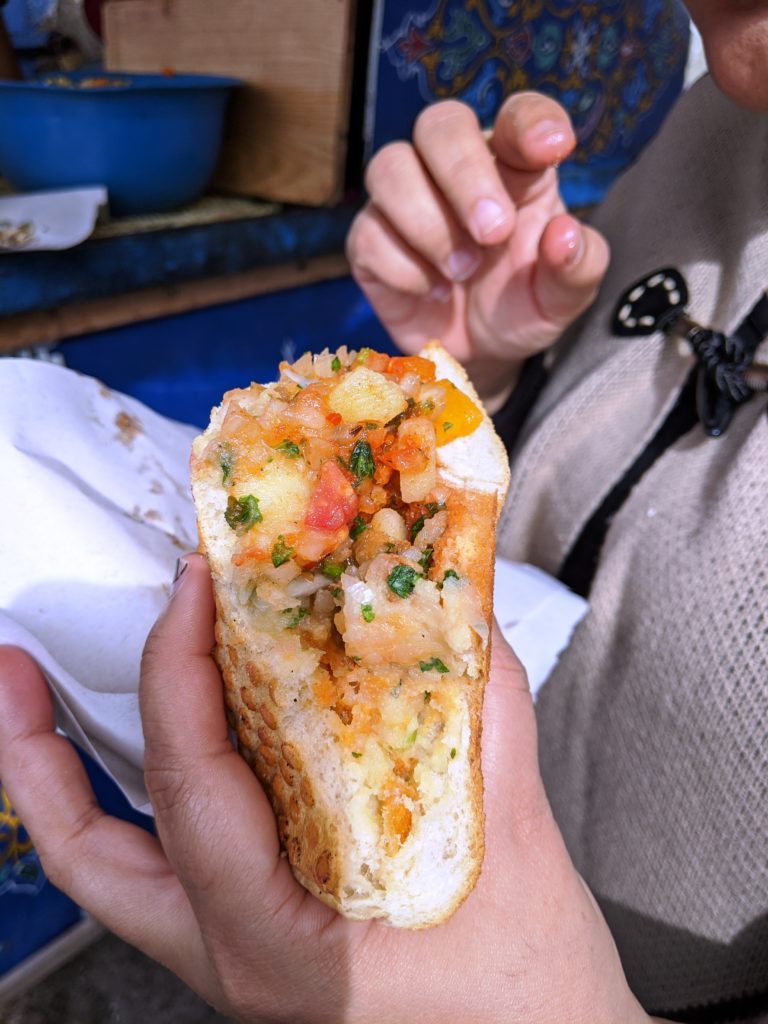 Harrisa – Possibly the best table condiment if you have a fiery palette. Morocco is famed for its spices – paprika, cumin turmeric etc but oddly enough those ingredients don't seem to translate in the final dish and a lot of meals seem rather vanilla, specially for taste buds that live on chilli and spice. So I find that harissa has been the answer to my prayer and I eat it liberally, dollops full. Essentially this is a spice paste made from chilli peppers, paprika and olive oil but the level of spice and the texture of the paste differs from place to place but it's a dream. Easily found in Northern Africa and most of the Middle East.
Khobz – Morocco offers a variety of breads but the most common one found at any or possibly ever table is the disc like crusty bread called Khobz. It's freshly made and ideally meat to dunk into olive oil, harissa or any other accompaniments on the table. When the tagine is full of meat it's very handy to mop up all that lovely meaty gravy.
Zaalouk – At the first glance it looks like Baba ganoush and even when you try it you think it's Baba Ganoush but Zaalouk is a Moroccan accompaniment of eggplant, garlic tomatoes, cumin and olive oil all made into a paste like spread eaten with bread. Again, simple and delicious.
Bastilla/ Pastilla – This is a sweet and savoury mini pie that's stuffed with chicken or sometimes pigeon meat. It's got a sprinkling on cinnamon and the top is dusted with icing sugar to give you a sweet yet salty flavour over all. It's one of my favourite things I ate on my trip and easily found in Djemma El Fna the famous night food market in Marrakesh.
Meatballs – Morocco does like its meatballs but I find them to be unlike what I've had before. No cream based gravy like a Swedish meatball or floating around spaghetti, these are served on their own in a very light tomato gravy always inside the tajine and are deceptively filling.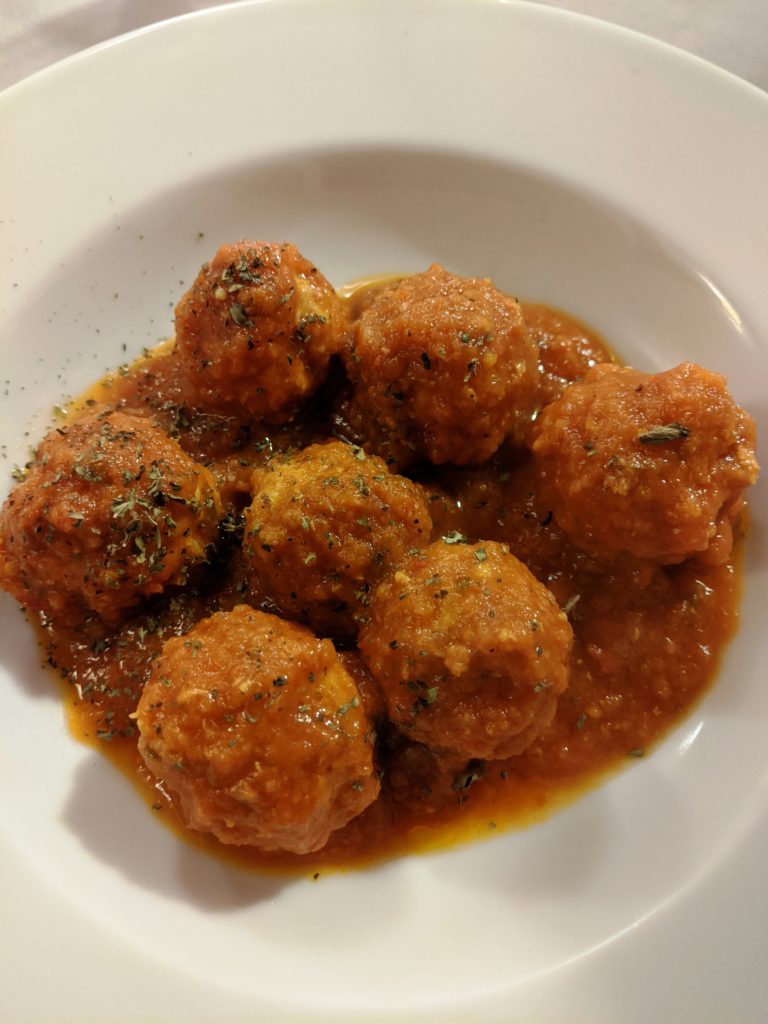 Beef with prunes – I don't know if there is a local name for this but often if you ask for a beef tagine, it's cooked with prunes and while it seems like an odd combination the end result is quite lovely.