Eating out in Paris is a delightful adventure. French cuisine is greatly admired by gourmands world over but even if you skip the traditional brasserie or fancy coursed michelin meals, there's plenty on offer to tickle your taste buds.
Five delicious days in Paris were spent tucking into wonderful meals. By no means is this a complete guide to French food it's probably just a percentage of what the city has to offer but here's what I ended up enjoying that I greatly advocate you sampling on your next trip to the French capital.
Croissants– I must confess I don't generally eat croissant nor do I eat the Pain Au Chocolat but in Paris it would be criminal not to. This soft, warm, buttery flaky pastry is the best way to start your day in Paris.
Macarons – If you've got a sweet tooth then these circular sugary discs are ideal. France is home to popular brands like Laduree and Pierre Herme that are household names when it comes to macaroons but you can find these in all sorts of flavours at nearly every bakery or corner shop.
Steak & Frites – Never under estimate a well cooked hunk of meat. The steaks here are perfection and come with a portion of fries or frites. It's a meat lovers dream meal and I just couldn't get enough.
Snails – The correct term is Escargot and it does sound much better than snails but don't let it put you off. These are cooked generously in garlic and butter sometimes other dressings like pesto even and they are delicious. An absolute delicacy if you can get over the initial resistance thinking you're eating snails. This is one dish I highly highly recommend you try if you haven't already.
French Onion Soup – This humble little onion soup is a personal favourite. Loaded with cheese and a toasty slice of baguette it's such a simple dish but filling and full of flavour. It's a simple uncomplicated yet delicious dish.
Baguette Sandwich – I don't think any list talking about food in Paris would ever include this sandwich since it's so pedestrian and probably the cheapest thing to eat but it's deliciousness is its simplicity. A nice chunk of crunchy french baguette bread with your choice of filling. From just cheese to a classic tomato and lettuce or even a chicken perhaps smoked salmon or tuna filling. The choice is yours but if you're anything like me and really enjoy good bread and cheese that's what you should opt for.
Moules and Frites – This is a bit of a cheat because I didn't actually eat it in Paris but you do find it on menus in some restaurants. It's basically mussels cooked usually in a creamy buttery sauce with champagne and celery ( there are various other preparations but this is a popular choice ) served with fries and it's a wonderful change from the meat. It's a bit cumbersome to eat since you have to scoop it out of each shell but it's well worth the effort.
Crepes – These thin pancakes make for the perfect snack and dessert. Eat them with a savory filling and it works well as a meal. Sweeten them with fruit, chocolate butter or sugar and they work as an indulgent dessert. You'll find them at a street corner or at a cafe and can be fairly inexpensive as well. The cheapest crepe can range between 1 – 2 euros.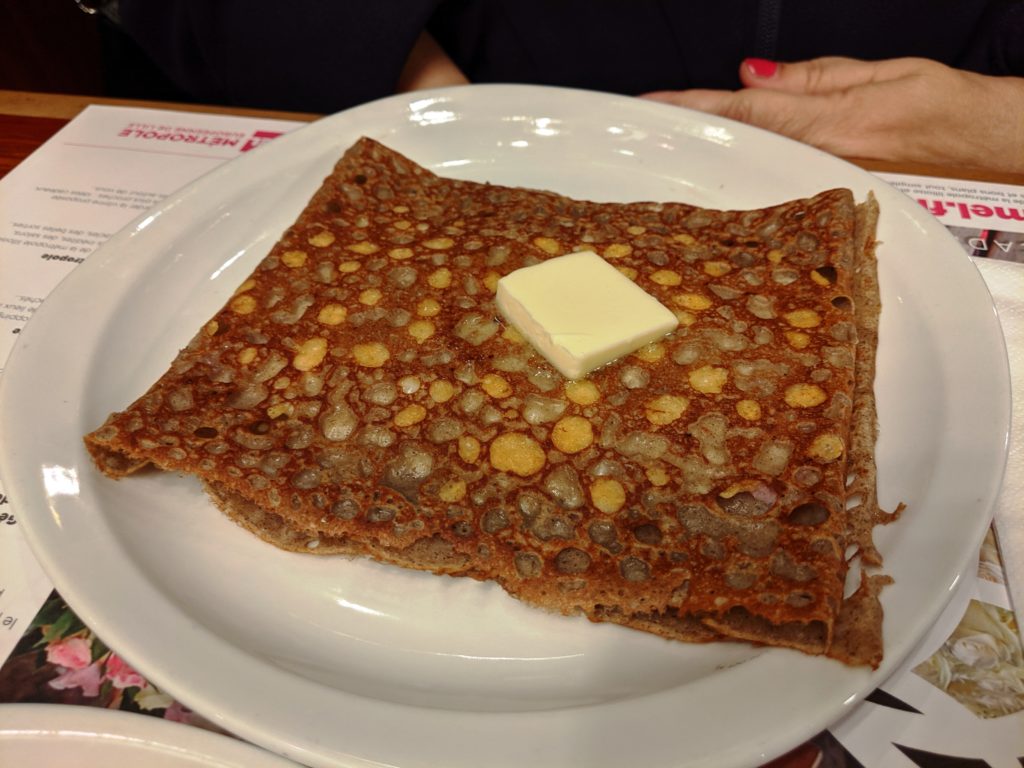 Peninsula High Tea – Now this isn't a single dish that I recommend but more a culinary experience. I had two fantastic foodie experiences in Paris and the High Tea at the Peninsula Hotel is one of them. Every single thing on those three tiers of dessert and nibbles was fantastic and of course not to mention the very elegant ambiance of the hotel. While the entire meal ( and it really is akin to a meal ) was lovely their incredible Foie Gras and Pistachio macaroons were just the highlight of my entire Parisian culinary journey.
Lido Dinner – Another stellar experience was the dinner at the popular Lido Show. The show of course is marvellous but I was blown away by their three course meal. There are different categories and you can pick your meal and seat preference and no matter where you sit or which meal choice you pick, the experience is beautiful. Elegant plates full of divine dishes including foie gras, succulent lamb, dainty prawns and the perfect desserts. While the show is well recommended, I wish more people would highlight how fabulous the dinner is and why it's complete value for money to do both instead of just the show.