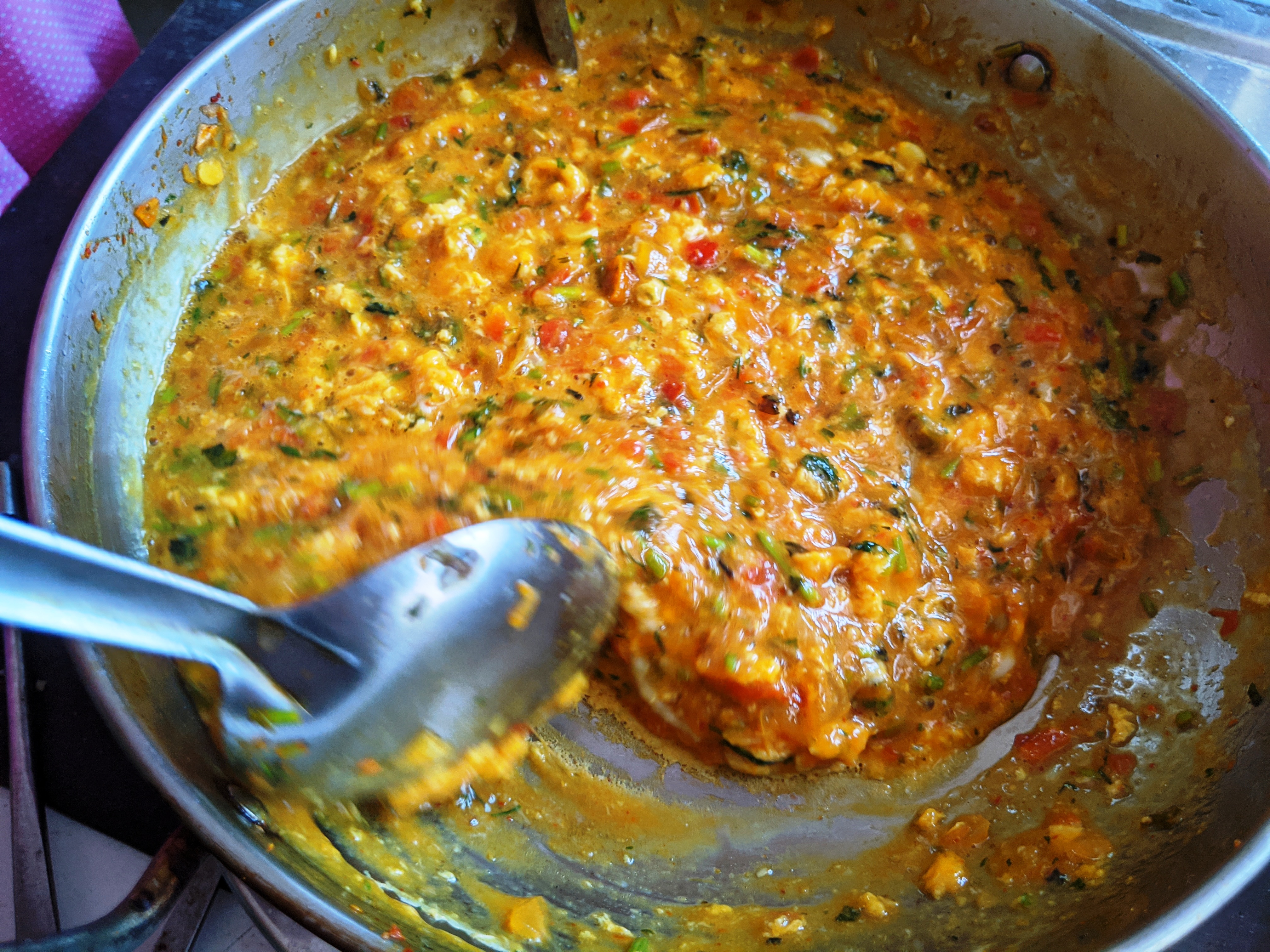 IPeople find it strange that being a Parsi I'm not a big fan of my own cuisine. What can I say, I've just never really taken to it but there are of course some very tasty exceptions and Akuri is one of them. I have fond memories of eating this silken heavenly scramble as a child and there is a huge sense of comfort and joy every time I eat it. I must confess that while I relish it, I'm not the best at actually cooking it so this recipe is one shared by my sister Shaheen who I think makes the BEST akuri. I could do a taste test with all the greats and I still think this recipe of hers will outshine any other. It's very easy, just requires a bit of cutting prep and some patience.
What Is Akuri
Akuri is a spicy scrambled egg dish that is a popular recipe in Parsi cuisine. It's bursting with flavours and never over cooked. The key here is that the eggs remain runny and you get a nice hint of chilli and a slight crunch from the onions along with all the other spices in every bite. The eggs are soft and silken and it makes for the perfect breakfast dish but works wonders for a lazy lunch or a quick fix dinner option. The Parsi community loves their eggs and this Parsi Akuri Recipe will show you just how much.
What Is The Difference Between Akuri and Egg Bhurji
Many times restaurants list a Parsi style Akuri on their menu but in reality they end up serving an egg bhurji. While both preparation have nearly the same or similar ingredients the difference lies in the texture of the dish.
A Parsi style Akuri is much looser and has a more runny consistency. The egg bhurji which is also a scrambled egg is much firmer and cooked slightly longer. The eggs tended to be cooked more and it's a tight scramble. There might not also be such a generous helping of coriander in the bhurji but that's really subject to taste.
Remember, if the eggs are over cooked and it's not a runny scramble, it is NOT a Parsi style akuri.
What Are The Different Types Of Akuri
Regular Akuri – When we refer to akuri the recipe I've shared is what we mean. This is an Akuri with onions, tomatoes, coriander and spices.
Leela Lassan Ni Akuri – This Akuri is a winter speciality as leela lassan or green garlic is available only in the winter months. In this Akuri the ingredients are more or less the same but we use a pinch of haldi and it's actually more green in colour because of the generous addition of the green garlic chives. This recipe doesn't use much onion and has no tomatoes.
Bharuchi Akuri – This is a much richer dish compared to the others. It's named after a city in Gujarat – Bharuch and this akuri is studded with dry fruits like raisins, sometimes cashews and cooked with milk and ghee. It's not got much spice with very little chilli but you can add as much as you like.
Both the Bharuchi Akuri and the Leela Lassan ni Akuri are more elaborate versions of the same dish. The Bharuchi Akuri is often served as part of a traditional Parsi wedding feast.
PARSI AKURI RECIPE
This recipe serves 4 people comfortably, if you're cooking for two you can half the quantities.
Ingredients
8 eggs
1 large onion finely chopped
2 small tomatoes finely chopped
4 small chillies finely chopped
7 garlic petals finely chopped
A bunch of coriander finely chopped (1/4 cup or so )
1 1/2 table spoon cooking vegetable oil
1 teaspoon ginger garlic paste
1 teaspoon turmeric powder
1/2 teaspoon red chilli powder
1/2 teaspoon cumin powder
1/2 teaspoon coriander powder
1/2 teaspoon sambar masala powder ( can skip if you don't have it )
Salt to taste ( approx 1/2 teaspoon )
Method
1. In a small bowl, break all the eggs and keep it aside. Do not beat the eggs if the yolk breaks that's ok, just keep them aside.
2. In a wide bottom pan or preferably a small kadai or wok heat the oil and add in the onions and sauté for a bit.
3. Add the chillies and garlic to the onions along with the ginger garlic paste and stir for a minute till they cook.
4. Add the tomatoes and cook for 2 minutes on a medium high flame. Then add all the powdered spices and salt. Keep cooking and sprinkle some water ( very little just sprinkle) so the whole masala mixtures doesn't burn.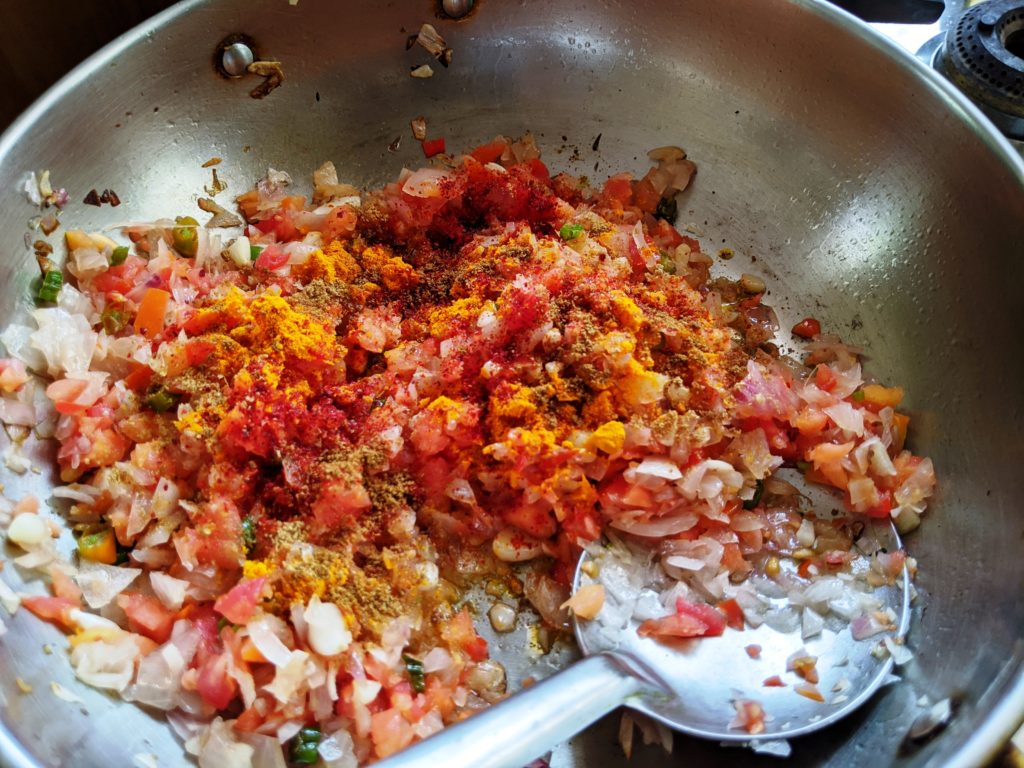 5. Keep cooking for approx 5 minutes stirring and slightly mashing the mixture with the back of your spoon. Add the coriander and cook for a minute more.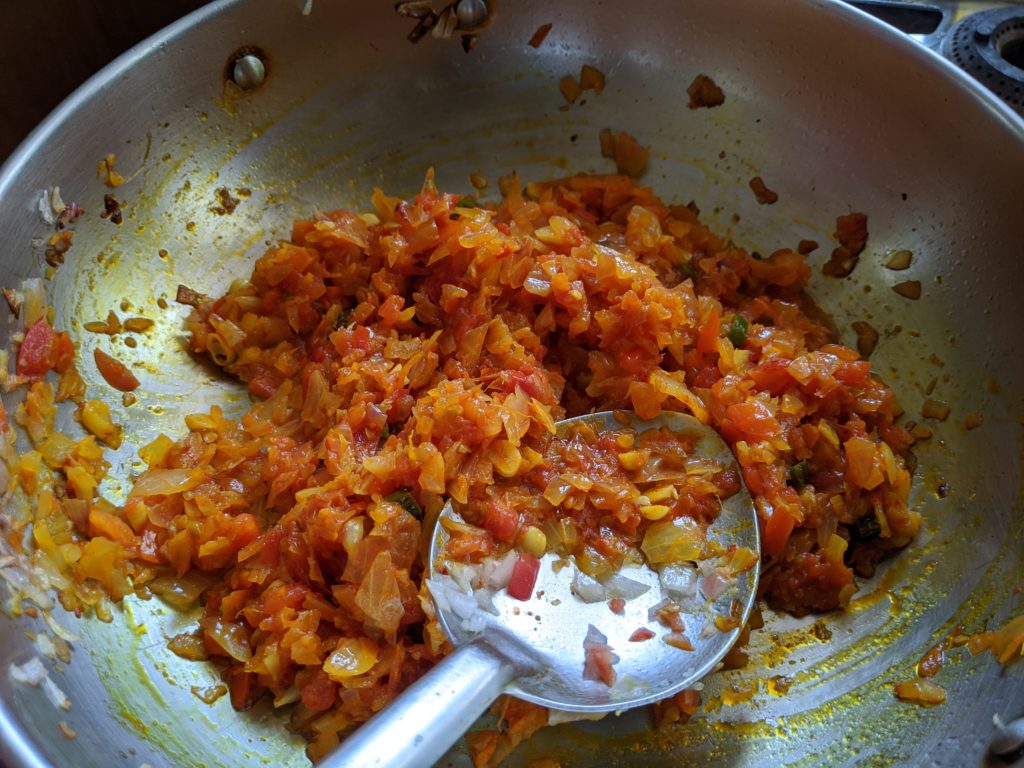 6. Turn the flame down to the lowest setting and start pouring in your eggs. As you pour make sure you continuously stir the entire mixture. You might need to take it off the flame for a few seconds while stirring and then put it back on. The eggs tend to cook fast and the tricky part here is to find that perfect runny Akuri consistency. If it becomes hard then you've made a bhurji not the Parsi style runny scramble.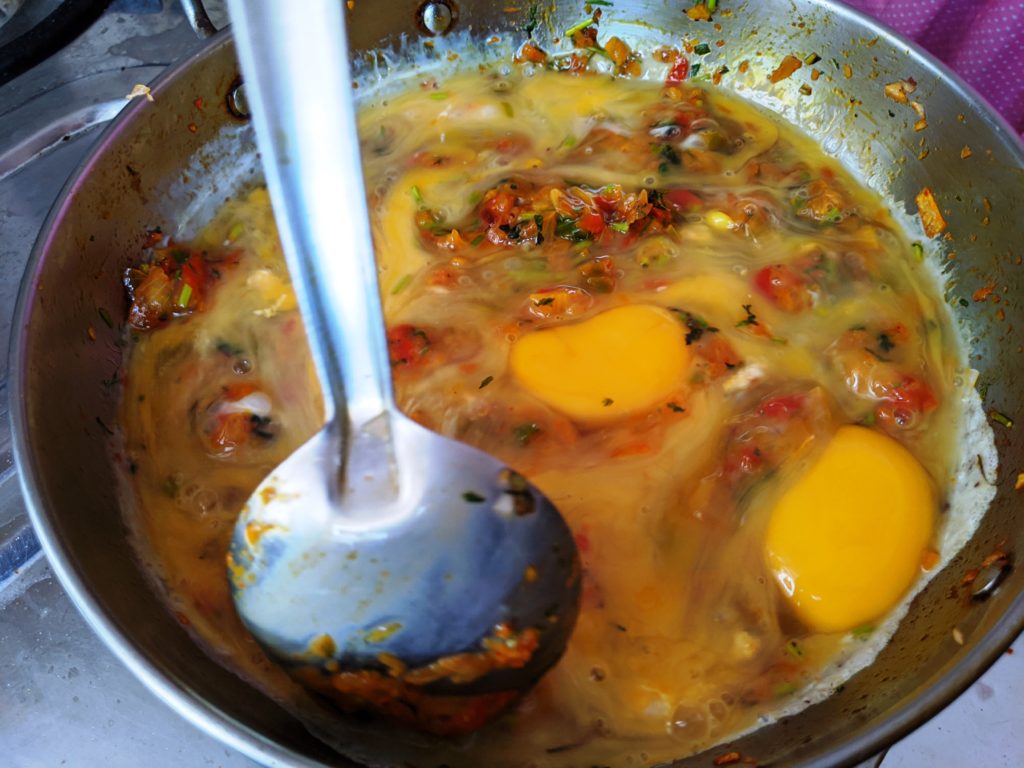 7. Keep stirring for approx 2 minutes turn off the flame and serve hot with toast, ladi pav, dinner rolls or even chapati.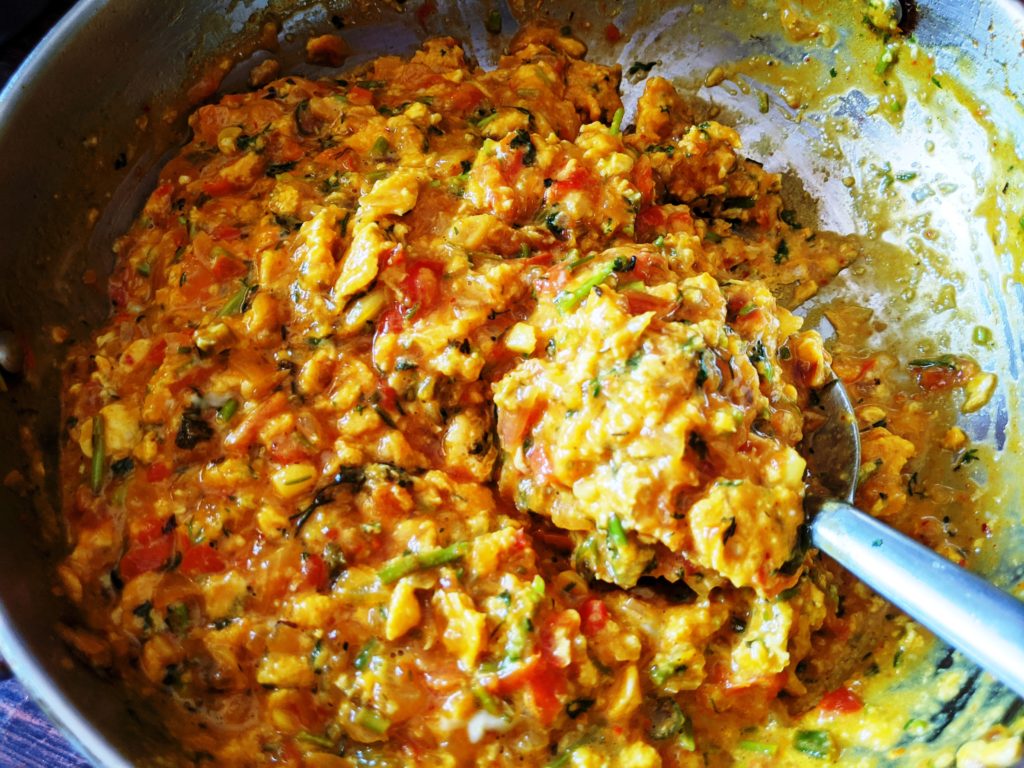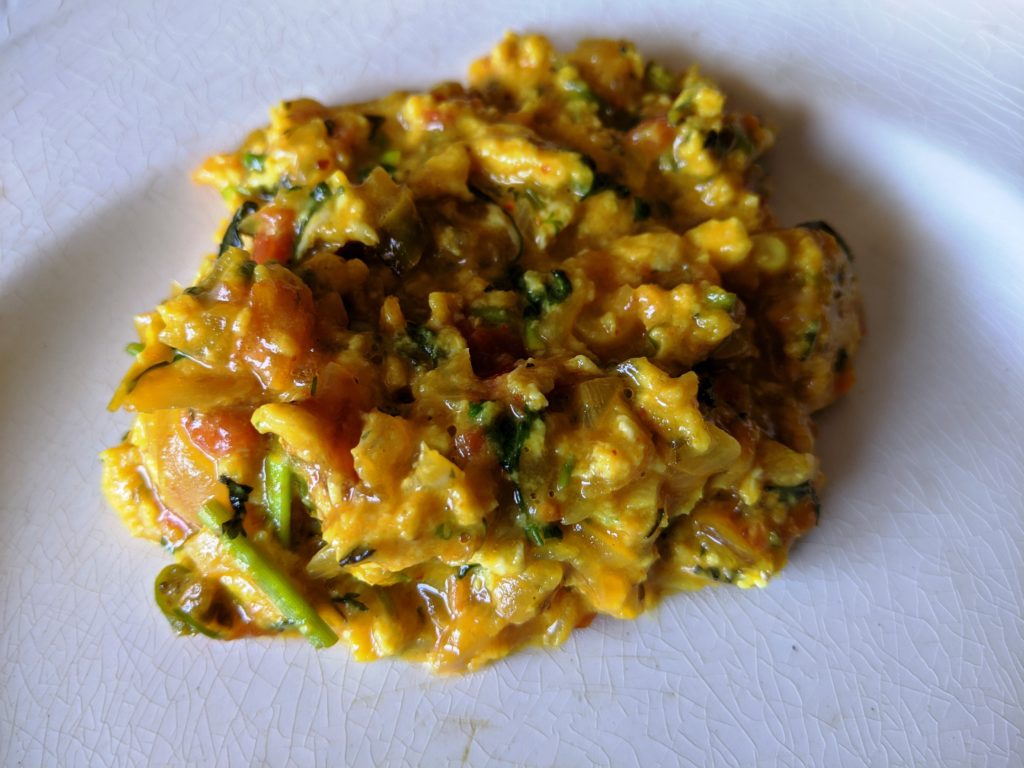 Tips To Make A Good Akuri
A lot of people break their eggs in a bowl and beat them before adding it into the pan, we don't do that. It makes for a better scramble and gives you that lovely texture when you beat it in with the masala itself.
Ensure that this dish is cooked on a very low flame as eggs cook very fast. Remember that your pan is already hot from cooking all the onions and tomatoes so it helps to take the eggs off the flame for a few seconds while stirring then put them back on and repeat this twice or thrice.
Alternatively you can pre make the masala mixture freeze it and then use it only when you want to make the Akuri to speed up the process.
Can I Freeze The Akuri For Later
This is not a dish that works as leftovers. It's best eaten hot fresh off the pan and I would not recommend you freeze it at all.
If you'd like you can make the vegetable mix with the onions tomato and spices in advance and freeze that masala mixture. When you want to make akuri, heat that mixture in your pan with a shot of oil and then add your eggs and cook the dish.
How To Serve Akuri
This is a home style dish so best eaten with bread, hot buttered toast or even fresh chapati or dinner rolls. If you feel indulgent and are entertaining you can also serve these with flakey khari biscuits.
If you like this recipe, please leave me a comment I'd love to hear from you. I've got more recipes on the blog as well as my youtube channel. If you aren't already make sure to follow me on social media