I've been under house arrest much before the official lockdown and all this time I've had a deep intense cravings for certain dishes. I'm not on a mission to try and re create them at home and the truth is, I now like my home made version vs the street stuff and if nothing else it's far healthier. I love chaat and wanted a nice ragda pattice or chole tikki chaat. I thought of making the latter because chickpeas are easily available and I always have plenty at home. The tikkis need potatoes and a few pantry staples so the truth is this is a convenient recipe and easy to make so I went for it and now it's become such a hit that it makes a weekly appearance at meal times.
What Is Chole Tikki
This delightful dish is a mix of two popular recipes actually. The first being Chole or Chickpeas and the second being Aloo Tikkis or Potato Pancakes. You serve this dish with the tikki and then pour that delightful chole and the gravy over it. Garnish it with chopped raw onions and chopped coriander and enjoy. You could also add some sev or crisp fried vermicelli for an addition crunch. You could add some relish or chutney, a spicy or a sweet one or perhaps a mix of both. You can customise it however you like. That's the beauty of chaat, it's not a one rule fits all kind of recipe.
Is It A Chaat Dish ?
The Indian term chaat is a broad term that translates into savoury snacks or perhaps similar to hors d'oeuvres. They can be all sorts of savoury snack dishes and often a mix of flavours and textures. It's a popular form of street food and every Indian household has their own chaat favourites. Bhelpuri, Pani Puri, Ragda Pattice are all types of chaat dishes. Chole Tikki is also a very popular type of chaat dish that's eaten mostly in Northern India but universally loved.
Different Types Of Chole Dishes
Amritsari Chole – This is the classic chole dish that is the most popularly found one. Amritsari Choley is a dish from Punjab specifically Amristar and here there is a gravy to the chickpeas which is made with onion tomatoes and a whole lot of spices. The recipe I use for my chole is exactly like this except that I skip some of the spices and use powdered ones instead.
Pindi Chole – Named after the Pakistani town of Rawalpindi, it's a dish that was probably invented there many years ago and has travelled since. Fun fact, no one in Rawalpindi has any idea of Pindi Chole it's a type of chole that is popular in Punjab. The difference here is the colour of the channa and they often use a teabag while boiling the chickpeas to give it that angry dark brown colour. There's also no onions or tomatoes in this recipe and it's a dry version of chole minus any gravy.
Channa / Chole Masala – This again is another style of Amristari chole with a few spices skipped and of course a lot of onion and tomatoes as well.
A crucial ingredient for chole is often anar dana or pomegranate seeds. I don't use them but if you get your hands on them you could.
This recipe I'm sharing with you is MY version of both chole and aloo tikki which I can assure you is delicious and really easy.
Recipe For Chole Tikki Chaat
I'm going to break this recipe up into two parts The Chole and The Tikkis
For The Aloo Tikkis
Ingredients
4-5 large potatoes cut and peeled
2 tablespoons of finely chopped onion
1 tablespoon of finely chopped coriander
1 teaspoon salt
1 teaspoon cumin powder
1 teaspoon coriander powder
1 teaspoon red chilli powder
½ teaspoon turmeric powder
½ teaspoon chaat malasa powder
½ teaspoon pepper
2 tablespoon oil to fry
Method
Boil the cut potatoes for approx 15-20 mins in salted water. Once boiled, drain the water and transfer the boiled potatoes to a mixing bowl.
Use a potato masher or the back of your folk to mash the potatoes ( do this while they're still warm it's easier to mash) and add all the ingredients, the onions, coriander and all the powdered spices.
Mix it all together with your hand to completely incorporate everything into a mix mashed potato mixture. Wet your hands or you can add a little bit of water to the mixture so it isn't stick and use both hands to form little patties
I would flatten them out slightly so they're not completely round as we won't deep fry these but we will shallow fry so it's easier if they are flatten and not totally round.
You could at this point dip them in semolina or flour or breadcrumbs as a binding if you like but I don't add anything extra. I just put these patties on a plate and pop it into the refrigerator for a minimum of half an hour before I cook them. I would say leave it inside till you need to cook them the cooling helps to hold their shape.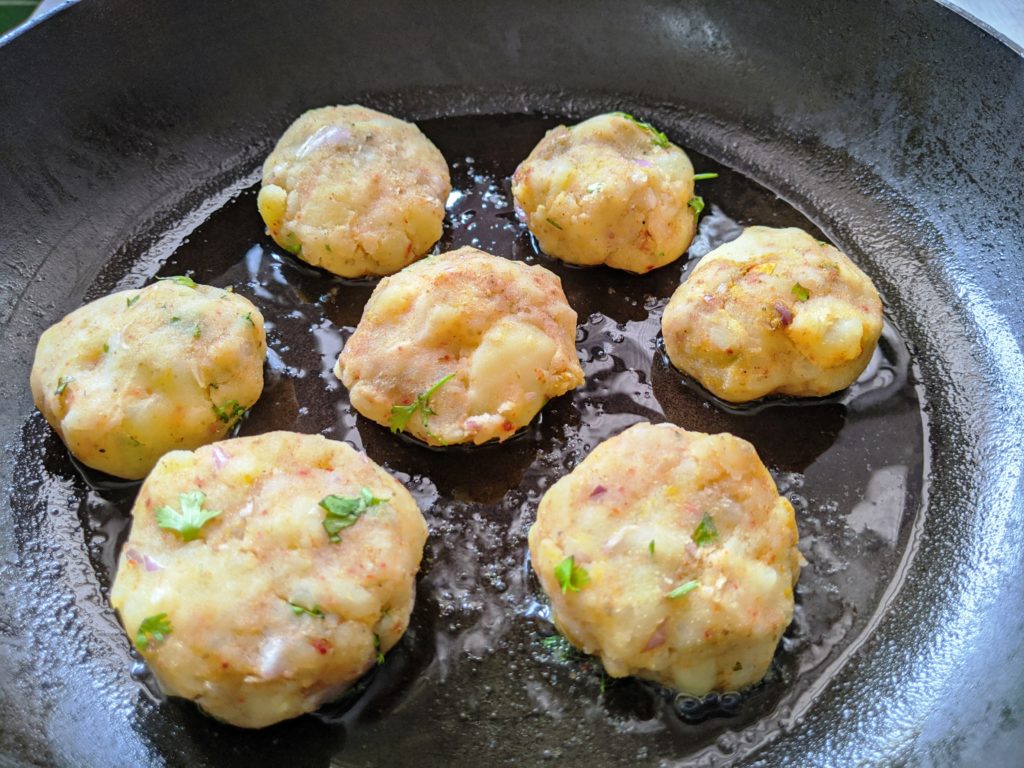 In a pan, add your oil and place the patties ( tikkis ) and cook for a total of 10 mins flipping them halfway through. Please note since we have no binding in these tikkis they are extremely delicate and you need to be gentle with them or they will break. Use two spatulas or spoons to help flip them over gently.
Once ready serve hot along with your chole or at this point you can eat them as is with a dipping sauce of your choice. They make for a fantastic snack.
For the Chole
Ingredients
1 cup Chickpeas ( Kabuli channa, garbanzo beans ) that have been soaked overnight.
1 or 2 large onions finely chopped ( will keep some aside for garnish )
1 tomato finely chopped
A bunch of coriander finely chopped
1 teaspoon salt
1 teaspoon haldi
1 teaspoon red chilli powder
1 teaspoon coriander powder
1 teaspoon cumin powder
1 teaspoon garam masala powder
1 teaspoon ginger garlic paste
4 teaspoons chole masala powder
5 cups of water
Method
In a pressure cooker, add the soaked chickpeas, fresh water, a pinch of turmeric powder and some salt. Cook for approx 12 mins and then open only once the cooker as come back to normal pressure. Please note a lot of recipes add a teabag to give the chickpeas a dark brown colour I don't at all as I don't think it needs it but if you want to you can.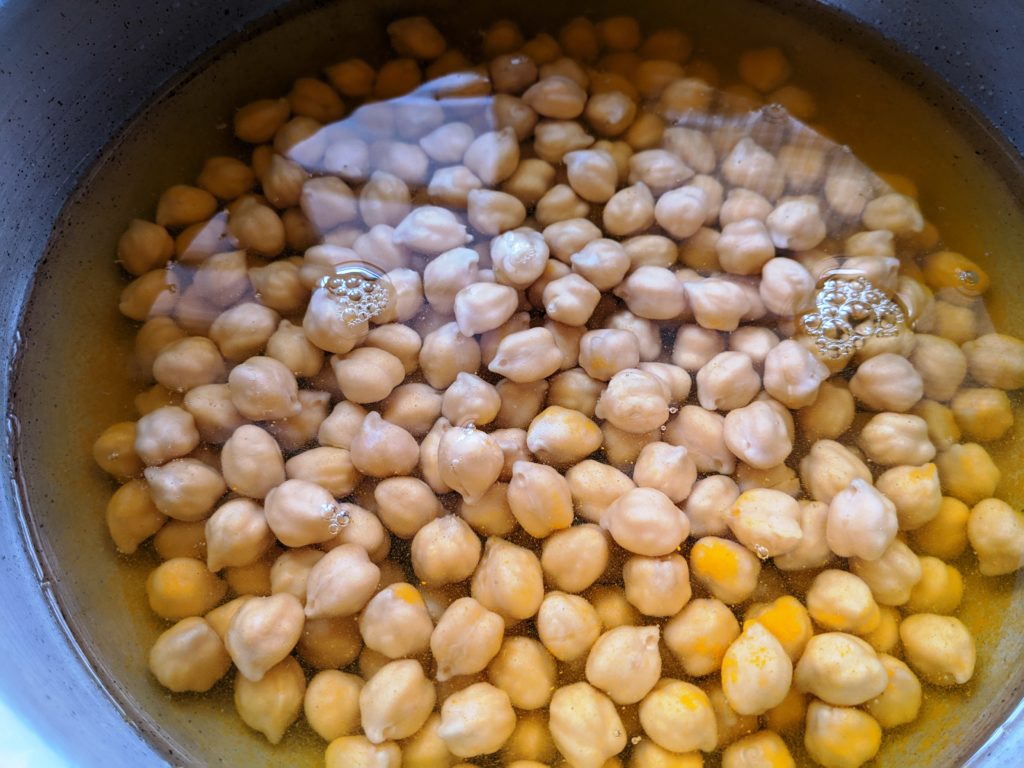 In another kadai or vessel, add some oil and cook the chopped onions till they turn colour and become slightly brown. After that add in the ginger garlic paste and cook for another minute.
Add all the powdered spices and then the chopped tomatoes and mix well. You will notice the mixture is dry at this point so add some water a little at a time, not a lot but just enough for everything to mix and the masalas and tomatoes to cook down.
Keep adding a little water at a time ( total of say half a cup ) to thicken the gravy and cook for about 10 whole minutes till all the excess water burns off. Take a potato masher and mash down the tomatoes and onions as much as possible. Note- People like to use a tomato and onion puree by grinding them into a paste you can as well but I like the texture of the vegetables half mashed.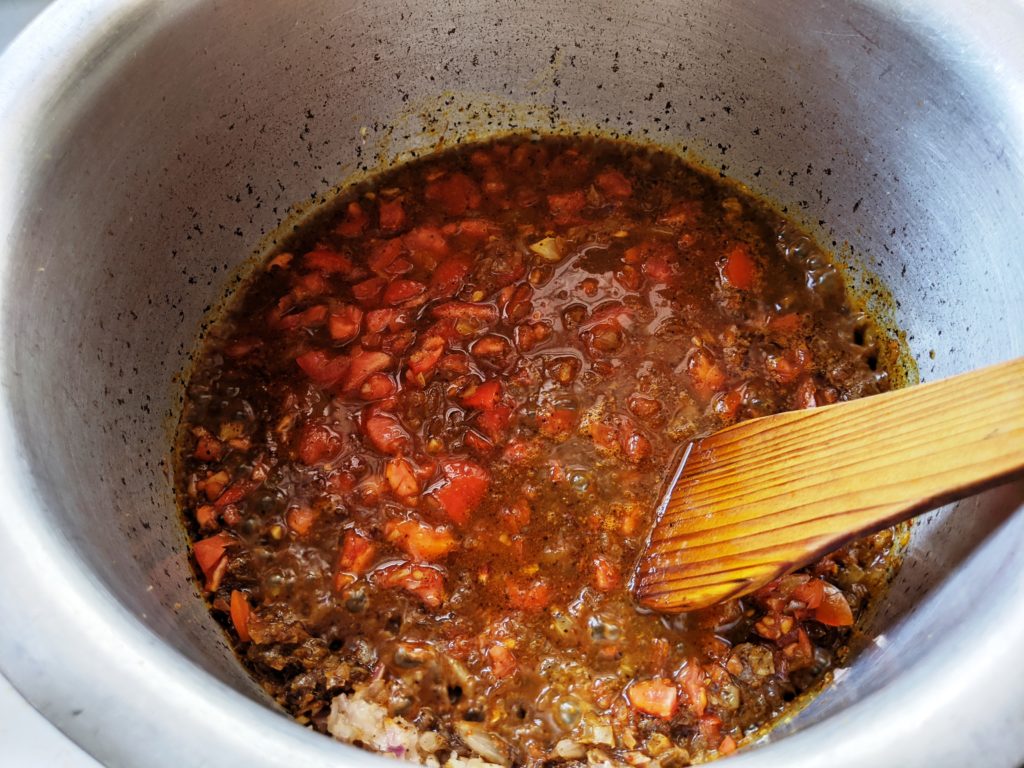 Open your pressure cooker, it should be cool now and with a potato masher slightly mash a few chickpeas. It helps add to the gravy. Add the chickpeas to the pan as well as the water in which they were boiled and stir well. Cook again on a high flame for another 10 mins occasionally covering it. Add some coriander and serve hot with the tikkis.
Difference Between Chole tikki And Ragda Pattice
In Mumbai, a popular street food dish is Ragda pattice which is also made with aloo tikki and cooked channa but the difference here is the type of channa ( In this case it's white peas ) and they don't add too many spices to it.
Chole tikki is specifically made with Kabuli Channa or chickpeas or garbanzo beans as they are called. You find Chole Tikki usually in the northern parts of India but honestly good food travels well in this country so it's possible to find it anywhere.
Variations To Chole Tikki Chaat
A lot of the chaat is served typically with chutneys. The standard green chutney you find in every household. It is usually a mint and coriander one and often spicy. The other is the date or tamarind chutney which is sweeter. A little of each is drizzled on the tikkis and chole.
You can also serve with this a generous sprinkling of sev. You could add a little curd or dahi but I think it's too much.
I serve mine without any extra garnish just some chopped onion and coriander for extra crunch and I think it tastes wonderful as is.
Variations To The Aloo Tikki
While I've shared a basic tikki recipe the truth is you can add anything you like from chopped green chillies or just a few of the spices.
Most aloo tikkis are deep fried which I haven't done because I don't think it needs it. Lots of recipes use some form of coating or binding in terms of corn flour, bread crumbs or even just dabbing the tikkis in flour or semolina before frying them. While it might add more crunch because of the fried layer of flour, I don't think it needs it for this recipe since there is plenty of texture in the dish along with the chole.
How To Serve Chole Tikki Chaat
Once both the chickpeas and the tikkis are cooked and hot, place a tikki in a small bowl, drown it in that lovely luscious chole gravy along with ample chole. Garnish it with some chopped onion and coriander and serve hot! This is how I like my chole tikki chaat. You can go a step further and add swirls of spicy or sweet chutney but I personally think the chole is so flavourful it doesn't need anything more.
If you like this recipe, please leave me a comment I'd love to hear from you. I've got more recipes on the blog as well as my YouTube channel. If you aren't already make sure to follow me on social media