If you've ever done a Mumbai street food crawl or tour then you're no stranger to the city's most favourite dish. The humble pav bhaji has come a long way and I had such intense cravings during this lockdown I decided to make it myself at home. What started out as an intimidating dish ended up being so ridiculously simple I have ended up making this numerous times in the last couple of weeks.
I make mine a little different. I like to call it a rustic home style and far healthier version of this treat. For starters I use minimal butter because I honestly think it doesn't need more and I bulk it up with vegetables.
What Is Pav Bhaji?
This is one of the most popular dishes when it comes to food from the city of Mumbai. It's a street food dish that has gained immense popularity and can now be found on several restaurant menus apart from just eat streets or khao gallis. It's a mixture of vegetables and spices all mashed down to make an almost stew like preparation which is then eaten with warm toasted bread or pav. It's made with oodles of butter and is quite the indulgence.
The History Behind The Dish
Pav Bhaji was a simple dish created by the textile mill workers in the 1800's as a fast and convenient lunch time meal while working. It's a simple meal of vegetables and potatoes cooked down into a soft curry or stew and eaten with fresh bread. Over the years it's evolved and today is served with copious amounts of butter to add richness and finesse to the dish. Some restaurants like Sardar Pav Bhaji in Mumbai even pride themselves on the amount of butter the bhaji comes swimming in.
Tips To Make Pav Bhaji
A lot of recipes specially restaurants and on the street use red food colour to give it a bright fiery tinge but if you don't want that use a few pieces of beetroot , it lends it colour to the dish.
I would say don't over use potatoes, a few are plenty to add body to the dish.
I'm not a fan of peas but it help add to the taste. I much prefer capsicum as it gives the dish a unique flavour.
Which Vegetables To Use?
Ideally the holy trinity of a Pav Bhaji recipe for the bhaji is onion potatoes and tomatoes. Along with that you can choose the vegetables you'd like to add.
Can include a combination or all of these it's entirely up to you. Carrots, beetroot, peas, capsicum even French beans are often used. The most commonly used are peas and capsicum.
How To Make It Without The Pav Bhaji Spice Mix?
Ideally the easiest way to make Pav Bhaji is to buy a readymade spice mix you can find easily at a super market or online. However if you don't have it then you can still make this at home using your regular pantry spices like turmeric, cumin powder, coriander powder, garam masala and the most important ingredient Kashmiri red chili powder which has no heat but gives it that red orange hue.
Most restaurants also use food grade colour to give the bhaji a more intense red- orange colour but if you don't have any it's perfectly ok.
This is my take on Pav Bhaji which I promise you is delicious.
Healthy Home Style Pav Bhaji Recipe
Ingredients
4 large potatoes
1 cup of cut cauliflower
2 large onions finely chopped
2 large tomatoes finely chopped
1/4 cup of chopped coriander
1 capsicum finely chopped
1 teaspoon turmeric powder
1 teaspoon cumin powder
1 teaspoon coriander powder
2 teaspoons garam masala powder
4-5 teaspoons of Kashmiri Red Chilli powder ( there is no spice in this just adds colour )
1 tablespoon ginger garlic paste ( can use fresh chopped ginger and garlic as well )
Salt to taste
1 tablespoon vegetable oil
2 knobs of butter ( as little or as much as you'd like )
2-3 cups of water as required
Method
1. Peel and clean the potatoes and cut them into halves or quarters. Cut and clean the cauliflower into smaller florets. Add both to a pressure cooker with water and salt and cook for about 15 mins till they are completely soft.
2. Drain the water and use a potato masher to completely mash the vegetables. Set aside.
3. In a wide bottom pan add a knob or two of butter to the oil and add about 2 teaspoons of the red kashmiri chilli powder mix well for a few seconds and add the chopped onions. Cook till they turn translucent.
4. Add the ginger garlic paste, salt, turmeric, cumin, coriander and garam masala powders. Mix well. Add the chopped tomatoes and capsicum and mix all the ingredients together. At this point add about half a cup of water so they all cook well.
5. The idea is to let this vegetable mix cook and break down completely so add a little more water, cover with a lid for 4 mins and then use a masher to get a more loose consistency.
6. After the mixture has cooked for about say 8 minutes and is like a stew, add the potato cauliflower mash and slowly combine the two. Keep adding water to loosen the constancy and use the potato masher to mash further. Cover and cook for 4 minutes then again keep stirring and adding water till you get the consistency you are happy with. If you want to add more colour to the bhaji at this point add the remaining red chili powder and a dash of turmeric and mix well. Add some freshly chopped coriander and stir once more before serving.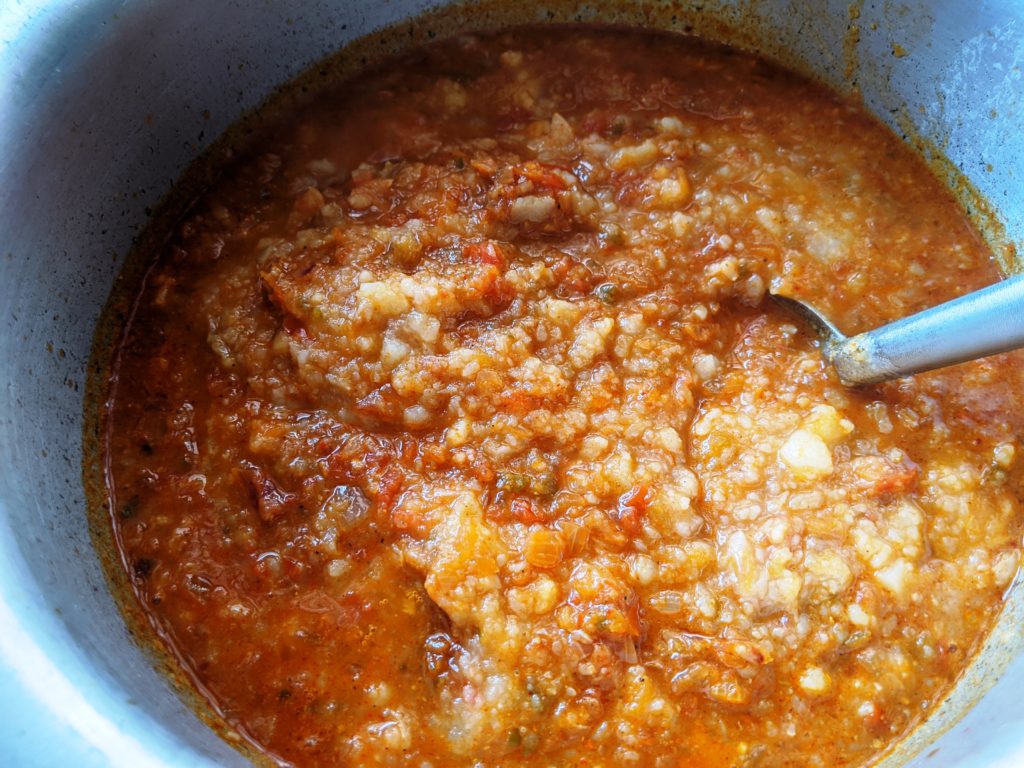 7. At this point if the vegetables are not completely mashed and you can see bits and pieces it is a Khada pav bhaji and more rustic and home style. If you want it like the restaurant use an emulsion blender till it becomes creamy and smooth like silky mashed potatoes.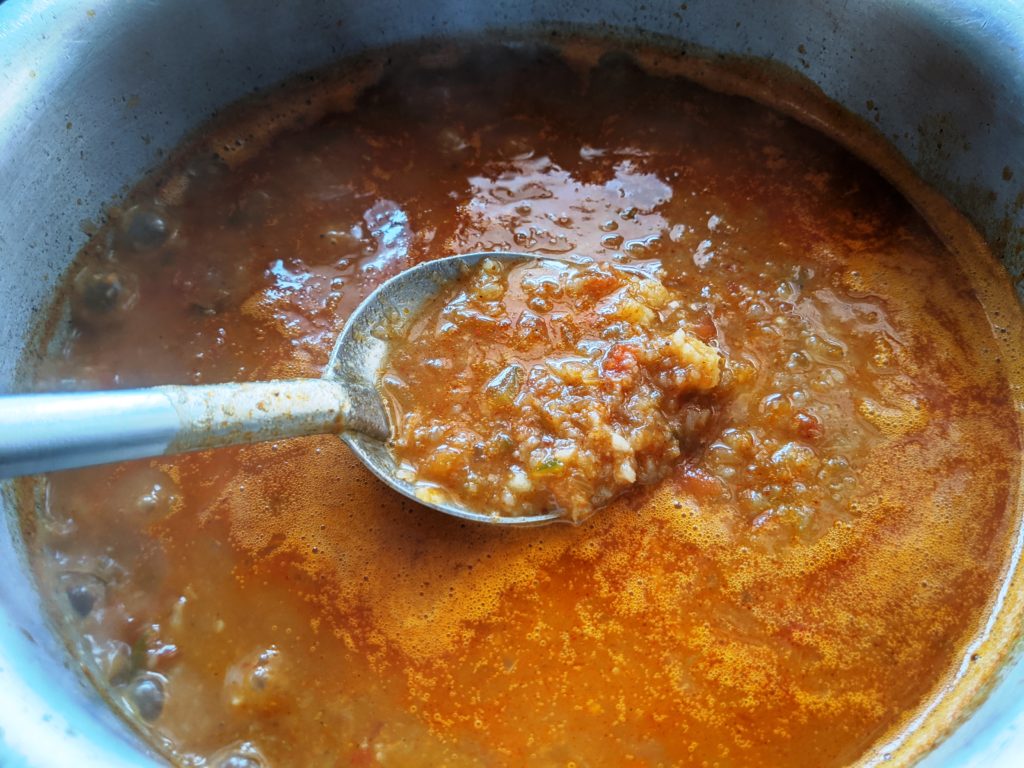 8. Serve hot with toasted pav or hot bread rolls. You can also eat it with chapatis if you like. Serve it with a side of chopped coriander and finely chopped onion along with some lime to garnish it in the end.
For The Pav
Ingredients
Ladi Pav
Butter
Method
Butter the bread on both sides and lightly toast it in a pan. You can add as little or as much as you like and serve it hot with the bhaji.
You can buy this bread from any bakery but in case you can't get it, any dinner roll, bun or even a toast works but of course the fun is in the ladi pav.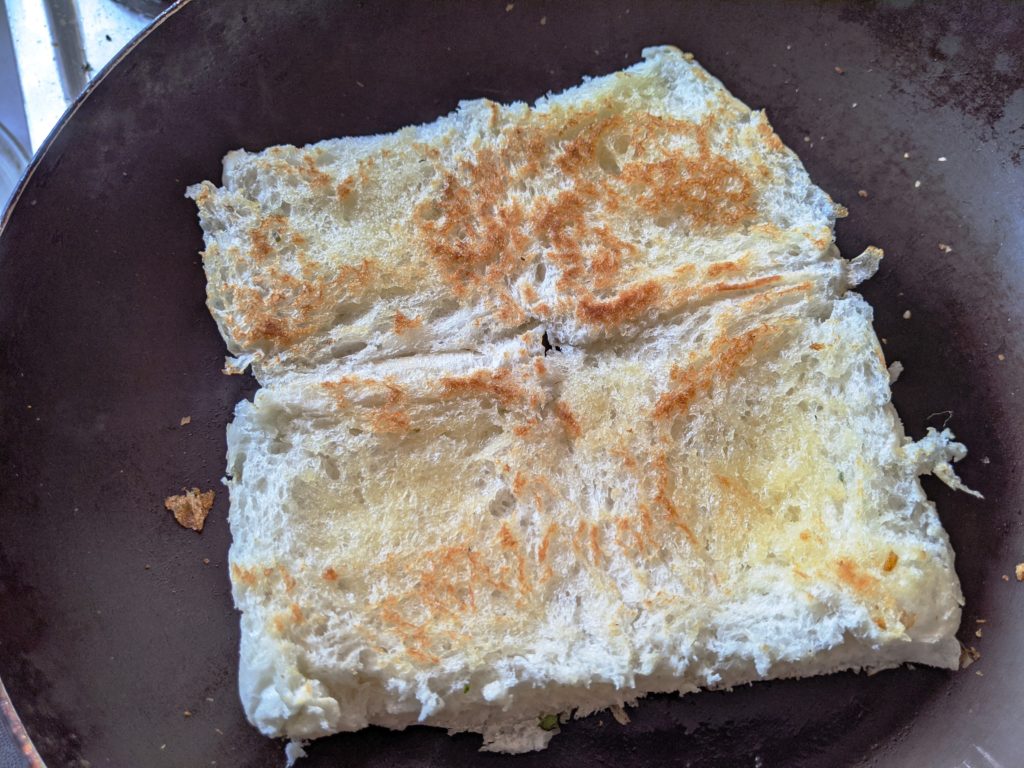 Jain Pav Bhaji
This might seem tricky because Jain's don't eat anything that's grown beneath the ground and most of the ingredients for this recipe are root vegetables but you can easily make it by replacing the potatoes with cauliflower and raw bananas. Skip the onion, carrots and ginger garlic.
What Is Khada Pav Bhaji ?
It's a local term you'll find at many fast food restaurants that simply means the vegetables are not completely mashed but instead are more put together or semi mashed.
For a more restaurant like creamy texture you need to continue mashing it or perhaps use an emulsion blender.
Can I freeze it ?
Yes you can easily freeze a batch of pav bhaji and then re heat it and toast your pav when ever you'd like to eat it. I'd recommend freezing for only a few weeks not longer.
How Does It Get That Orange Red Colour?
Most restaurants and street food stalls use red food grade colouring. It's the only way to get that intense red colour. Red Kashmiri Chili also works well which is what we've used in this recipe. The pav bhaji masala mix also helps to give it the colour which I haven't used in this recipe since I didn't have it.
Is Pav Bhaji A Healthy Dish ?
In theory and originally it was meant to be a balanced healthy meal full of vegetables that were ideally boiled and mashed up together served like a stew. Over the years and with the commercialisation, an unhealthy amount of butter is added to this dish and folks pride themselves on serving extra buttery pav bhaji which makes it far from healthy.
This homemade pav bhaji recipe is much lighter and healthier as it used less butter and includes cauliflower which lessens the use of too many potatoes.