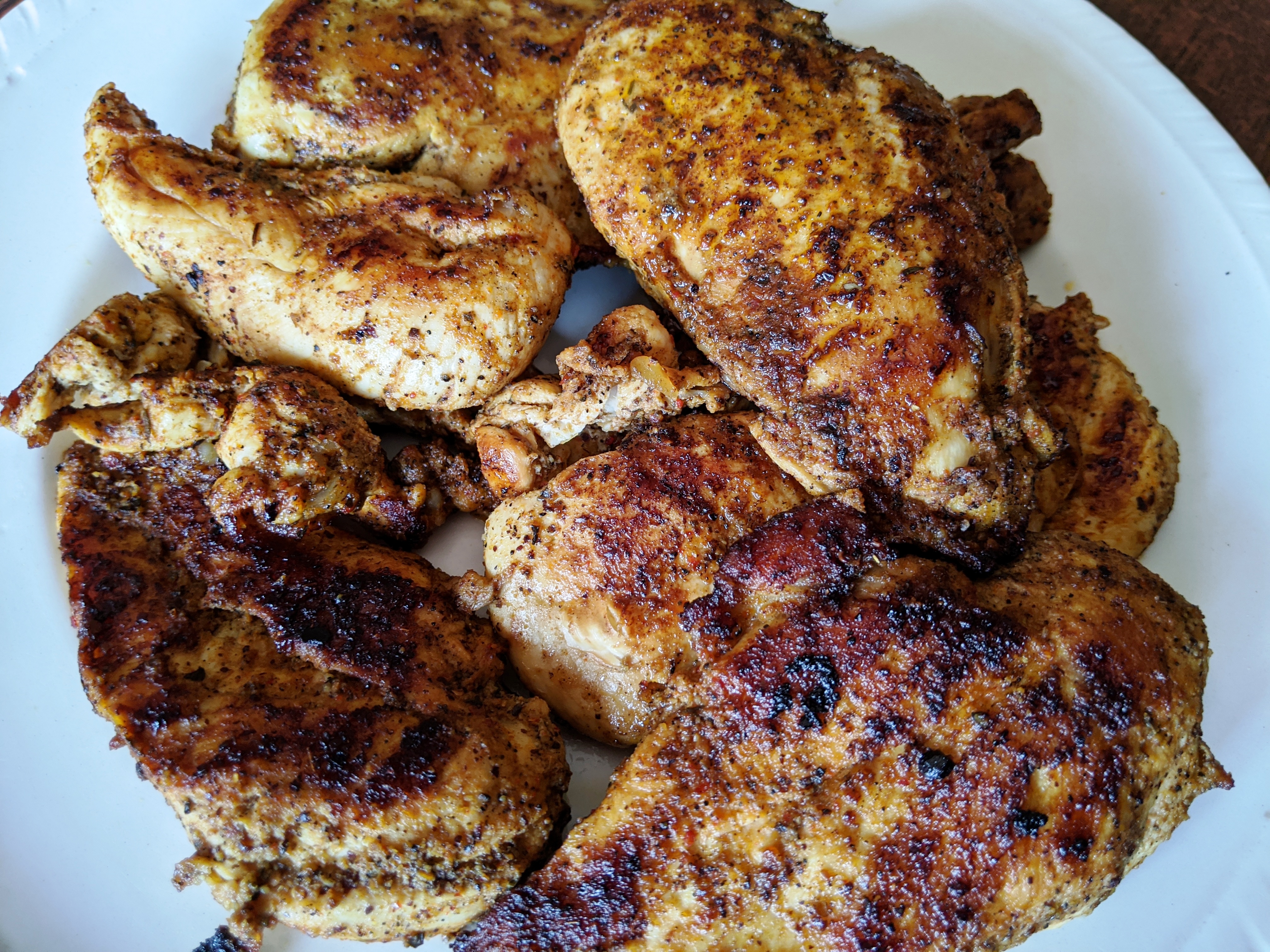 This grilled chicken recipe is my absolute basic and one that I often make. It's easy, fuss free and comes together quickly making it ideal for a lazy but healthy lunch. It's also versatile enough to be paired with almost anything and perfect for when you need a good dose of protein (especially if you've hit the gym extra hard that day).
I'm trying to see what recipes you'd like to read about or watch and recently asked you my lovely readers on instagram if I should opt for a dessert or a no fuss savoury dish as my next recipe and a majority of you voted for the latter. So here's my go to homemade Grilled Chicken recipe which I'm sure you'll love.
Tips To Make Good Grilled Chicken
The key is really in the marinade and that depends entirely on what your personal preferences are. You can add any herbs or spices that you enjoy and make sure the chicken is well coated with the marinade before you cook it.
If you are cooking boneless pieces specially a breast piece it tends to dry out quickly so my best tip is to cover it from time to time while cooking. If you are cooking a chicken piece for say 10 or 12 mins I would cook it for a minute on a high flame then cover for the next 5 minutes, then flip it to the other side, cover for another 4 minutes then cook it without the cover for the remaining 2 -3 minutes.
If you're making a big batch say 500 grams to a kilo of chicken it all won't fit in the pan at the same time so if you're cooking in batches I would re heat all the pieces once done in the microwave for a minute just to re heat slightly.
The biggest tip with boneless breast pieces is that they do NOT re heat well ( post a few hours ) or make for good leftovers, it will become extremely dry and tough. This has to be eaten fresh once cooked. You can marinate the chicken and refrigerate it till you need to cook it.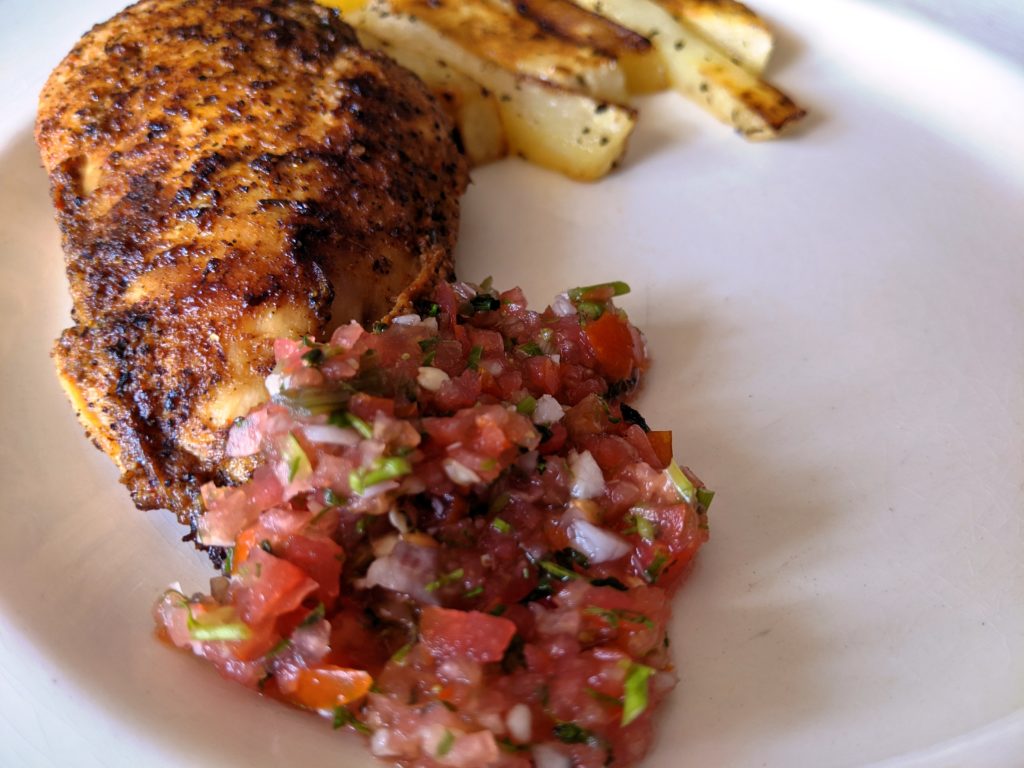 What Type Of Chicken To Use
It is really entirely up to you. I've used boneless chicken breast because I find it convenient to cook and clean. I also personally do not care much for meat on the bone (shocking I know ) but the truth is boneless breast is extremely dry and not the best cut of meat. I would recommend boneless thigh pieces they're far juicier. If you are cooking any chicken with bone be it grilling or in any form, please remember any meat with the bone takes much longer to cook. It can easily take up to 30 mins but if you are cooking anything boneless it's far less. It won't take more than 10 – 12 minutes to cook.
Can I Make Grilled Chicken In The Oven
Yes you absolutely can. Just pre heat your oven for ten minutes and pop the chicken in for about 40 mins or so. Keep flipping it on both sides so it cooks evenly. I find cooking it on a stove top is faster so I use a grill pan or a regular non stick pan I find it yields the same result.
Types Of Marinades For The Chicken
This is just one of my marinades that I use for my chicken but the truth is I make them up based on whatever ingredients I have on hand. This one has spice but you can make a basic like marinade with salt pepper light herbs lime juice or vinegar.
I like to make another combination with salt pepper oil, zataar, seasame seeds, paprika and cumin powder.
Another flavour combination I like is mustard, honey, oil salt pepper, chilli powder or spicy paprika, thyme and garlic.
If you have nothing but basic pantry ingredients just mix it all up with the ones you like. My only tip is to avoid turmeric and always include oil, salt and some acidic base either lime juice, vinegar, apple cider vinegar etc.
What Can I Serve It With
This chicken is a quick fix lunch or dinner and can be eaten with anything and everything. You can serve it with a side of hummus or baba ganoush. I like to eat mine with a side salad of just some tossed lettuce leaves and tomatoes in a basic vinaigrette. You could also eat these with roasted or fried potatoes or a saffron rice or lemon rice. The options are endless and there's no fard or fast rule here.
If I don't have any salad on hand I like to make my chunky salsa recipe which pairs beautifully with chicken. I've added the video the salsa recipe at the end.
Recipe
Ingredients
500 grams Boneless Chicken Breast Pieces
2 Tablespoons Olive Oil/ Vegetable Oil
1 Teaspoon Pepper
1 Teaspoon Cumin Powder
1 Teaspoon Coriander Powder
1 Teaspoon Ginger Garlic Paste
1 Teaspoon Red Chilli Powder/ Paprika
1 Teaspoon Mustard
1 Teaspoon Mixed Herbs ( Oregano/ Thyme/ Rosemary )
1 Teaspoon Braai Mix ( Optional )
1 Teaspoon Lime Juice
Salt to Taste
Method
Slice the chicken breast into manageable pieces. I would recommend slicing it down in half HORIZONTALLY to get flat thin pieces but whatever cuts you like will work.
Add all the ingredients to the chicken and mix well. This is your marinade for the chicken. Let it sit for about 20 – 40 mins.
You can easily pop this in the oven and bake or broil it but I would suggest my stove top method since it's faster. Add a shot of oil to your non stick pan and place the pieces of chicken in. Cook for one minute on a high flame and then cover the pan and continue to cook the chicken for a total of 10 – 12 mins on a medium flame. Flip it half way through so it cooks evenly on both sides.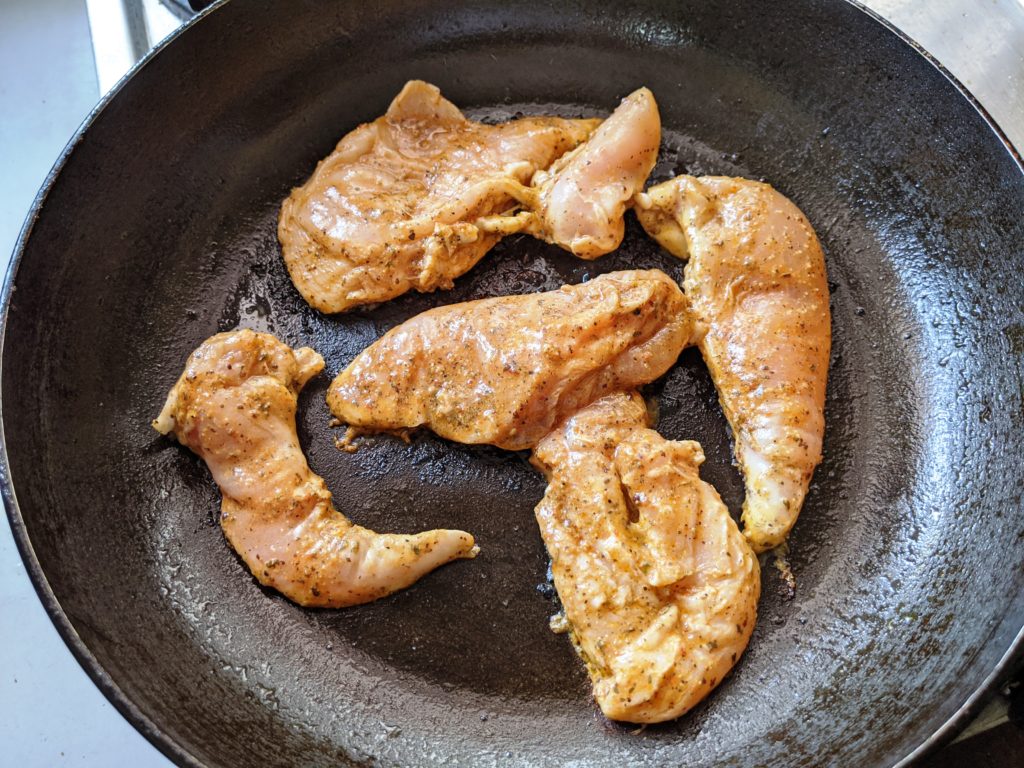 Covering the pan and cooking the chicken even if you use a grill pan helps to keep the chicken moist. If you're using boneless breast pieces they don't take long to cook but they dry out very fast.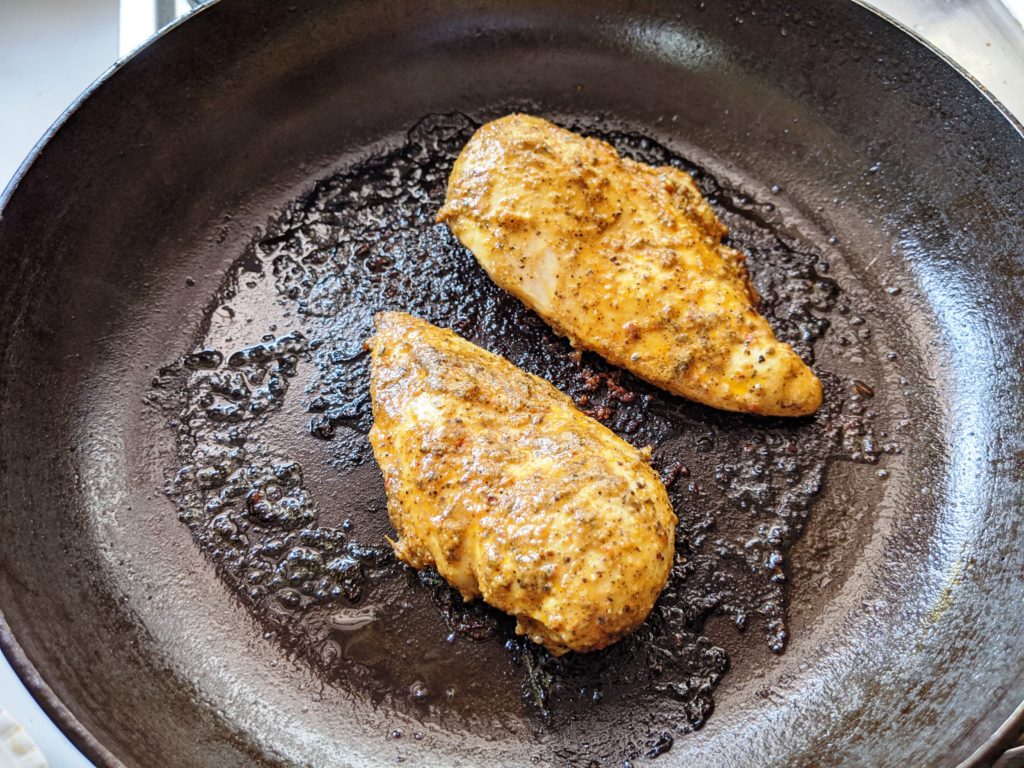 Once cooked, serve hot with a side salad, mixed rice , roasted potatoes or my special chunky salsa recipe ( linked the recipe video at the end )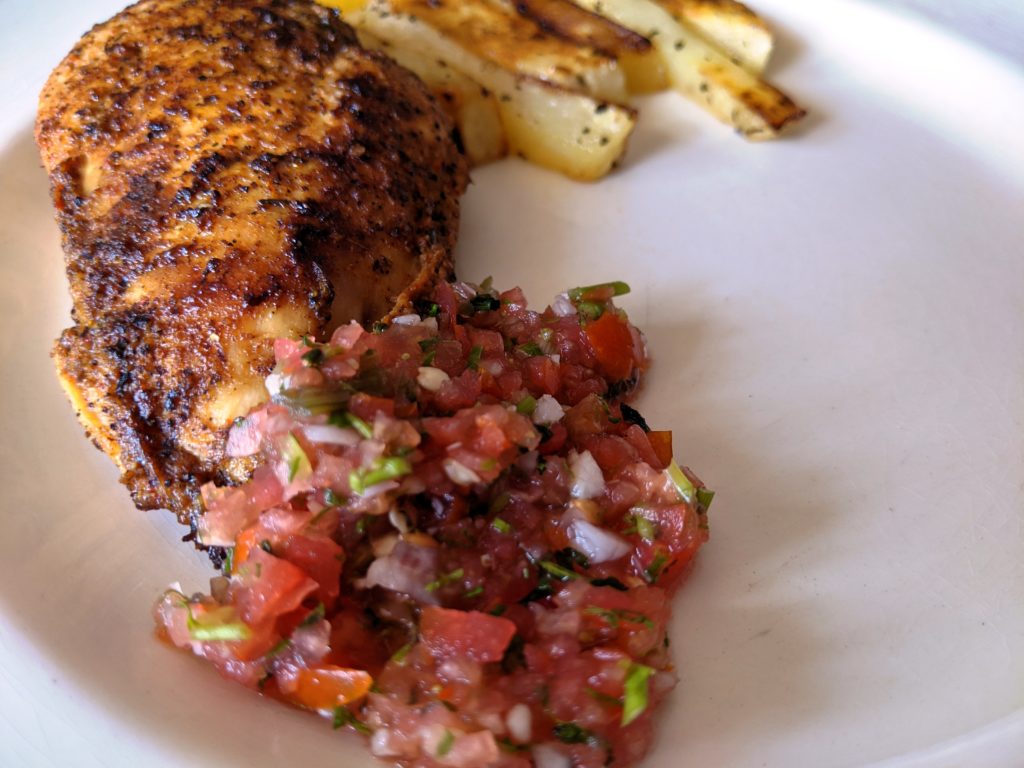 Can I Freeze The Chicken
Absolutely not. Once cooked it needs to be eaten fresh. Unfortunately it doesn't make for very good leftovers and it will dry out and become tough.