My kind of cooking is all about ease and convenience. While Parsi Cuisine can get complicated with a whole list of ingredients some dishes are simple uncomplicated and can be made in a jiffy with very basic ingredients. Often they are ingredients you already have at home and in your pantry. No fuss no frills but oodles of flavour. One such recipe is the Parsi favourite – Sali Per Edu and another favourite in my household.
It's a special dish because it's the very first recipe or blogpost I ever shared when I started this blog in 2012. Although that recipe is a little different I tweaked it slightly but this one is a classic Parsi recipe that I think you'll enjoy.
What is Sali Per Edu
Sali Per or Par Edu translates to egg on Sali. Sali are thin crispy potato straws or what some folks like to call shoe string fries. You find them easily at any grocery store as it's a popular savory snack and this recipe is cooked with an egg on it. Edu refers to a single egg and sometimes you'll hear people say Sai Per Eeda which is the plural eggs. It's really the same thing just refers to more than one egg cooked.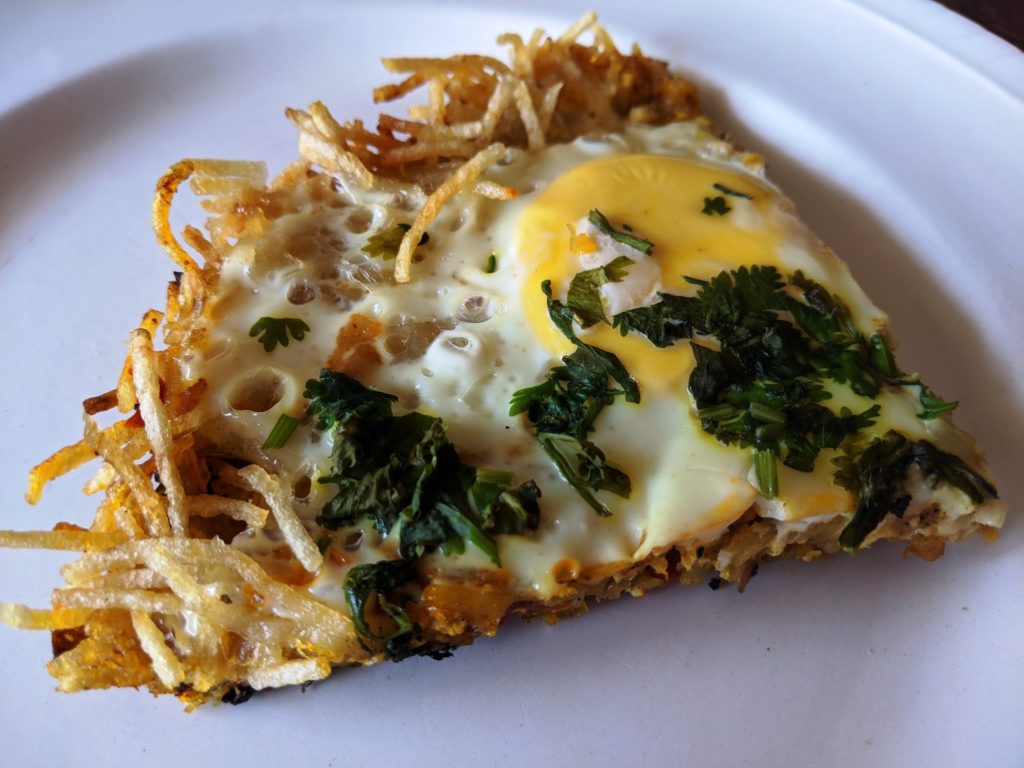 What other Per Edu Combinations Can you make
The Parsi community is obsessed with eggs and use them in almost every dish they can possibly find. There's a saying that if you don't like what's cooked, just crack and egg on it and it will be delicious. Sali Per Edu is just one of the many preparations. You can find a
Tamota Per Edu – which is eggs on tomatoes and you'll realised that's really our version of a Shakshouka.
Wafer Per Edu – Another common one where there's no Sali we use wafers or potato crisps to add a similar crunchy texture.
Papeta Per Edu – Eggs on potatoes that are cooked and softened before the eggs cook on top of them. It's another classic with ingredients from your pantry.
Bheeda Per Eeda – It's not just that it rhymes, but eggs on bheeda or bhindi ( lady finger/ Okra ) is another community favourite though I will admit, I'm not a fan.
These are the common ones but you can use anything and crack an egg on it to make it a Per Edu dish J
Recipe
Ingredients
2 chopped onions
2 chopped chillies
1 chopped tomato
4 eggs
150-200 grams of Sali
Chopped Coriander for garnish ( a small bunch )
1 Teaspoon Cumin powder
1 Teaspoon Coriander Powder
1 Teaspoon Turmeric Powder
1 Teaspoon Red Chili Powder
1 Tablespoon Vegetable oil for cooking
Salt to taste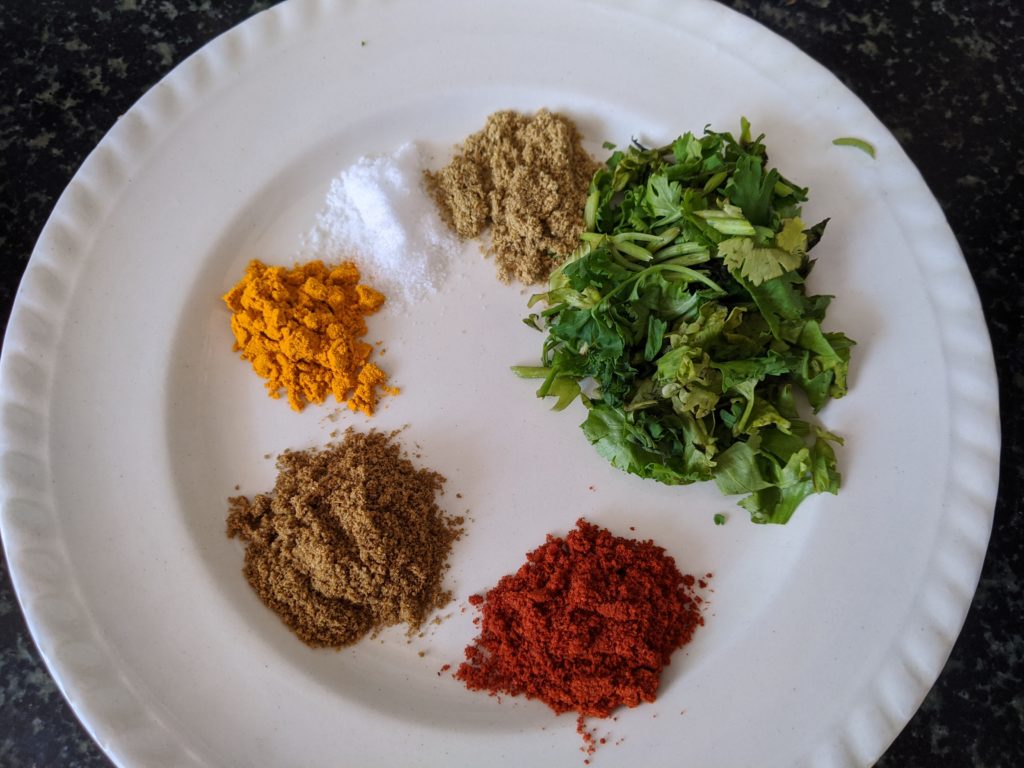 Method
In your non stick pan or skillet, add the oil and the onions and chillies. Cook till the onions turn slightly brown.
Add the tomatoes and cook for a minute. To this add your spices, the cumin coriander turmeric and red chilli powder. I do not add salt here but you can if you want to. Add a little water not too much just a little to combine everything and cook the tomatoes and spices.
Add the Sali ( potato straws ) and gently mix into the masala. Pat this mixture down flat so as to cover the entire pan like a cake. Try to ensure all the corners are covered. Sprinkle a little water again so it helps cook the mixture.
Make 4 small wells or pockets in the mixture and crack an egg into each. Sprinkle a little salt to season each egg and some of the coriander. ( you can add the coriander in the end if you like ) If you like your eggs spicy you can also sprinkle some chilli powder along with the salt.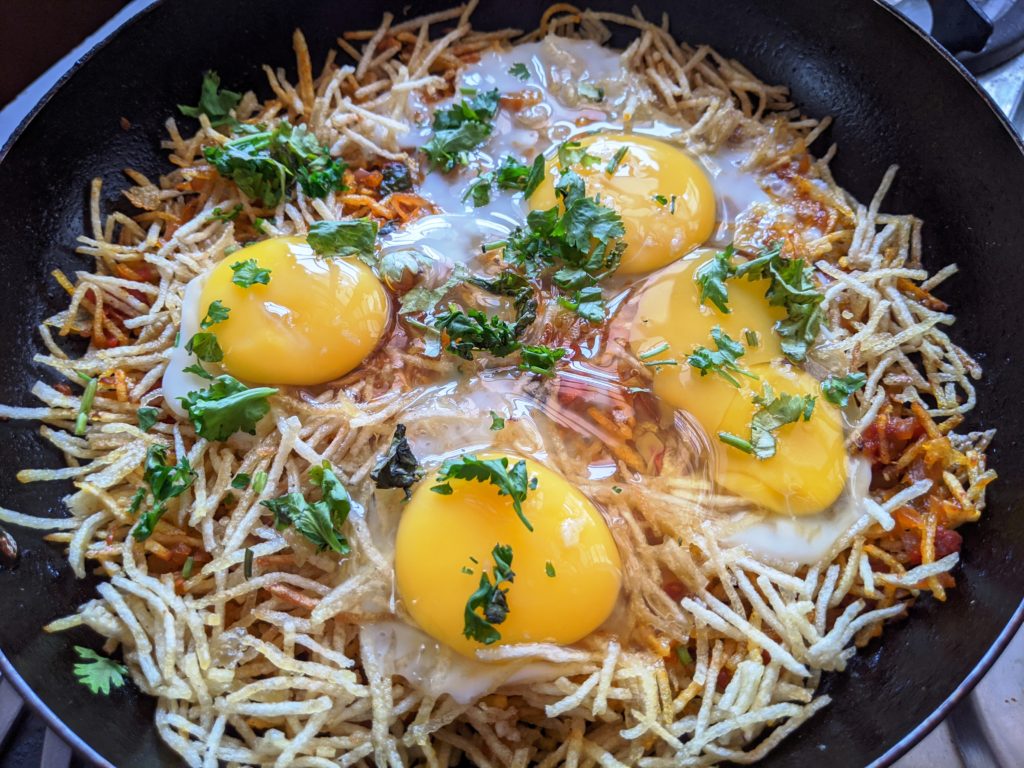 Cover the pan and let it cook for 2 minutes. If you like your egg yolk runny then you can take it off the pan. If like me you want a firm yolk then cover and cook for about 4 – 5 minutes.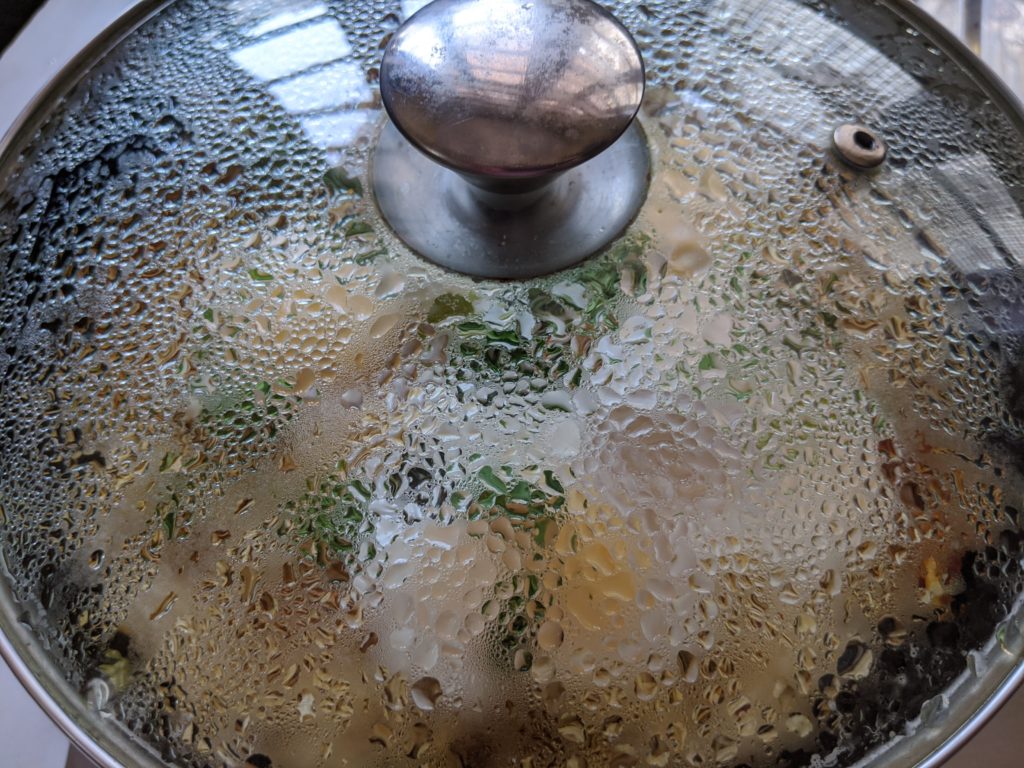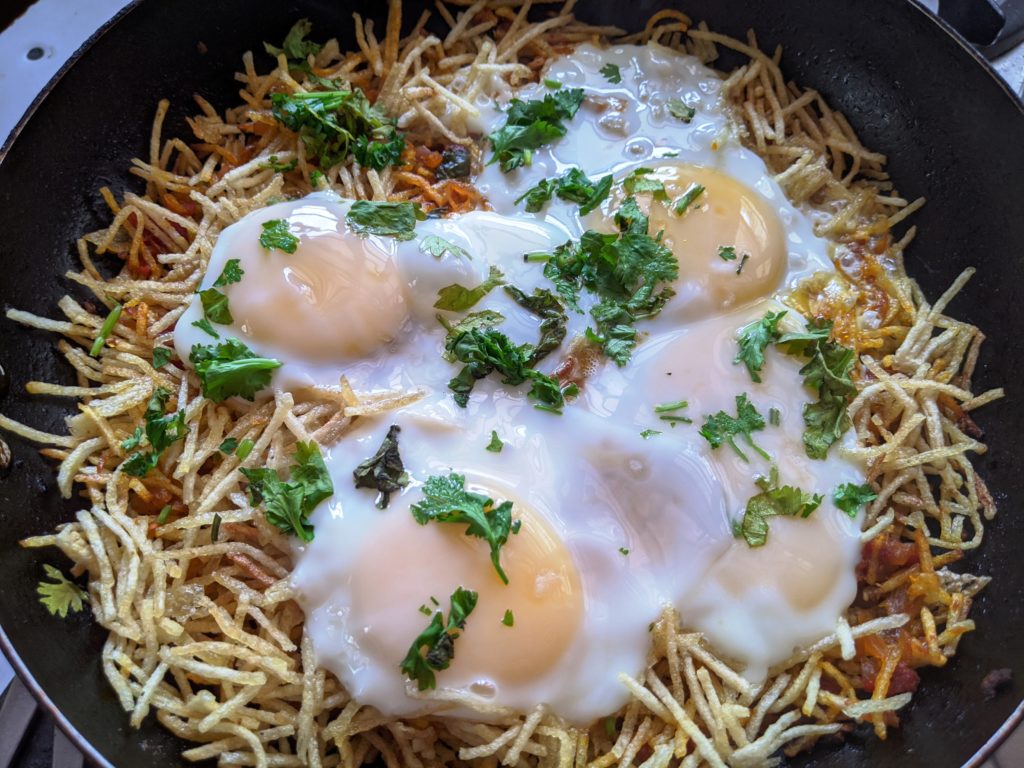 Once cooked, take it off the pan. Cut into four pieces and gently scoop each piece out and serve.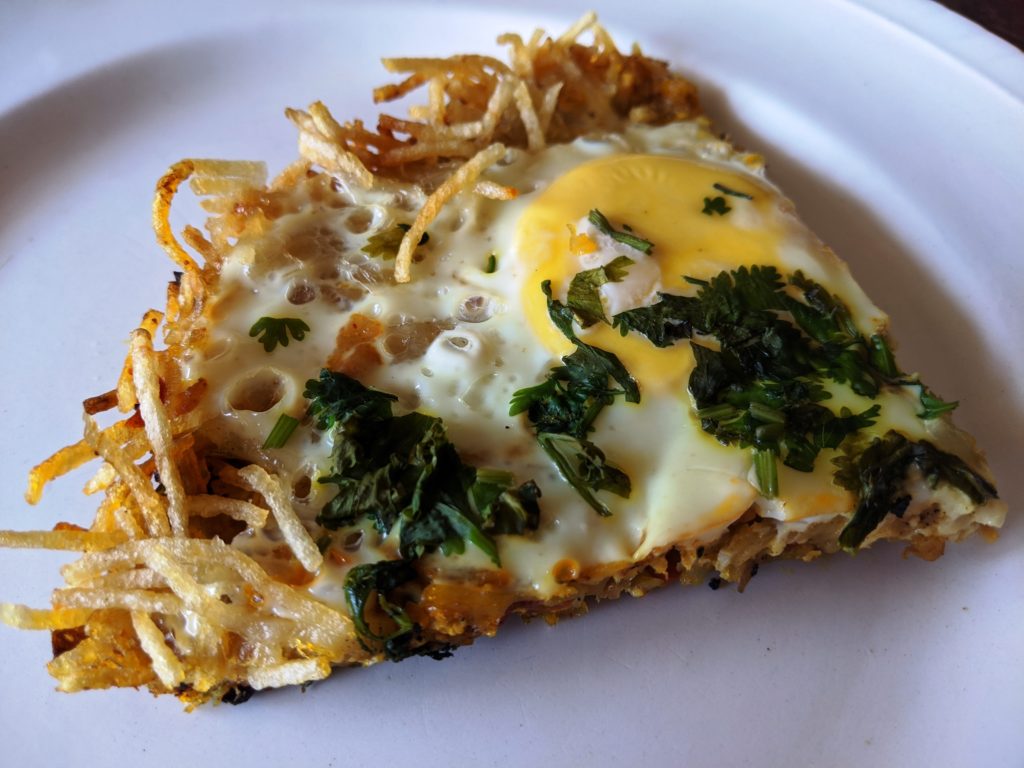 How To Serve It
Often people like to cook four eggs in a pan so they don't waste ingredients and it works well if you are a family of four for a meal. However there is no fancy way to serve or garnish it. Just cut them into individual pieces and serve on a plate.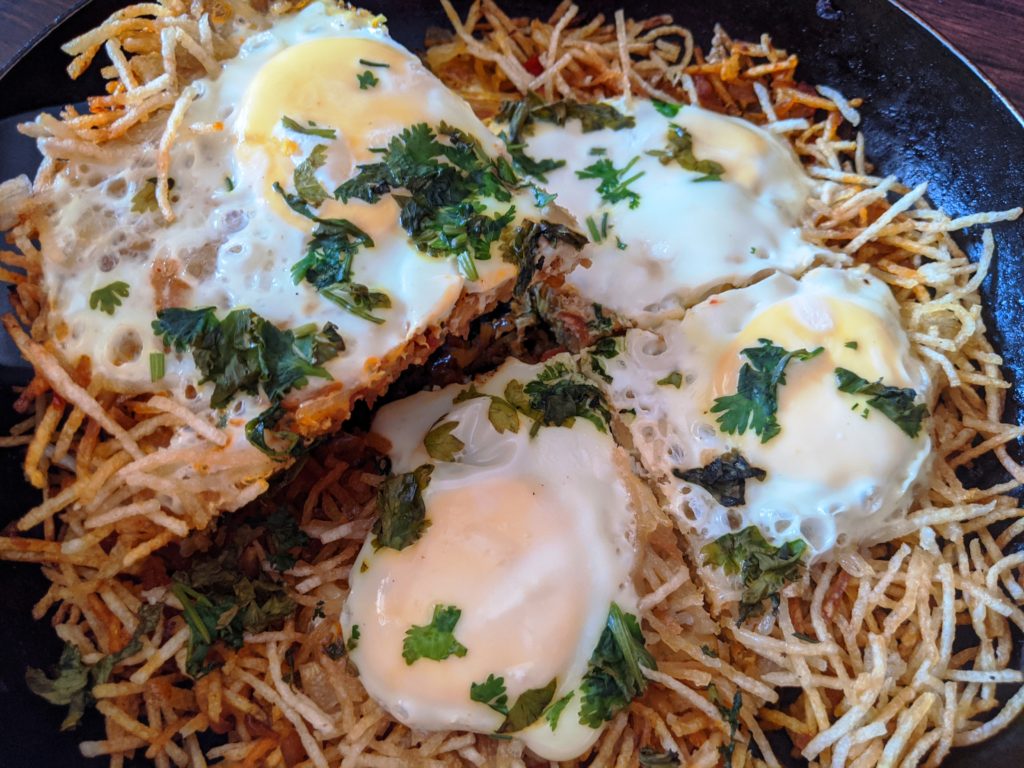 Can You Store It
You can of course refrigerate these and re heat it but the truth is they taste far better when it's freshly cooked. If you are going to re heat it, I'd recommend cooking till you have a firm yolk and not a runny one.
Types Of Sali, Which Is The Best Sali To Use?
You will find branded packets selling it or sometimes a local grocer makes his fresh. Either work honestly it doesn't make any difference as long as they've used good ingredients. You will find difference sizes of Sali, some like I've used are thin and fine while some are slightly thicker. It doesn't matter at all, any size or thickness works.
What Other Parsi Egg Dishes Are Popular?
Akuri which is a Parsi version of spicy scrambled eggs is another hugely popular egg dish. I'll link the video to that below and the blogpost.
Egg Curry is another great dish. It works well where there's nothing else to add to a curry.