I have to thank my neighbour for inspiring this post. He sent me a message one day asking about Ghee Roast recipes and then ever so sweetly gave me some of his to sample. Since then I've been trying different variations and finally come up with a Chicken Ghee Roast recipe that I'm really happy with.
What Is A Ghee Roast?
This is a wonderful spicy dish from the state of Karnataka. It's a fiery dish which cooked with spices and has a bright angry reddish orange hue to it. It's incredibly delicious and is cooked almost in a stir fry manner that's commonly known as roasting in India. It's cooked in oodles of Ghee (clarified butter) and hence the name Ghee Roast.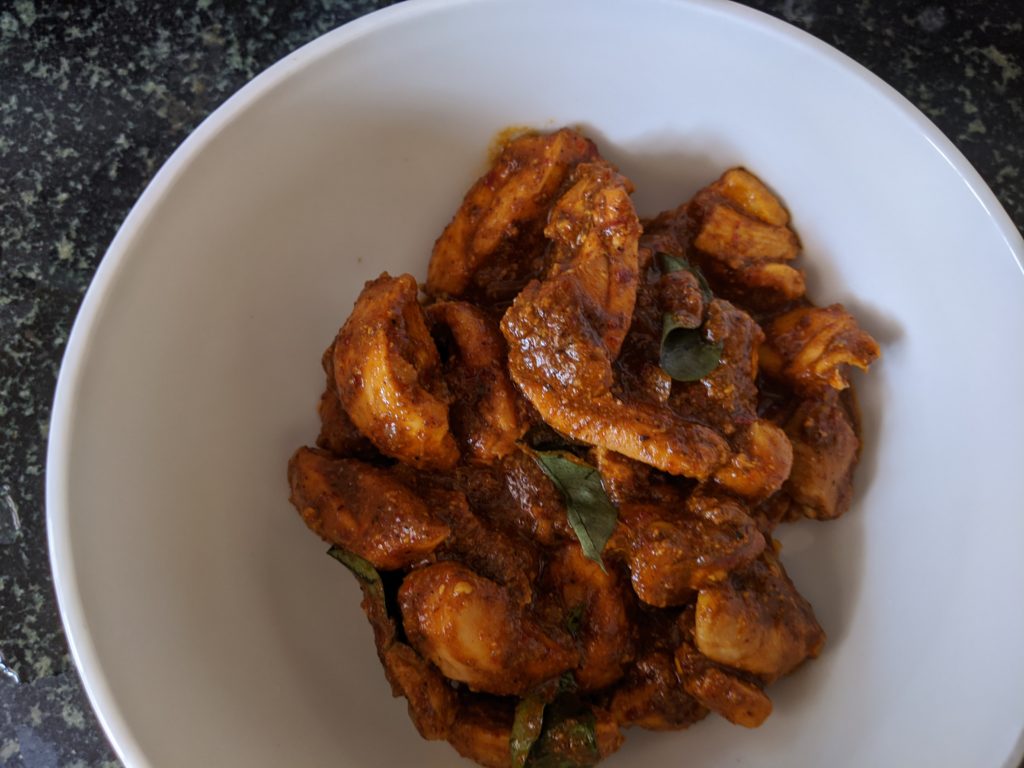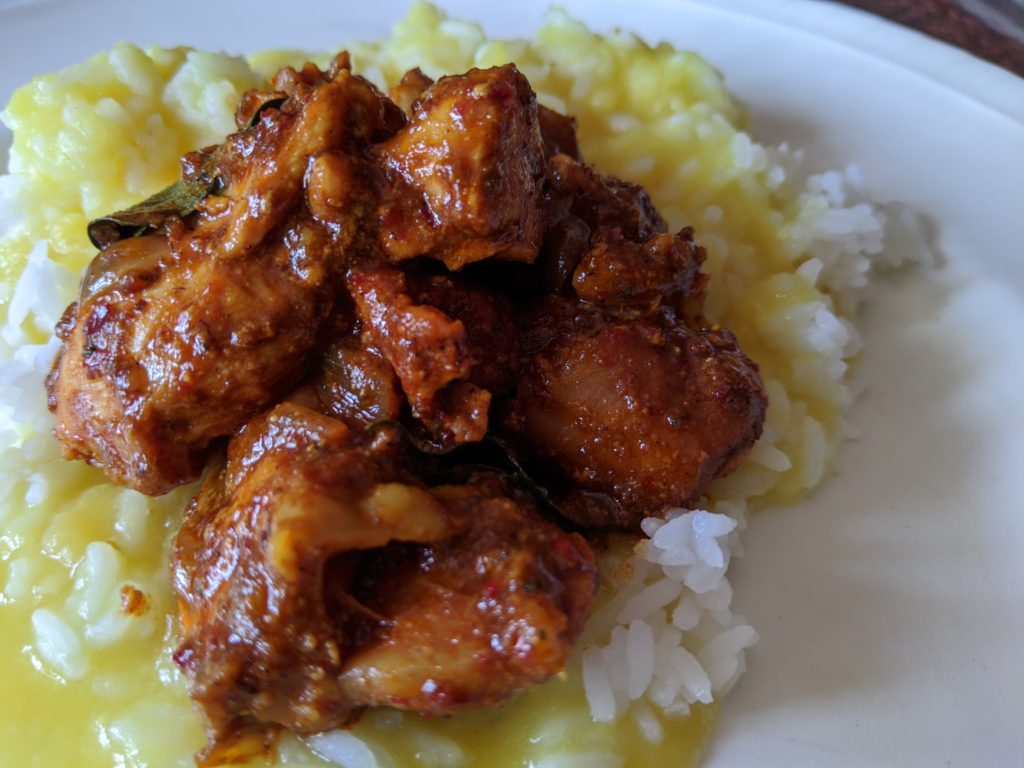 Where Is The Origin Of Ghee Roast Recipes?
Most people consider this a Mangalorean specialty but the truth is the origins of this dish are traced back to a small hotel called Shetty Lunch Home in a little town called Kundhapur close to Mangalore. Kundhapur is a small town but its claim to fame is not just the Ghee Roast that was invented there but that it's home to the famous Byadagi chillies which is the most important ingredient for this dish. There are many different versions of a Ghee Roast even in Kerala you'll find a similar version but the original dish has Byadagi chillies.
What Types Of Ghee Roasts Are There?
You can have any sort of ghee roast dish that you like. The base masala which they often call the Kudhapuri masala mix is the same but you can add your choice of protein. Popular ones are chicken ghee roast and prawn ghee roast but you can add vegetables and even paneer for people that don't eat meat or seafood.
Recipe
Ingredients
300 grams chicken cut and cleaned (with bone or boneless works I've used boneless)
5-6 Byadagi chillies ( can certainly add more if you like )
1 Teaspoon Pepper
1 Teaspoon Cumin Seeds
2 Teaspoon Coriander Seeds
1 Teaspoon Fennel Seeds
1 Teaspoon Fenugreek Seeds
Salt to taste
7 Garlic pods
4- 5 Tamarind pieces soaked in water.
A small piece of Jaggery ( can skip it if you don't want to add it )
1 Onion finely chopped
4 – 5 Tablespoons of Ghee
4 Tablespoons Dahi/ Yogurt
1 Teaspoon Red Chilli Powder
1 Teaspoon Turmeric Powder
9 – 10 Curry leaves
Salt to taste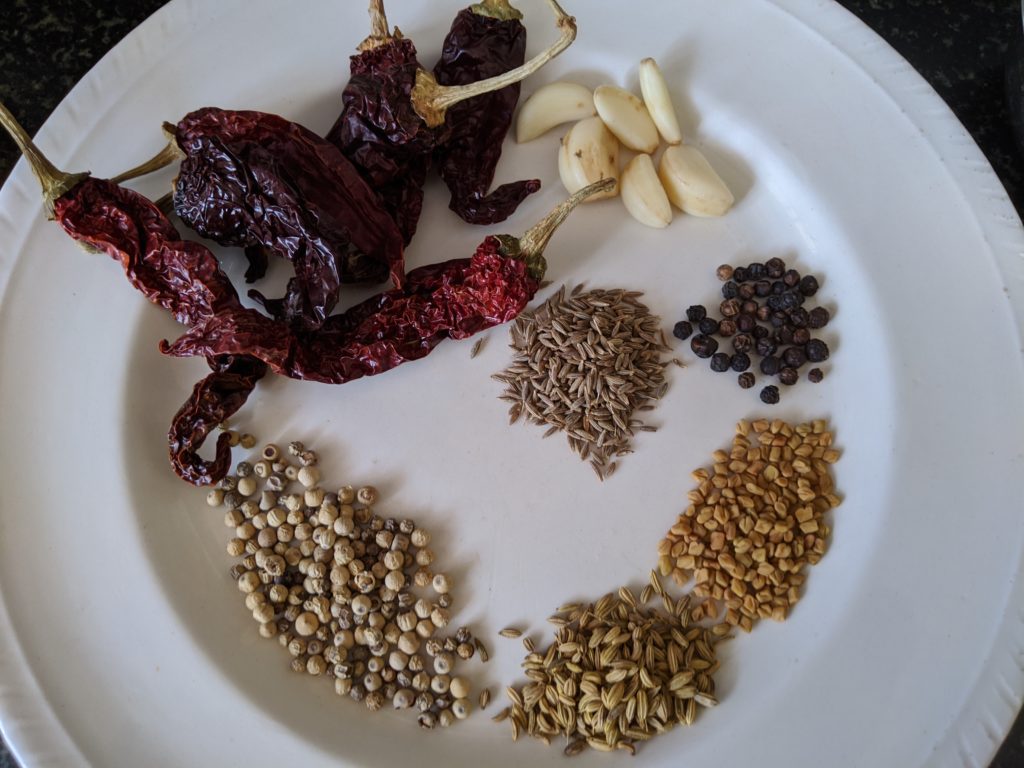 Method
Marinate the chicken pieces with the yogurt, red chilli powder, turmeric powder and salt and set aside.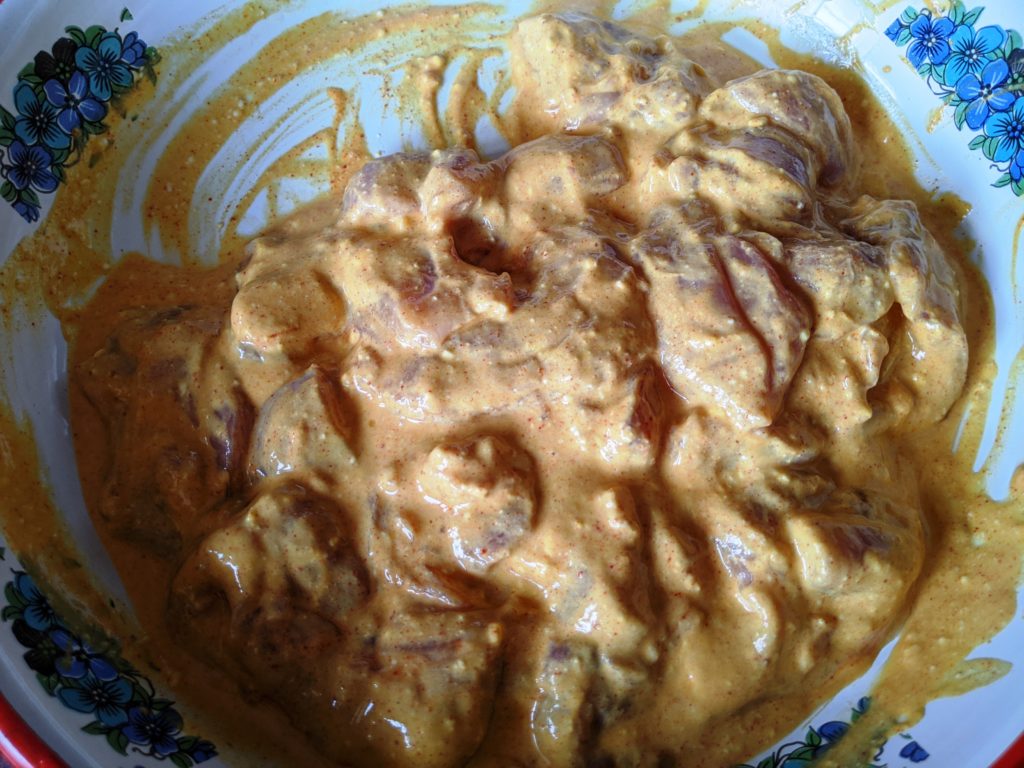 In a pan dry roast all the whole spices. The fenugreek, fennel seeds, red chillies, pepper corns, coriander seeds and cumin seeds till they start to turn aromatic. Let it cool down to room temperature and mix this in a blender along with the garlic salt, tamarind pulp and a splash of water.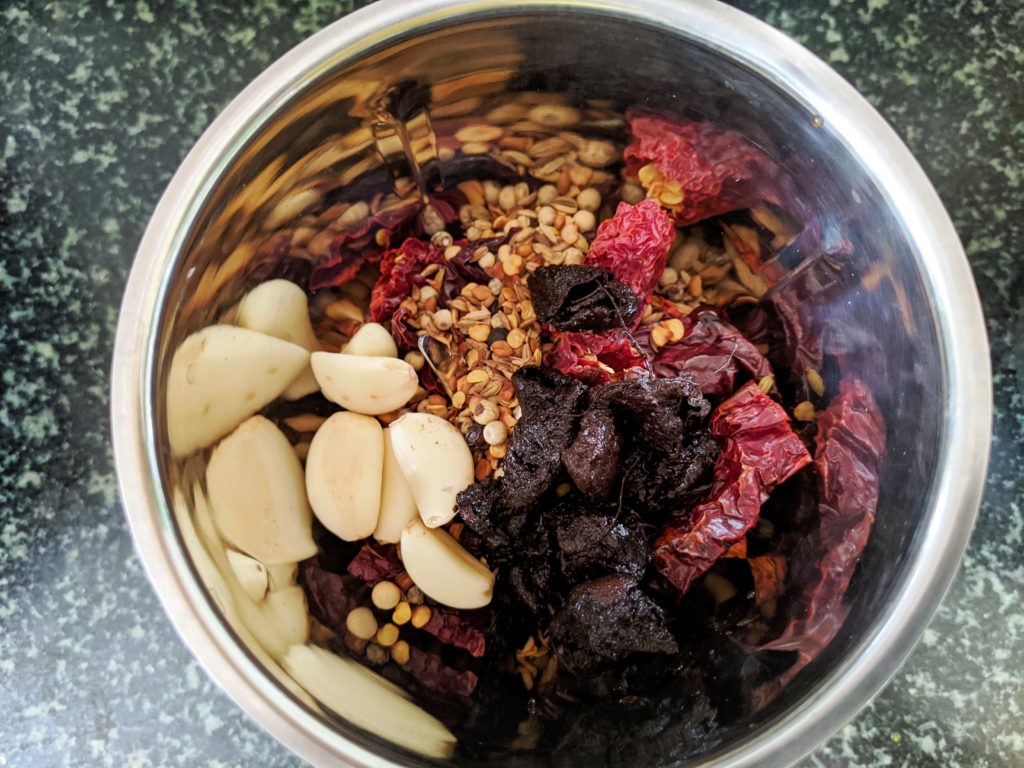 Grind it completely till it turns into an aromatic orange paste. Empty it into a bowl. If you want to freeze this masala paste you can do it now. If you make extra you can freeze some and use the rest to cook.
Note – You can replace the tamarind with lime juice. The tamarind though it has a beautiful flavour it does make the paste more brown in colour.
In a pan add the ghee and chopped onions and fry them till they turn translucent. Add your masala paste and cook it in the ghee and onion mixture. Essentially you're cooking the paste by stirring it vigorously for about 3 – 4 minutes. This method of almost a stir fry is what is commonly referred to as roasting.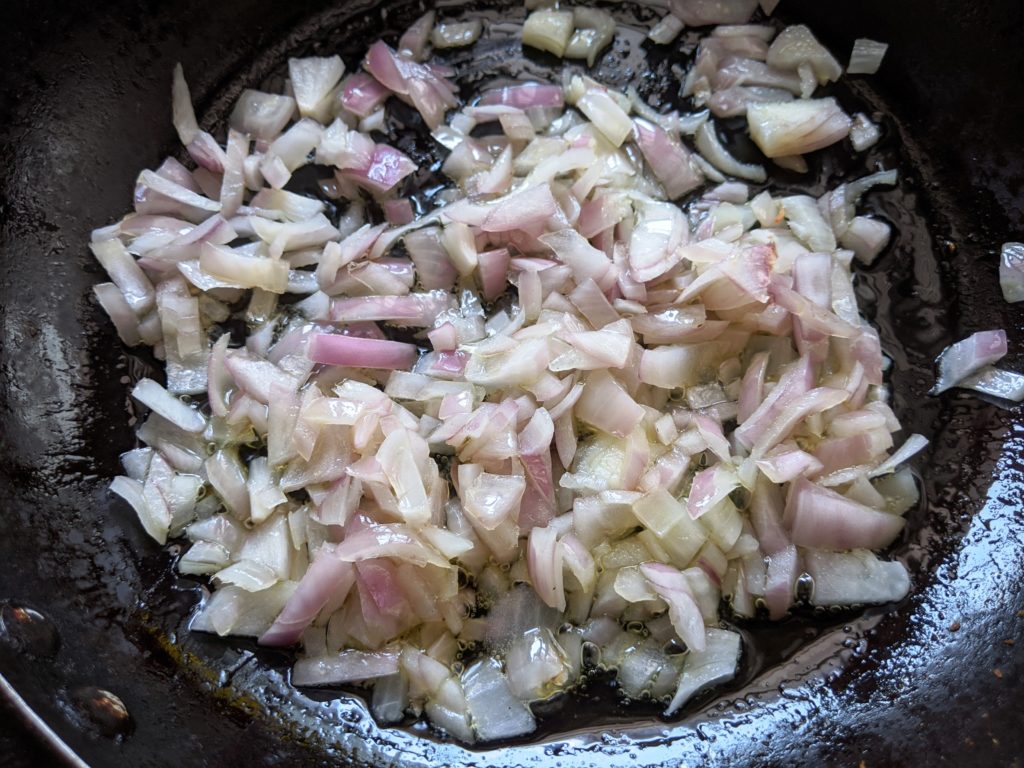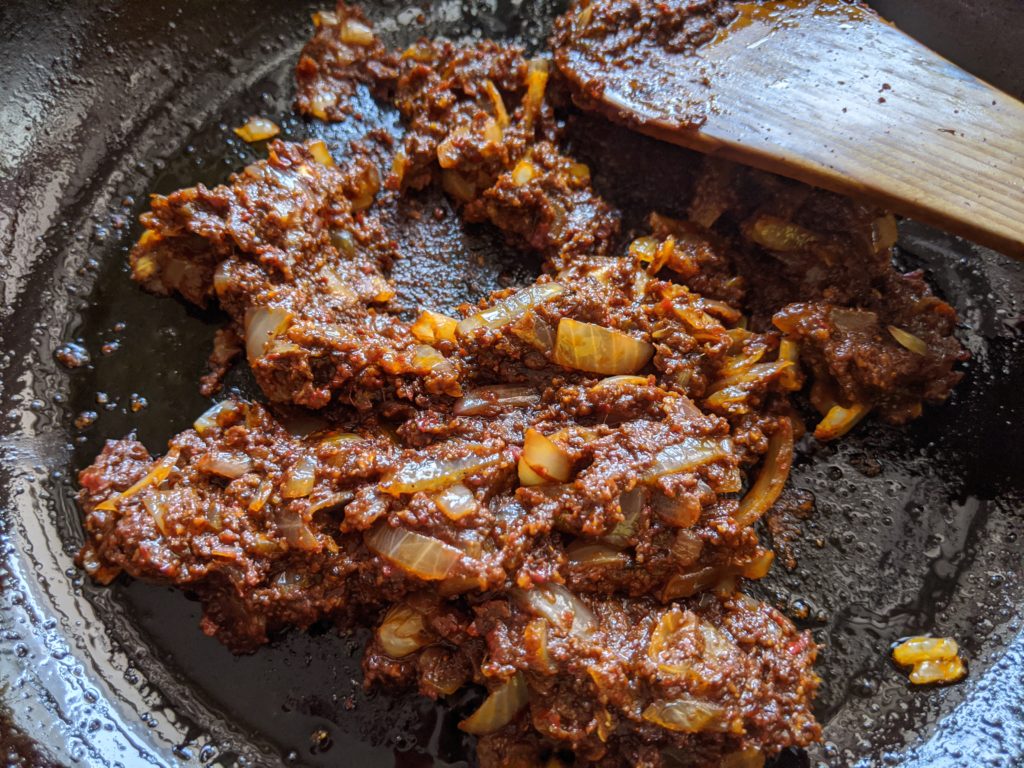 Add the chicken and coat all the pieces in that lovely masala. If you're chicken is boneless I would cook it for about 12 – 14 mins. If your chicken is on the bone then an easy 25 mins. You can also add the chicken and let it cook a bit before adding the spice paste but I like to do it in reverse so the paste has longer to cook. When it starts to release its oil and reduce down (because the chicken will release some water) that's when you know it's done. Usually takes 10 – 15 mins.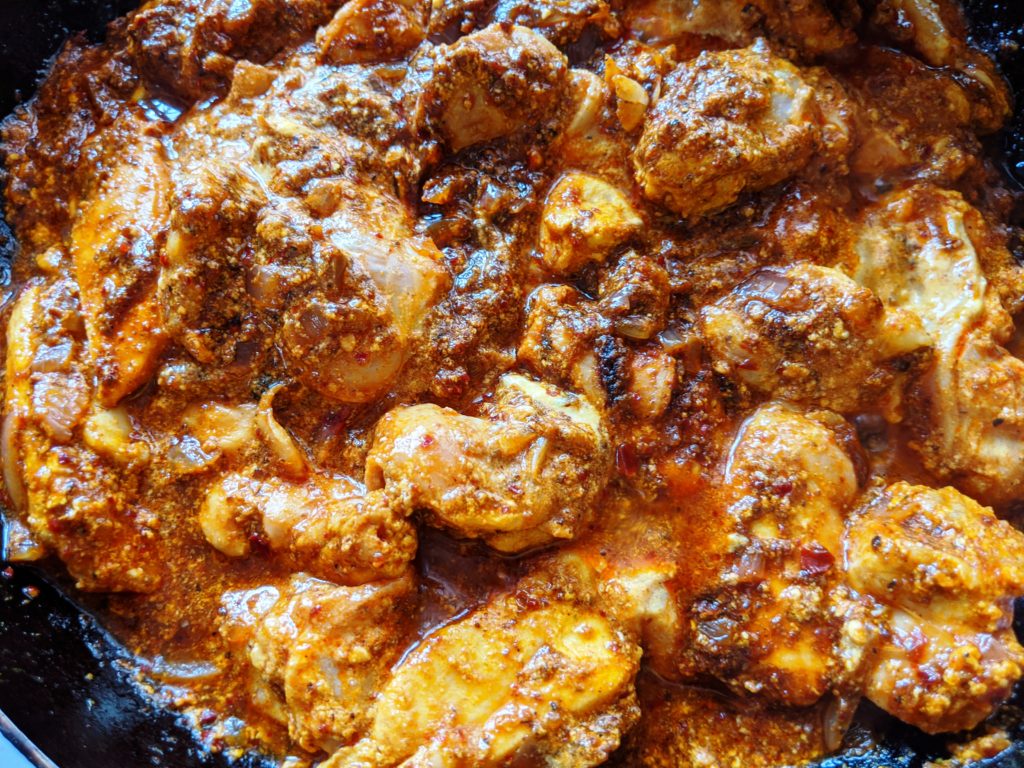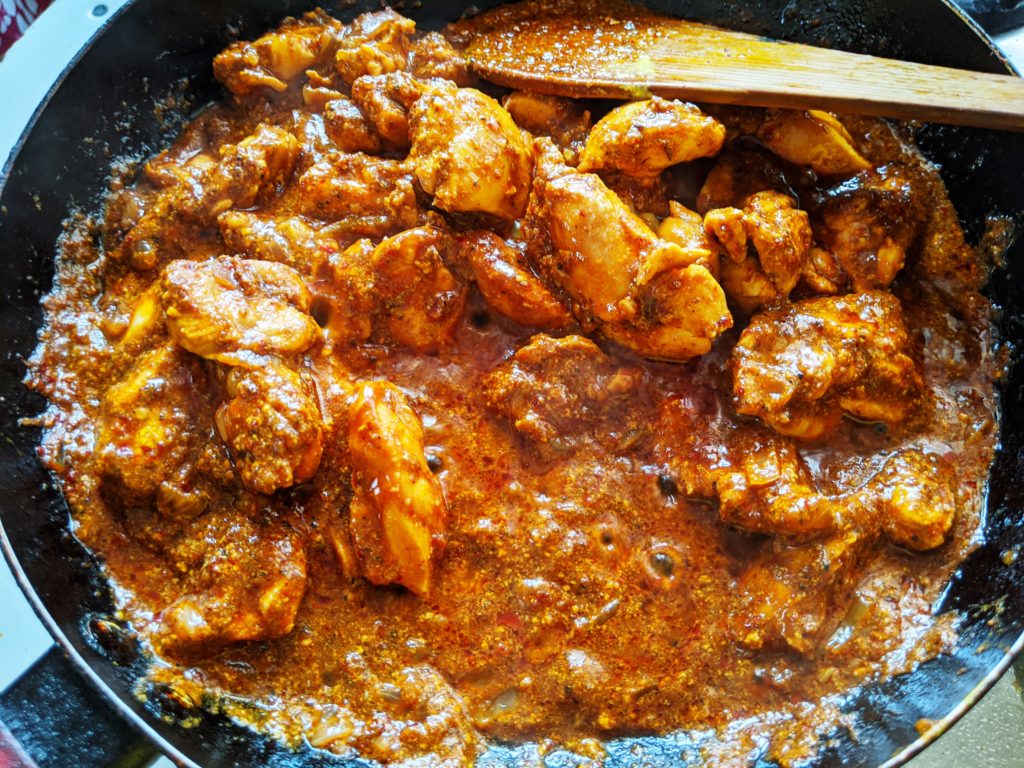 Add the sprig of curry leaves toss for a few seconds and serve hot.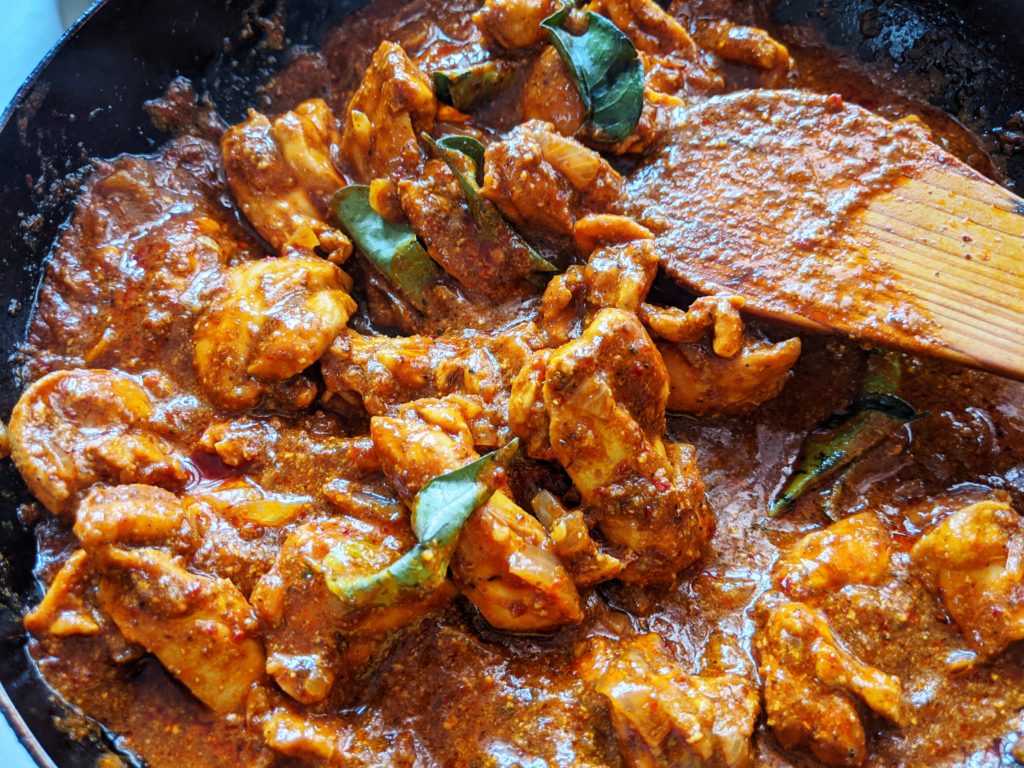 Note – Towards the end a lot of recipes add a small piece of jaggery or a teaspoon of sugar. If the mix is too spicy you can certainly add some to balance it out.
Can I Freeze It?
Yes you can but it doesn't need a deep freeze. It will also last in your refrigerator for a couple of days and makes for great leftovers.
Can The Masala Paste Be Made Before Hand & Stored?
Yes you absolutely can make the masala paste before hand and freeze it up to 2 months. Whenever you want to use it to cook just thaw it to room temperature before you cook it in that hot ghee.
What Are Byadagi Chillies?
India is home to several types of chilli and Byadagi or Bedki/ Bedgi chillies as they are sometimes called are one popular type. They are dry red chillis that look slightly shriveled and wrinkled that can be dry roasted or soaked in warm water before using them. They are very similar to the Kashmiri Red Chillies of the north but these chillies are spicier, they've got a fair amount of heat and give a lovely red colour to the food. They are grown specifically in the state of Karnataka and found in abundance in the town of Kundhapur.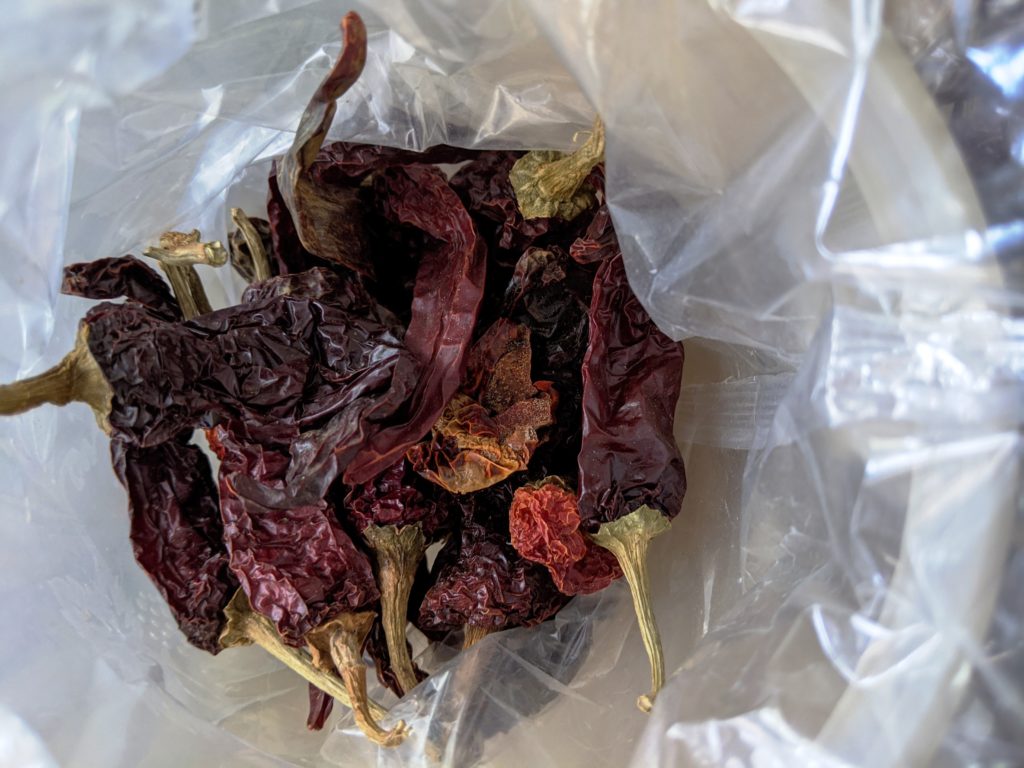 What If I Don't Have Byadagi Chillies ? What Can I Use Instead?
In case you don't have these Karnatak chillies it's quite ok. You can certainly use dried Kashmiri red chillies though they look similar they add a lovely red colour to your paste but they are not very spicy. You can also use Guntur chillies or a combination of any or all of these as well.
How Do You Serve Chicken Ghee Roast?
Traditionally this is eaten with a roti or perhaps even a dosa to mop up that thick spicy mix but the truth is I like to eat it with a steaming plate of dal and rice.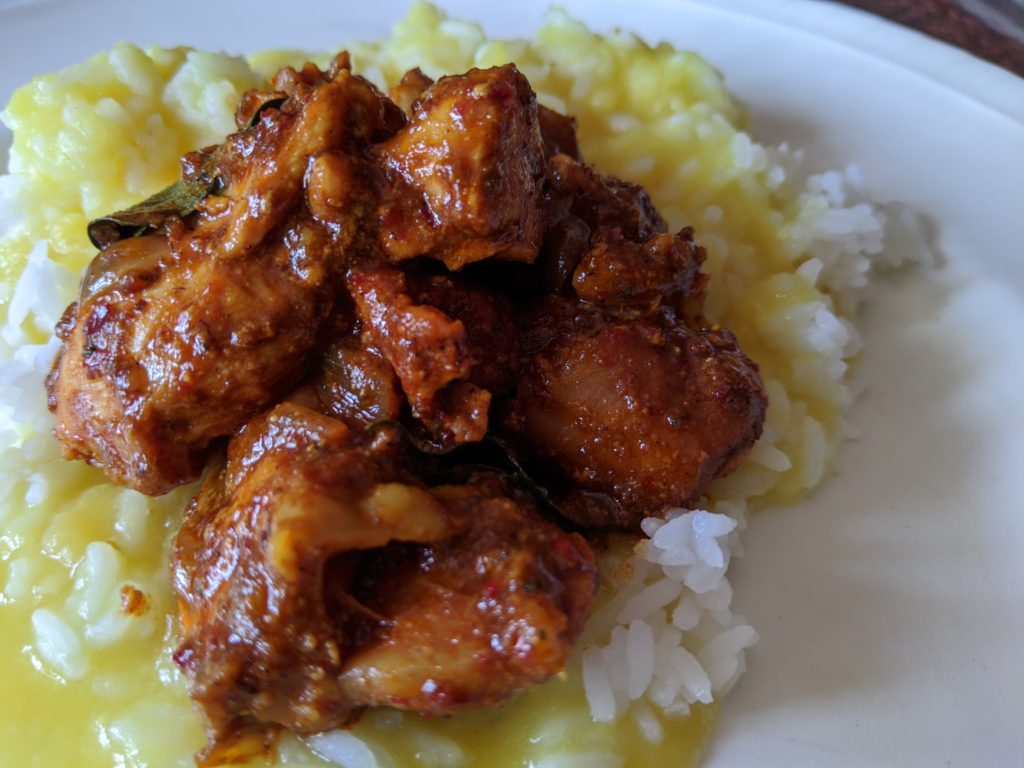 Follow me on Social Media – @ thetinytaster