I'm a proud Parsi but one that doesn't particularly enjoy Parsi food. I know it's a shocker for most people but I'm an extremely finiky eater. I have very strong opinions on the food I want to eat and while it's not my favourite cuisine or type of food there are some Parsi recipes that are just beautiful and have my heart. This glorious Prawn Patio is one of them.
What Is Prawn Patio
Patio actually refers to a thick flat bottom vessel which was used to cook this dish and if it was made with shrimp then called Prawn Patio. It's a mix of sweet spicy and sour flavours cooked down into an almost semi gravy like dish. It's best eaten with plain rice and dal and this is what every Parsi child grew up eating.
What is Lagan Nu Patio
This is often reserved for a royal feast or part of the menu at a wedding ( lagan). The name translates to the Wedding Patio. Here the patio is a gravy and almost curry like, often cooked with fish and not prawn. The ingredients vary slightly as well as the texture since it's more like a thin curry . Most fish patios tend to be a gravy.
Which Vinegar To Use For Prawn Patio?
Apart from the Prawn, I think this is the most important ingredient for the patio. Vinegar is an ingredient used in Parsi cuisine and is one of the food links we can trace back to Persia. We use what is commonly referred to as Parsi Vinegar which is actually sugarcane vinegar that is signature to all our dishes. There is a company based in Gujarat called E.E Kolah and Sons or E.F Kolah and Sons who has been making this vinegar along with a range of pickles and other things since 1885. It's become the signature vinegar that we use in all our cooking. Ideally this Parsi Kolah's Vinegar is essential to this dish but if you can't get your hands on it any vinegar works.
What Is Parsi Vinegar? What Can I Substitute for Parsi Vinegar?
Parsi Vinegar is the essential Vinegar that is used in all Parsi Cuisine. It's sugarcane vinegar and made by a company called EE Kolah or EF Kolah for the last 250 years or so. It's got a distinct taste smell and flavour and the closest substitute I'd say is a Balsamic Vinegar. Ideally any vinegar can be substituted in the patio recipe but to get it really close in flavour I recommend any sugarcane vinegar or a dash of balsamic.
Recipe
Ingredients –
2 Medium Onions Finely Chopped
2 Tomatoes Pureed
1 Tomato Finely Chopped
300 grams deveined de shelled cleaned prawns
1 Teaspoon Salt
2 Teaspoon Turmeric Powder
2 Teaspoon Red Chilli Powder
1 Teaspoon Cumin Powder
1 Teaspoon Coriander Powder
3 Green Chillies Finely Chopped
4 Cloves of Garlic Sliced
1 Teaspoon of Sugar or Jaggery
1 – 2 Tablespoon of Parsi Vinegar
1 Cup of Finely Chopped Coriander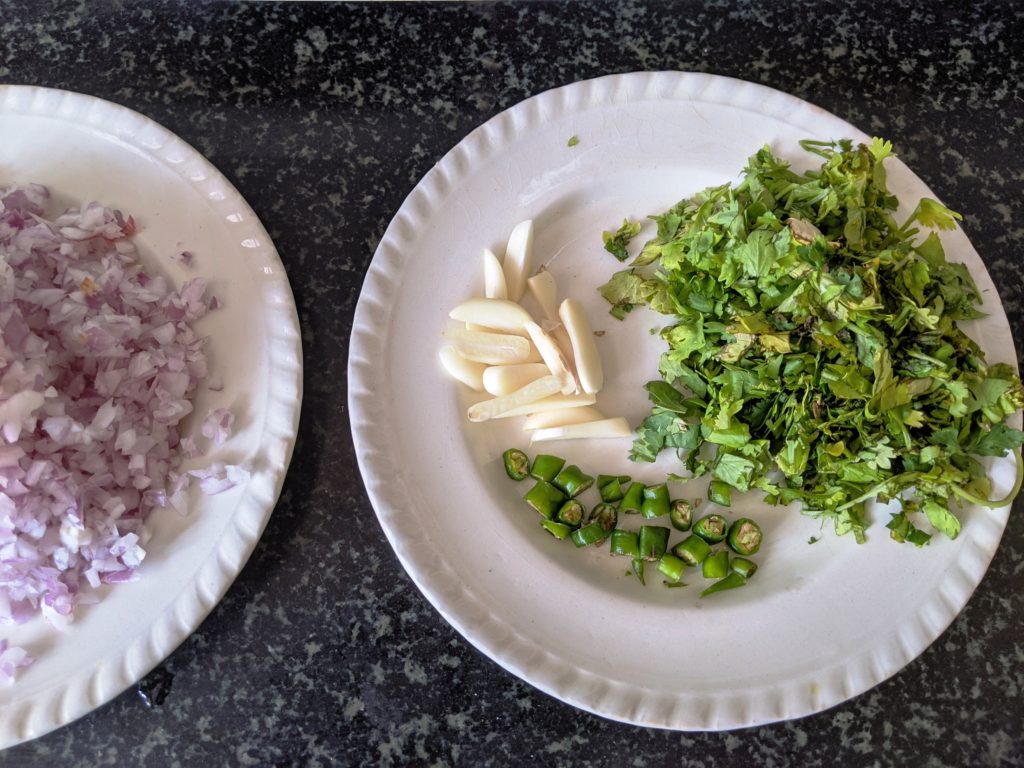 Method
Marinate the prawns with a teaspoon of turmeric powder a teaspoon of red chilli powder and half a teaspoon of salt and set aside.
In a pan add some oil and the chopped onion, garlic and chillies. Cook till the onions turn colour.
Add the sugar, turmeric powder, red chilli powder, cumin and coriander powder and mix well. Add in the tomato puree and cook for about two to three minutes. Then add the chopped tomato and cook it down for another 3 minutes.
Add salt, the vinegar and half the chopped coriander and mix well. Cook this mixture for 3 – 4 minutes, do not add any water at all.
Add the prawns and cook on a high flame for about 6 – 7 minutes. Mix well.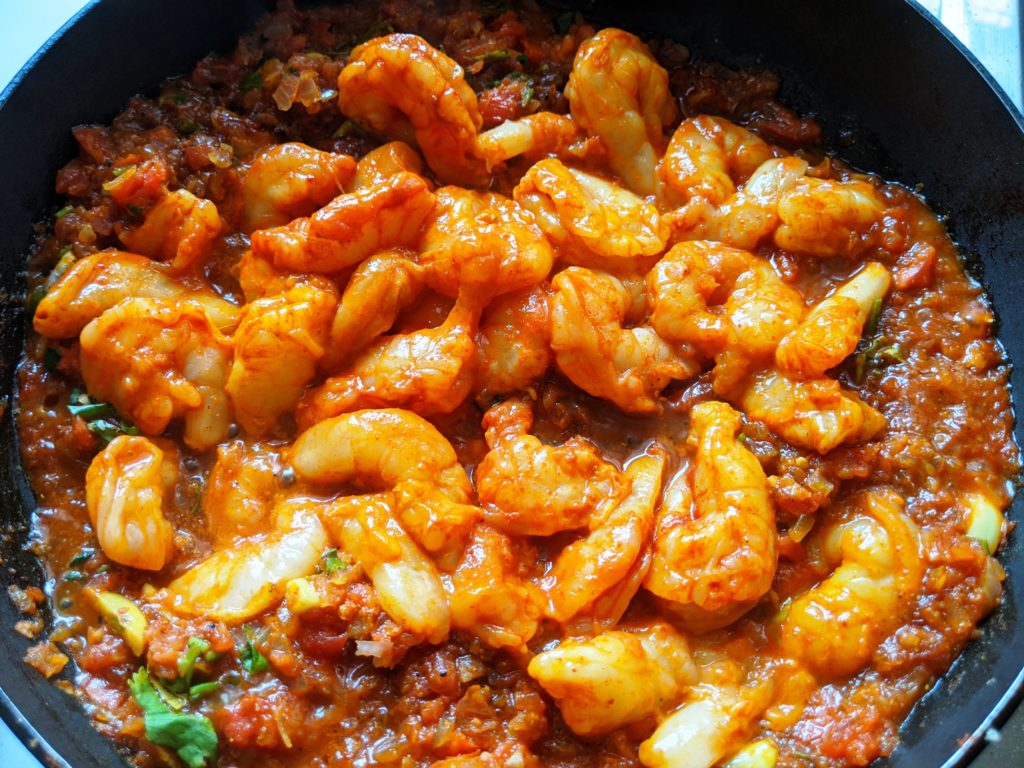 Once cooked, garnish with the rest of the coriander and serve hot.
Can I freeze it ?
I suppose you could though it's simple enough to make fresh whenever you want to eat it. If you like you can freeze the masala base and then just add the shrimp at the time of cooking it. Frozen shrimp is never fun.
What is the difference between Tatreli and Normal Patio
I came across a lot of recipes which use the word Tatreli meaning fried. It's really the same thing as a regular Prawn Patio which is where you tend to fry the onions first and then the rest of the ingredients. It's usually the same thing except it is different from a fish patio or a lagan nu patio which are generally gravy based.
Can You Use Fish Instead Of Prawn In A Patio?
You absolutely can but as I mentioned, most fish patio tends to be gravy like. It's uncommon to use fish in this particular patio recipe but if you'd like to you certainly can.
How Do You Serve Prawn Patio?
You can serve this with a side of fresh hot chapattis or in a pinch mop it up with bread. The traditional way to serve a Prawn Patio is with plain rice and dal. Dhun Dar Patio as we Parsis like to call it.
fdf