It's the most searched recipe on the internet and with good reason. A Butter Chicken Recipe is one that everyone should have and today it's my turn to share with you one of the easiest simple butter chicken recipes. I had been hankering to make this butter chicken or Murgh Makhani recipe for ages but didn't have all the essential ingredients so when I finally did I couldn't resist!
What Is Butter Chicken ?
This rich buttery chicken gravy dish is a hit in North India. Delhi loves their butter chicken and so does Punjab. This mildly spicy with its subtle tanginess and velvet gravy is a dish is made with butter, ghee, sometimes or often enough cream and a host of other ingredients that are so rich the end result is just beautiful. It has that perfect balance of sweet and spicy without either flavour over powering the other.
The History Of Butter Chicken
This is where it gets interesting. Butter Chicken is so popular it's one of the most googled recipes on the internet along with Biryani. It might have the most number of searches and to the Western world when you think of Indian food a Butter Chicken or Chicken Makhanwala or Chicken Makhani is one of the first dishes you associate with it. You'd think this was an ancient recipes passed down from generation to generation but the truth is, it's quite a recent development and shockingly trumps the entire Indian culinary heritage in terms of popularity.
It's been said that this was a dish created by a chef who was in a dilemma and didn't know what to do with his left over tandoori chicken. Leftover chicken cooked in a tandoor tends to dry out completely and in a bid to salvage his leftover tandoori chicken that did not sell, he tossed in tomatoes butter and other ingredients to try and make it flavour moist chicken gravy and that's how this dish was created. It was the genius creation of Kundan Lal Gurjal who operated the hugely popular restaurant Moti Mahal in Delhi in 1948 or 1950. It's been said that he actually worked at a tandoor shop in Peshawar called Mukkey Da Dhaba and helped create the dish Tandoori Chicken. So not only did he figure out what to do with the leftover tandoori chicken but he also helped invent the stellar tandoori chicken itself.
Since then this dish has become the face of Indian cuisine world over and had the British even adapt it to make their version of Chicken Tikka Masala ( but more on that a little later in this post).
Integral Ingredients for Butter Chicken
Most people will say Butter and Chicken of course but I think those are obvious ingredients more than integral. I think all the ingredients play their own role but the three crucial ones for me are mustard oil ( it just enhances that chicken flavour ) Kasuri methi ( again it has a distinct flavour that really rounds up the chicken ) and the third one is the coal. Sadly not everyone has easy access to a piece of coal including myself but I do think that smokey flavour at the end just adds another element to it. I was really fortunate to have my best friend be so kind and generous to come and drop off some coal, mustard oil and kasuri methi so I could actually make this dish.
Recipe
Ingredients
250 grams of Boneless Chicken cut into small pieces
1 Cup of Yogurt/ Dahi
1-2 Tablespoon Mustard Oil
2 Large Onions Finely Chopped
4 Large Tomatoes Cut into half or finely chopped
10 – 12 Cashews
1 Bayleaf
2 Cardamom Pods
6-7 Peppercorns
1 Cinnamon Stick ( I used a teaspoon of cinnamon powder )
2 Teaspoon Red Chilli powder
2 Teaspoon Turmeric Powder
2 Teaspoon Cumin Powder
2 Teaspoon Coriander Powder
1 Teaspoon Garam Masala
1 Teaspoon Ginger Garlic Paste
1 Teaspoon Lime Juice
1 Teaspoon Crushed Kasuri Methi (Fenugreek leaves )
1 – 2 Teaspoon Ghee
1 Tablespoon Butter (more if you like)
1 Teaspoon Cream (totally optional I didn't add any to mine)
1 Teaspoon Sugar (Totally optional I didn't add any to mine)
Salt to taste (ideally a teaspoon or so )
1 Piece of coal (if you don't have any coal it's ok skip that step)
Method
Marinate the pieces of chicken in dahi along with the ginger garlic paste, lime juice, and a teaspoon of each of the spices (cumin, coriander, red chilli, garam masala and turmeric powders) along with the mustard oil. Mix well and let it marinate for a couple of hours or even over night. (I let it sit for about half an hour)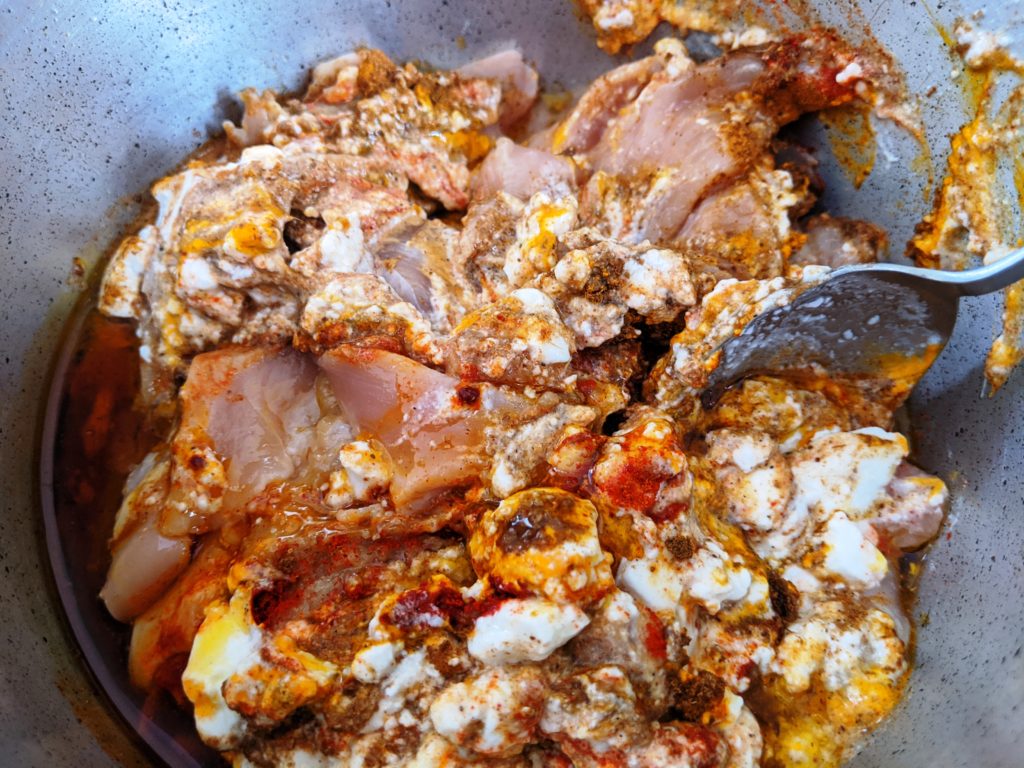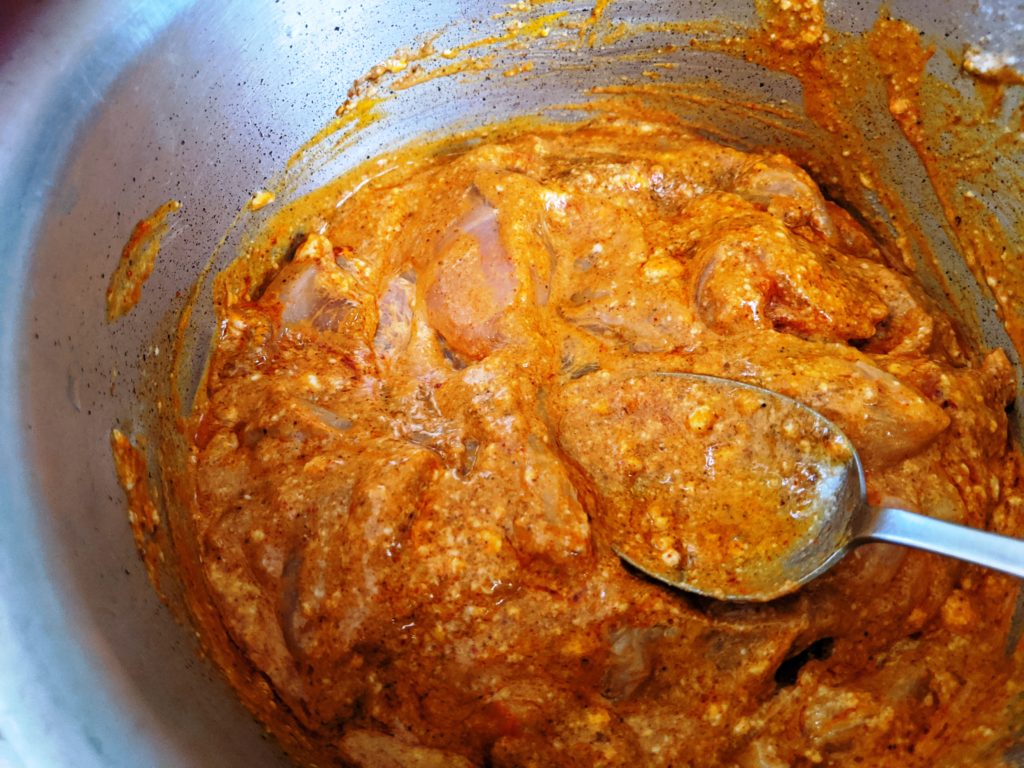 While the chicken is marinating you can get started on the gravy. In a pan add some butter and toss in the bayleaf, cinnamon stick or powder, cardamom and pepper corns along with the chopped onions. Let them sweat and cook till the onions change colour.
To this add in the tomatoes and cashew nuts. Add in a teaspoon or so of turmeric powder and red chilli powder along with cumin and coriander powder. Mix it all together. The mixture tends to get dry so at this stage to help the masalas and tomatoes cook add in a little water. Cover the pan and let this cook for atleast 15 minutes so the tomatoes and cashews completely cook. If you have any left over marindate from the chicken you can add that as well. I don't like to waste so I added mine but you don't have to.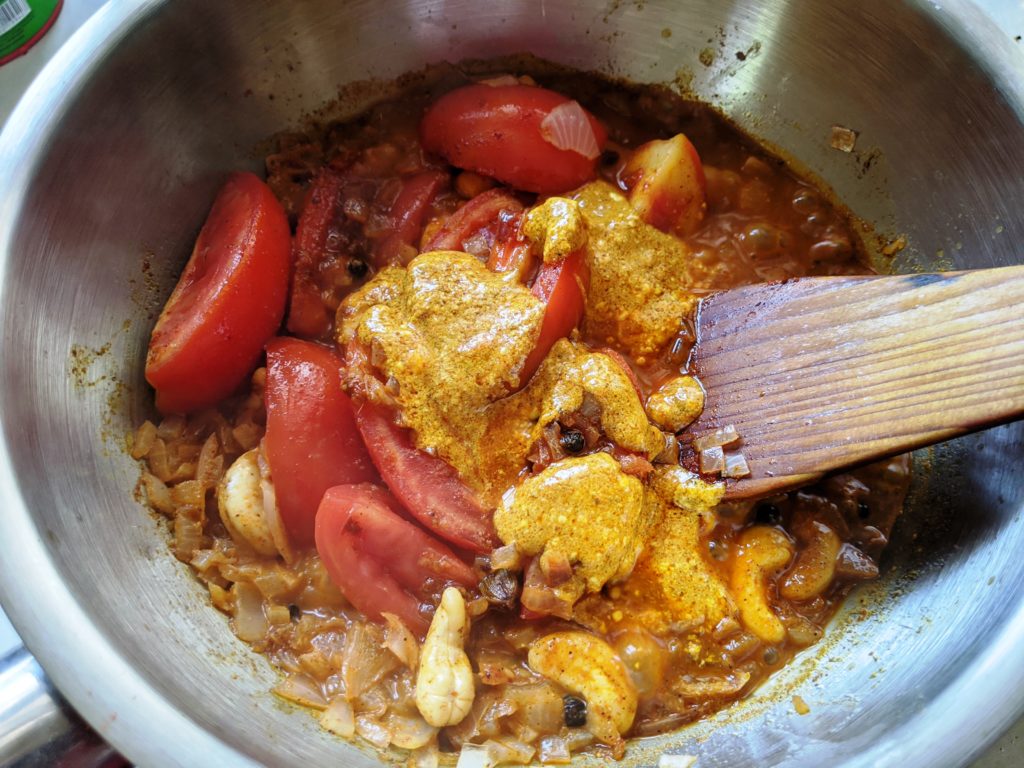 Once it is done let this cool till it comes down to room temperature. Please note this is extremely important as this mixture needs to be blended and if it is hot you will have an explosion of gravy all over your kitchen and extra washing and cleaning ( this is experience talking here )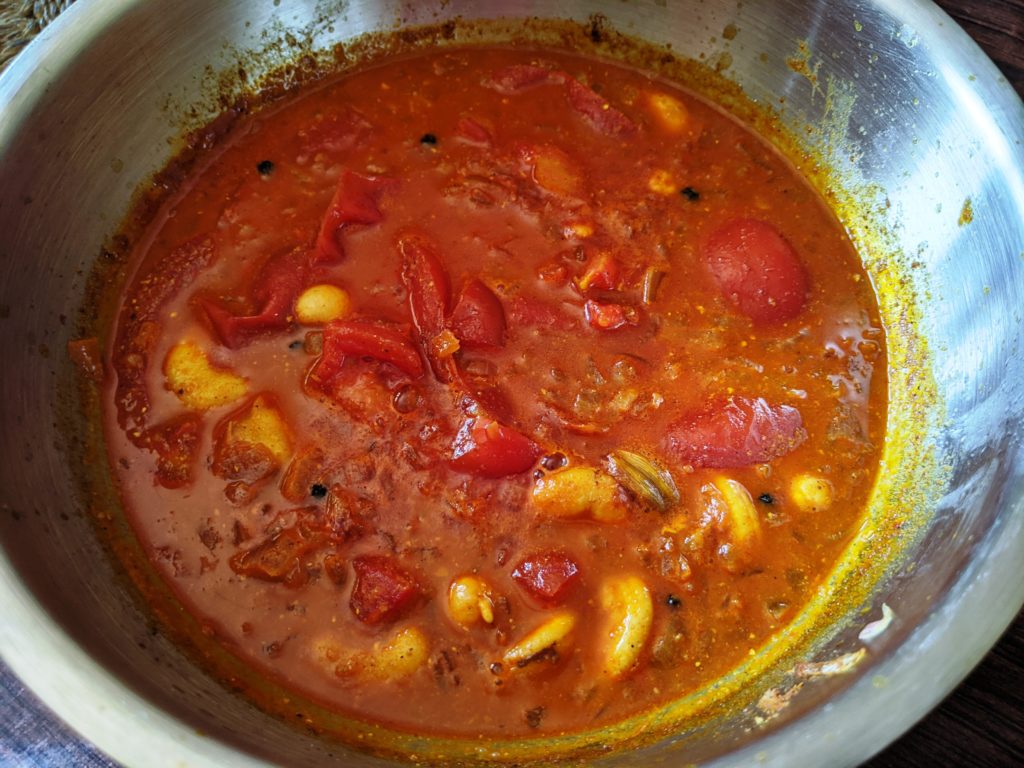 While the mixture is cooling down you can get started on cooking the chicken. In a non stick pan or grill pan heat the pan so it's warm and then add the pieces in. Don't over crowd the pan, you will have to do it in batches but let the chicken cook for a total of 10 -12 mins flipping it over half way through. Once all the chicken is cooked keep it aside and get back to your gravy.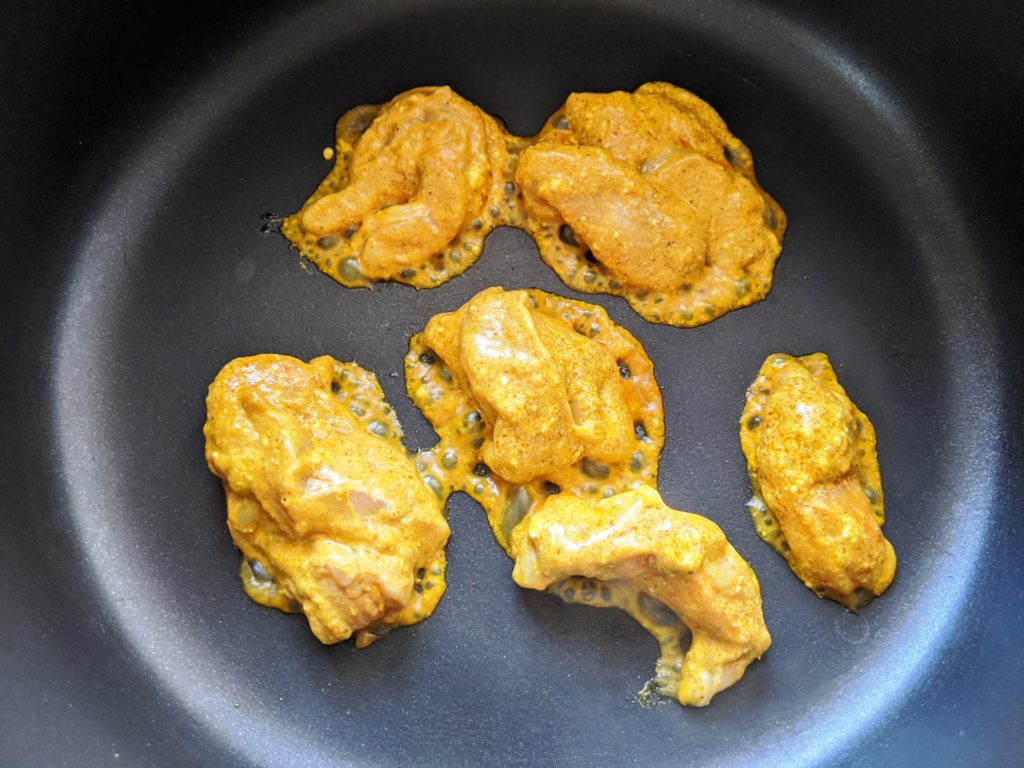 Interestingly this dish was invented to use leftover tandoori or tikka chicken in a way to make it soft and not dry so ideally if you have leftover chicken or want to cook the chicken a day prior you absolutely can. If you'd like to cook it fresh together then that's ok too.
Now once the cooked gravy mixture has completely cooled down blitz it into a paste in a blender or you can also use an emulsion blender and blend it in your pot itself.
Strain this blended mixture through a sieve till every last bit of the gravy passes through to give you smooth seamless velvety gravy. The butter in butter chicken doesn't refer to the ingredient butter but also that this gravy is smooth and lump free. The sieve catches all the seeds and skin of the tomato or onions.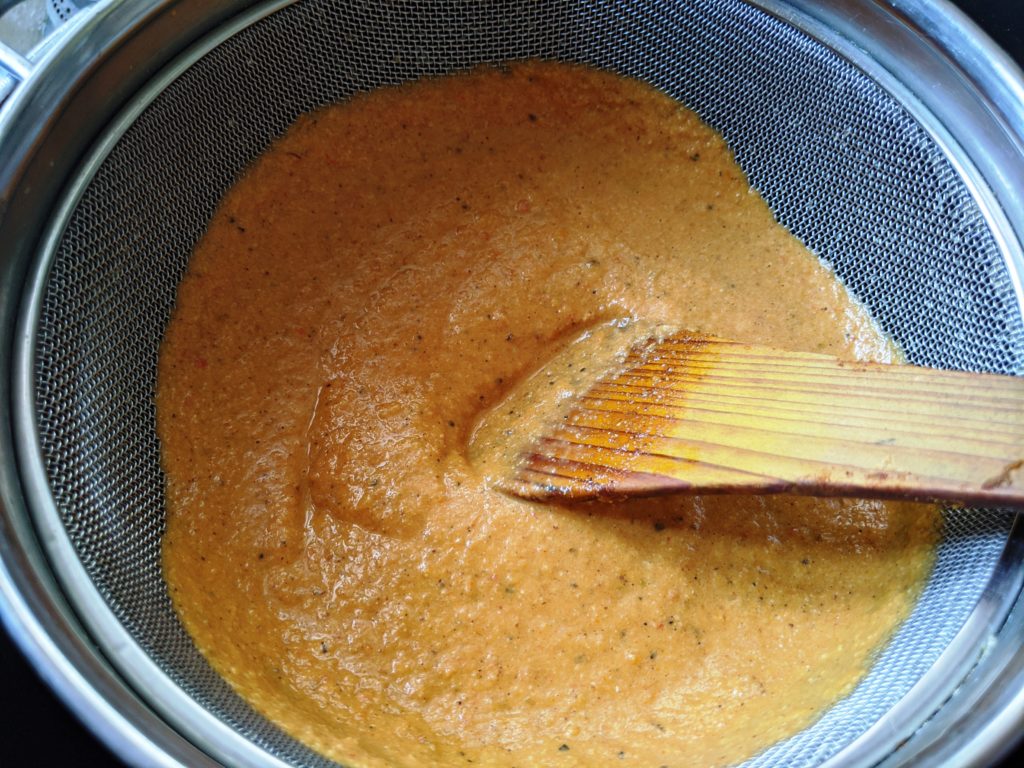 In the same pot of the gravy add in some ghee, maybe more butter if you like ( I didn't think it needed it ) and salt. We haven't seasoned the gravy so taste it and then season at this stage accordingly.
Note – A lot of butter chicken dishes are sweet. The sweetness comes from the tomatoes but several recipes add sugar. I have not as I don't like it sweet and when I tasted it, it had a slight sweetness and tang from the tomatoes and I thought it was perfect. If you like more sweetness please add a teaspoon of sugar now
Add in the cooked chicken pieces and a handful of crushed kasuri methi and mix it all together.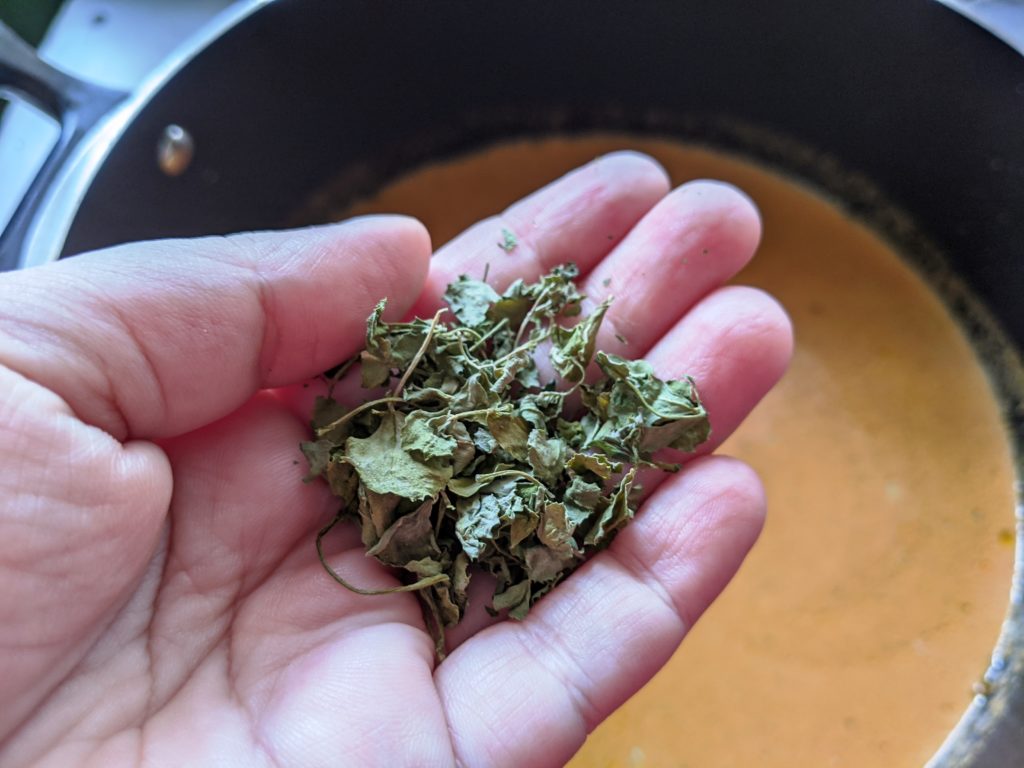 As I mentioned this dish was made from leftover tandoori chicken so the tandoor gave the chicken a slight smoky flavour which is added in this butter chicken. Since we don't cook the chicken in a tandoor at this stage heat a piece of coal on the flame and place it in a steel bowl. Add some oil on top and once it starts smoking place it into the pot of chicken, cover it and let it cook on a low flame for about ten minutes and then the chicken is ready.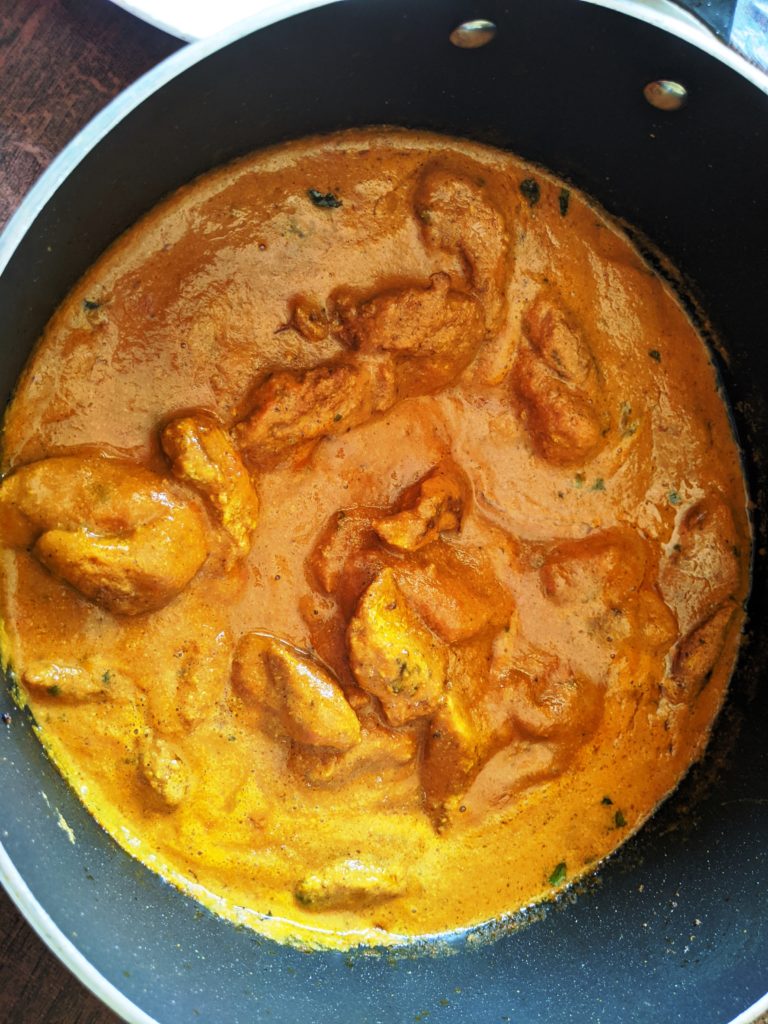 After ten minutes switch off the flame, remove the bowl with coal carefully and serve your butter chicken.
Note – If you don't have any coal it's ok you can skip this step just cook the chicken for about 10 minutes and then serve it.
You can garnish it with some chopped coriander, the green specks add some colour and flavour as well.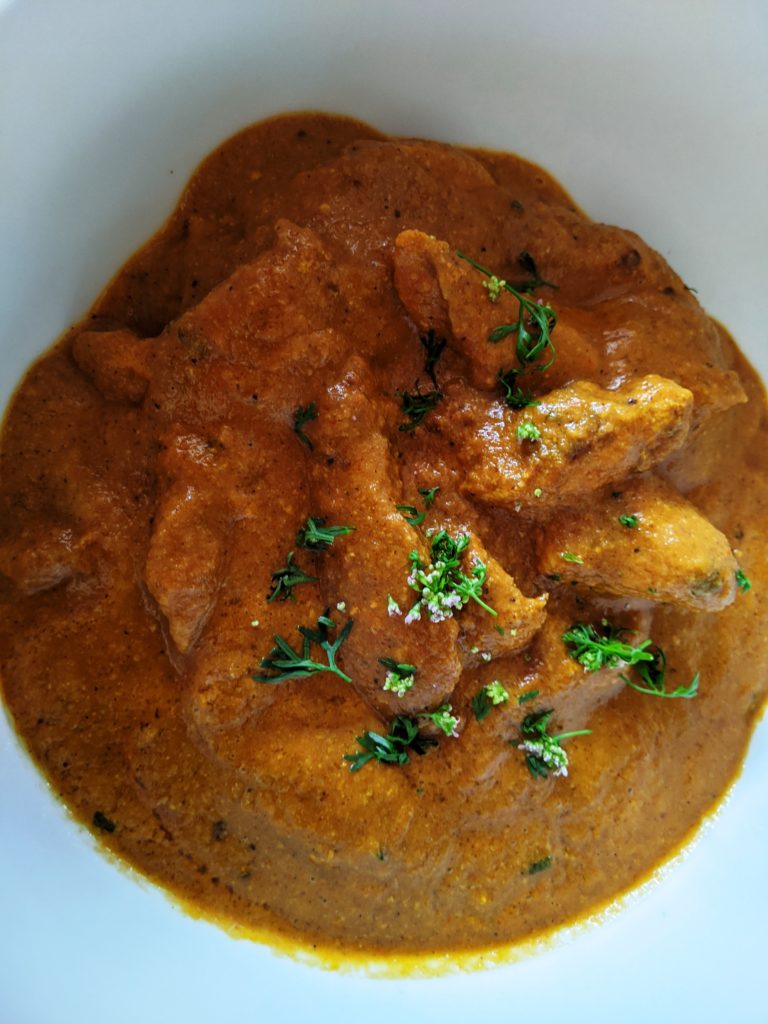 What is the difference between Butter Chicken & Chicken Tikka Masala?
Butter Chicken is the original dish created in Delhi at Moti Mahal and its roots are very much Indian. Chicken Tikka Masala is the unofficial national dish of Britain and its origins are not as clear cut as its Indian counterpart. Some say it's a take on a Punjabi chicken dish created in 1970 and so its roots are very much Indian. The most popular story of its origins is that a Pakistani chef Ali Ahmed Aslam at a restaurant called Shish Mahal in Glasgow invented this dish. The story is that a diner grumbled about his chicken being too dry and was taken back to the kitchen and Chef Ali added yogurt, a tomato soup and a few spices and the transformed dish was an instant hit.
Can I Freeze This?
Yes you can freeze this dish. I would however recommend that you freeze the readymade gravy and then cook the chicken and add it in. I don't think frozen cooked chicken tastes very good though there's no problem in doing so.
Can I Make Butter Chicken Without Cream & Butter ?
Traditionalists will scoff and laugh but the truth is I add zero cream to my chicken I thought it was rich enough with the butter and ghee. The real key is you ask me to giving it that silky creamy texture is adding the cashew nuts and sieving it. Having said that there are some recipes that use butter and cream and no cashews at all. A lot of people will outright reject a cream less butter chicken but I think you can skip one ingredient maybe not both.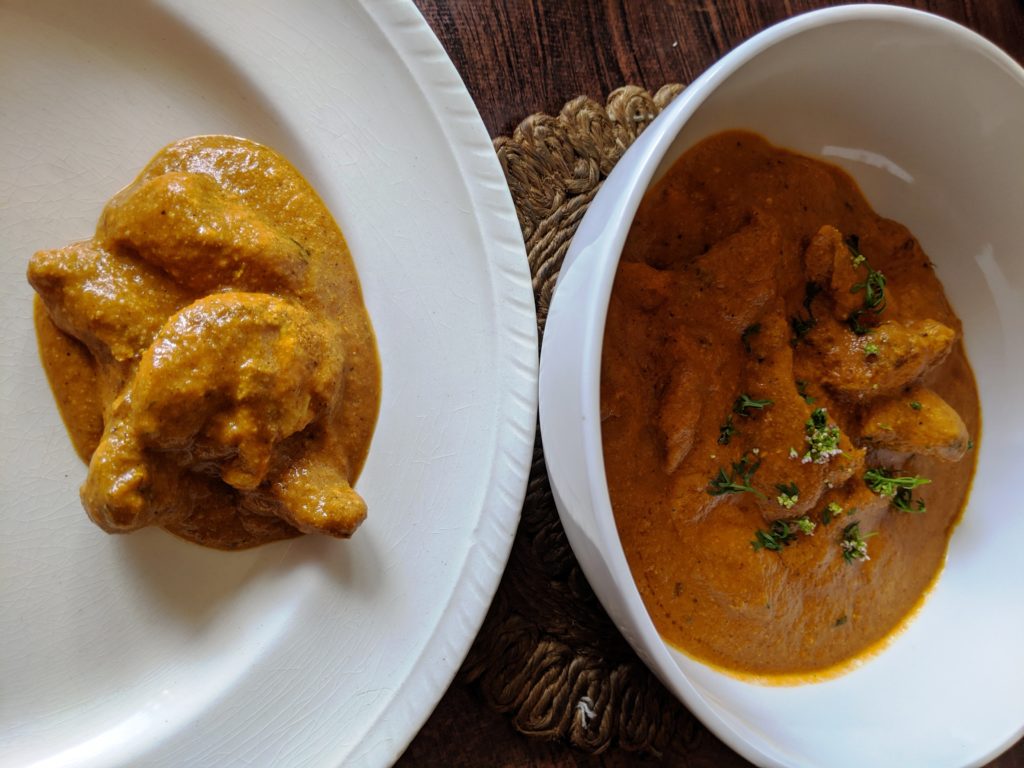 How To Serve Butter Chicken?
In the north it's eaten with roti or parathas but you can also serve Butter Chicken with rice. In a pinch you can mop it up with bread or toast but I think a paratha would be the ideal way to serve it. I also eat this sans any carbs and just plain on its own but that's a personal preference, no one ever serves it just by itself but you can serve it however you like.