For the most part I've been handling this indefinite lockdown due to COVID 19 quite well. While my heart is breaking at the thought of the entire year being washed out and no exciting travels or even thinking of everything I have had to cancel ( like my own travel tours #thetinytastertours ), I've managed to not let it get to me.
I have been reminiscing about past trips and wondering where I'd like to realistically visit when everything goes back to the way it was and If I'm being completely honest, it's Thailand. I'm so fond of this country I think I could revisit a million times and never tire of it. Thailand is a vibe and just such a fun place to explore and it helps that I'm madly in love with the cuisine.
So I thought instead of throwing a pity party and sharing a thousand #throwback #majormissing photos on instagram I'd do something that would make me feel like I have a little part of Thailand with me. I decided to cook my absolute favourite Thai dish – Pad Krapoa Gai !
I'm so completely obsessed with this dish, I've been cooking it for years and I don't think I will ever tire of it. I've never made a video for this recipe so I thought I'd shoot a video and write out a more detailed blogpost than the last one I shared nearly 4 years ago. Hope you enjoy reading this one, it's really extra special 🙂
What is Pad Krapao Gai
It's a dish made of chicken which lots of chilli, Thai basil and served on a bed of steamed white rice, preferably Jasmine rice and a fried egg with usually a runny yolk. Pad means fried or stir fry, Krapao refers to the basil and Gai means chicken. The chicken is cut into small pieces or minced. The dish can be made with Pork as well. The sauce for the Pad Krapao is a typical blend of fish sauce, oyster sauce, soy sauce along with a pinch of palm sugar giving it a distinct taste and flavour.
Popular Thai Dishes
The base of all Thai cuisine is this fantastic medley of sweet spicy and acidic flavours. A lot of the common and typically Thai ingredients used are kaffir lime, coconut milk, fish sauce, galangal ( Thai ginger ) Thai basil, lime, peanuts and lots of lovely little red bird's eye chilli. Some of the more popular Thai dishes includes
Green Red or Yellow Thai Curry with your choice of prawn chicken pork or vegetables
Pad Thai noodles which is their national dish. I think best eaten with prawns
Tom Yum Soup which is a fiery watery broth cooked with your choice of meat or seafood. It's so intense you'll have tears streaming down your face as you eat it but it's just magnificent.
Tom Kha is a milder version where the soup base isn't as watery and is made with coconut milk to dull the spice.
I've got a more detailed blogpost featuring some of my favourite Thai dishes linked here –
Alternative for Oyster Sauce and Fish Sauce
The base for a lot, in fact nearly all of Thai cooking is fish sauce. It's an integral ingredient and has a very distinct flavour. You can easily order a bottle online or find it at an Asian super market. Having said that if you can't find it or don't eat fish sauce I would say skip it and just add more soya sauce to the mixture.
Oyster sauce is another fabulous sauce used in both Chinese and Thai cooking and also found easily. If you don't have it you can opt for a Hoisin sauce which is a vegetarian based sauce. I've made this recipe plenty of times with fish sauce, soy sauce and hoisin sauce.
Can You Make a Vegetarian Version
I haven't come across any vegetarian version in Thailand but my personal vegetarian version would be to replace the minced meat with soya granules. It's the same texture and will have the same consistency look and texture. I'd skip the fish sauce, add a little salt and opt for a mushroom made oyster sauce instead. You can easily find vegetarian oyster sauce that's made with mushrooms online to give you that same earthy umami flavour from oyster sauce. If you like you can skip the oyster sauce in favour of Hoisin sauce and it's just as good.
If you are an eggatarian by all means add the egg it's a wonderful flavour and texture mix but if not skip that as well and you could add a side of pickled carrots and some sliced cucumber for some extra crunch.
Recipe
This recipe feeds 3 people
Ingredients
500 grams Chicken Mince
6-7 Pods Chopped Garlic
5-6 Chopped Red Thai Bird's Eye Chilli or Any Red Chillies
A Handful Of Basil
1 Chopped onion
2 Tablespoons Soy sauce
2 Tablespoons Oyster sauce
2 Tablespoons Fish sauce
1/2 Teaspoon Sugar
1-2 Cups of Cooked Rice
An egg for each portion plated.
Method –
In a bowl add the soy sauce, fish sauce, oyster sauce and sugar. Mix it together and set it aside.
In a wok or deep pan add in your vegetable oil along with the chopped garlic and chillies. Let it heat for a minute and then add the chicken mince. Let it cook for about 4 minutes or atleast till it sears on the bottom and then mix it about so it cooks evenly.
The chicken tends to release a lot of water which is alright, if you don't want it too watery just keep cooking it on a high flame and the water will burn off.
Add the sauce mixture and cook for another 5 minutes. Add the chopped onions and mix. In case you still feel there's too much water you continue to burn it off by cooking it a little longer. You need to cook the chicken for a total of 12 – 14 mins not longer. If you feel the chicken is drying out you can add a little water.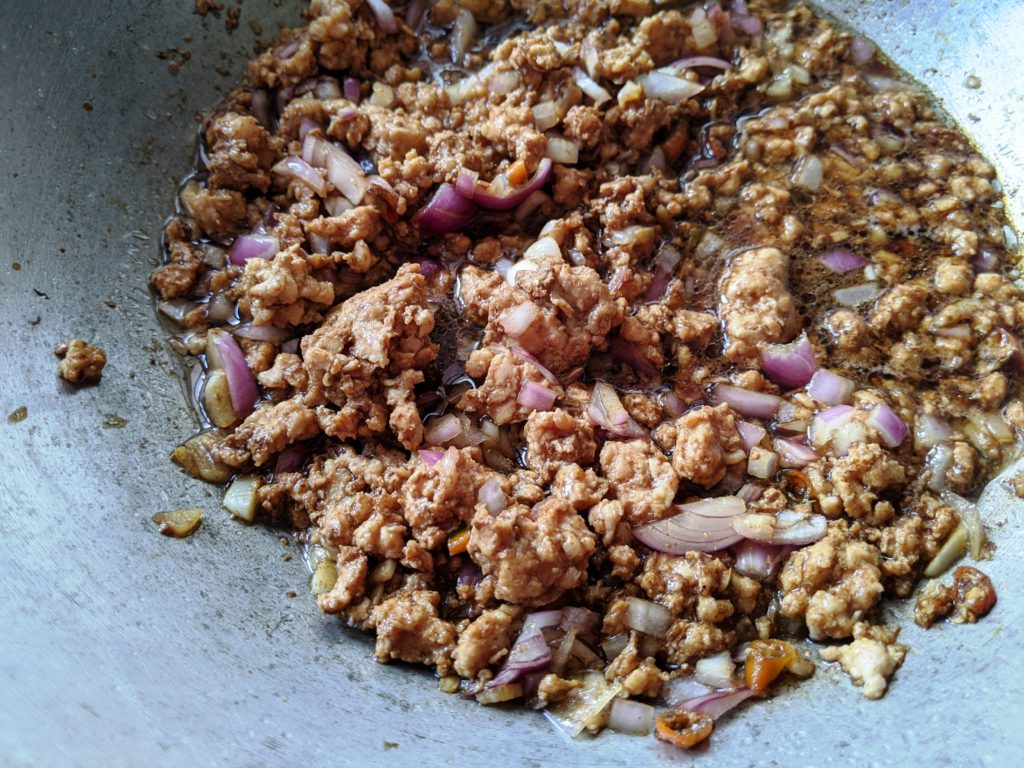 In the last minute of cooking, turn the flame down to low and add in your basil leaves. You can roughly chop them or just rip them with your hand. It cooks fast so you don't want to really cook this just in the last minute or so add it and mix it well. You can add as much or as little as you like.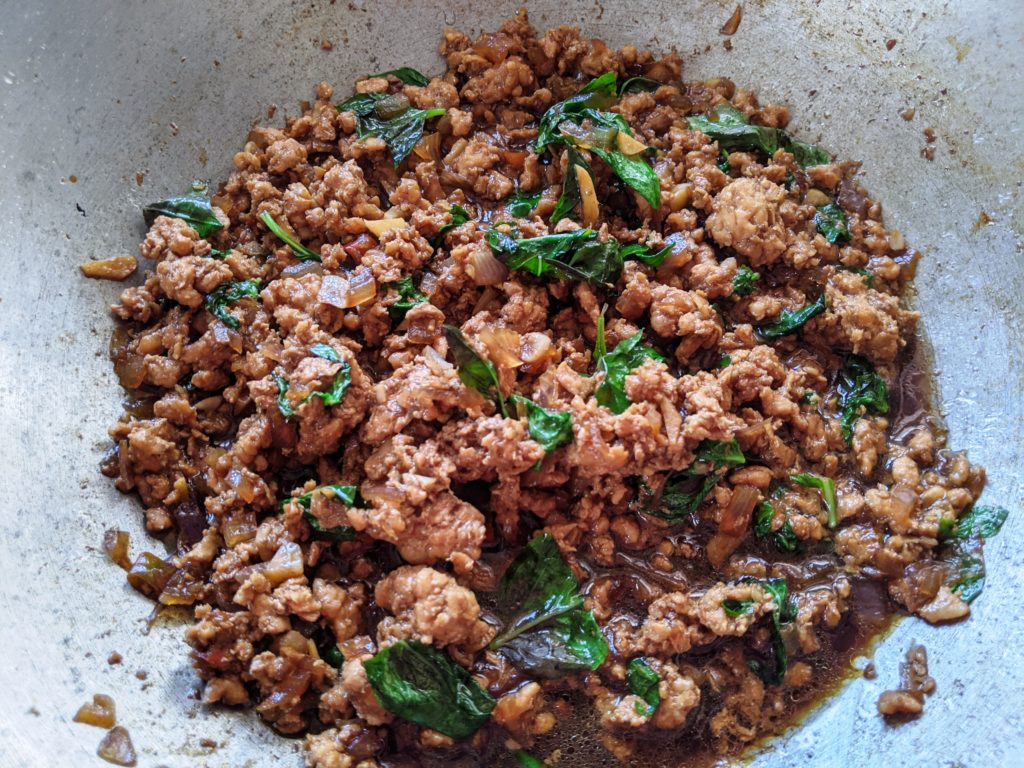 Serve this hot on a bed of steamed rice with a fried egg. You can start to make your egg when you add in the onions or basil.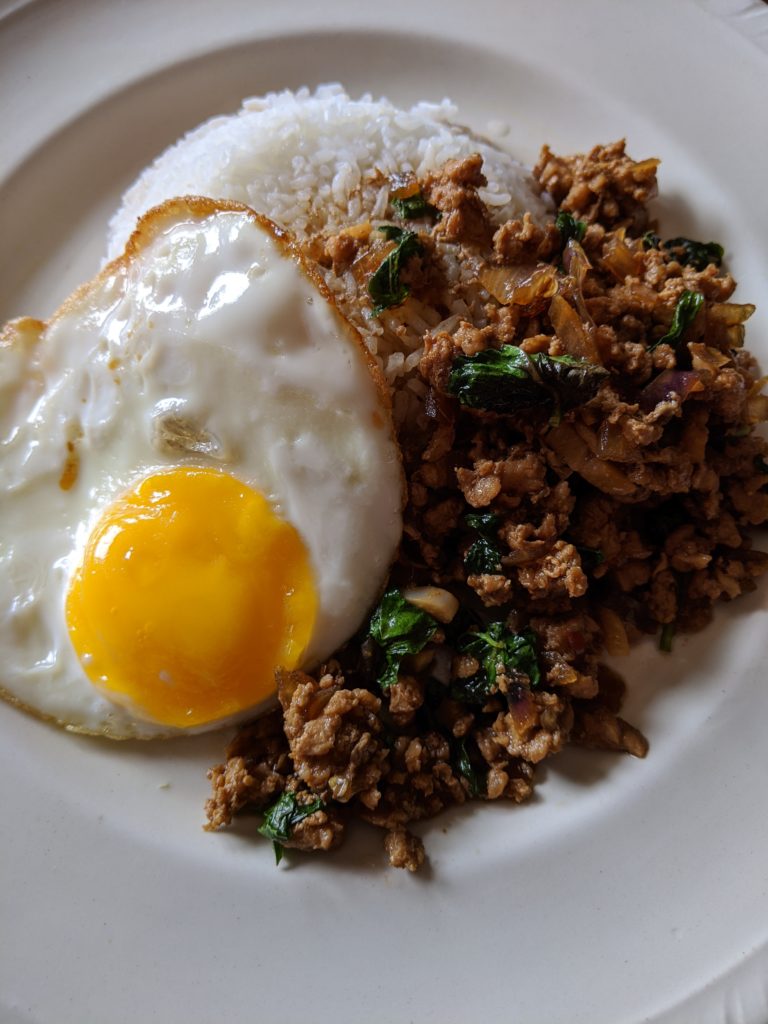 How to serve it
You can eat the spicy basil chicken on its own without any accompaniment if you like. It's often my quick fix no carb dinner. However the more traditional way to serve it is with a plate of steamed rice and a fried egg with a runny yolk. You can also serve it with a light chilli sauce condiment on the side made with soy sauce, fish sauce, vinegar, chopped garlic and chillies.
Can you freeze it
Yes you can freeze a big batch and re heat it when you'd like to eat it. I would cook the rice fresh and make the egg fresh as well. Freezing a fried egg is just unsavoury.
Do you use chicken or pork
The word Gai in the Pad Krapao Gai is the Thai word for chicken, so essentially this particular recipe is a chicken dish. Having said that, there are many Pad Krapao dishes that are pork based. It is entirely up to you if you'd like to use Pork meat or Chicken.