I adore Chinese cuisine and am always happy to eat it any time of the day. I will say though that on my trip to China I found a lot of their Chinese food is so similar to the stuff served in fancy restaurants but vastly different from the more sought after street style Indo Chinese fare.
I love them both quite honestly and on these gloomy rain filled days I find that a big bowl of this local Chinese grub is like a warm enveloping hug. So this recipe is what I usually gravitate towards when I want a Chinese meal. It's my humble street style but homemade Chinese Chilli Chicken recipe.
What is Chilli Chicken
It's a popular Indo Chinese dish that's a mix of sweet spicy and sour flavours. It's eaten as an appetizer if it's a dry version or as a main course dish if it's a gravy. It's eaten along with fried rice or noodles and is actually an Indian invention, there's no such recipe in traditional Chinese cooking but perhaps something similar.
Who Invented Chilli Chicken?
It's said that this was a dish created by Nelson Wang in 1975. Nelson Wang owned China Garden, considerably the most popular Chinese restaurant for decades. He started out by trying to make a similar basic Indian chicken dish with garlic and green chillies but instead of garam masala he put soya sauce and then further went on to add corn flour and change it slightly but yet using familiar local ingredients to ensure he had a fantastic dish.
What is Chindian or Indo Chinese Food ?
It's a type of food that is popular in India adapted from Chinese recipes. It's the Indianised version of Chinese food. Many years ago a large Chinese community settled in Kolkata and started to cook their food by adapting and using local ingredients to try and get a suitable taste for the Indian palette. Dishes under this cuisine are hakka noodles, manchurian, chilli chicken, kung pao chicken and also more vegetarian adaptations like paneer chilli and gobi manchurian. The food has its own unique style and is much loved by Indian everywhere.
Recipe
Ingredients –
500 grams boneless chicken cut into small pieces
2 small onions cut into quarters
1 small capsicum cut into small pieces
4-5 chopped green chillies ( as little or as many as you like honestly )
2 spring onions chopped ( optional )
5 cloves of garlic chopped
3 tablespoons of corn flour
1 egg
5 tablespoons of soya sauce
1 teaspoon ketchup
1 teaspoon vinegar
1 teaspoon red chilli paste ( I've used harissa but schezuan will do )
1 teaspoon pepper
a pinch of sugar
Chopped coriander ( optional )
Method –
marinate the chicken pieces by mixing 1 1\2 tablespoon corn flour, egg, pepper and 2 tablespoons of soy sauce. Mix it all together and let it rest for about 15 mins.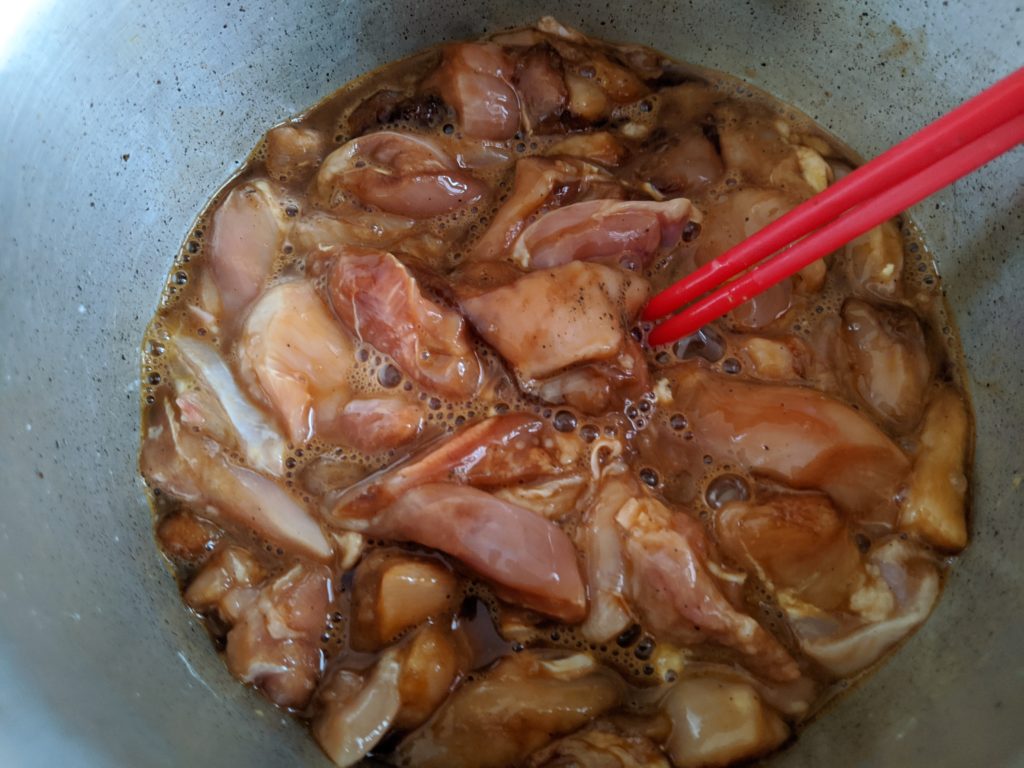 In a pan add some oil and place the pieces of chicken and cook for a total of 10 minutes flipping the chicken halfway through so it cooks evenly on both sides. You might need to do this in batches because you don't want to add all the chicken at one time and over crowd the pan. Usually recipes ask you to deep fry the chicken and you can if you like but I think this works just as well.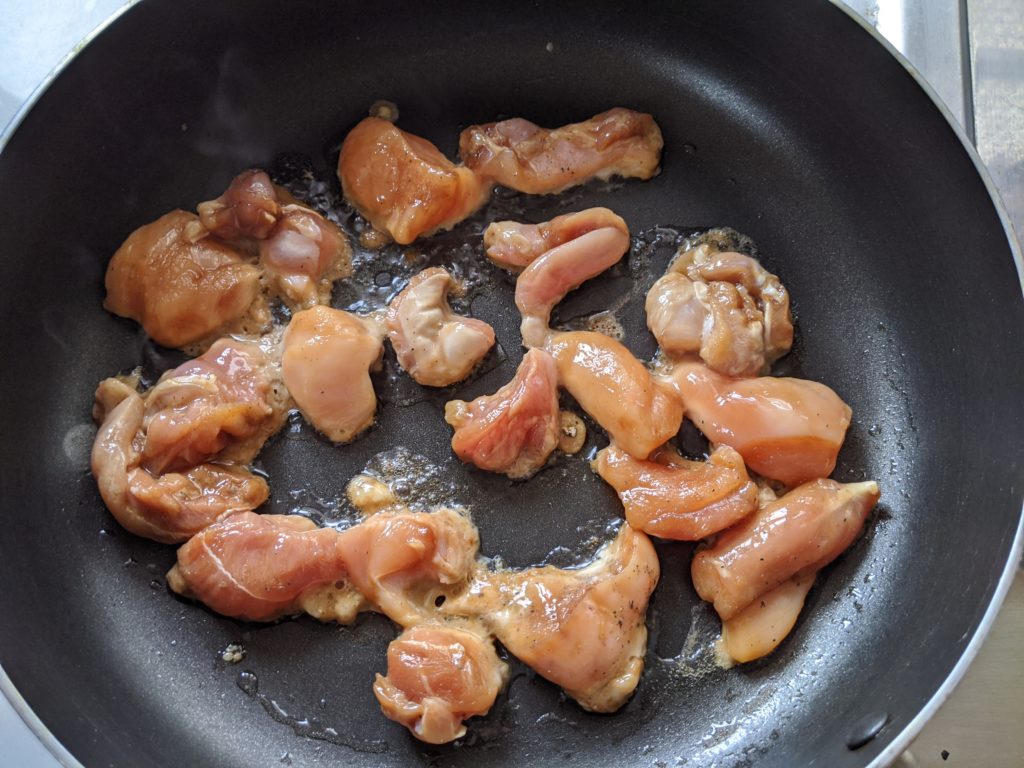 Once the chicken is cooked just leave it on a plate and get started with the rest of the recipe. In a pot add some oil and toss in the chillies, onion, garlic and capsicum.
Let it cook for a minute and add the sauces – 2 table spoons of soy sauce, the harrisa or chilli paste, the vinegar, the ketchup and stir well for about 30 seconds or a minute.
Add in all the cooked chicken and toss it well in the sauce to make sure it all combines and coats the chicken. If you like it dry then this is done you can garnish it with the spring onions but if you want a slight glossy gravy not a thick heave gravy just a semi dry dish then add in your corn flour slurry. The slurry is basically 1 1/2 tablespoons of corn flour mixed in a cup of water.
Keep stirring the chicken with the slurry mix on a slightly high flame and in minutes you'll see it start to thicken. Add your spring onions or even some chopped coriander for garnish and serve hot.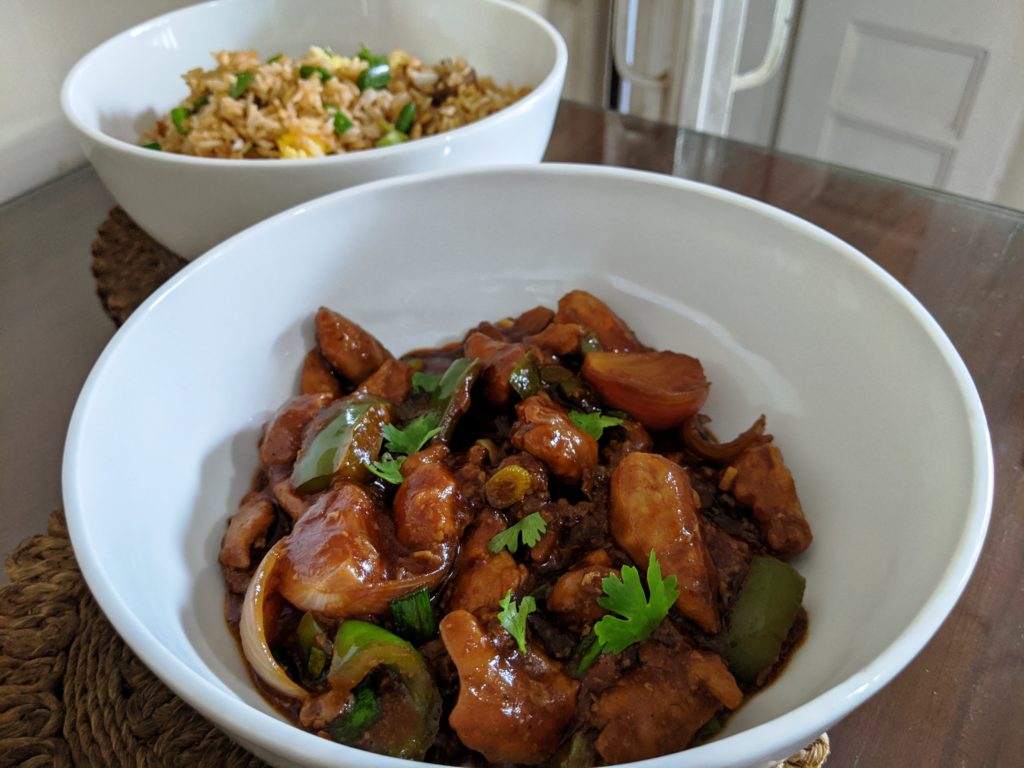 Can I Freeze it ?
I suppose you could but I don't think it makes sense to. It's an easy recipe that comes together quickly so it can be made fresh and tastes much better but if you wanted to freeze it you certainly can.
How To Serve Chilli Chicken
You can eat it as is though ideally it's eaten with a fried rice or noodle preparation of your choice. I like to eat it with a simple Chinese style fried rice but I've also eaten it with a simple quick fix no fuss hakka noodle so it's really upto you but some carb accompanying it is ideal.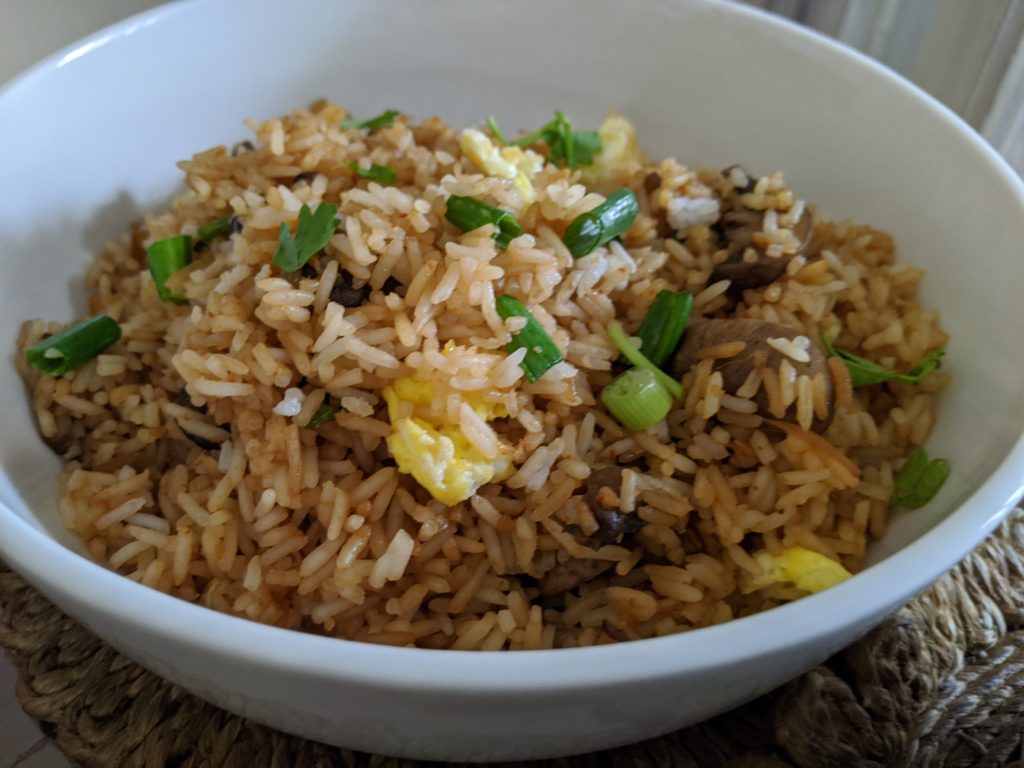 Difference Between Chilli Chicken and Chicken Manchurian
To me they seem pretty similar except maybe the amount of chillies used and a couple of ingredients that differ. A lot of Manchurian chicken tends to be more gravy driven and chilli chicken tends to be slightly drier but it's very similar and you could have a gravy chilli chicken or a dry chicken Manchurian there's no set rule really.