I have such lovely memories of eating a glorious feast or Lagan nu Patru at Parsi weddings that I can distinctly remember how certain dishes taste. They've been so impactful and memorable that I don't think I'll ever forget that flavour and I'm constantly seeking that every time I eat the same dish at a restaurant or elsewhere. We always say great Parsi food is found at someone's house not a restaurant but I do believe that some fabulous Parsi food is found at weddings or Navjotes where the dinner plays a very important role.
It's at these weddings and celebrations where I've learnt to embrace the ever so popular Salli Chicken or Salli Murghi. I think it was the salli that excited me and the fact that you can ask for more every time but that combination of that soft slightly sweet chicken so tender it falls right off the bone along with that crispy salty salli ( potato straws ) eaten with a thick warm rotli ( roti ).
I've tried to replicate that flavour and this is my version of the Parsi style Jerdaloo Salli Chicken.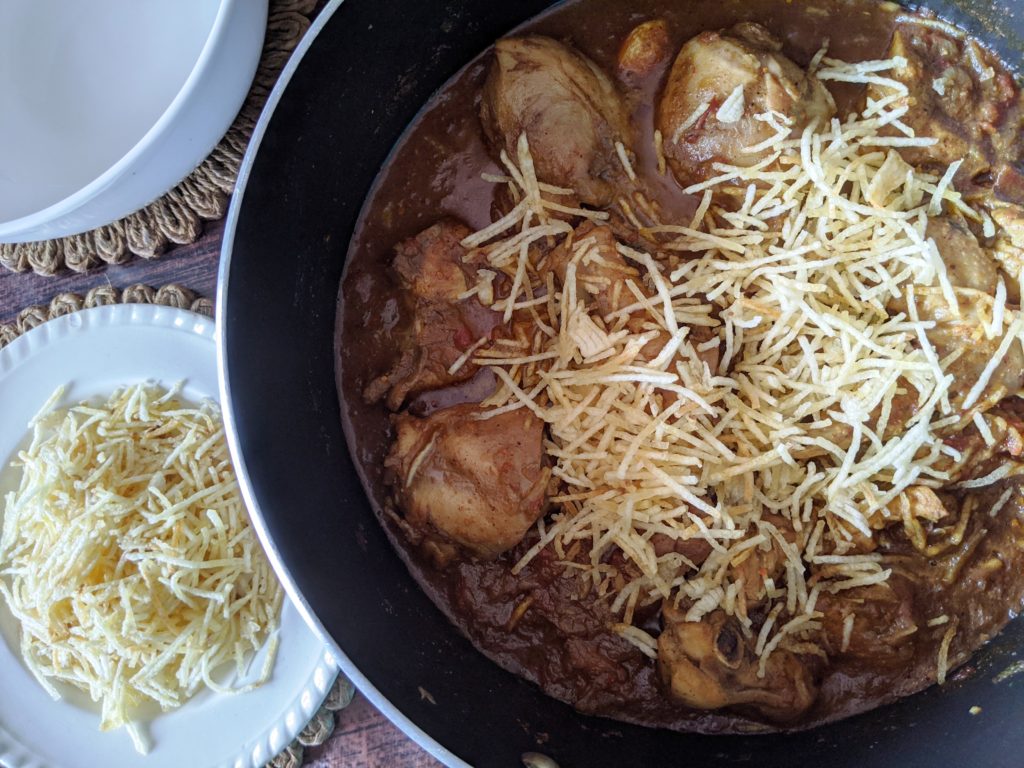 What Is Sali Chicken
This is a popular Parsi dish found on almost every celebratory menu. It consists of chicken cooked in spices and served with a garnish of crispy fried potato straws called Salli.
What Is Jerdaloo Salli Chicken
Just like the Salli Chicken, this version is quite common and often referred to as the original recipe. It consists of Jerdaloo or apricots that are cooked in the chicken as well to add a subtle sweetness. Sugar or jaggery is also added to sweeten the dish but the apricots give it a unique flavour.
Difference between Salli Murghi and Salli Boti
For the most part the cooking method and ingredients are similar if not the same but Murghi means chicken and the boti refers to mutton chunks. The flavour of course differs because of the meat used but both are equally delicious. You don't often find the apricots used to cook the sali boti.
Recipe
Ingredients
1 kg Chicken with bones ( You can use boneless but it isn't the same )
150 gram Salli
8-10 Apricots
2 Onions Chopped
2 Tomatoes Chopped
Ginger Garlic Paste
2 Chillies Chopped
A handful of chopped coriander
Salt
Pepper
1 teaspoon cumin powder
1 teaspoon coriander powder
1 teaspoon turmeric powder
1 teaspoon red chilli powder
1 teaspoon Parsi masala or Garam Masala
Parsi Vinegar
1 teaspoon sugar or Jaggery ( optional )
Method
Marinate your chicken in ginger garlic paste, chopped chillies, chopped coriander, salt and pepper and let it sit for a minimum of 15 – 20 minutes to marinate.
In your pan add oil ( can use ghee as well ) and toss in your chopped onions and cook till they start to brown slightly. This is a true test of patience but keep cooking till it starts to brown this will help with the base of the gravy.
Add in your marinated chicken and mix it as best as you can with the onions. Add in the tomatoes as well and try to mix it all together and let it cook. You could even add the tomatoes a little before the chicken either way it works.
Let the chicken and onion tomato mixture cook for about 7 minutes, you'll notice the chicken and tomatoes will release water that's perfectly fine it adds to the gravy.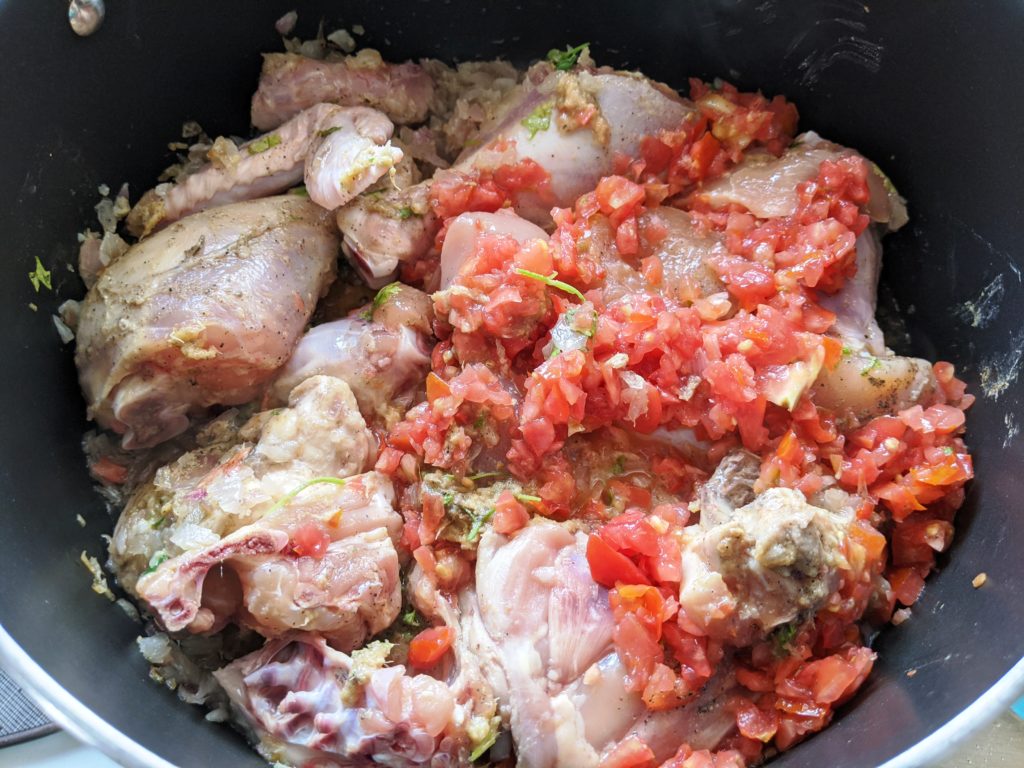 At this stage add in your spices, the coriander powder, cumin powder, red chilli powder, turmeric powder, garam masala or parsi masala and salt. Mix it all together. If you realise that the masala mix of powders is clumping up, add in about half a cup of water to make sure it all mixes well.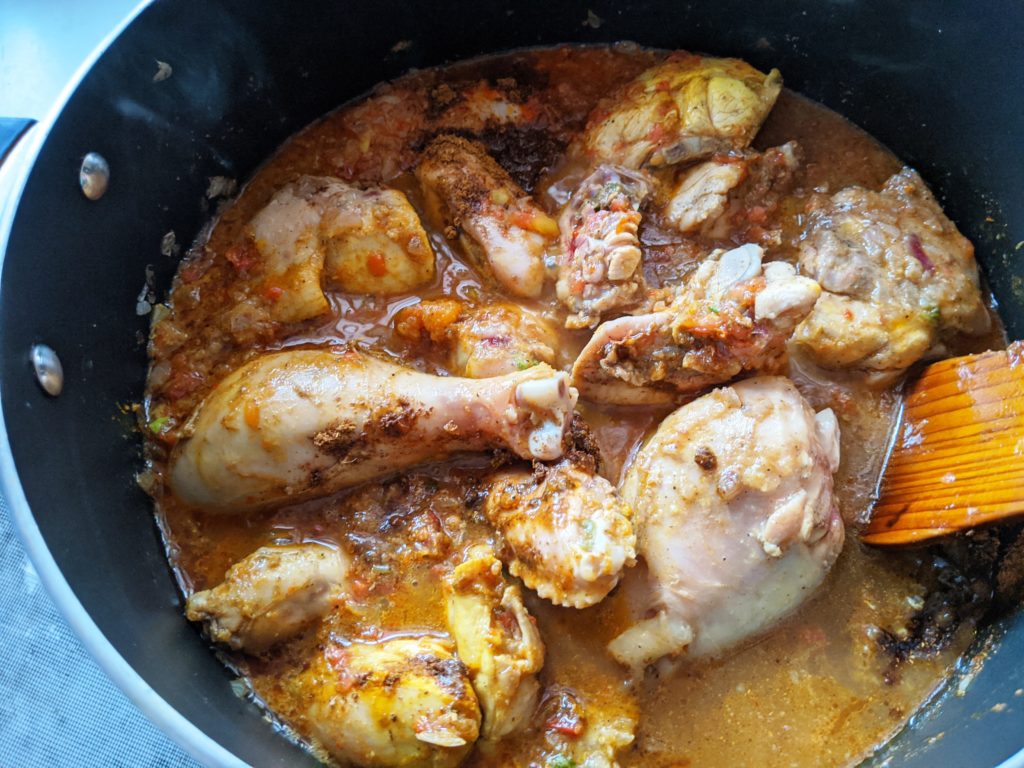 At this stage the chicken has been cooking for about ten minutes, it needs to cook for a total of 25 – 30 mins specially if you're using chicken with bone ) if it's boneless a total of 15 – 20 minutes is good ). Let the chicken cook in all these spices on a medium flame and you'll notice the gravy starting to form and thicken up. All the excess water will burn off and the gravy starts to form up nicely.
You can add in your apricots as well as a pinch of sugar and let the chicken continue to cook and the gravy thicken up. The sugar is optional you could use jaggery or skip both completely. Cover the chicken and let it continue to cook.
About 10 minutes or so before it's completely cooked add in the vinegar and mix it in.  You can also add in a handful of sali and mix it through. You don't have to but I like to as it helps bulk up the gravy a little.
Once it's all done ( cooked anywhere between 25 – 30 minutes ) serve hot with a side portion of salli to garnish and hot chapatis.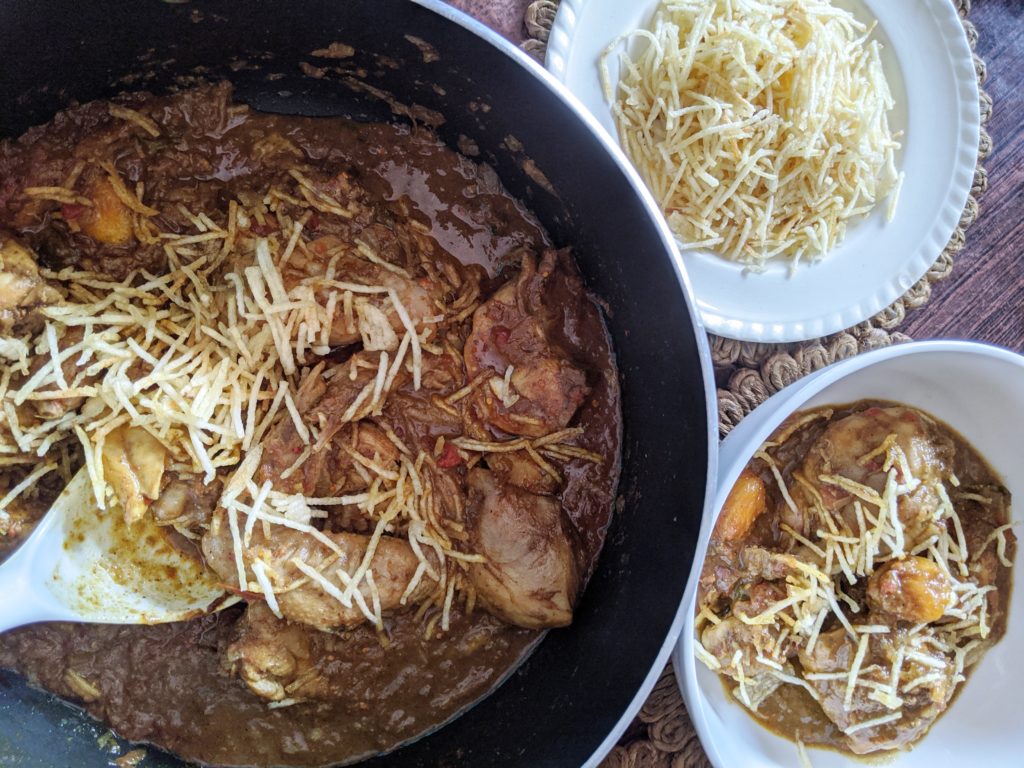 Can you Freeze Salli Chicken
Yes you can freeze this dish but without the sali. You just freeze the cooked chicken and gravy and then when you want to eat it, re heat and then garnish it with the salli.
How Do You Serve Salli Chicken
You can serve this with rice or a roti/chapati. Mostly eaten with bread or roti to help mop up the gravy but rice works as well. An extra portion of sali to garnish the chicken is always welcome.
Read About My Other Parsi Dishes Here –
I've got quite a few popular Parsi dishes which I'll link below. Each recipe has a step by step video as well to help you with the process. You can make some lovely Akuri salli per eedu or Prawn Patio. I'm working on a lot more so stay tuned 🙂
Akuri ( Parsi Scrambled Eggs ) https://www.thetinytaster.com/2020/04/10/parsi-akuri-recipe-parsi-style-scrambled-eggs/
Sali Per Edu https://www.thetinytaster.com/2020/05/06/sali-per-edu-recipe-eggs-on-potato-straws/
Prawn Patio https://www.thetinytaster.com/2020/05/19/parsi-prawn-patio-recipe/
About Parsi Cuisine
It's really an amalgamation of ingredients from our Persian roots and ones we've adopted from India. You'll notice the standard ingredients for Parsi recipes is Dhania Jeera and Adu Lasan ( Cumin Coriander Ginger and Garlic ) which are all typically used in Indian cooking. We use a lot of turmeric, garam masala and red chilli powder as well. The use of nuts and fruit along with our deep love for meat comes from our Persian ancestry. In this recipe in particular the use of apricots are attributed to our roots in ancient Persia and you'll notice even today in Iranian cooking they use a lot of dry fruits as well. We are also heavily influenced by the British and Portuguese that ruled India for a long time and so the distinct vinegar in all our recipes and a keen fondness for pies, bakes and other delights from English cooking.