This lockdown is slowly but surely making me miss travelling. I don't like to talk about it too much but some days I really wish I could just hop on a plane and travel to some of my favourite destinations. One of them is Sri Lanka. This little island paradise is so lovely and having been 3 or 4 times I can say with certainty I will never tire of visiting.
Apart from glorious beaches and the most beautiful elephant sanctuaries and Yala their stunning national park ( I'll link my video from Yala below ) Sri Lanka is home to some of the more flavourful cuisines. Lots of robust flavours, curries and ample seafood but what I've been missing is their simple humble street style dish – Kottu Roti. So this blogpost is dedicated to that popular Sri Lankan street food that I'm currently craving and now thanks to this recipe my cravings have been satisfied !
What Is Kottu Roti ?
It's a wonderful dish made of leftovers. They use leftover Godhamba roti, vegetables, chicken and curry to make one quick almost stir fry like dish. It's a very popular street food dish and you'll find several hawkers dishing it up. There's no fixed standard recipe but just a broad guide line of ingredients so the beauty is no two dishes will be exact but each one flavourful and tasty in their own way.
Is There A Vegetarian Kottu Roti ?
Traditionally the Kothu Roti is made with chicken or perhaps some seafood but you will also find vegetarian versions though maybe not as frequently as say the chicken one. It's a popular street food snack and made by hawkers on the street so don't be surprised if you don't see it on a restaurant menu
Recipe
Ingredients
5 Malabar Parotta / Paratha
2 Eggs
2 Cups of Leftover Chicken Curry
5 Green Chillies Chopped
1 Tablespoon Ginger Garlic Paste
1 Carrot chopped
1/2 Cup Shredded Cabbage
1 Onion Chopped
10 -12 Curry Leaves
2 Tablespoon Coconut Oil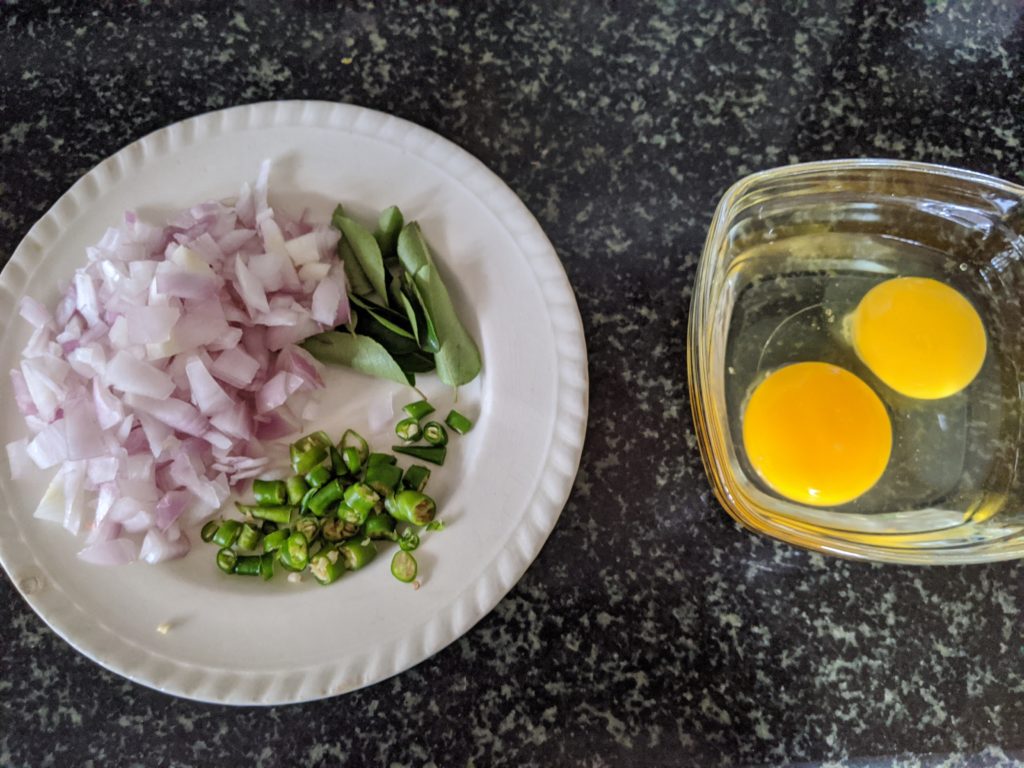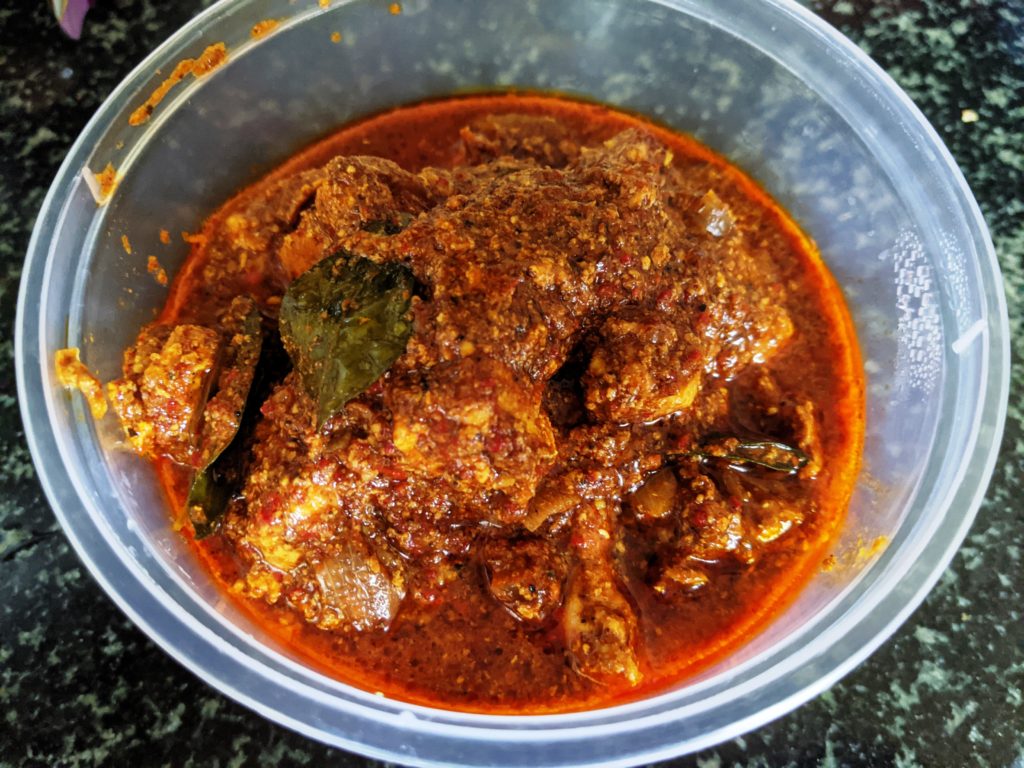 Method
If you don't have any leftover rotis, use the frozen ones. Just cook them in a hot pan with a little oil or as per packet instructions. Cut the rotis into strips or small manageable pieces.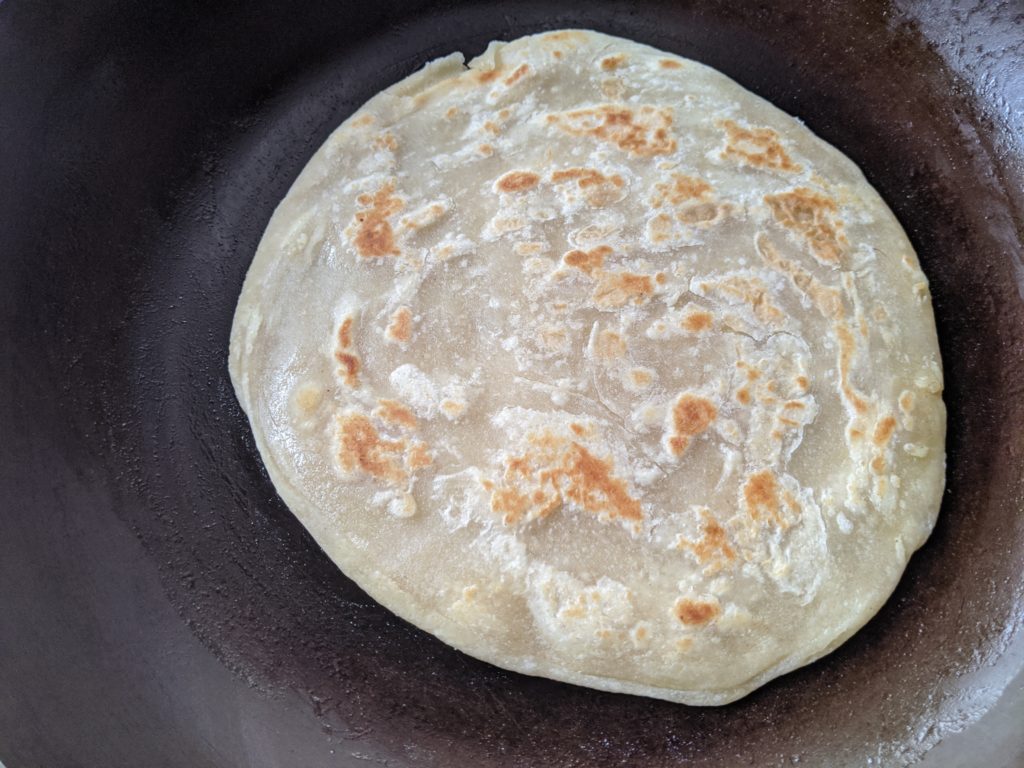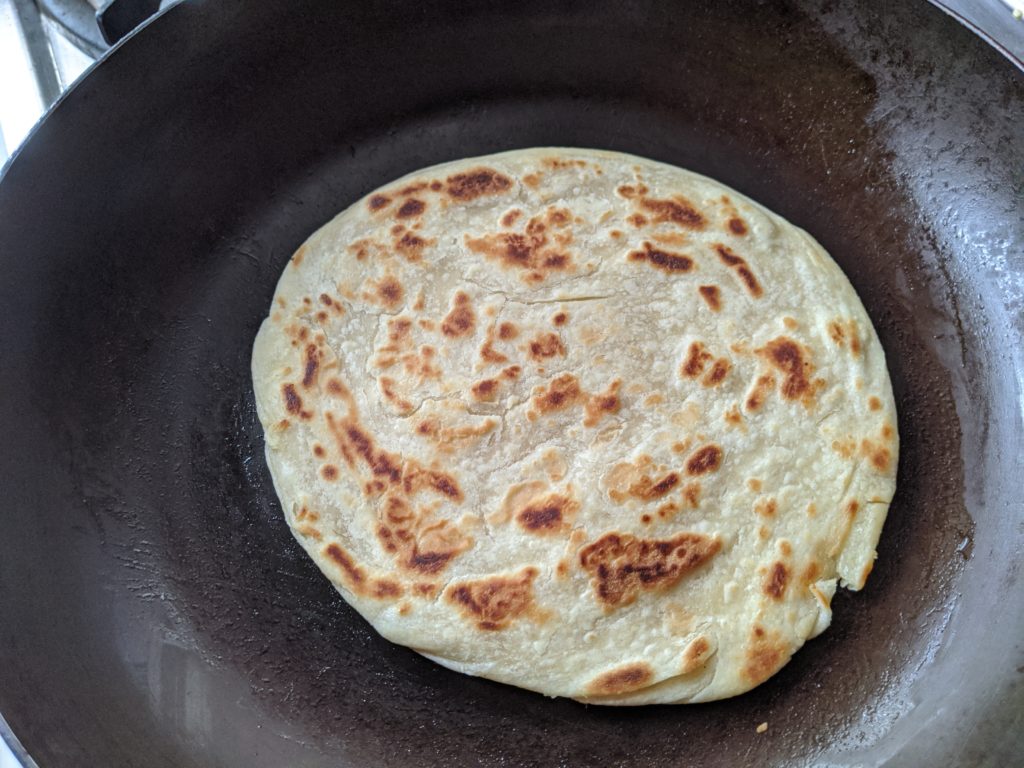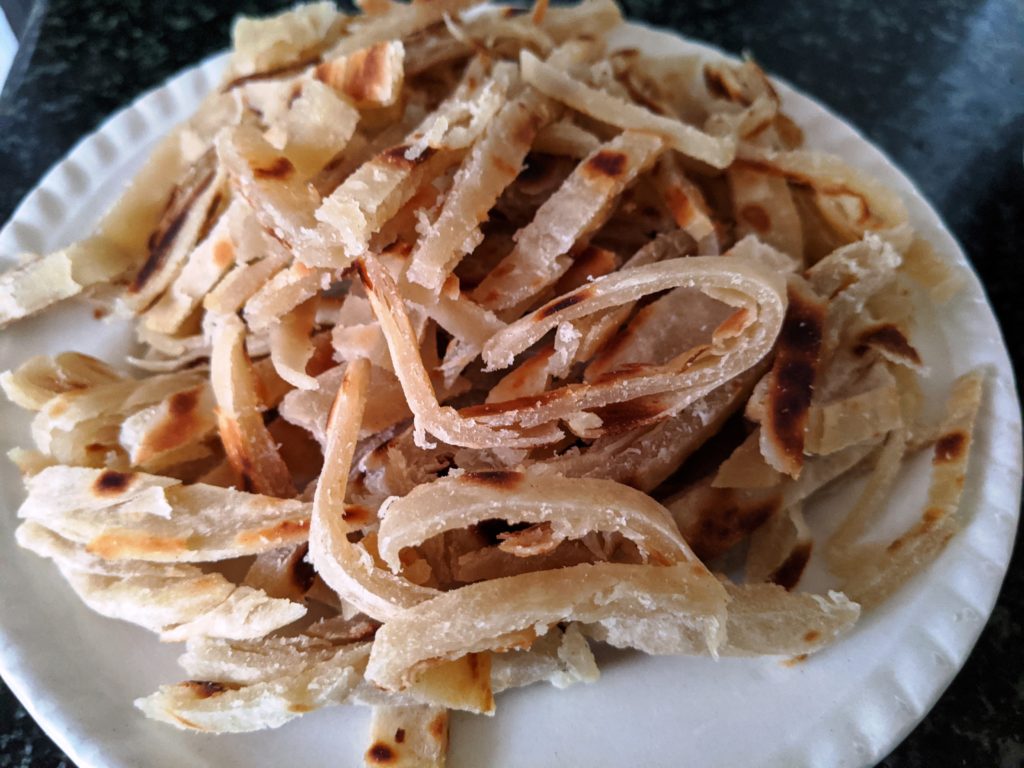 In a wok or large pan add the coconut oil and to that add the curry leaves, chillies and ginger garlic paste. Cook for a minute and then add the onions and cook till they turn colour. Add the eggs and scramble them into the mixture.
Next add the chopped carrots and cook for a minute or two and then add the cabbage. Cook everything for a couple of minutes till the vegetables soften. Keep stirring constantly this all comes together quickly.
Add the chicken pieces from the curry NOT the gravy. Only the pieces of chicken and mix it well into the vegetables. If you're using a vegetable curry then similarly add only the vegetable bits no curry or gravy at this point.
Once it's all mixed add the bits of cut roti. If it's a lot add it bit by bit making sure it all mixes together with the chicken and vegetables. Keep tossing it about.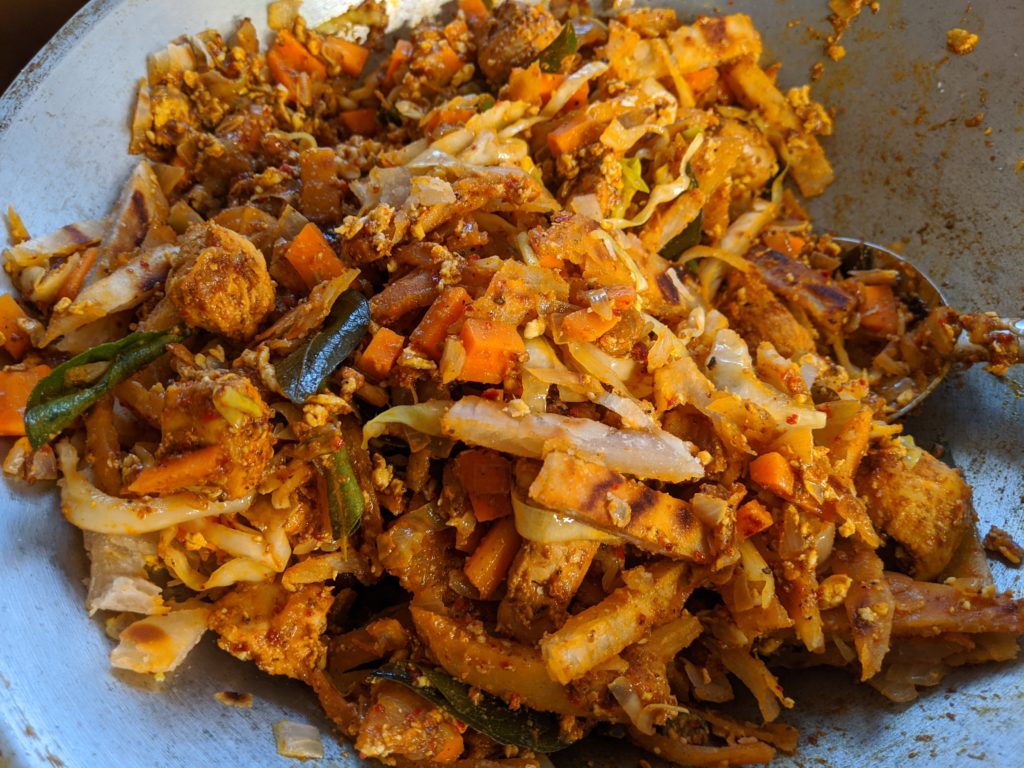 After about 3-4 minutes when you can see the roti has mixed in well add only the gravy or curry no additional water and mix well. The gravy or any liquid will make it soggy so you just add this curry towards the end and after a quick toss through serve it pipping hot.
I didn't add any garnish but you could with some coriander leaves.
Important Tips While Making Sri Lankan Kottu Roti
1. It's not always easy to get the Godhamba roti that is typically used in Sri Lanka. If you do that's fantastic please use it but otherwise any malabar parotta is the closest substitute. You can also do this with leftover paratha or even normal roti.
2. The egg is a crucial element to the dish. It helps bind and bulk it up. You can omit this if you don't eat eggs.
3. Please use any vegetables you like. I've used carrot and cabbage but bell peppers, capsicum even some boiled potatoes will work.
4. The curry is the most important element flavour wise so I would say pick a curry that you personally enjoy. I used leftovers from my Chicken Ghee Roast. You can use any curry or gravy dish with meat or some protein. If you're making it vegetarian no worries any vegetable curry you like will work even some paneer but the gravy must be flavourful.
5. This is like a Sri Lankan stir fry it uses all leftovers and needs to be constantly tossed and cooked and won't take more than 15 minutes to make.
How To Serve?
On the streets of Sri Lanka it's served straight from their woks to your plate I recommend the same. You can place it in a serving dish but please eat it hot.
Can I freeze It ?
No I don't recommend freezing it at all it doesn't taste good if it's not eaten fresh and hot. The roti will get soggy and clumpy and it just won't be the same.
This is the video for my Chicken Ghee Roast recipe. It's become a household hit and we make it often. I keep some aside now to make kottu roti the next day 🙂
This is a video from my last trip to Yala the gorgeous jungle in Sri Lanka