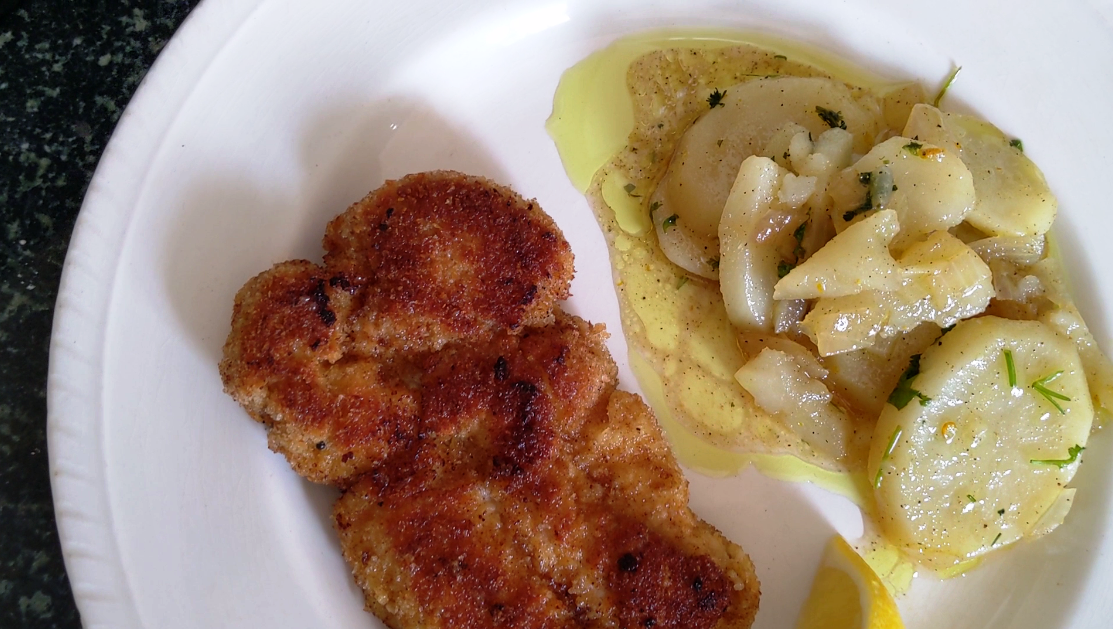 I have the best memories of my grandmother cooking food while growing up and I remember her making a schnitzel. I hadn't eaten it for years after that and only when I went on holiday to Austria and Germany recently was I reaccquainted with this lovely dish. It's actually really easy to make and accompanied with the most gorgeous potato side.
What Is a Schnitzel?
It's a traditional dish of veal, pork or chicken that's coated in breadcrumbs and fried. It's usually served with a potato side dish almost like a salad, a wedge of lemon and sometimes a few greens but the greens honestly are sparse. It's an Austrian dish and also found in parts of Germany specially Bavaria which is really on the boarder.
What Is A Viennese Schnitzel ?
This is a dish often found in Vienna but also in other parts of Austria where the choice of protein is Veal. A pork or chicken schnitzel is not an authentic Viennese schnitzel.
Recipe
Ingredients
FOR THE SCHNITZEL
500 grams Boneless Chicken Breast
3 Eggs
2 – 3 Cups Bread Crumbs
2-3 Cups Flour ( any will do all purpose even chickpea flour works )
Oil to fry
Butter to fry
Salt
Pepper
POTATO SIDE
4- 5 Potatoes
Chopped Parsley/Corriander
1 Large Onion Chopped
1 Cup of Chicken Stock
1 Tablespoon Vinegar ( any will do )
1 Teaspoon Mustard
Salt
Pepper
Oil To Saute
Method
For The Schnitzel
Slice the chicken breast into two thin halves. Ideally you would take a rolling pin or meat mallet and beat the pieces so they flatten and thin out. A schnitzel needs to be really thin slices of chicken or veal.
Season both sides of the chicken with salt and pepper. Dip the chicken first into a plate of flour, then into the beaten eggs and then into the breadcrumbs so the crumbs coat the chicken completely. The flour helps the egg batter to stick onto the chicken and the egg helps the breadcrumbs stay on.
Add a shot of oil and a teaspoon of butter and shallow fry the chicken for about 2 – 3 minutes on each side. Serve hot along with the potato salad.
For The Potato Side
Peel the potatoes and slice them into two inch thick slices. Boil them in salted water for about 15 – 18 minutes, drain once done and add it to your serving dish. Add some chopped parsley or coriander just to add some specks of green.
In a pan add a shot of oil and the chopped onions, saute till the onions soften and turn colour. Then add the vinegar and chicken stock ( can use vegetable stock if you want to keep the potatoes strictly vegetarian ) cook it for about 3 – 4 minutes.
Add the mustard, salt and pepper and mix it all well. Let the entire mixture come to boil, cook it for about 5 minutes and then pour this entire broth mixture into the cooked potatoes.
Mix it gently so as to coat the potatoes in the broth onion mixture but gently so you don't break the potatoes since they boiled and soft. Serve hot along with the schnitzel.
How To Serve The Schnitzel?
Traditionally it's served fresh and hot off the pan. The accompaniment is the potato side dish and sometimes perhaps a few salad greens or some cut cucumber and tomatoes. You can also skip the traditional potatoes in favour of french fries or even add an additional side salad.
Can I Freeze It ?
No you can't freeze the schnitzel, it will taste like rubber. This dish is best eaten freshly made and even reheating it might work as a leftover option but it certainly isn't the same as eating it just as it's cooked.
My Other Austria Vlogs