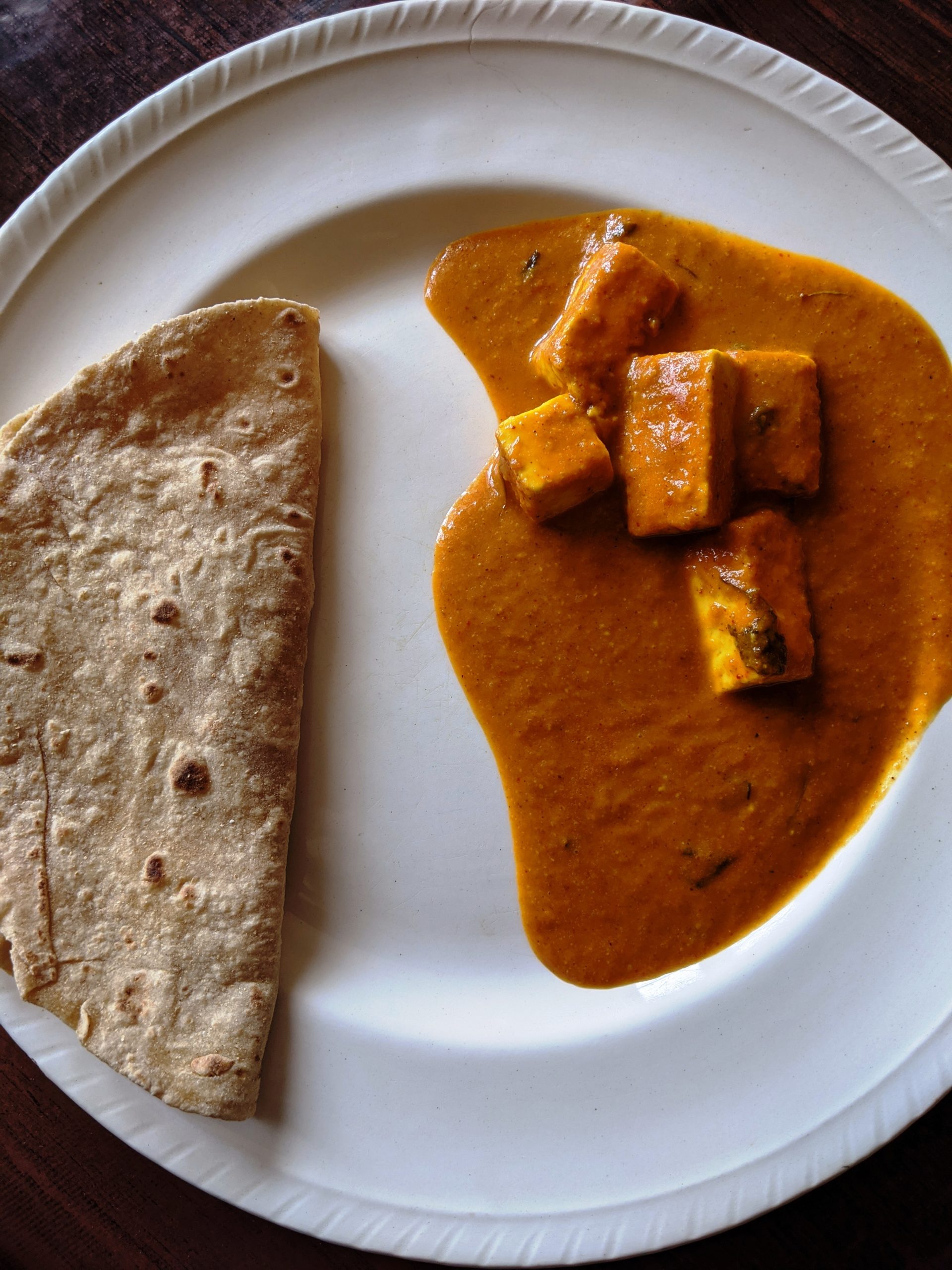 I must be completely honest and admit that Paneer is not one of my favourite things to eat. In fact while growing up I actually detested it and refused to eat it in any form. It's funny how your taste buds and mind set changes as you grow up. I started incorporating more paneer in my diet from time to time as a source of protein to take a break from animal protein and I realised my animosity towards paneer was actually misguided. I thought it's the ingredient that displeased me but it was actually the way people would cook it. Thick rubbery and lacking in flavour. So I'm very proud of this Paneer Makhani because it's actually a dish I enjoy both cooking and eating.
What Is Paneer Makhani ?
It's a north Indian dish similar to Butter Chicken where the gravy is a creamy rich tomato onion base cooked in oodles of butter ( makhani ) and chunks of paneer ( cottage cheese ). To be honest the amount of butter and sometimes cream that's added is really debatable. I don't find the need for excess but that of course is a personal choice. It's best eaten with thich roti or naan and makes for a delicious vegetarian meal.
Recipe
Ingredients
2 Large Onions
3 Large Tomatoes
50 grams Cashew nuts
200 Grams Firm Paneer cut into cubes.
2 -3 Tablespoons of Butter ( as much or as little as you like really )
1 Tablespoon Mustard Oil
2 Teaspoon Red Chilli Powder
2 Teaspoon Turmeric Powder
1 Teaspoon Coriander Powder
1 Teaspoon Cinnamon Powder ( can use a cinnamon stick instead )
1 Teaspoon Cardamom Powder ( can use the whole pods insted )
1-2 Teaspoon Garam Masala ( You can use whole cloves )
1 Teaspoon of Kasuri Methi
Salt to taste
Method
1. Cut the Paneer into cubes and set it aside.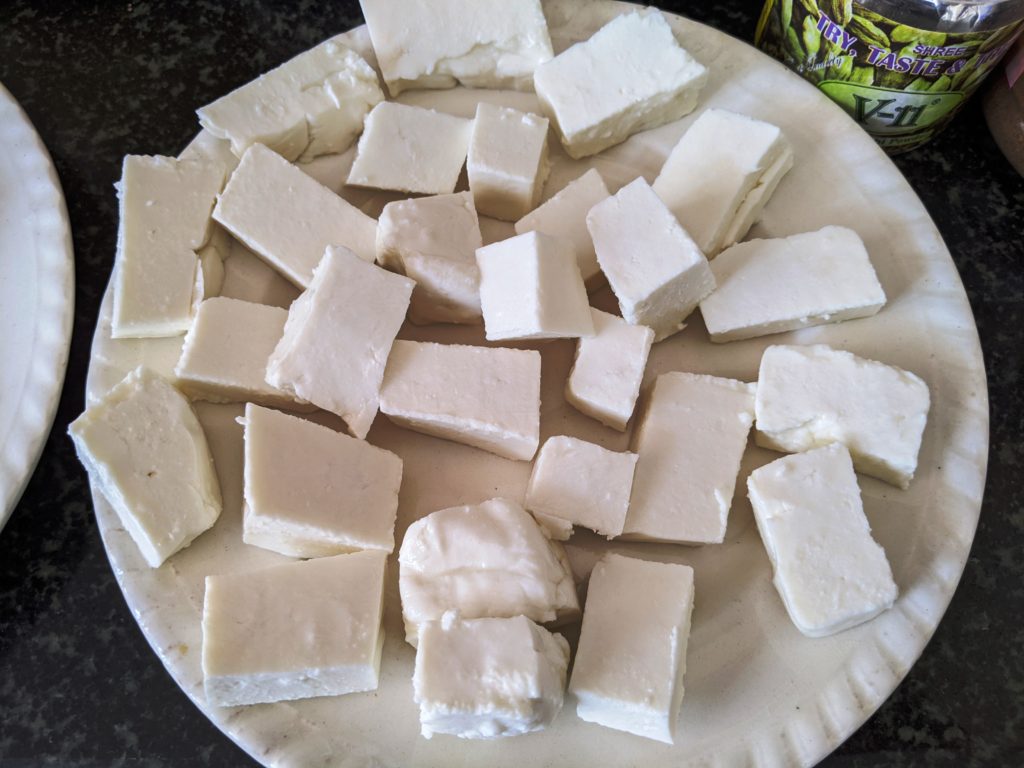 2. In a pan or pot add the mustard oil and some butter along with the cut onions and let it cook for a minute. Add the cashew nuts and keep cooking till the onions sweat a little.
3. Add the tomatoes and mix it all together. Add in all the spices one by one. I prefer to use powdered spices in everything so I've also used cardamom and cinnamon powder. Add the turmeric, coriander, red chilli, garam masala, cinnamon and cardamom powders along with a little salt and mix well.
4. Add a cup or so of water to ensure everything mixes and none of the masala stays raw. Cook this covered for about 10 – 15 mins to ensure the entire mixtures cooks and the onions and tomates soften.
5. Once cooked, ensure that the mixture cools down completely and when it comes to room temperature, blend it into a thick paste in your mixer grinder. Pls note if you have used any WHOLE SPICES pls remove them as they won't grind well.
6. In a pot ( I used the same one without cleaning ) Add more butter and strain the entire mixture through a sieve. The idea of doing this is so that you get a smooth gravy and not one with chunky bits. If the paste gets thick in some parts just add more water and keep straining till you have all the gravy.
7. I add a pinch of red chilli powder for colour and garam masala for extra taste at this stage along with salt if it needs more. Mix well and add in your pieces of paneer. Gently stir to mix it all together.
8. Add some crushed Kasuri Methi and in some cases folks like to add extra butter or cream, you could do that here but I don't think it needs it.
9. For extra flavour and to get that distinct smokey flavour that you'd get from a tandoor or a butter chicken you can heat a piece of coal, put it in a bowl, add a drop of oil and once the coal starts smoking place it in the pot of paneer and cover it. It's just for some added smoked flavour but it's not manditory.
10. Serve hot with paratha, roti or naan and enjoy !
How To Serve Paneer Makhani
It's usually eaten with naa, roti or even paratha. If you'd like you can also enjoy it with bread or white rice.
How To Store Paneer Makhani
You can freeze this up to a week but it will also stay well in the refridgerator. Just re heat and it tastes wonderful. I wouldn't however recommend freezing or re heating any of the roti, naan, paratha or chapatis.
Here's a link to my Butter Chicken Recipe