I was always a fussy eater and while growing up I gave my folks a tough time. Perhaps I've always had a disconcerting palette but I knew and till this day know instantly what I'll enjoy and what I won't. There are a few dishes that feel like a warm comforting hug and this Parsi style Kheema or Kheemo as we like to call it, is one of them.
What Is Parsi Kheemo
The Parsi community is known for their love of meat and this dish is the perfect example. You won't always find Kheemo on an elaborate menu, it's considering regular home fare but it's just delicious and relished by all. It's a dish that's make traditionally from minced meat, mutton (goat) meat but of course you can make this with Chicken or Lamb mince as well. It's flavoured with difference spices and is the perfect dish to eat for breakfast or any meal really. Kheema means minced meat, Kheemo is what we Parsi's like to call it and Parsi Kheemo is really our version of minced meat which is slightly different from the Kheema you might find elsewhere, but very similar.
What Is The Difference Between Parsi Kheema and Regular Kheema Dishes
The truth is there's not much of a difference. We Parsis adore potatoes so we like to add that in everything so any Parsi kheema will always have a few potato pieces in it.
The spices and ingredients are mostly the same but the texture is slightly different. The main difference being the kheema you find at an Irani Cafe or in Samosas is drier. All the moisture and water is burnt off leaving you with a dry mix where as we Parsis like to have our kheema a little wet so there's a small gravy. Not every other Kheema is dry you do of course find kheema preparations that are also a little watery but often not.
PARSI KHEEMA RECIPE
This recipe serves 4 people comfortably, if you're cooking for two you can half the quantities.
Ingredients
1 kilo of Mutton Mince
1 large onion finely chopped
2 small tomatoes finely chopped
2-4 small potatoes cut into pieces and boiled
1/2 cup of frozen green peas
200 grams tomato puree ( one tetra pack )
4 small chillies finely chopped OPTIONAL – I haven't used these in my recipe but you could for an extra kick.
1 tablespoon ginger garlic paste
A bunch of fresh mint/phudina finely chopped ( 1/4 cup or so )
A bunch of coriander finely chopped (1/4 cup or so )
1 1/2 table spoon cooking vegetable oil
1 teaspoon turmeric powder
1 teaspoon red chilli powder
1 teaspoon garam masala
1/2 teaspoon cinammon powder
1/2 teaspoon cardamom powder
1 teaspoon cumin powder
1 teaspoon coriander powder
Salt to taste ( approx 1 – 1/2 teaspoon )
Method
1. First marinate the mince with salt, ginger garlic paste and red chilli powder. Mix it all well and let it rest for 30 minutes.
2. While the meat is resting, cut your potatoes into small pieces and boil them for 10 minutes. Drain the water and let them rest.
3. In a wide pot, add in some oil and your chopped onions and cook till they turn translucent. Add the chopped tomatoes and cook till the moisture evaporates. Should take about 7 minutes.
4. Add the mutton mince and mix it well with the tomato onion mixtures. Cook on a high flame for about 2 – 3 minutes. It will release water that's ok.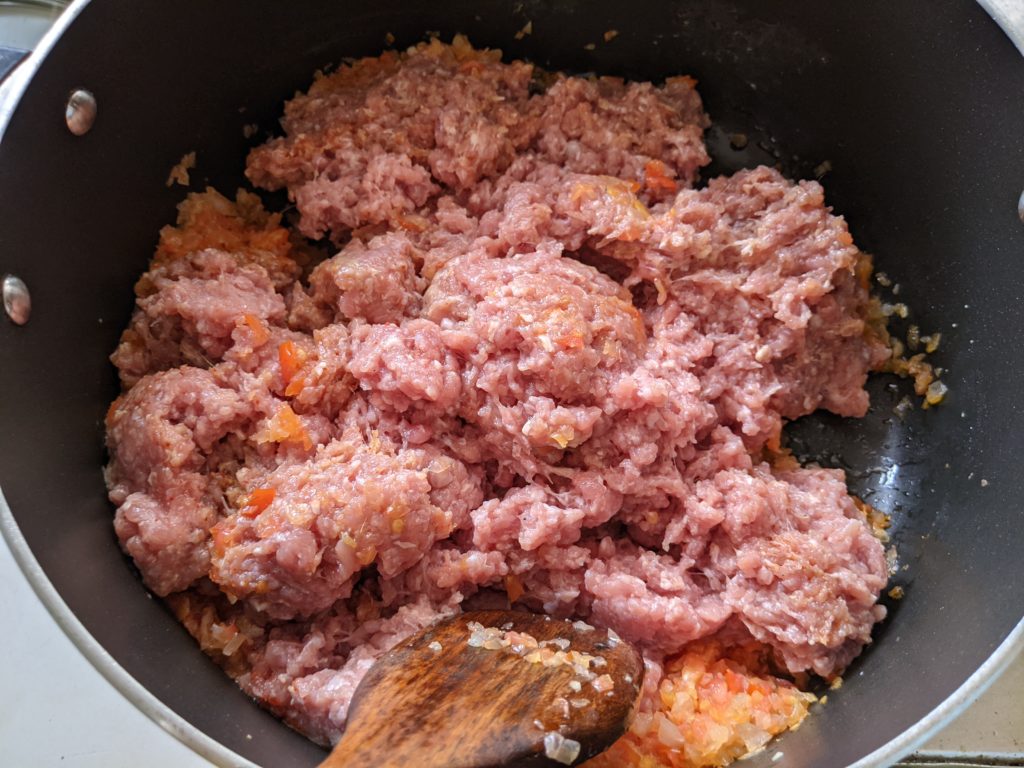 5. Add all the spices – garam masala,cumin, coriander, turmeric, cinammon and cardamom powder and mix it all into the meat.
6. Add in the boiled potatoes and peas, mix well. Add about half a cup or a cup of water and cover the pot and let the mixture cook for a total of 30 minutes.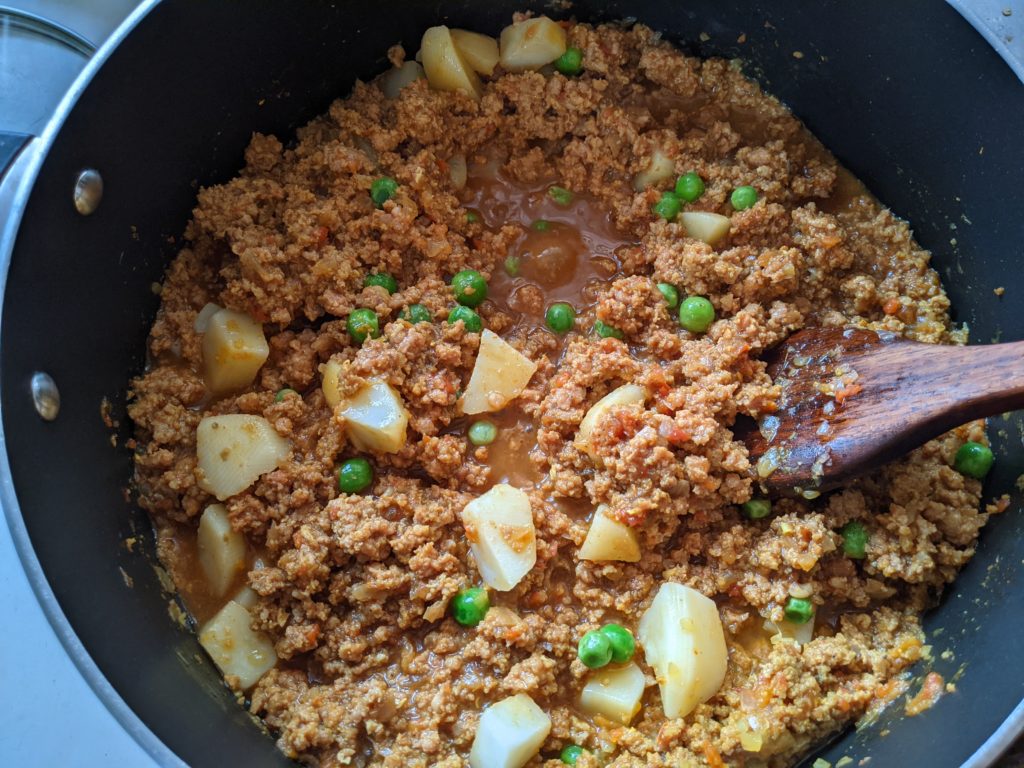 7. After it's cooked, add in the chopped coriander and mint, mix well and serve hot with bread or chapati.
Tips To Make A Good Kheema
The consistency depends entirely on you. So add as much or as little water as you like. If you feel there's too much water just cook it a little longer you won't over cook the meat.
I prefer to use frozen peas for convenience you can use regular. The amount of potatoes and peas is entirely upto you depending on how much you enjoy eating them.
Can I Freeze The Kheema For Later
I don't recommend freezing it through you absoulutely could. It will stay in the fridge upto 5 days.
How To Serve Kheema
You can eat this anyway you like but traditionally Parsi Kheema is served with hot roti or chapti or then perhaps warm bread rolls or laddi pav. I enjoy eating this with some nice steaming white rice and mora ( plain ) dal.
Bon Appetite!