I'm always trying to source recipes that are easy to cook, require minimal amount of prep and that don't need to be deep fried. These are my main requirements but lately I'm trying to find low carb and slightly healthier recipes and this Chicken Tikka recipe works wonders and checks all the boxes!
What Is Chicken Tikka
Tikka actually means a piece so Chicken Tikka is a dish that is made of chicken pieces which are perfectly spiced, skewered and traditionally cooked in a clay oven or tandoor. The coal adds a smokey flavour and the tandoor adds its own distinct flavour and taste to the chicken. Of course just as this recipe says you can make it at home as well in the oven or on the stove top and it turns out just as lovely.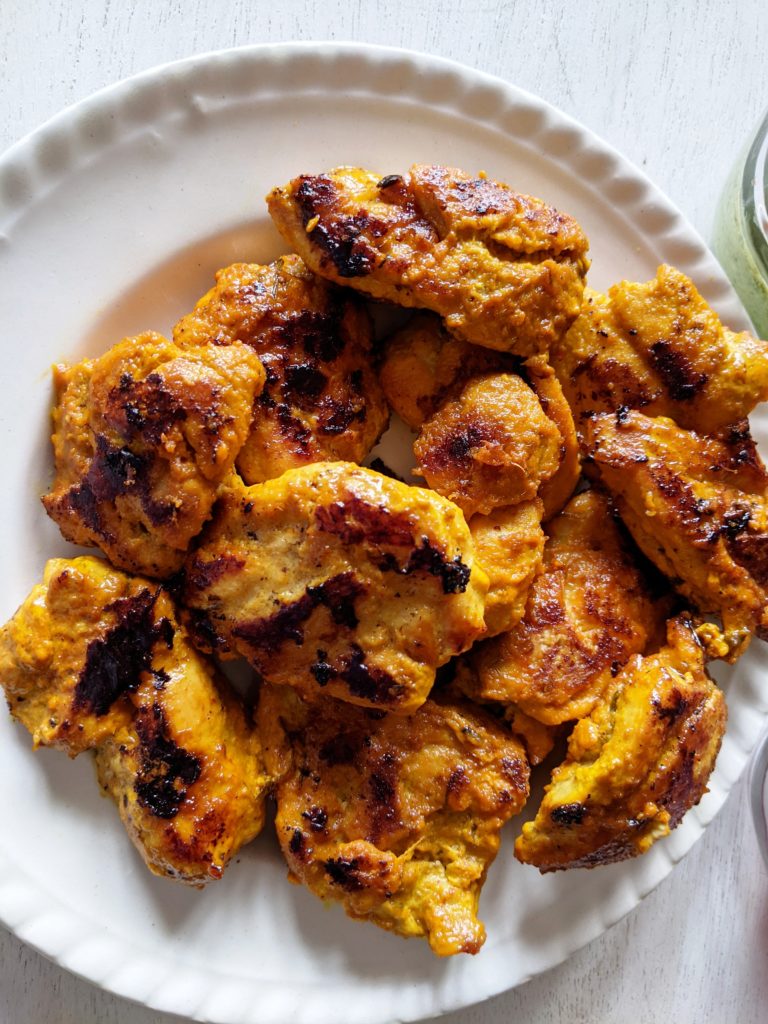 Types Of Tikkas
You can have chicken tikka or perhaps malai or reshmi tikkas which are also made with chicken but white in colour and devoid of spice. You can also have mutton or goat meat based tikkas or kebabs like a Sheekh kebab, tangdi kebab, and many many more.
Recipe
Ingredients
1 Kg Boneless Chicken Thighs cut into pieces
1 tablespoon Mustard Oil
400 grams Dahi (hung curd) or Greek Yogurt
½ teaspoon of red food colour powder or if it's liquid then just a drop of it.
1 -2 teaspoon Red Chilli Powder
1 teaspoon Turmeric Powder
1-2 Teaspoon Cumin Powder
1-2 Teaspoon Coriannder Powder
1 Teaspoon Garam masala
2-3 Tablespoons Dry Kasuri Methi
2 tablespoons Ginger Garlic Paste
Ghee/Butter/Oil to cook the chicken
Method
Hang the curd in a muslin cloth and drain out all the excess water from the dahi and set it aside. If you're using Greek yogurt then you don't need to do this. You basically need thick yogurt minus any water.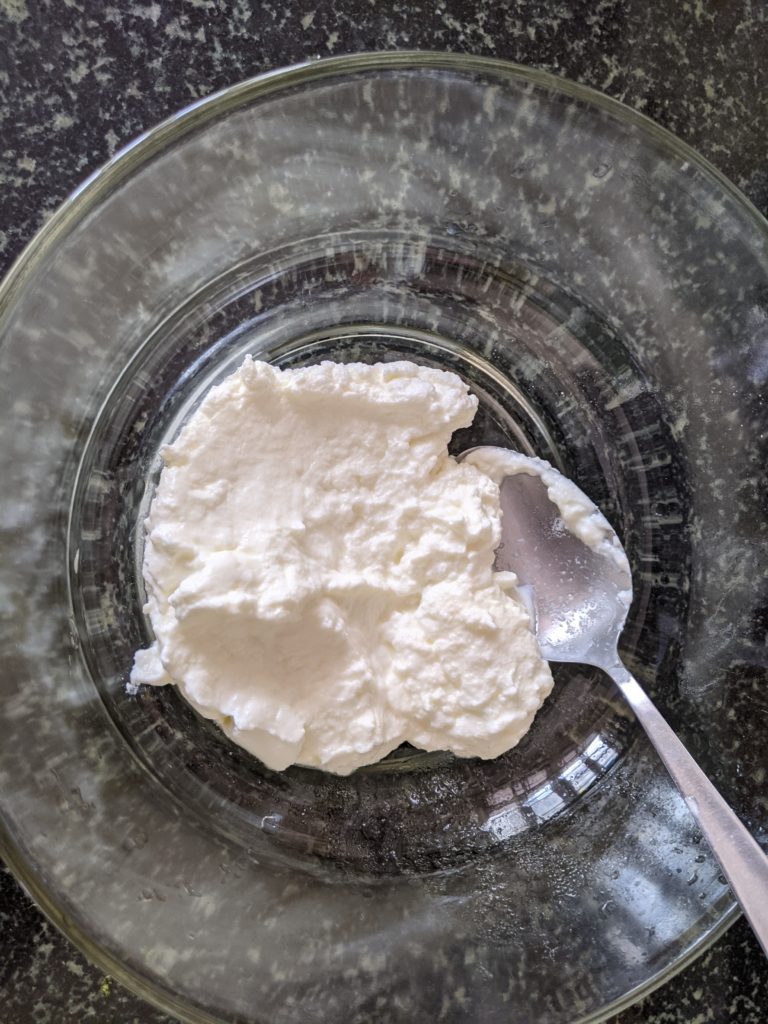 I've used boneless thigh pieces you can use boneless breast as well but the thighs have more fat and tend to be slightly juicier. Cut the chicken into manageable pieces, not to big not too thin. You can cut it into any size that works for you really. In a bowl, add the chicken (drain all the water out) and the salt, ginger garlic paste and red chilli powder. Mix it all together and let it marinate for half an hour.
In another bowl, add the hung curd or Greek yogurt, add the mustard oil, turmeric powder, cumin coriander and red chilli powder along with the garam masala and kasuri methi. Mix it well. Add in the food colour. This is really optional, usually just Kashmiri red chilli powder gives it that reddish orange tinge that you see in restaurants but if you want more of the colour add food grade red colour. Mix it all together and add in your marinated chicken.
Let this chicken mixture in dahi marinate for another 30 – 45 minutes. You can ideally leave this overnight in the fridge and cook it the next day. An easier short cut is to avoid that first marination and just add everything together and one go and marinate it together. In my opinion it works just as well. So if you're pressed for time you can do that.
Once the chicken has marinated for 45 minutes, heat your non stick pan and brush either ghee, oil or butter to grease the pan. I've used ghee for this recipe. Add your chicken pieces and cook on one side for 7- 8 min and then flip over to the other side and cook again for another 7-8 minutes. Keep cooking the chicken in batches till it's all done. Each batch for a total of 13-15 mins.
Serve hot with sliced onion, pickled onions and or green chutney.
How To Serve Chicken Tikka?
You can serve it as it is or with an accompaniment of green chutney or raw onions. I like to eat it with pickled onions but you could also add it to a roti and enjoy it like a wrap.
Can I Freeze Chicken Tikka or Pre-Prep The Chicken?
It doesn't need to be frozen. You can store leftovers in the fridge but it's best eaten fresh. You can however marinate the chicken before hand and refrigerate it over night and then cook the tikkas when you're about to eat.