The monsoon season brings about all sorts of cravings. Mostly for fried food and while the entire city is lusting over bhajiyas and pakodas of all kinds, I just couldn't resist these Salt and Pepper Prawns.
What Are Salt & Pepper Prawns ?
This is a popular appetizer at almost every Chinese restaurant. It's fried prawns, sometimes batter fried prawns tossed in a simple but delicious salt and pepper mix. It's easy, fuss free and addictively tasty.
Recipe
Ingredients –
500 Grams of Prawns – cleaned & deveined
1 Teaspoon Pepper Corns
1/2 Teaspoon Granulated Salt/ Rock Salt
1 Tablespoon of Fish Sauce or Light Soya Sauce
5-6 Tablespoons of Flour – Regular or Corn Flour
3-4 Red Chillies
3 Spring Onions
6-7 Garlic pieces chopped
4-5 Pieces of Ginger chopped
Oil to fry
Method –
In your mortar and pestle add the salt and pepper and pound it down to a thin powder. You can absolutely use powdered salt and pepper but the texture won't be the same. Grind and pound it down till all the pepper corn and salt granules break down into a finer powder. Set aside.
Marinate your prawns in the fish sauce or if you prefer light soya sauce. Dip each prawn in the flour and ensure its coated well. You can essentially use any flour but I'd recommend corn flour it helps add another layer of crispiness. You can do half n half or even use some rice flour, I've used only corn flour you can use whatever you have.
Dip the flour coated prawns in oil and fry them for about 5-6 minutes. Do it in batches, till all the prawns are done. Make sure the flame is not too high and set on medium and the oil isn't too hot or they will start to burn. Once they're all fried, set aside on a paper towel to drain the excess oil.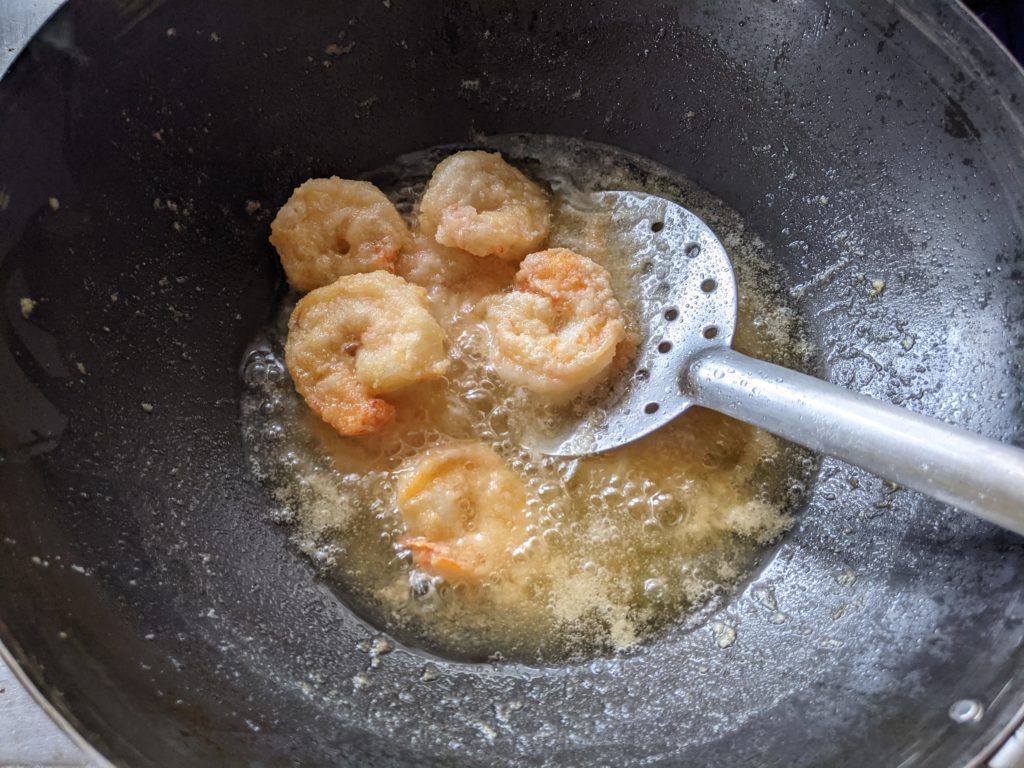 In another pan, add some oil and toss in your chopped spring onion whites, the chopped garlic, ginger and green chillies. Cook it for about a minute or two.
Add the fried prawns and mix well. Sprinkle a teaspoon or maybe two of the salt and pepper mixture and toss it all together. Add in some spring onion greens and serve hot.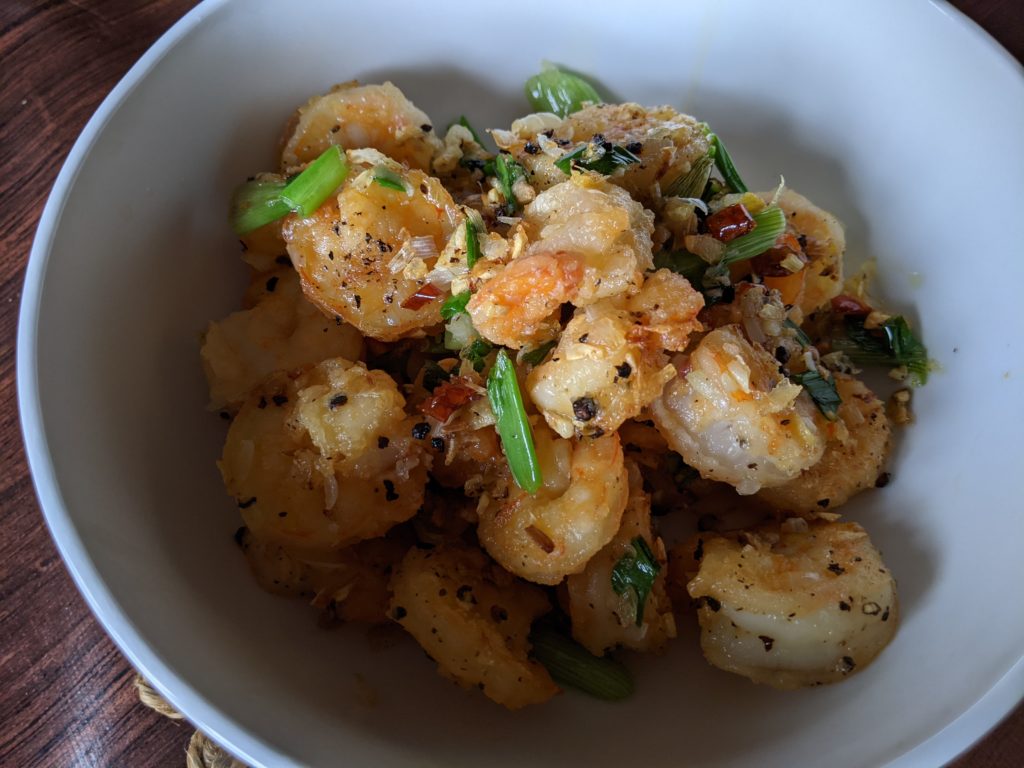 Can I Freeze Salt & Pepper Prawns ?
No I would not recommend freezing this dish or even refrigerating it. Somehow it doesn't make for the best leftovers, I don't recommend anything that's been fried to stay in the fridge. It's best eaten when it's freshly cooked.
How To Serve Salt & Pepper Prawns ?
There's no real way to serve it. This is an appetizer so can be paired with any Chinese dish. Some recipes like to add diced bell peppers to it as well but it's not essential. You can enjoy these prawns with some chilli chicken or perhaps a fried rice. You'll find both these recipes on the website and my YouTube channel.