My family relishes a good curry. We love all types of curry but my favourite is always any type of prawn or shrimp curry and my recipe ( shared below ) of my Goan Prawn Curry is a staple in our house. Everyone else however really enjoys a good fish curry and instead of doing the same curry and replacing the type of seafood I thought I'd try my hand on a different fish curry and I have to say the end result was delicious.
What is Malabar Fish Curry?
This is a lovely light fish curry which is mildly spiced and found in the southern state of Kerala. It's also sometimes just called Kappa Curry or Kerala Fish Curry and it's always orange or red in colour.
How is this different from a Goan Fish Curry?
While both curries have similar ingredients in terms of coconut and the spices or even the choice of protein, the difference is in the use of the souring agent. Most coastal curries and specially Goan curries use tamarind, vinegar or Kokam to add a touch of sourness to the curry. While a lot of Kerala curries also might use these ingredients, this particular style of curry uses Raw Mangoes instead. That's not to say all Malabar fish curries use raw mangoes but this particular recipe does and it gives a very different unique flavour.
Recipe
Ingredients
500 grams fish pieces (I used Surmai, you can use pomfret basa anything you like)
1 cup coconut pieces
1 cup raw mango pieces (take the skin off)
4 green chillies
1 teaspoon mustard seeds
1 teaspoon fenugreek seeds
1-2 teaspoon salt
1 teaspoon coriander powder
1-2 teaspoon red chilli powder
1 teaspoon turmeric powder
1-2 large onions chopped
6-8 curry leaves
2 teaspoon ginger garlic paste
1 tablespoon coconut oil
Method
Marinate the fish in salt red chilli powder and turmeric powder. Mix it all together and let the fish sit for 15 mins while you work on your curry.
In a mixer grinder add the coconut, raw mango and green chilies along with some water and grind it down to a smooth fine paste. Keep adding water to make it as fine as possible.
In a pot add coconut oil along with the muster seeds, fenugreek seeds and curry leaves. Let it cook for a minute and then add in the chopped onions. Cook till the onions are translucent and then add in the ginger garlic paste. Cook for 6 mins till it loses that raw smell.
Add the coriander powder, red chilli powder and turmeric powder and mix it well with the onions and cook for 4-5 mins.
To this mixture add in the ground coconut and raw mango paste. Mix well and let it cook for 6-7 minutes. If you want a darker or deeper orange colour add some more red chilli powder or Kashmiri red chilli powder for colour and less heat.
Add a cup of water and cover the pot and let the curry simmer for 15 minutes.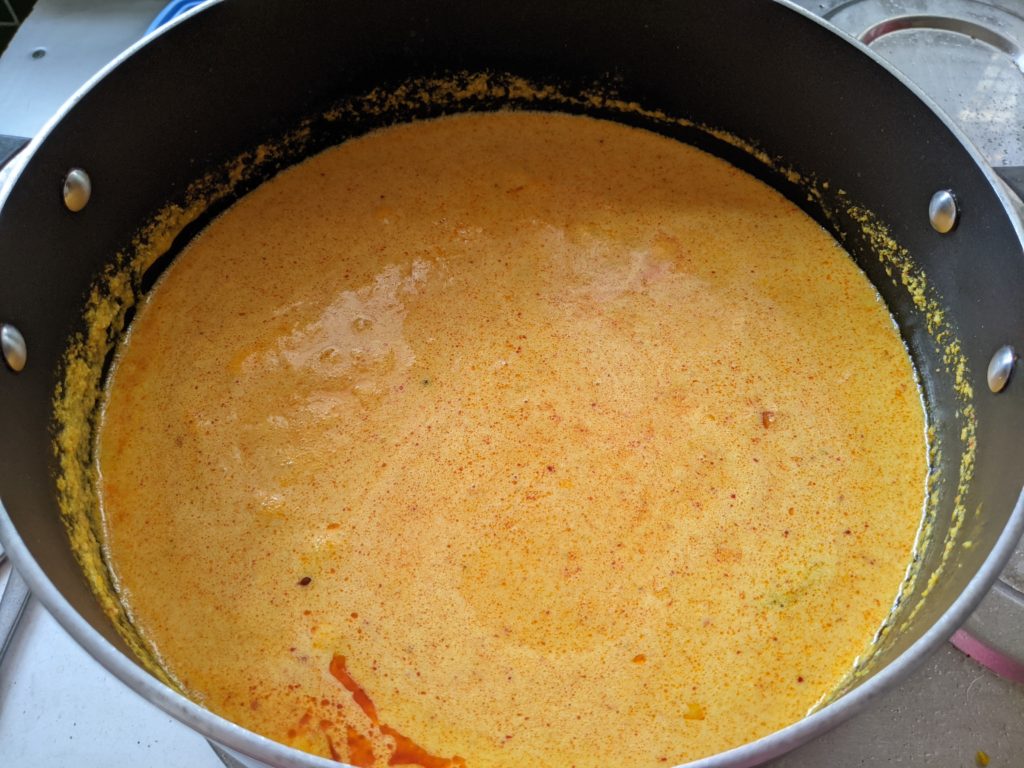 Once the curry has cooked, gently add in your fish pieces and cover again and cook for 8-9 minutes and your curry is ready.
Serve hot with steamed white rice.
How Do You Serve Malabar Fish Curry?
Ideally this Malabar Fish Curry is served with plain white rice but you can eat it with red or black rice as well. If you want to skip the carb perhaps replace the rice with a bowl of quinoa though it is far from traditional.
You can also serve this curry with roti, paratha or even a dosa or neer dosa. The choice is entirely upto you.
Here are some other popular curry recipes
The end