Mumbai is home to some fantastic South Indian fare that you find tucked away in specific neighbourhoods. This entire Pineapple Sheera recipe is inspired from a trip to one of these South Indian meals that I had recently in one of these popular neighbourhoods.
There is a restaurant called Ramashraya in Matunga that's a hot spot for breakfast. Typically there's no menu, regulars know what to order or the waiter will rattle off a list of specials. Idli, dosa, Manglore buns and the other usual suspects and then they save the best for the last. Their outstandingly delicious Pineapple Sheera. While there are other flavoured desserts as well this one is the hero and it's one I've loved since the first time I ate it so of course I thought why not re create it since it's actually a really easy recipe with minimal ingredients.
What is Sheera ?
Sheera or Suji is a common Indian Halwa or sweet dish made from Semolina (rava or suji) which is cooked in ghee and sweetened with sugar or honey syrup. You can add any flavourings, sometimes even milk in certain recipes and usually garnished with nuts.
What Are The Different Types Of Sheera ?
This semolina sweetened pudding is found in several forms. You can have a basic sheera or suji halwa or in this case, flavour it with chopped pinepples. There's also a black current sheera, or a cashew ( Kaju ) Sheera. There's also atte ka sheera or a even a mango sheera. You can mix it up and get creative but the base recipe usually has the same ingredients.
Recipe
Ingredients
1 Cup Semolina / Rava/ Sooji
4 -5 TableSpoon Ghee
1 Cup Sugar
1 Pineapple chopped into small pieces
1 pinch of Saffron
1 Teaspoon Yellow Food Colouring ( Optional )
1/4 Cup of chopped nuts ( almond, cashew, raisins ) which ever you like
Method
In a pan add a tablespoon of ghee and your chopped nuts. Let the nuts roast in the ghee for a minute or two and empty it into a plate and keep it aside. Don't cook it for too long you might burn the nuts and raisins.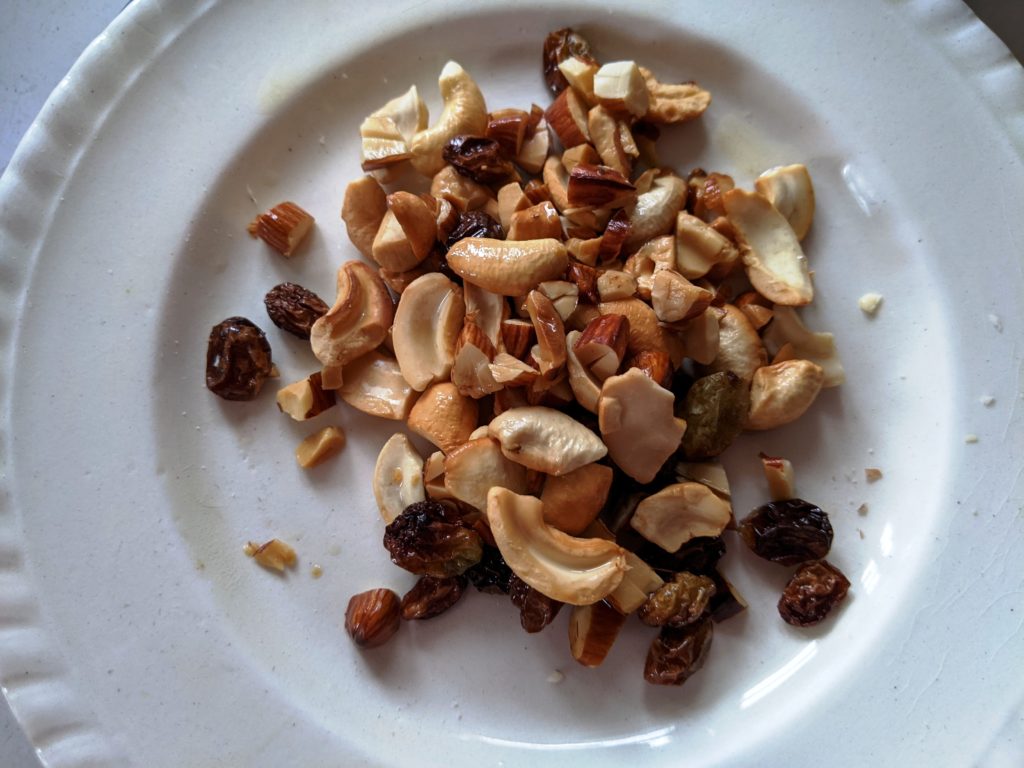 In the same pan add another tablespoon of ghee and your semolina and gently mix it all together till the semolina gets roasted and starts to form small crumbs. This should take about 2-4 minutes just till everything is roasted. Switch off the flame, empty this mixture into another plate and set it aside.
In a Kadhai or deeper pot or wok add another tablespoon of ghee and the chopped pineapple and half the cup of sugar. Mix it all together and let this cook for a good 5-7 mins. Let the pineapple get caramalised well. Then add 2 cups or water along with the saffron and let this simmer with the lid on for 10-15 minutes. The saffron infused in the water with the pineapple is what will give it that bright yellow colour. However if it still doesn't you can add the yellow food colour later or just skip the saffron at this stage and add the food colour later.
Once the pineapple sugar water mixture has cooked slowly start adding in your roasted semolina and keep stirring. The mixtures will clump up fast so be careful at this stage and keep mixing it vigorously so no lumps form.
Add the rest of the sugar along with the yellow food colour and another tablespoon of ghee and keep mixing and stirring till the pudding cooks. There shouldn't be any lumps and you'll notice it firming up.
Add the chopped nuts as a garnish, mix it all well turn the flame off and serve it hot. You can serve it in a bowl as is or plate it like a mould as I've shown you in the video.
How Do You Serve Pineapple Sheera?
Sheera is a pudding best served hot when it's freshly made. You can serve it in a bowl or plate or if you want to be fancy you can unmould it from a bowl like I've shown in the video. You can garnish it with some roasted nuts as well.
Can You Freeze Pineapple Sheera ?
It would be unwise to freeze Sheera but it does refridgerate for a couple of days. You can just re heat it in the microwave but remember it's always best eaten hot and once it's just been cooked.