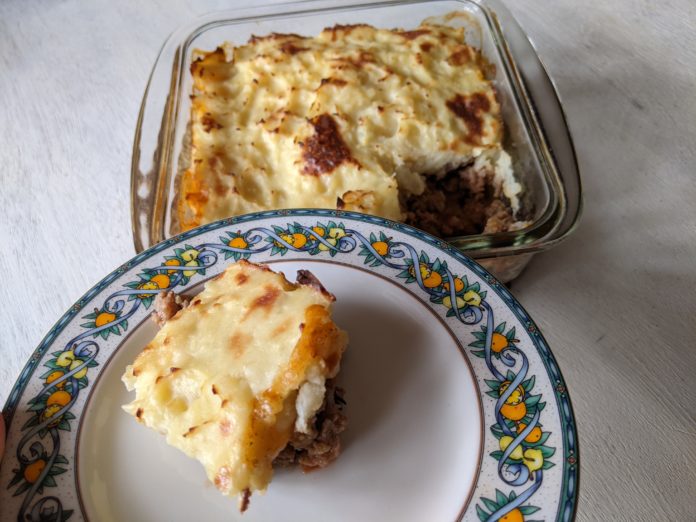 What Is Shepherd's Pie ?
A Shepherd's Pie is a lovely English dish. It's a wholesome meal that can be made for the entire family almost like a casserole dish. It's a layer of cooked minced meat ( lamb ) covered with smashed potatoes and baked in the oven.
What Meat Is Used In Shepherd's Pie ?
Traditionally a Shepherd's Pie is made with minced lamb meat. You can also used mince goat or mutton or even minced beef. I don't recommend chicken usually because it's a dry meat but if you prefer that you certainly could.
Can You Make A Vegetarian Version Of Shepherd's Pie ?
Yes you can absolutely make a vegetarian version of this pie. For the meat you can replace it with ground tofu or soya granules. I prefer the soya as it retains a similar texture. If you don't eat egg just skip that in the potatoes and you've got yourself a veggie version of Shepherd's Pie.
Recipe
Ingredients
1/2 Kg Mutton Mince
1 chopped onion
2-3 chopped garlic pods
1 teaspoon ginger garlic paste
1 carrot chopped
1 teaspoon red chilli flakes
1 teaspoon dried or fresh rosemary
1 teaspoon cumin powder
1-2 teaspoon salt
1 table spoon corn flour or regular flour
1 tablespoon tomato puree
1/2 cup of chicken stock or water
1/2 cup frozen peas
A small bunch of coriander choped
5-6 large potatoes
1 teaspoon butter
1/2 cup of grated cheese ( any you like )
1/2 cup milk
1 egg
Method –
In a large pot add oil along with the chopped onion ginger garlic paste and chopped garlic. Sautee for a couple of minutes and then add in the chopped carrots. Cook for 5 minutes.
( at the same time peel your potatoes and put them in a cooker or pot to boil, let it keep cooking till you're done with this first half of the recipe )
Add in the minced meat along with chilli flakes, rosemary salt and cumin powder. Cook and mix it all together for 10 minutes.
Add the flour and chicken stock or water and cook for another 10 mins cover the pot and let it cook. Once it's cooked with the pot covered take off the lid and cook again till the gravy reduces.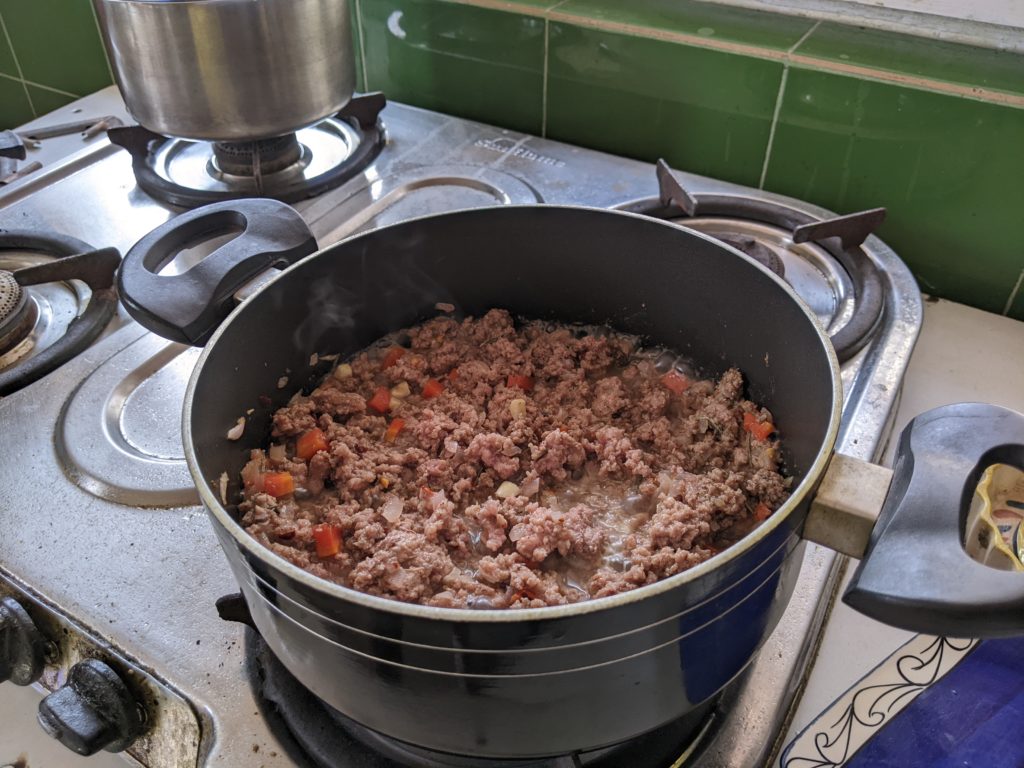 Add in your frozen peas and chopped coriander and cook till the sauce thickens. You don't want a watery liquid but a slightly thick sauce. Use the spoon to see if it's pulls back as you mix it. Once you've reached this stage switch off the flame and pour this mixture into your baking dish.
Smoothen it out and make sure the meat mixture is an even layer in the pan. Set it aside to work on the mash.
Take your boiled peeled potatoes and add butter, grated cheese, an egg and the milk and mash it well till it all combines into a creamy mashed potato.
Please note this has to be done when the potatoes are hot or atleast still warm. You can't do this with cold potatoes so boil them while you're cooking the meat.
Scoop the potato filling into your baking dish on top of the meat mixture and make sure you cover it completely specially all the sides. You can smoothen out the top of the potatoes.
Bake this in the oven for 30-40 mins at 200 degrees Celsius and serve warm.
Can I Freeze It ?
Yes you can though it will stay as leftovers in the fridge as well. Just re heat it in the oven whenever you'd like to cook it. You can also make this in advance and pop it into the fridge and then bake it just before you sit to eat.
How To Serve Shepherd's Pie?
There's no special way, it's almost like a one pot meal. It's eaten on its own but you can add a side dish of vegetables or some bread rolls to go with it.
More Recipes From My YouTube Channel & Blog