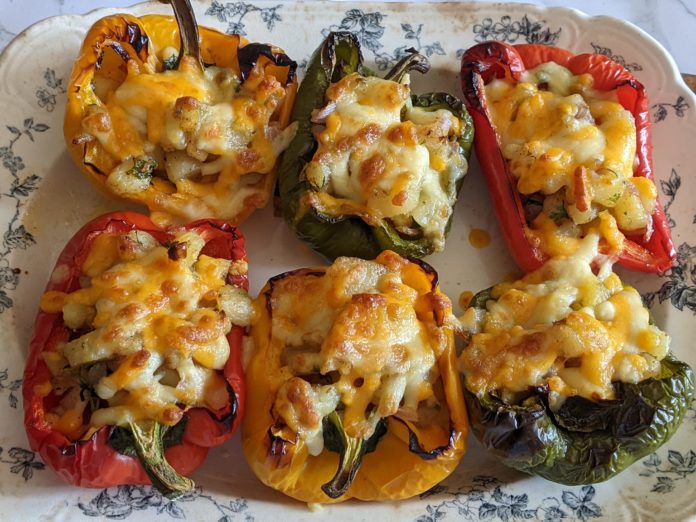 This recipe for Stuffed Peppers is not just really easy to put together but also versatile. You can pick from any stuffing or filling of your choice. Traditionally most Stuffed Peppers Recipe will include some sort of rice and beans filling but you can go carb free and add just vegetables or meat as well. Some recipes add minced chicken or beef so it really depends on what type of stuffed peppers recipe you personally enjoy.
I've left this stuffed capsicum really simple with the filling and just for aesthetics I picked a red yellow and green capsicum but it doesn't matter which one you get honestly.
Recipe
Ingredients
3 Bell Peppers ( any colours work )
1 Cup Shredded Cheese
4-5 Boiled Chopped Potatoes ( make sure they're boiled and cooked )
1 Chopped Onion
1 Teaspoon Salt
1 Teaspoon Cumin Powder
2 Teaspoon Paprika Powder
Chopped Coriander
Method
Cut each bell pepper in half and scoop out all the seeds from inside to give you clean cups of bell peppers. Drizzle olive oil and bake them in the oven for 10-15 minutes at 180 degrees C.
In a pan, add some oil and sautee the chopped onions. Once it softens add the boiled potatoes and cook for 3 -5 minutes. Add salt, paprika powder, cumin powder and some chopped coriander. Cook it for another 3-4 minutes and then switch off the flame and let the mixture cool.
Once the peppers have cooked in the oven, take them out and fill each bell pepper with the potato onion stuffing. Make sure you fill each capsicum generously. Top each one with shredded cheese and then bake again in the oven for 5 minutes at 180 degrees C so the cheese melts on top.
Serve hot and enjoy !
Other Recipes From My Youtube Channel & Website
ssd