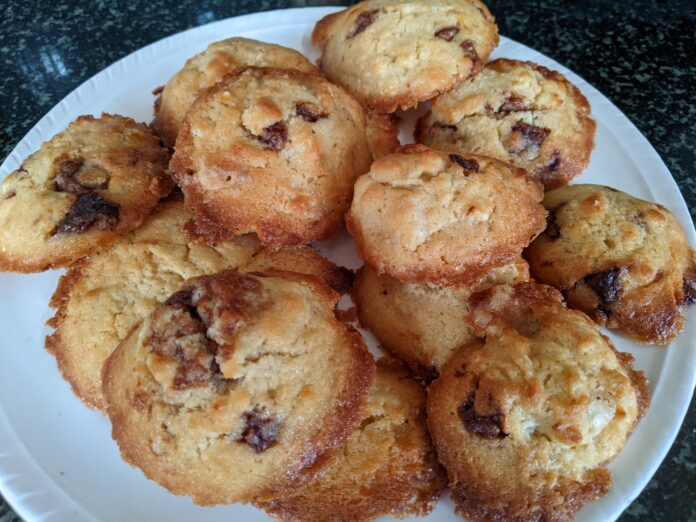 While I adore cooking and find it incredibly therapeutic, baking has the exact opposite effect on me. I find it stressful and most of the time intimidating. I'm what you would call an ' Andaaz Se ' cook. I like to eye ball my measurements. A handful of this and a pinch of that. It's never always just a teaspoon of spices and I find this style of cooking to be relaxing. Baking is of course a précised science and as I've learnt from multiple experiments – if you waver from the recipe you're asking for trouble!
Since I've decided to face this fear or baking head on, I started with the simplest of recipes – the humble cookie. This recipe is fabulous and if you follow it well then the world is your oyster, I mean cookie 😉
Recipe
Ingredients
225 grams of Butter
170 grams of Castor Sugar
100 grams of Brown Sugar
354 grams of Flour
300 grams of Chocolate pieces
2 Eggs
2 teaspoon of Vanilla essence
1/2 teaspoon Salt
1 teaspoon Baking Powder
Method
Melt the butter in a microwave or over the stove ( check the video for details ) and mix in the sugar. Mix well till it's all combined.
If you've heated the butter on the stove then make sure your butter sugar mixture is down to room temperature and then add in your eggs one by one and mix well. Add the vanilla essence as well.
In another bowl, mix all your dry ingredients – the flour, salt and baking powder.
Slowly add the dry ingredient mixture to your wet ingredients and mix well. Don't add all the flour at one time, do it in two or three batches so it's easier to mix and you don't spill any.
To this dough add your chocolate chips or chunks and once mixed pop the dough into the fridge for an hour. You can leave it in longer but a minimum hour.
Line your baking tray with parchment paper and pre heat your oven for 10 minutes.
With the help of an ice cream scoop or in my case a teaspoon, scoop out some dough, shape it into a round ball and place on your baking sheet with enough distance between the balls since the cookie will spread out.
Bake in the oven at 180 degrees C for 13 minutes. Once baked let them cool for 5 minutes before tranfering them on a wire rack or plate to cool further.
Store in a box and enjoy !
How To Store Chocolate Cookies ?
You can store your cookies in an air tight container for upto 6 days. They will easily stay as long as they're not exposed to air. I also wouldn't recommend popping them in the fridge they will sit out on the counter in a box comfortably.
Can You Freeze The Cookie Dough ?
You really don't need to but I suppose you could. Ideally it will stay in your fridge for upto 5 days so you can make cookies whenever you like and it's convenient to have ready cookie dough. It also helps to firm up the dough a bit.