What's not to love about a Chicken Nugget? It's tasty, crispy, crunchy even and works well with all sorts of dips and sauces. It's easiest snack and something that conveniently sits in your freezer ready to fry up whenever needed.
It is however also incredibly unhealthy with a ton of preservatives and sodium so instead of ordering from a McDonald's or buying frozen packet nuggets just make them yourself they're so easy !
Recipe
Ingredients –
500 grams chicken mince
1 -2 teaspoon salt
1-2 teaspoon pepper
1-2 teaspoon mustard
1 teaspoon paprika powder ( can use chilli flakes or chilli powder )
1 teaspoon baking soda
1 teaspoon Garlic Powder ( Optional )
1 teaspoon ginger powder ( optional )
2 Eggs Beaten
1 cup of corn flour
1 -2 cups of bread crumbs
Oil to Fry
Method –
Mix all your seasonings into your chicken mince – salt pepper mustard baking soda paprika powder etc and mix it all well. Let it sit in the fridge for 30 – 40 mins.
Grease your hands with oil and take a spoonful of chicken mince and shape it into your nugget, The size and shape you like ( refer to the video ). Make sure you place all the nuggets on a plate lined with parchment or baking paper so the chicken doesn't stick to the plate. Once you've made all your nuggets put it back in the fridge for 45 mins so it firms up and is easy to manage in the next step.
Prepare your dredging station with a bowl of your beaten eggs, a bowl of breadcrumbs and a bowl of your corn flour. Take one nugget and then first cover it in corn flour, then dip it into the egg batter and make sure it's covered in the egg. Take a fork and then gently lift the nugget with the egg coating and place in your bowl of breadcrumbs and ensure the entire nugget it covered in bread crumbs. Place on a plate and continue till it's all done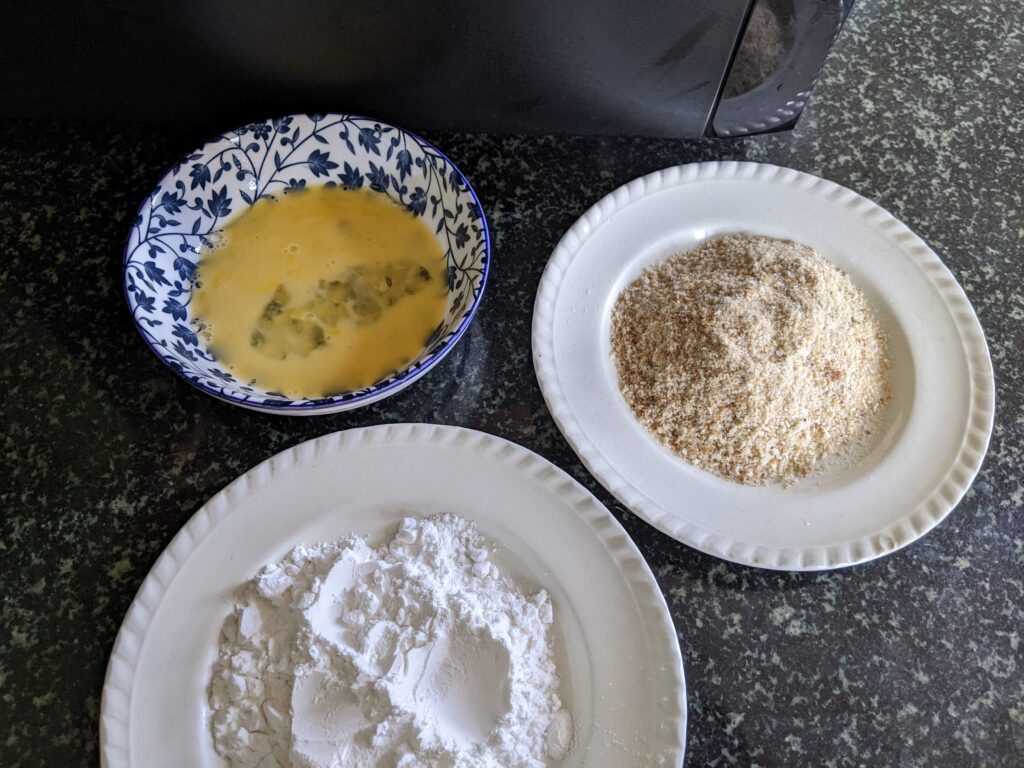 At this point you can put them all in a freezer bag and store it till you want to cook them. If you're making the nuggets immediately then put these back in the fridge for another 20 – 30 mins. The constant refridgeration helps the nuggets to retain their shape.
In a wok or pan add in your oil and heat the oil for 5 minutes. It needs to be hot but not too hot or they will burn. Fry the nuggets in batches untill golden brown or you can also fry them in your air fryer ( refer to video )
Drain them on a paper towel and serve hot with a sauce of your choice of just ketchup and enjoy !
How To Store Chicken Nuggets ?
Ideally eat them hot freshly made but it will also stay in an air tight container for two days. You can re heat them whenever you'd like to eat it.
Can I Freeze Chicken Nuggets ?
Yes you actually can freeze them when they're at their raw stage. Once you've coated your nuggets in breadcrumbs you can refrigerate them for half an hour and once it firms up, pop them into a freezer bag and store in your freezer for upto 2 months. Whenever you want to make nuggets, take them out and fry them up or pop them in the air fryer and enjoy.