My most favourite dosa is a Rava Dosa or what I like to call the ' Cheat's Dosa'. If we're going to get technical then I doubt this can qualify as a dosa since it doesn't have the traditional ingredients and is infact far easier to make the batter. However one taste of that hot crisp rava dosa and all strict dosa laws are forgiven. This is an easy recipe and I know a lot of you might feel intimidated by cooking this, believe me it's so easy – all you need is patience !
How Is Rava Dosa Different From Regular Dosa?
The main visual difference is of course the look of the dosa. The Rava Dosa has these holes or lattice type of look and feel while a regular dosa is completely covered there are no holes or jaali's as they say in the dosa.
The real difference is the batter itself. The rava dosa is of course made up of rava or semolina along with rice flour and regular flour ( maida ) which gives it that crispy thinner texture. It is also not fermented and doesn't take very long to make.
A regular dosa is made from rice and sometimes dal and it soaked and ground and then fermented overnight to get the batter. It's a slightly longer process and is fermented.
Recipe
Ingredients
1 cup rice flour
1/2 cup semolina ( rava )
1/4 cup flour ( maida )
4 cups of water
1 teaspoon salt
1 teaspoon pepper
1 chopped green chilli
1/2 teaspoon cumin seeds
ginger or ginger garlic paste ( optional )
ghee and oil to grease the pan
Method
In a bowl, add the rice flour, semolina and regular flour along with two cups of the water and whisk together till it all mixes. To this add in the third cup of water and then all the seasonings – chopped onion, chilli, salt pepper etc and add the 4th cup of water and mix well.
The batter should be a runny liquid pouring consistency. Once it's done, let the batter rest for half an hour.
Once it's ready, please mix the batter again as all the flour settles at the bottom of the bowl and it becomes thick and lumpy. While making the dosas the batter has to consistently be runny.
Heat your non stick pan till it gets nice and hot and then grease it with some oil or ghee. Pour your dosa batter till it covers the pan and let it cook. You will notice the dosa has holes and that is how the rava dosa needs to cook and eventually look.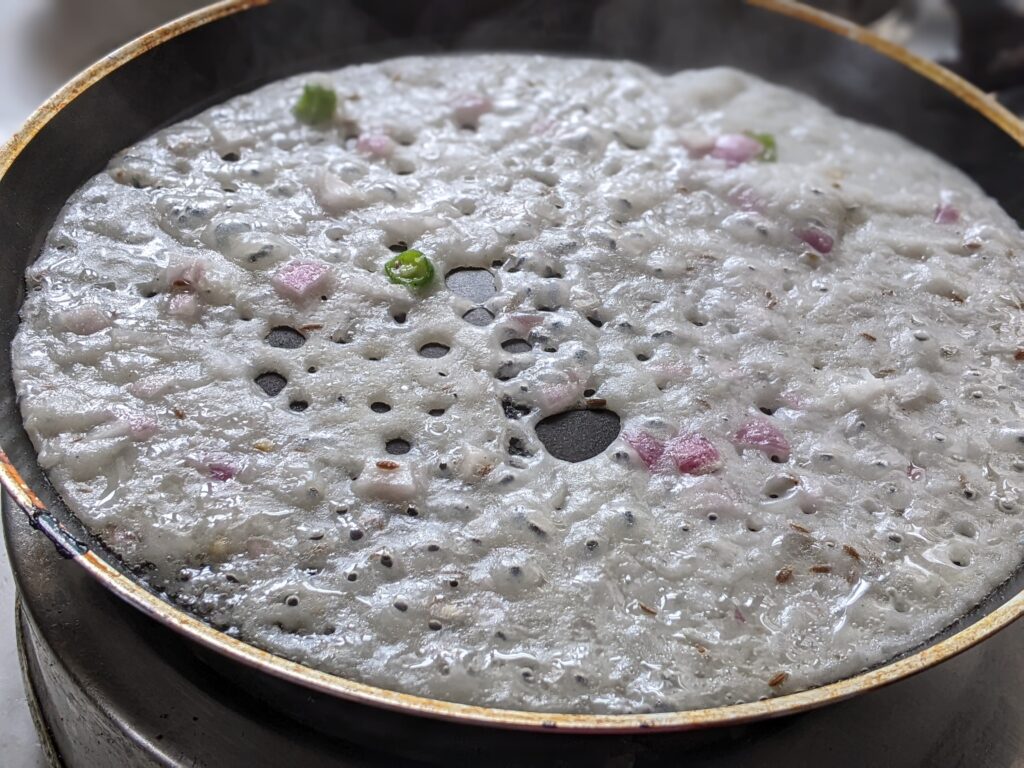 After a few minutes as the dosa is cooking, drizzle some ghee on top. This helps to crispen the dosa from the bottom. Don't be in a rush to take this dosa off the pan and don't keep touching it with your spatula. It will take an easy 5-6 minutes to cook if not longer.
Once the dosa stars to cook you'll notice it turned brown and crispening up. In case parts of the dosa are still uncooked pls keep rotating the pan so each area gets enough heat to cook ( please refer to the video to see how )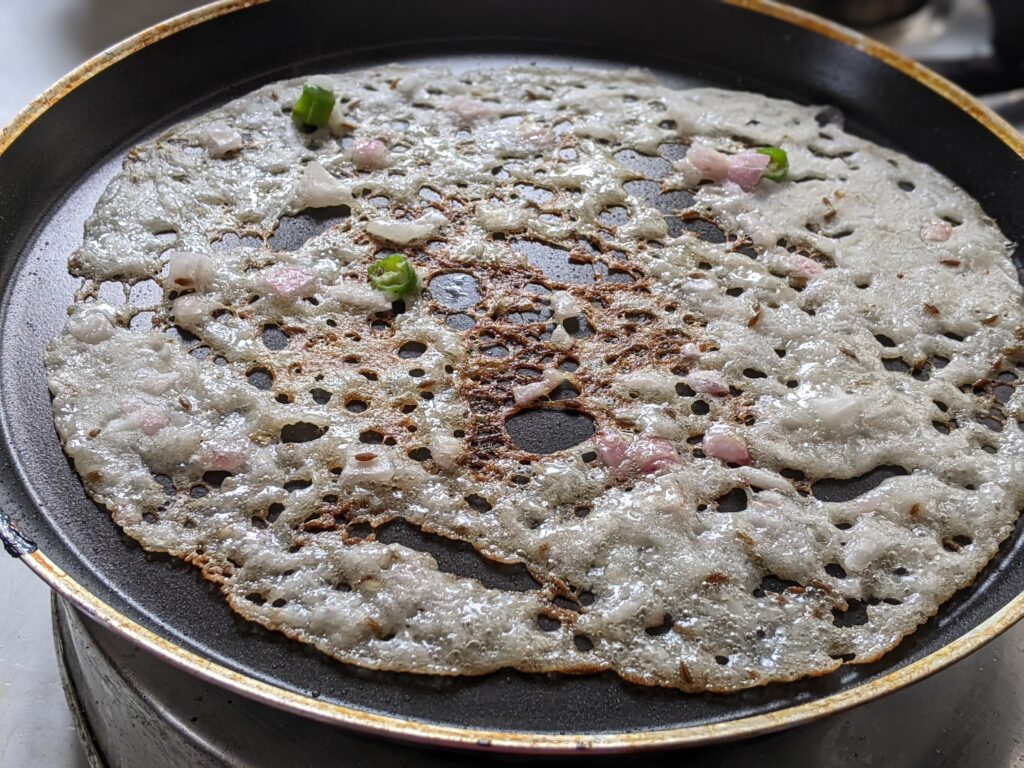 Once it's cooked the sides of the dosa automatically start to slightly lift off the pan. Carefully with your spatula either fold or roll up the dosa and serve hot with your choice of chutney.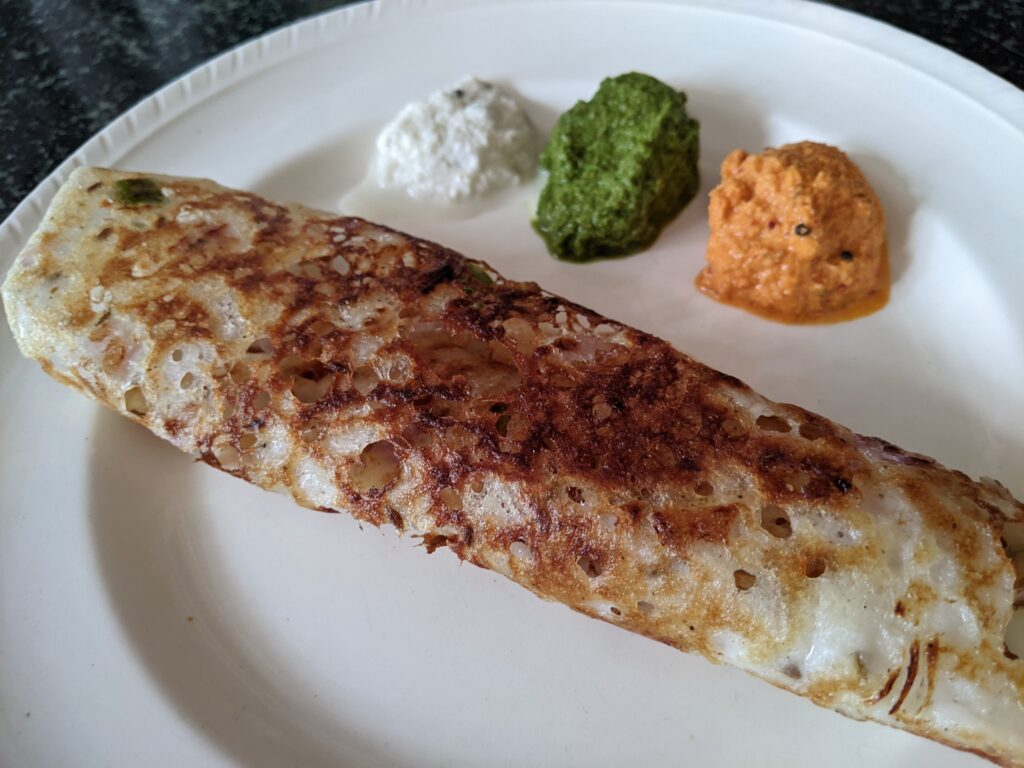 How Do You Store The Rava Dosa Batter?
You can store the rava dosa batter in an air tight container in the fridge. Every time you need to use it just stir it well and add more water if needed to get that runny watery consistency.
Can You Stuff A Rava Dosa ?
Sadly no you cannot stuff the rava dosa because of its net like texture and appearance. The dosa has holes in it, it won't be able to hold the stuffing and it traditionally isn't stuffed either. You can of course serve it with anything on the side, puri bhaji, a spiced potato mixture or chutneys of your choice.
Other Popular Recipes
dfsdf