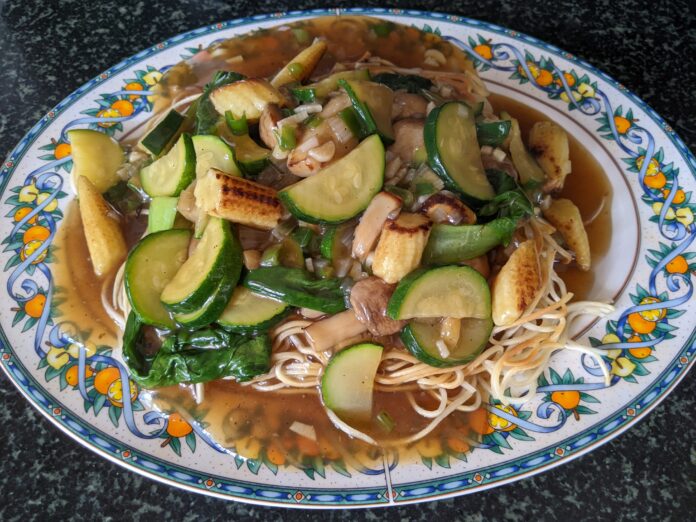 For me Pan Fried Noodles are a tricky recipe. Not so much in making it, but more when you order it at a restaurant because each joint will give you a slightly different version. It's also the best part about this dish because you really can customise this and make it your own.
I discovered this at a restaurant in Mumbai called Ling's Pavillion but soon realised I could discard those awful chunks of carrot and bell peppers and pick and choose what I like best. I've left this recipe vegetarian so its easy to make specially the first time around but feel free to add chicken or prawn to it. If you're ever at Ling's then try my standard order – Pan Fried Noodles with Mushroom Baby Corn Pak Choy or Broccoli Beef and Water Chestnut. This recipe is heavily inspired by that order.
What Are Pan Fried Noodles
These are two textured noodles – both soft and slightly crispy served with a choice of vegetables and or meats with a thick gravy like sauce. It's not served separately it's all served together the gravy and veggies on top of the noodles which aren't seasoned with anything but salt. It's the kind of dish you can eat without needing anything else and you can make this your own by adding hot sauce and spicing it up or leaving it more mild like it originally is.
Recipe
Ingredients
1 packet 120 grams noodles
1 packet of Button Mushroom
1 Packet Baby Corn
1 Small Bulb of Pak choy
1 Zuccini
(You can also add any other vegetables like carrot beans bell peppers etc )
2 Spring onions
3-4 cloves of garlic chopped
1 small knob of ginger chopped
2 tablespoon dark or light soya sauce
1 teaspoon pepper
1 -2 Cups of Vegetable stock
1 table spoon Corn Flour
Method
Boil the noodles as per packet instructions. Drain the noodles once cooked and add it to a frying pan lined with oil. Spread the noodles out as best as you can and cook this for 7 minutes or until the bottom layer of noodles crisps up.
Flip is over and cook for another 2 -3 minutes and then place it on your serving tray. You need to just crisp up one side of the noodles the rest need to remain soft. It needs to have two textures, soft and crispy.
In the same pan add some oil and toss in your vegetables starting with the ones that take longer to cook. In this case I've added in the baby corn first, followed by the mushroom and cooked them on a high flame till they start getting some colour. Then toss in your chopped spring onions, garlic and ginger. Cook for 3 minutes and then add in your vegetable stock.
Let it come to a slight boil and then add in your corn flour slurry – mix the corn flour with water and add it into the pan. Also add in your zucchini and pak choy and let it all come to a boil. I add the zucchini and pakchoy towards the end because they cook fast. You can also add it just before the corn flour slurry.
Let this entire mixture cook and bubble away till the sauce thickens up into a nice gravy. Once you achieve that consistency. Switch off the flame and pour over all the vegetables and sauce on the noodles ( Please watch the video above ) and serve hot!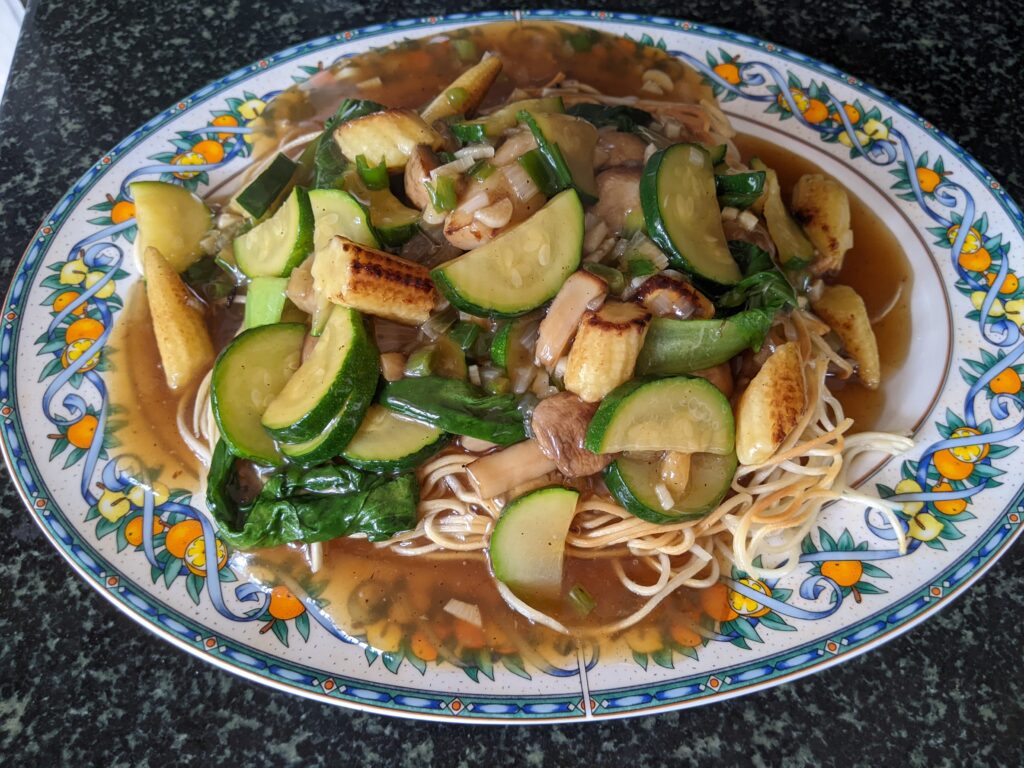 How To Serve Pan Fried Noodles
The best way to serve Pan Fried Noodles is immediately once it's cooked. You don't need to garnish it or decorate it. It's quite rustic in its appearance and if you wait too long the noodles and sauce will congeal. Serve hot and enjoy.
Can I Freeze Pan Fried Noodles
No you cannot freeze Pan Fried Noodles in fact I don't' recommend keeping it in the refrigerator. It's not easy to re heat and congeals too much. It's a dish that needs to be eaten hot and fresh.
Other Recipes
These are some other popular recipes you might like that work well with the noodles.
asff