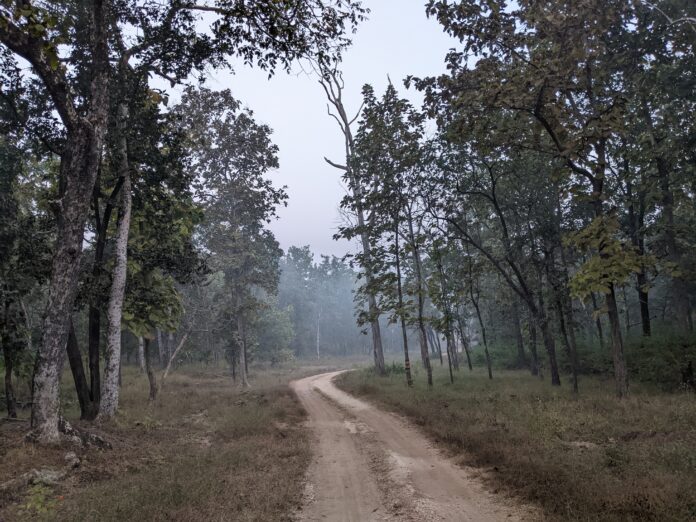 It's safe to say that Jungle Fever has gripped this writer for over a decade with no sign of ever leaving. Those that know me, know how excited I am to spend days on safari hunting for elusive big cats and admiring everything the forest wishes to show me. Yes, that's right – you're at the mercy of the jungle and what she decides you are privileged to see. This is exactly what happened at Pench National Park with Pugdundee Safaris https://www.pugdundeesafaris.com/
For most people the idea of a safari holiday means a trip to Africa, often the Masai Mara or the Serengeti. Many forget that India is home to some of the most magnificent jungles thick with foliage, flora, fauna and the most exciting wildlife. It's also home to Tigers and the entire safari experience is magic. India is home to almost 50 national parks and a popular one from these is Pench in Madhya Pradesh.
Pench is a beautiful jungle approx. 257.26kms ( 99.3 square miles ) and also the inspiration for Rudyard Kipling to write The Jungle Book. Pench is also an ideal jungle for those who are on their first ever safari because it's smaller in size compared to other parks, easily accessible as it's approx. a 2-hour drive from the city of Nagpur which connects via flights across the country. It's home to several tigers and if you're lucky you might chance on some of their cubs. Apart from tigers you'll find Leopards (again frightfully elusive creatures but they've been known to show themselves on occasion), monkey, wild dogs (commonly called Dhol and they roam around in a pack) which look nothing like dogs but more like little fox, deer, wild boar, Indian Bison (gaur), sloth bear and a fantastic number of birds in all shapes and sizes. A safari drive through the park is like taking a ride through Enid Blyton's enchanted forest and even if you're not a great animal or nature lover, you'll end up appreciating it's beauty and leave feeling refreshed unlike you've ever felt before.
There are several options to choose from when it comes to choosing your lodge or accommodation and having spent time in different hotels, I can say there is no property in Pench quite like the Pugdundee Tree Lodge.
Part of the Pugdundee group who specialize in sustainable hotels across several national parks, The Pugdundee Tree Lodge is the perfect harmony between modern facilities to ensure comfort and the rustic finish to remind you that you are quite literally in the middle of the jungle. As the name suggests they have tree houses to stay in which are beautifully furnished with everything you could possibly need but gives you the feeling of living in a tree house. There's even a balcony in your tree house to spend your time sitting and enjoying the sights and sounds around. If you're an avid bird watcher then you'll though roughly enjoy this.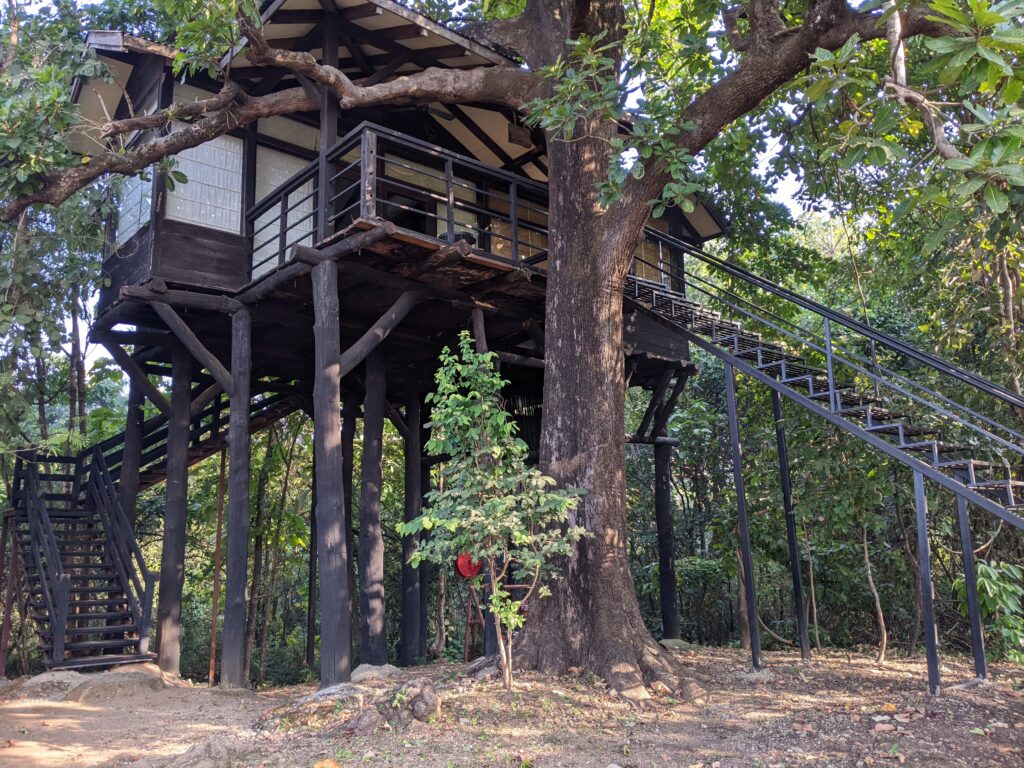 While the thrill is of course in staying perched high up in your tree house, if you're unable to climb, or for whatever reason want to be planted firmly on the ground there are luxurious spacious cottages that can room an entirely family without anyone stepping on each other's toes. They also come with a small sit out to enjoy the birds chirping or where you can just curl up with a book and enjoy the surrounding nature.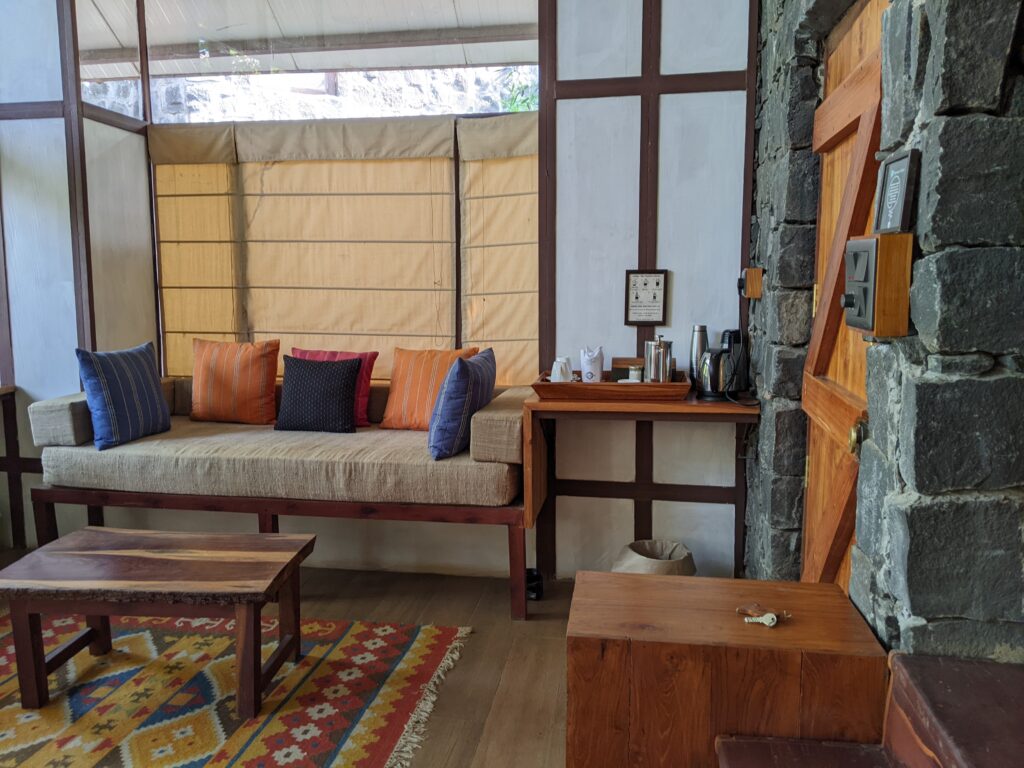 Apart from adventurous tree houses and sprawling cottages, the lodge has a swimming pool, a den full of books and board games, walking trails and even a small under ground like bunker that they call the hide out where you can sit to enjoy a cup of tea and also bird watch where the birds or sometimes animals can't see or hear you.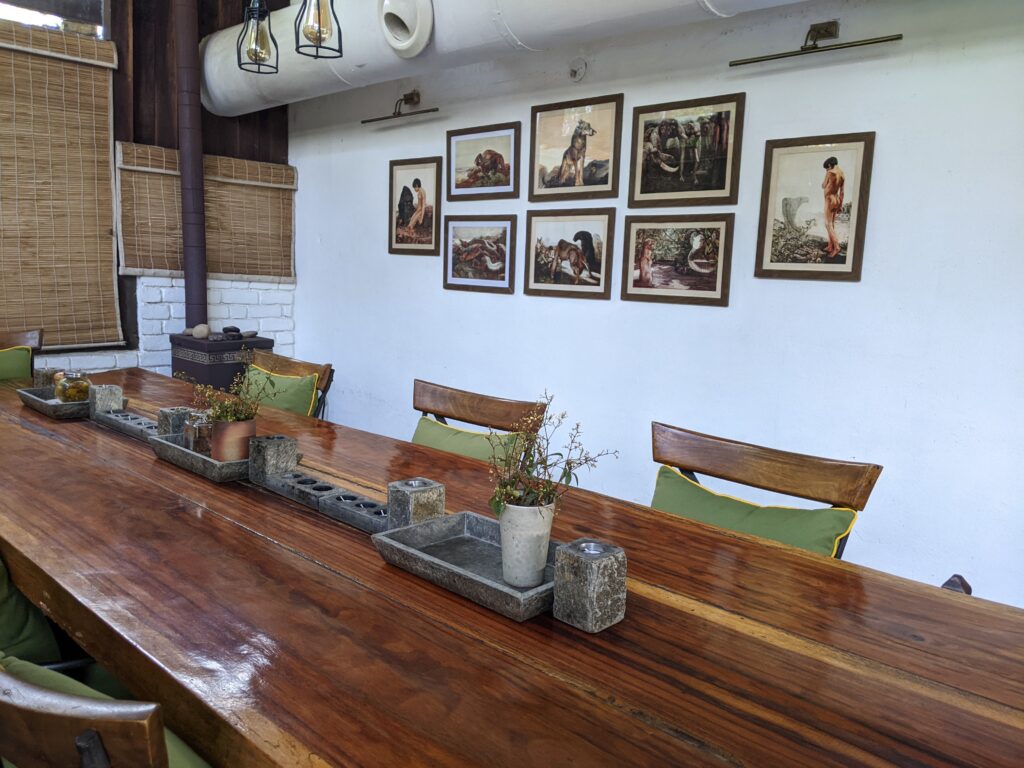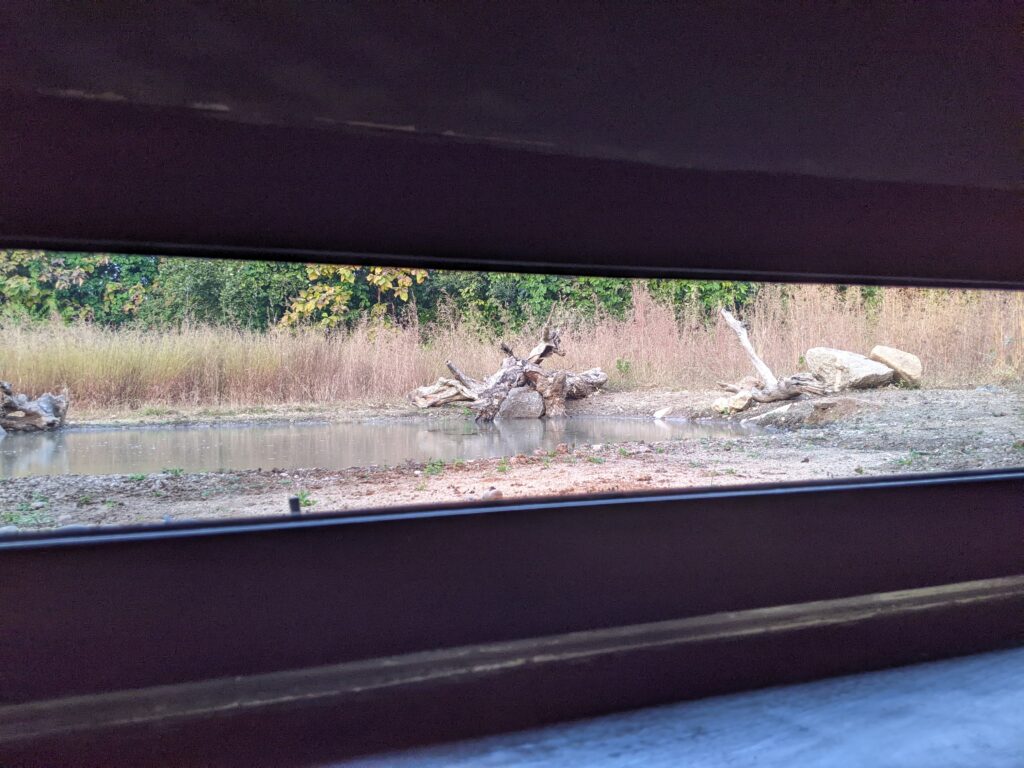 As lovely as all the extra-curricular options are and as lovely as their accommodations are, I think the biggest highlight at the Pugdundee Pench Tree Lodge is their stellar cuisine. It's rare to find a hotel or resort that takes such pride in highlighting local cuisine with simple home cooked meals that pack such a punch. Majority of their produce are from their organic garden where they grow a variety of fruit and vegetables. So not only are you eating clean but it's all local and sustainable and the simplest recipes that will leave you longing for more. I chose to opt for local meals but they also offer international dishes just in case someone wants a change from the usual fare. I don't really recommend it – the chef goes out of his way to delight you with each meal and I can't stress enough what a joy it is to be fed simple wholesome food with so much flavour.
Experiences are what really set the property apart so if it's a meal set in the middle of a jungle with raging camp fires and trees illuminated with lanterns and a fully stocked bar with table service or trail through the property to go bird watching or try and hunt for animals like palm civet, jackals and jungle cat, that frequent the property – they ensure each experience is unique and memorable.
In order to make your stay at the Pench Tree Lodge memorable, it is the tireless efforts of their very friendly and helpful staff. A team that consists of locals who serve you, escort you through their property so you aren't lost or worse encounter an animal long the way (it is after all in the middle of wilderness) or perhaps the very well-trained naturalists who try to make Kipling's Jungle Book come alive. No matter who it is, this team is what makes you're entire Pench Tree Lodge experience unforgettable. For me, this was my first every Pugdundee experience and it most certainly won't be my last.
Facts and Tips To Plan Your Trip To Pench –
Book a flight from Nagpur it is the closest city and the drive to Pench is about 2.5 hours.
If you're a couple or single occupant the tree houses are cozy and delightful but if you're more than 2 it will get cramped. If you're travelling with children opt for one of the cottages it's extremely comfortable.
Temperatures are extreme in each season if you're visiting in the winter pack well, specially on the open jeep during early morning safaris the wind adds to the cold and you will freeze.
The property is focused proudly on sustainable tourism so they do not encourage any plastic. Refrain from carrying any plastic bottles, they will gift you a metal water bottle and encourage you to carry it around and on safari and have water coolers at their reception in case you'd like to refill your bottle at any time.
It's always nicer to have one of the naturalists accompany you on your safaris both morning and evening so that they can help you understand the jungle and all the animals better. There is so much to learn about the jungle and it just enriches the experience.
Yes the highlight is always a Tiger and every jeep is always on the hunt to spot this majestic creature but don't be tiger obsessed and then miss out on all the other wonders. A safari is a beautiful experience even if you aren't fortunate enough to spot a tiger.
Disclaimer – I was invited to stay and review the property. As always, all views, thoughts, ideas and opinions expressed are completely mine.