One of my favourite things to eat at home is a steaming plate of Poha. Growing up in Mumbai you just get use to all types of cuisines even local regional ones from across India but I think some of the Maharashtrian dishes have really captured my heart like this Poha.
I've made it so many times and usually always share pictures and videos on my Instagram page and am bombarded with questions on how to make it so this time I thought I'd just shoot a quick video and write a blogpost on this beautiful dish.
What is Poha?
Poha is a popular Maharashtrian dish that is typically eaten for breakfast. It's made of flattened dry rice flakes which is called Poha or Pohe and cooked with chillies, spices, turmeric and lots of peanuts along with some other ingredients.
Difference between a Maharashtrian Poha and an Indori Poha
While the dish is similar the taste and texture between these two styles of Poha are very different. In the state of Maharashtra Poha is made predominantly with onions and potatoes ( kanda and batata ) along with peanuts, chillies and often dried coconut and a pinch of sugar.
In the city of Indore the Poha made is a popular street snack and has sweet sour and tangy flavours along with the spice. Lemon juice, pommergranate seeds, chopped onions and sometimes even boondi is added. The unique and most common factor in an Indori poha is the abundant use of Sev as a garnish. Locals in Indore are obsessed with sev and put it on nearly everything and in the poha it adds a lovely crunchy texture. Despite the use of chillies the Idnori poha is said to be spicier than the Maharashtrian one.
Recipe
Ingredients
2 cups poha
handful of peanuts
handful of curry leaves
handful of chopped coriander leaves
5 -6 chopped green chillies
2 medium sized onions sliced
2 medium sized potatoes cut into small pieces
3 teaspoons of turmeric
1 teaspoon salt
Oil to cook
Method
1. Rinse and clean the poha under your tap and let all the water drain. Don't soak the poha just rinse and wash well.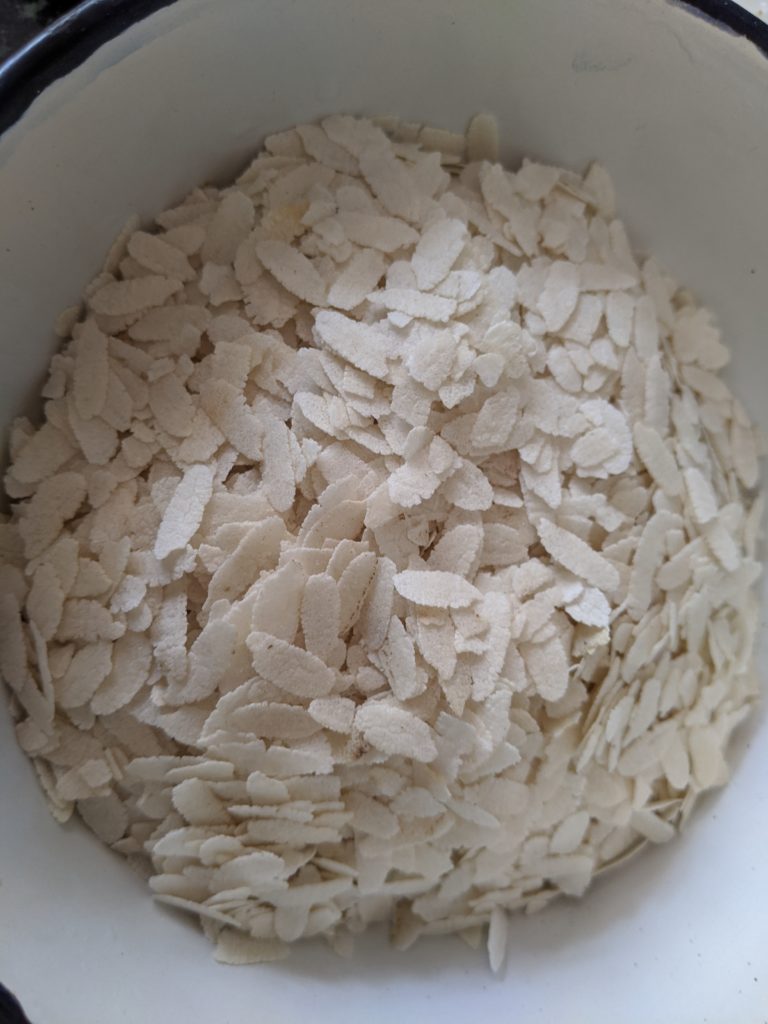 2. In a pan add some oil and the chopped potatoes. Cook them for 5 minutes or till they start to slowly crisp up. I haven't boiled or par boiled the potatoes you can if you like but I think it works well like this. I like crispy fried potato pieces in my poha. Add a little salt to the potatoes. Add the peanuts to the potatoes and let it cook as well.
3. After a bit add the onions and let it all start to brown and crisp up. The flavour in my recipe comes from the crispiness of the potatoes and the almost fried onions.
4. Once the onions start to brown add the chopped chillies and curry leaves and mix well.
5. Push the mixture to one side of the pan, add a little oil and add the turmeric powder and salt in the oil. Mix it in so it all dissolves and then combine it with the onion and potato mixture.
6. Gently add in the poha and mix all the ingredients together. If it's too much poha do this in batches. Add a little at a time mix it all and then add more. Eventually all that white poha should turn yellow from the turmeric mixture. If you feel it's getting dry add a little more oil and keep mixing as it cooks.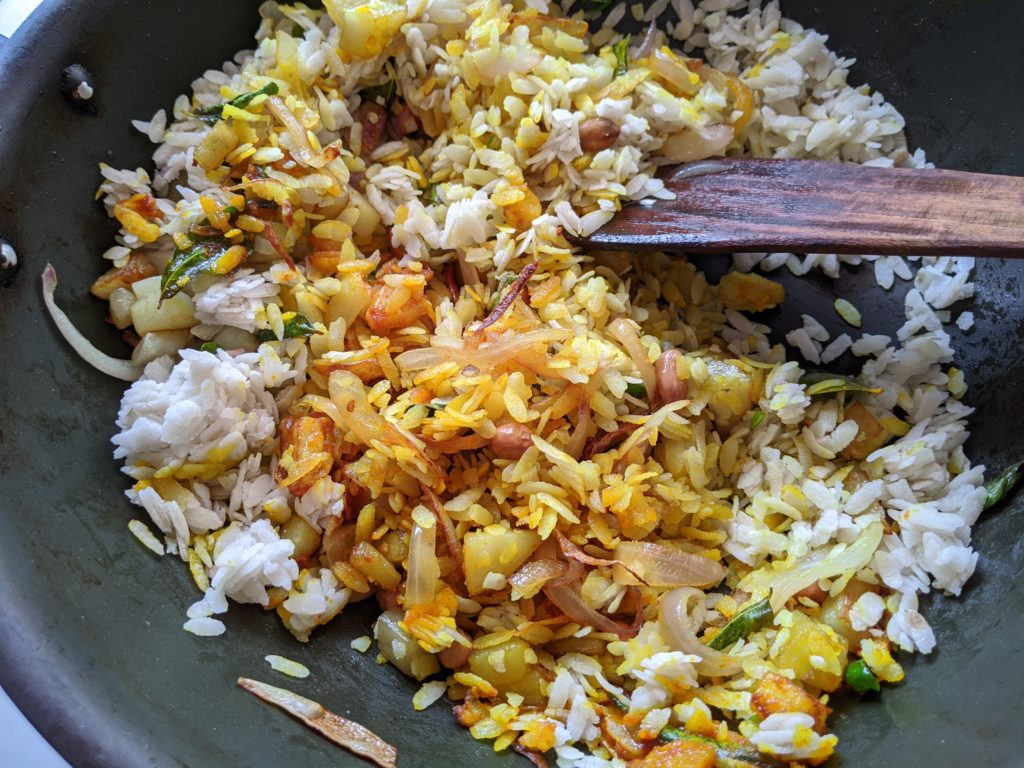 7. Garnish with chopped coriander and serve hot!
Can You Freeze Poha ?
No it isn't recommended to freeze poha. In fact it doesn't work well as leftovers either. Poha is best made and eaten fresh.
How To Serve Poha?
It can be eaten on it's own without any accompaniment and is quite tasty just as is. A lot of people like to eat their poha with some chutney on the side. In Maharashtra it's sometimes eaten with a fiery red chilli and garlic chutney. Sometimes even just a normal green chutney or coconut and coriander chutney. In Indore the Poha is quite famous and served with a generous helping of sev.
What The Difference Between Jhada ( Fat or Thick )Poha and Patla ( Thin) Poha?
Variations To A Poha Recipe
There are several tweaks to the base recipe apart from things like garnish or sev. Some recipes add cumin seeds or mustard seeds and sometimes both. You could also add aesofateda or hing into the poha. A lot of Maharastrian homes like to add dry coconut bits to their poha. Some recipes will forgo the onions and potatoes and double up on the peanuts. The variations and combinations are endless but eventually all result in a fantastic version of this humble dish.
To make it a healthier dish a lot of people like to add vegetables to their poha as well. Chopped carrot, capsicum and french beans are a popular addition.
Points To Note
I don't add any sugar to my Poha or any lemon juice as I personally don't think it needs it. I also sometimes add dried coconut bits if I have them on hand but if you don't like them you can skip that stage.
If you think the poha needs more flavour then you can add some mustard and cumin seeds along with the chillies but even if you skip it it's perfectly ok. The peanuts, chillies and turmeric give enough flavour.